If you've ever played a car racing game, you would know that adding an extra nitro and other accessories before a race can increase your chances of coming out on top.
Think of your Shopify store as a car. It's a powerful machine that can win you races, but you need to fine-tune the engine and add some custom features to get the most out of it. That's where Shopify apps come in – they're like accessories for your car to enhance its performance, make it stand out on the road, and make you the next Hamilton.
While there are plenty of popular apps that can add some flashy features to your store, there are also some hidden gems that can make a difference. This article will introduce 9 Shopify apps we always recommend to our clients.
These apps might be or not be as well-known as some of the best Shopify apps, but they're reliable, efficient and will help your Shopify store run like a well-oiled machine.
What are Shopify Apps
As a fan of Google Chrome, I often find myself downloading different extensions to help with different things and make my work faster. It's not like my chrome browser wouldn't function without these extensions, but they just make life easier – same thing with Shopify Apps.
Shopify apps are add-ons you install on Shopify stores to add new features and functionality. Thousands of apps are available in the Shopify app store, covering everything from marketing to inventory management, customer relationship management, and payment to shipping.
The apps on our list of hidden gem Shopify apps offer unique and valuable features, have positive reviews and ratings from users, and are relatively affordable i.e they offer free plan and paid ones that cost little to nothing
By focusing on these factors, we identified a group of apps that we consider to be hidden gems – apps that are often overlooked but can make a big difference in the success of a Shopify store.
What are the categories of Shopify apps?
Like most marketing tools, Shopify apps are categorized based on purpose. The apps in this article are third-party apps or apps developed by Shopify. Also, some are free Shopify apps, while others are paid.
Finding products
This collection of third-party applications available on the Shopify App Store can help you find and source products to sell on your Shopify store. These apps typically offer features such as product research, supplier and manufacturer directories, and dropshipping solutions.
Selling products
These apps typically offer sales analytics, inventory management, and marketing automation features. They help you track their sales performance, manage their product inventory, and automate marketing campaigns to reach more customers and boost their revenue. They allow you to streamline your product sales process.
Orders and shipping
The apps in this category help merchants manage and fulfill orders and handle shipping and tracking information. They have features like order management, shipping label printing, order tracking and notifications, and fulfillment automation.
Store Design
Most Shopify stores come with a design template that you can adjust to your taste. However, with Store design apps, you have access to tools and features to create a unique and visually appealing website that stands out.
Some apps in this category offer pre-designed templates, themes, and other useful features like social proof, store alerts, navigation, and search, which you can customize to match your brand and style.
Marketing and Conversion
In this category, you get various marketing and conversion optimization tools that enable you to promote your products and services, engage with customers, and boost sales.
Apps in this category may include email marketing tools, social media advertising features, search engine optimization (SEO) tools, and a/b testing tools, all of which help merchants reach a wider audience and increase their online visibility.
Conversion rate optimization apps, on the other hand, may offer features such as product recommendations, a/b testing your Shopify store,  upselling and cross-selling tools, and exit-intent pop-ups that encourage customers to make a purchase.
Store Management
These apps provide tools and features that enable store owners to streamline operations, optimize workflows, and improve efficiency. Apps in this category may include inventory management tools, order management systems, shipping and fulfillment solutions, and customer support and service platforms.
9 Hidden Gem Shopify Apps To Use in 2023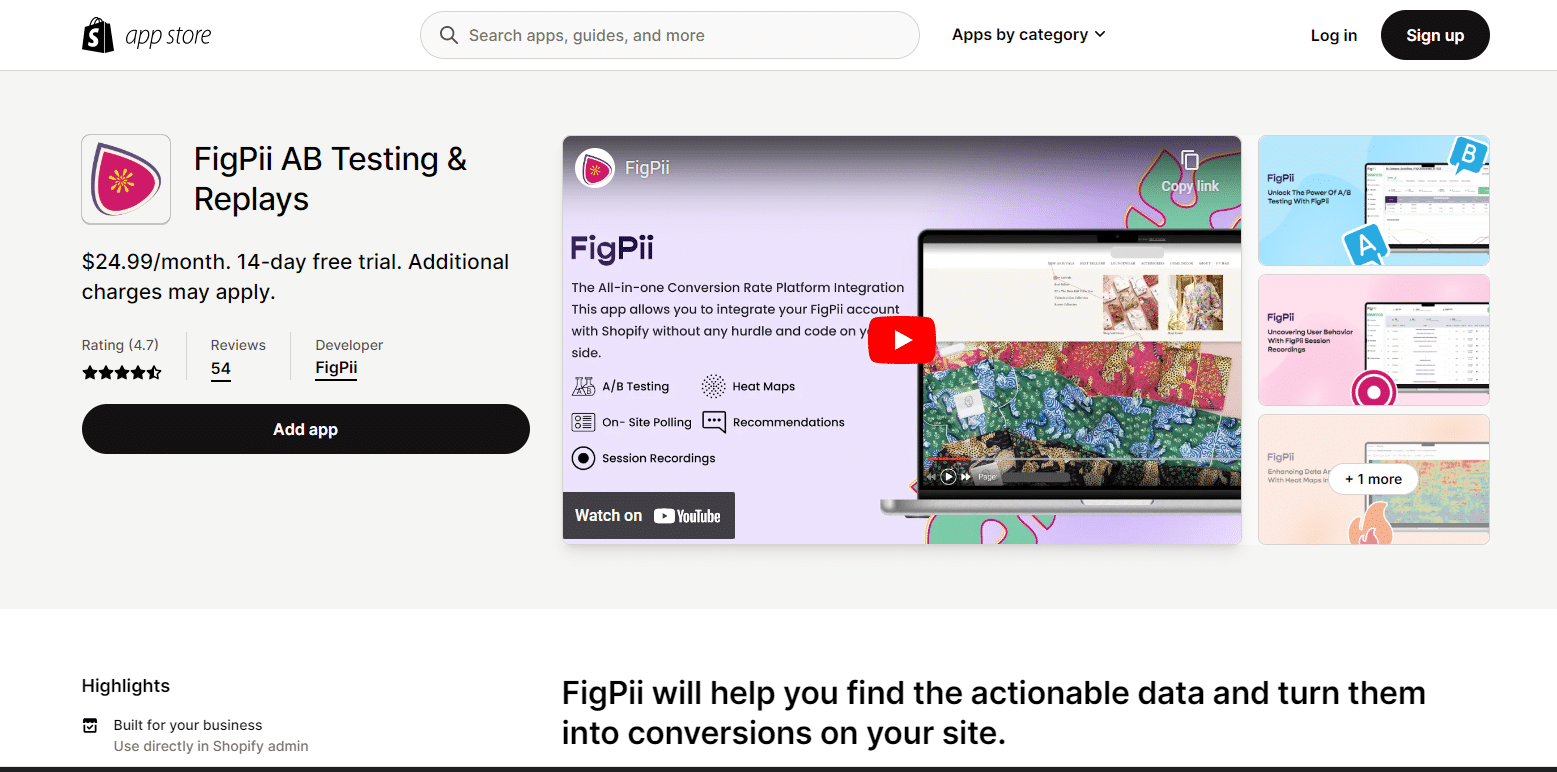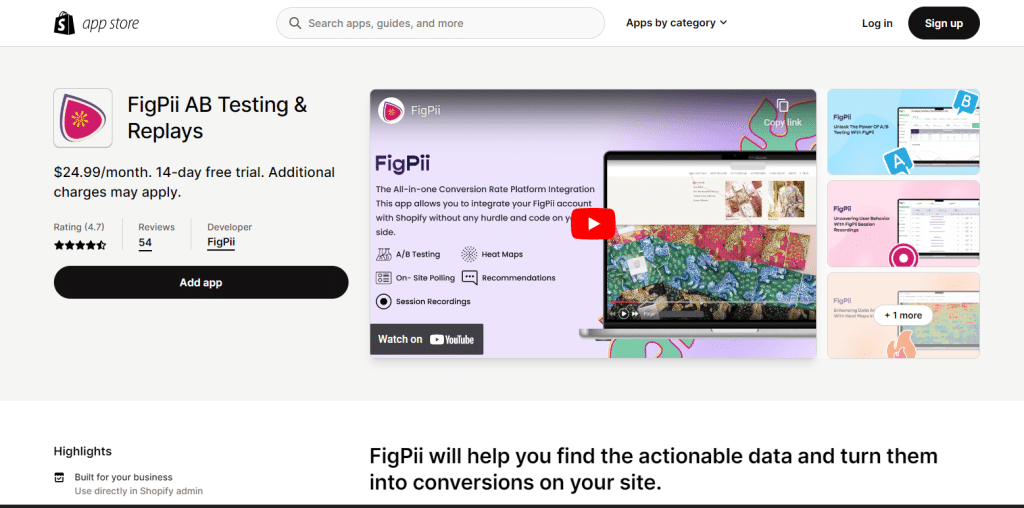 What is FigPii?
Figpii is a conversion optimization platform with tools and resources for website owners and marketers to optimize their website's user experience and conversion rates. Figpii's suite of products includes tools for heat mapping, session replay, A/B testing, and conversion rate optimization.
Why do we recommend FigPii?
FigPii has a suite of conversion optimization tools such as heat maps, A/B testing, polls, and session recordings. All these tools help you improve your conversion rate.
A/B Testing: A/b tests multiple variations of your site to see which performs better.
Heatmaps: Visualize where visitors click the most on your site.
Session Recordings/Replays: Record & replay how visitors engage with your site.
Polls and Surveys: Get customer feedback directly using polls and surveys
In other words, you can use FigPii if you want to know:
where visitors are struggling on your site,
what design resonates with your visitors,
which elements are ignored by visitors?
The app also has a built-in AI recommendation engine that helps make informed decisions about changes on your website.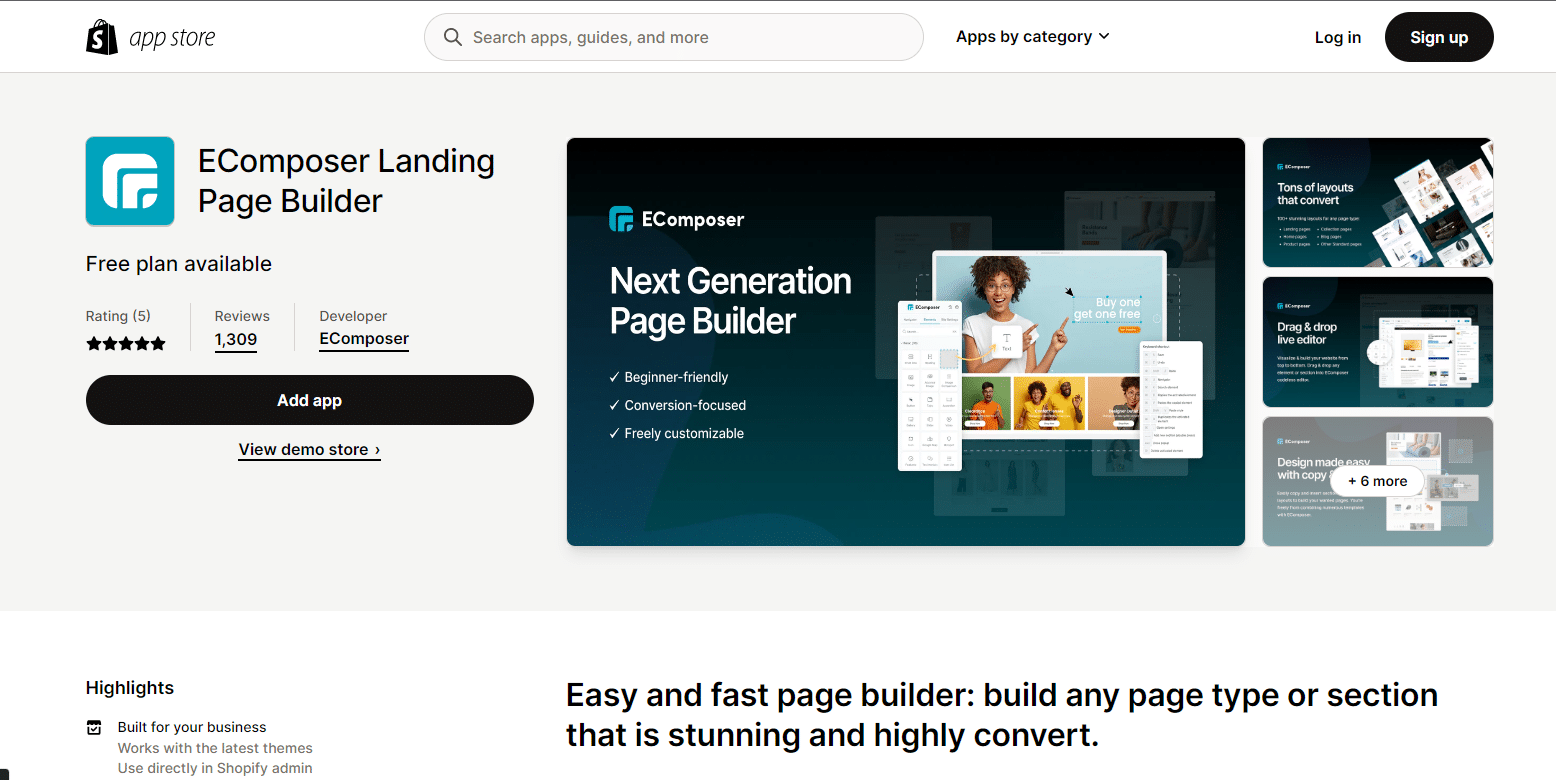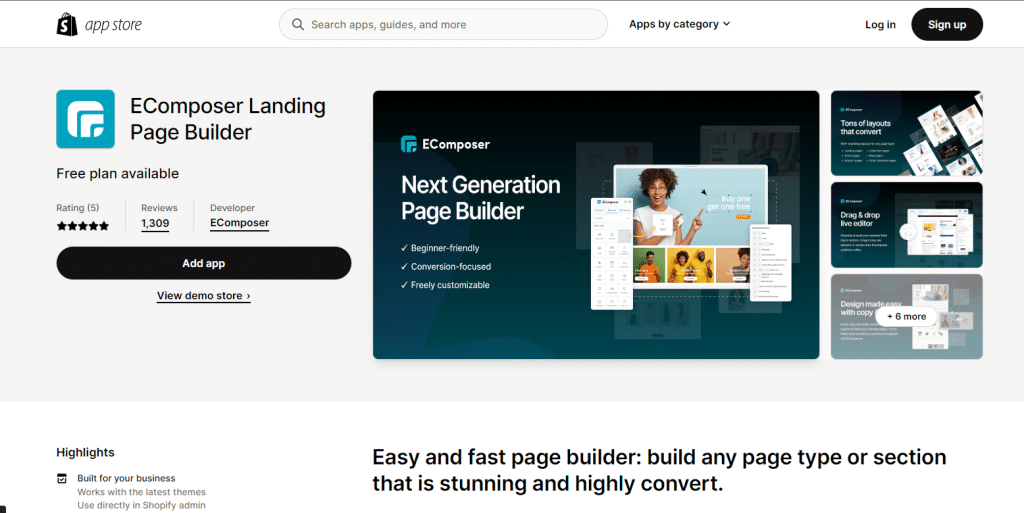 What is EComposer Page Builder:
It is an intuitive tool that allows store owners to create pages and sections quickly and easily using a live drag-and-drop editor. Customizing your store with a library of elements, options, and templates is a walk in the park.
EComposer also offers built-in extensions to boost sales, saving time and costs associated with using third-party apps. Other tools like Judge.me, Klaviyo, Loox, AVADA, Yotpo, and Omnisend easily integrate with EComposer
Why do we Recommend EComposer Page Builder?
Saves time: eComposer is designed to save time by allowing store owners to create and edit product descriptions quickly and easily without the need for coding or technical knowledge.
Drag and Drop Page Builder: eComposer offers a range of customizable templates and tools to help store owners create pages quickly.
Simplifies editing: With eComposer, store owners can change their product descriptions without needing a developer or designer. This can save time and money and give store owners more control over their website content.
24/7 Customer Support: EComposer provides round-the-clock support to assist customers with inquiries or issues.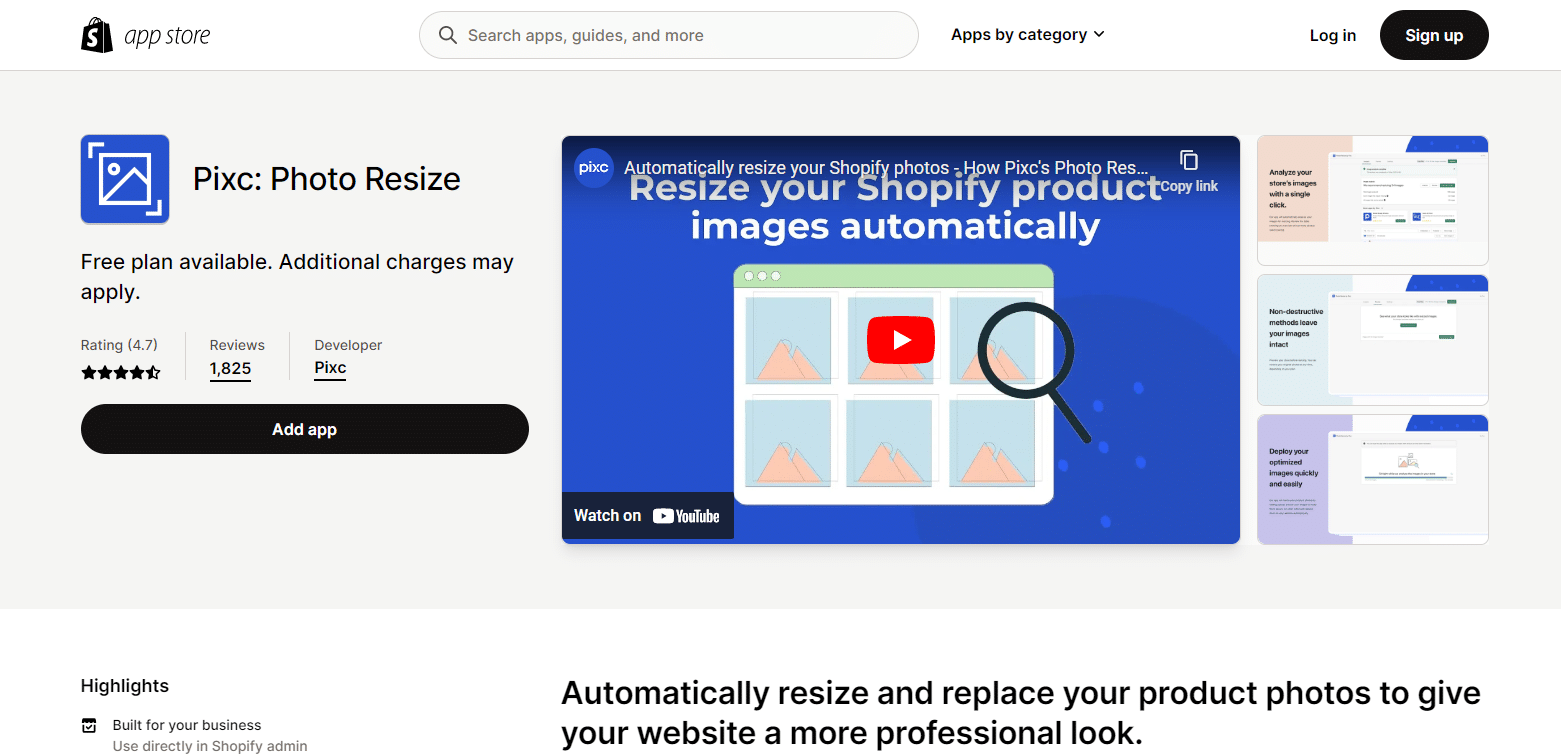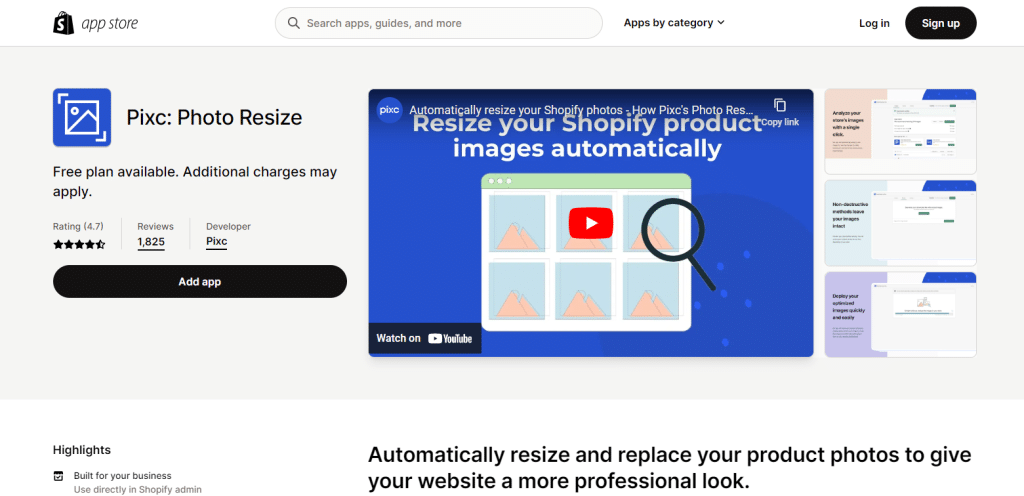 What is PixC Photo Resize
Its bulk image resizer allows you to automatically analyze, improve, and replace your product photos, making all of them uniform to give your store a more professional look. You can choose from three aspect ratio settings, including square, portrait, and landscape, and restore your original photos at any time based on your plan.
Why do we recommend PixC Photo Reize?
Free installation and affordable pricing: PixC photo resize is free to install and also offers affordable pricing plans starting at $4 per month; this makes it accessible to small business owners and those on a tight budget.
Saves time: PixC automates the process of resizing and optimizing images for online stores. This can save store owners significant time compared to manually resizing each image.
Improves page load speed: Photo Resize by Pixc can help improve page load speed by optimizing images, potentially leading to higher conversion rates and better search engine rankings.
Enhances visual appeal: By ensuring that all product photos have a consistent size and aspect ratio, PixC creates a more visually appealing and professional-looking online store.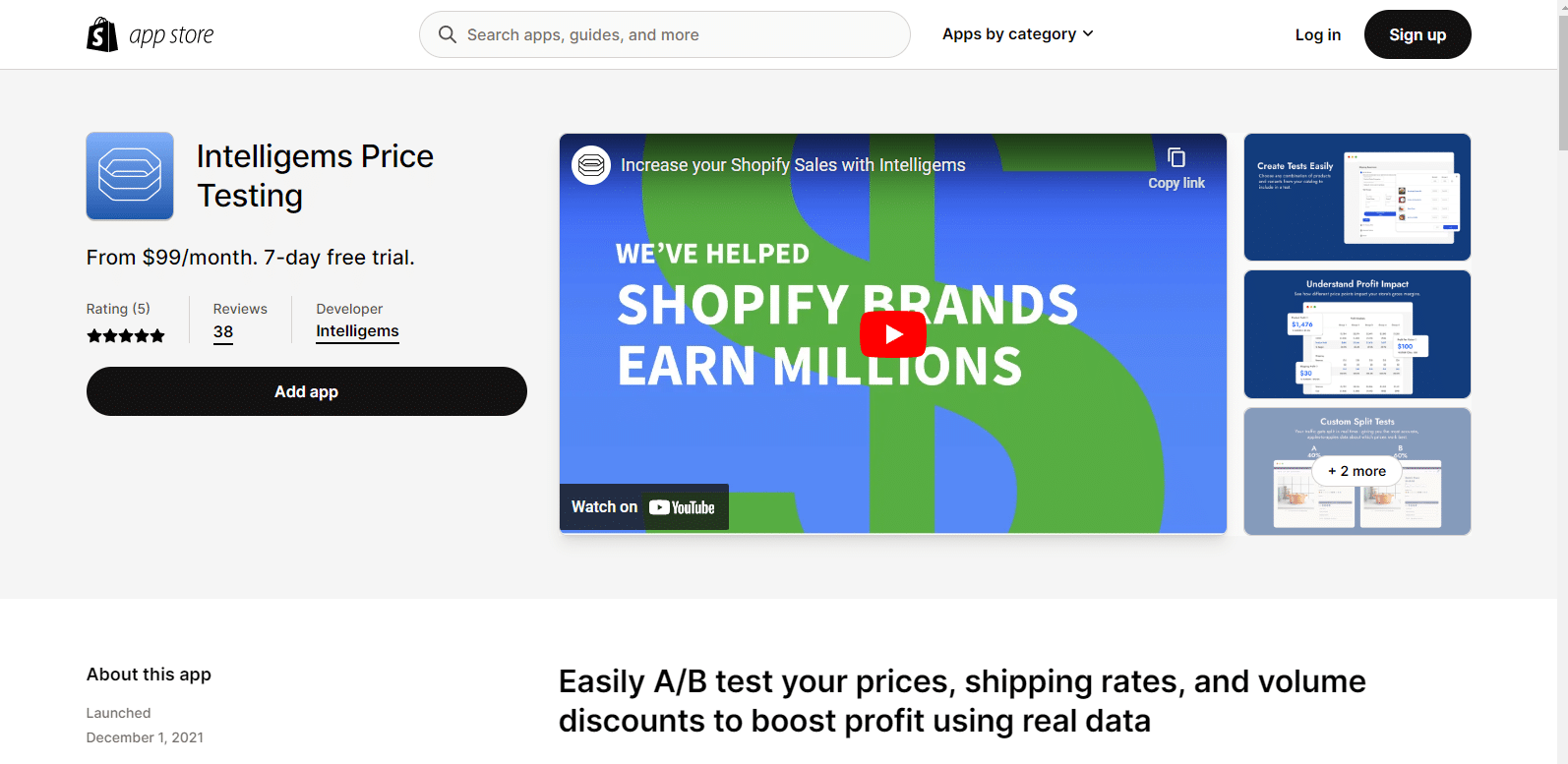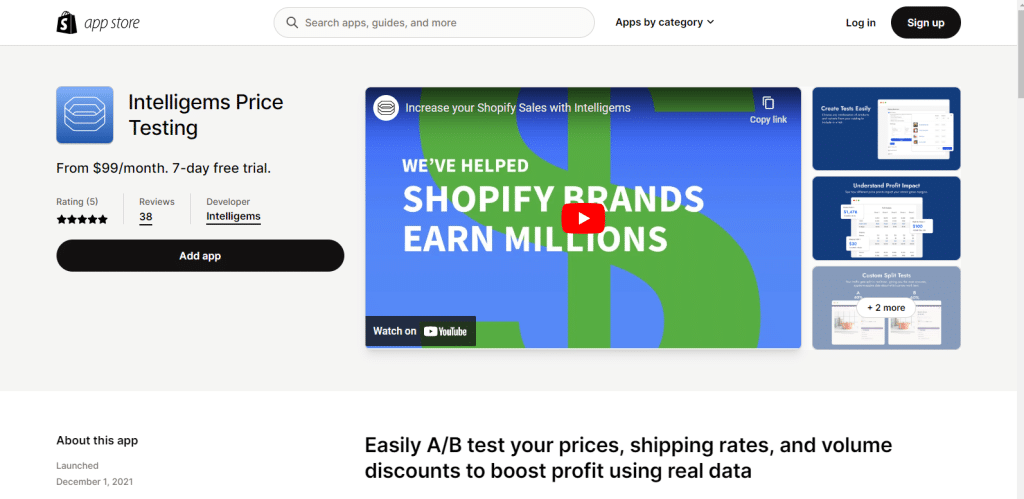 What is Intelligems?
Intelligems is a price A/B testing app that allows you to test different pricing strategies and see how they impact sales and revenue. You can also set up multiple tests simultaneously on real-time customers, and the app will automatically allocate traffic to each variant.
Why do we recommend Intelligems?
Optimized Pricing Strategies: The app allows store owners to test different pricing strategies and determine which ones work best for their products.  It also allows you to run pricing tests with shipping costs.
Drive Sales: By testing different price points, store owners can identify the points that resonate best with their customers and drive more sales.
Real-Time Reports: The app provides real-time reporting, allowing store owners to monitor the progress of their tests and make adjustments as needed. This feature helps you stay on top of their pricing strategies and make informed decisions about their products.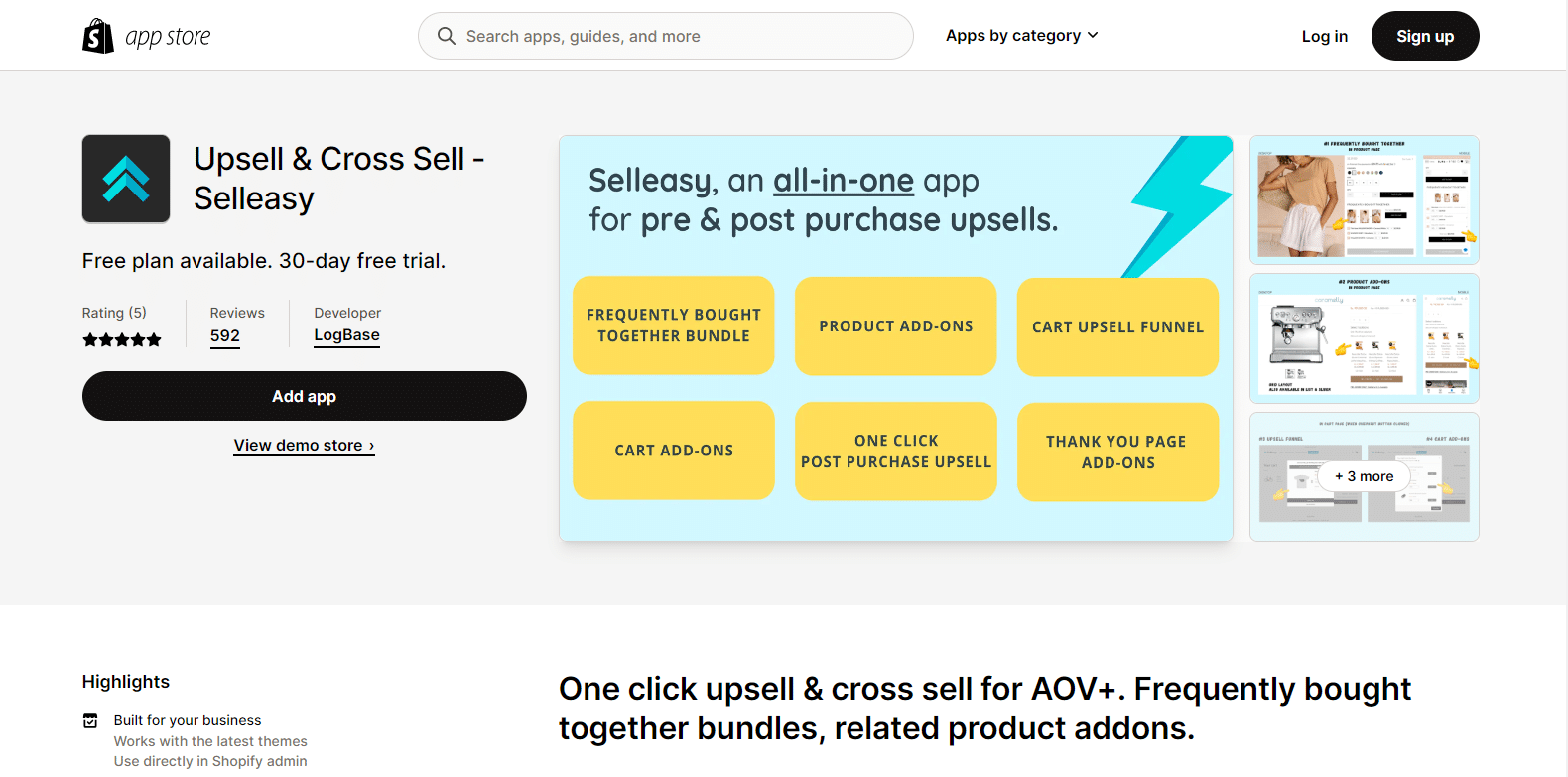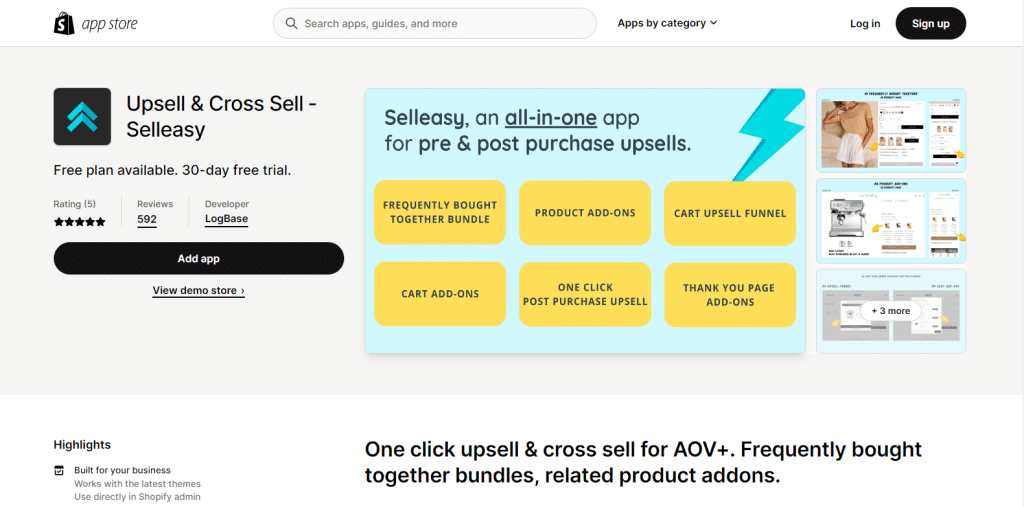 What is Upsell & Cross Sell?
The Upsell Cross-Sell app is another powerful tool that helps you boost your revenue by offering personalized product recommendations to your customers. With easy-to-use customization options, you can choose how and where these recommendations appear on your site to fit into your store's design without disrupting the user/customer experience.
The app provides a variety of upsell and cross-sell strategies, including product bundles, recommended products, and even post-purchase upsells
Why do we recommend upselling & Cross Sell?
Advanced Targeting: It also allows you to target customers and recommend products based on behavior, purchase history, or other relevant data.
Increase Revenue: The app allows store owners to recommend related products to customers at checkout, increasing the likelihood of upselling or cross-selling additional items.
Control over product bundling: You can create the offers manually or use automatic recommendations when trying to upsell or cross-sell products.
Customer Experience: By promoting related products, the app enhances the customer experience by offering complementary items that may interest you.
What is Hextom Free Shipping Bar?
Looking for a way to encourage customers to add more items to their shopping carts and increase sales on your Shopify store? Hextom Free Shipping Bar is the ace you need up your sleeves.
The Hextom Free Shipping Bar app allows you to display a customizable banner promoting free shipping offers to your customers. You can create eye-catching banners encouraging customers to add more items to their cart to qualify for free shipping.
Why do we recommend Hextom Free Shipping Bar?
Increase Sales: The app allows store owners to promote free shipping offers to customers, which can help incentivize purchases and increase sales.
Advanced Targeting: It allows you to set up and display banners to specific customers based on their location, age, page they are currently on, and other relevant information.
No coding required: The app is easy to set up and use, requiring no coding or technical expertise.
Cost-Effective: The app has a free, basic plan with all the features needed to get started.
Real-time Currency conversion: The app also automatically detects the currencies of your visitor and converts the costs.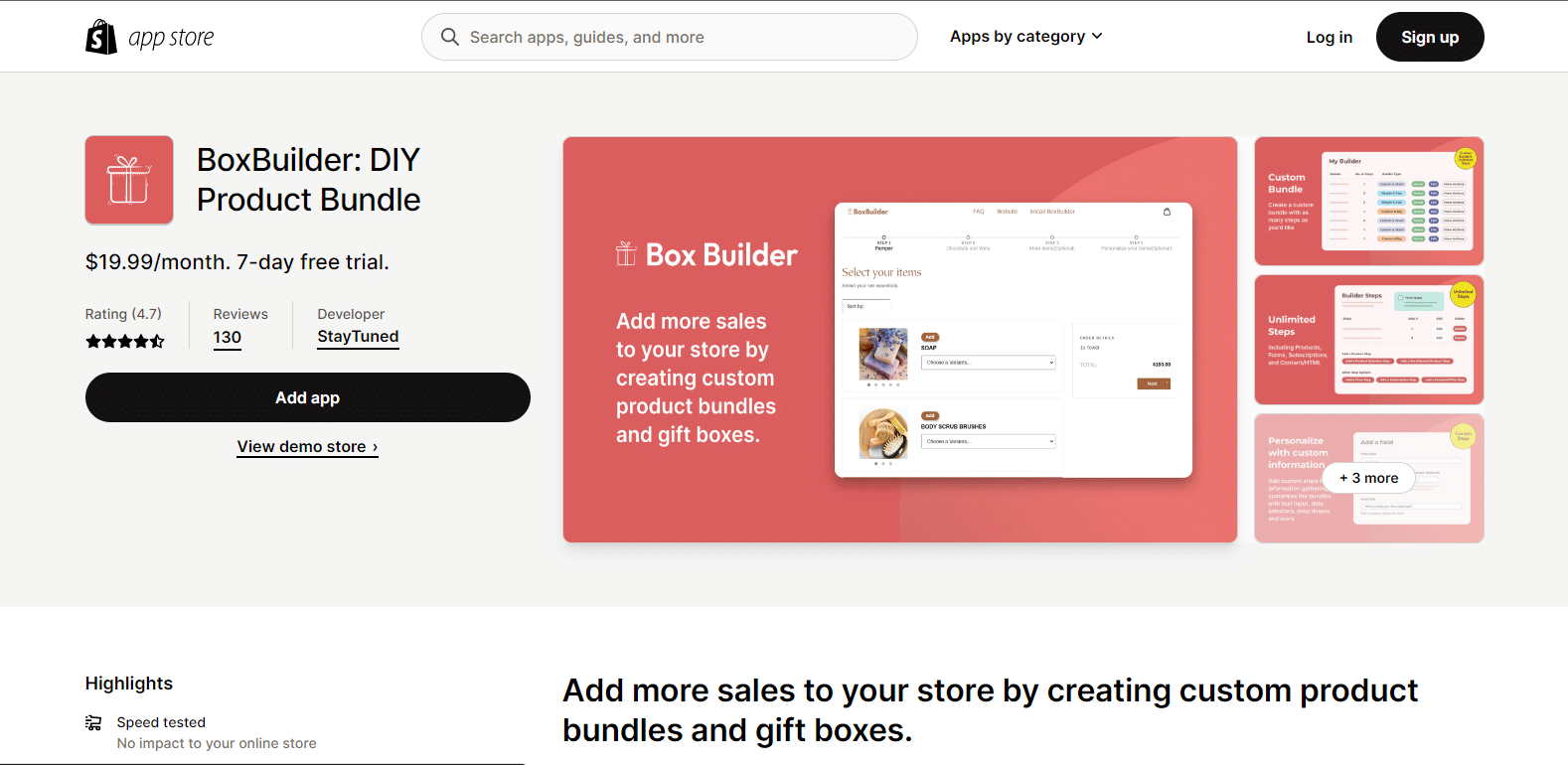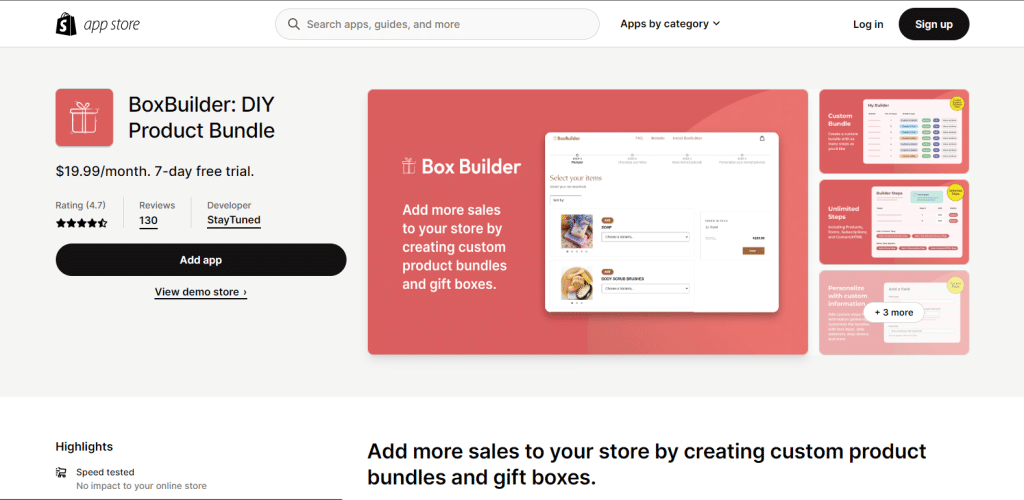 What is BoxBuilder?
The BoxBuilder: DIY Product bundle falls under the marketing and conversion category. It allows you to create custom products and personalized customer experiences. You can create product templates and let your customers personalize them with text, images, and products, allowing them to build their product bundles.
Why do we recommend BoxBuilder?
Customizable Products:  Allows you to offer customizable products, allowing customers to create unique items. This can help increase customer engagement and satisfaction, increasing sales and customer loyalty.
Multiple Customization Options: The app offers a range of customization options, including text, images, and colors. Store owners can also limit the number of characters or images customers can use to ensure a consistent, high-quality product.
Cost-Effective: The app offers a free trial, allowing store owners to try out the app's features before committing to a paid plan. The app also offers affordable pricing plans, making it accessible to different business sizes.
What is Jebbit?
Jebbit is an app that Shopify store owners can use to create interactive quizzes, polls & surveys, and other types of content to engage customers, drive conversation and get feedback.
With Jebbit, you can build custom experiences that capture customer data, segment your audience, and deliver personalized recommendations.
Why do we recommend Jebbit?
Lead Generation: Jebbit's interactive quizzes are designed to capture leads, boost engagement, and ultimately improve your conversion rates and sales.
Collect Valuable Data: Jebbit's platform allows you to collect valuable customer data, including demographic information, purchase behavior, and preferences.
Enhance Personalization: You can use information obtained from the quizzes to create more personalized experiences, such as customized product recommendations or personalized marketing messages.
Affordable: Jebbit offers a variety of pricing plans, including a 14-Day free trial and a free basic plan that allows you to try out the features.
Jebbit also Integrates with Klaviyo, Facebook, Google Tag Manager, Hubspot, Mailchimp, and Attentive.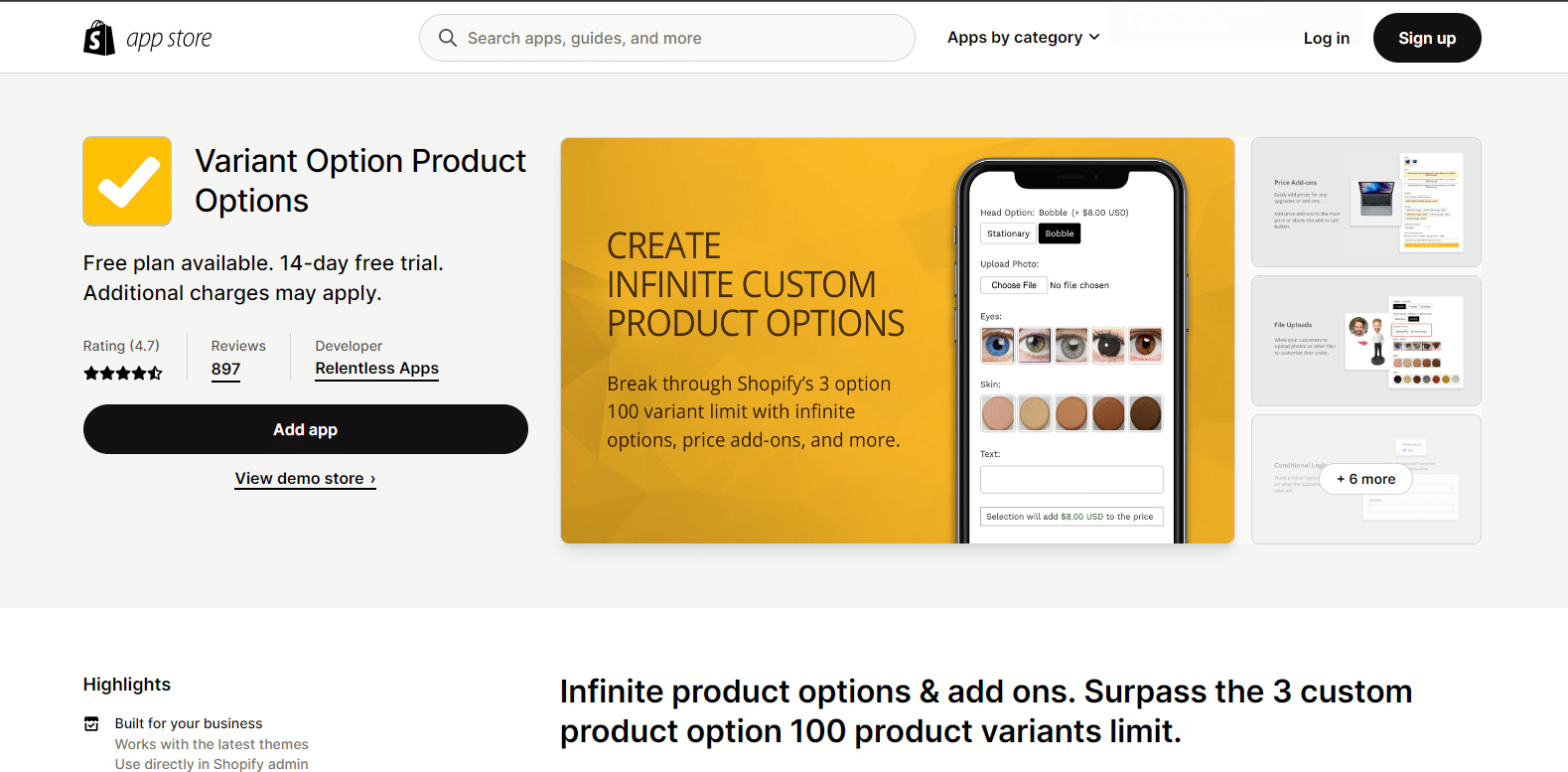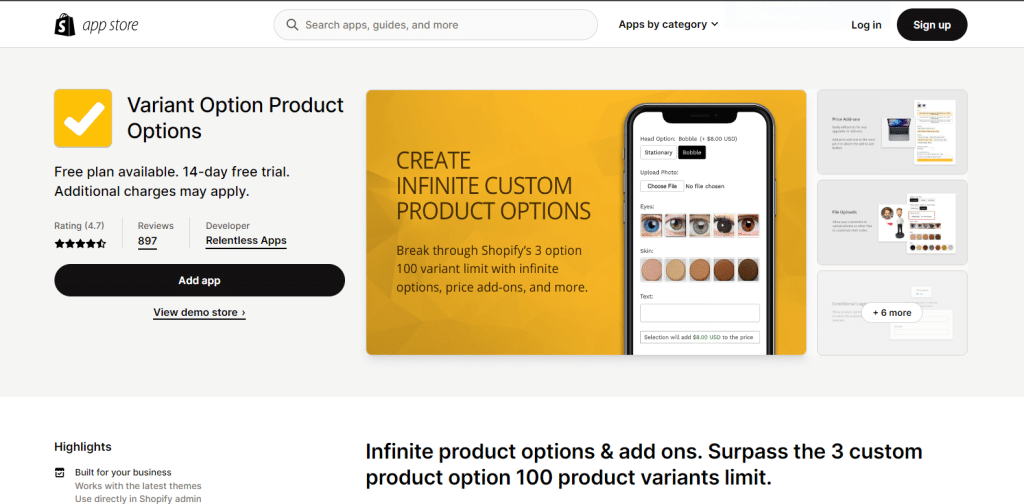 What is Variant Option, Product Option?
The Variant Option Product Options app, is the perfect solution for any e-commerce business looking to offer customizable product options to new and existing customers.
With unlimited options like dropdowns, radio buttons, checkboxes, and more, you can easily create unique product variations that fit your customers' needs. Plus, the app allows for per-option pricing, ensuring you can create custom pricing and product variations based on customer selections.
Why do we recommend Variant Option, Product Option?
The personalized shopping experience for customers: Variant Option allows you to offer their customers a wider range of customization options, which can help make the shopping experience more engaging and personalized.
Easy to use: The app is designed to be user-friendly, with a simple and intuitive interface that makes it easy to create and manage product options. This can save store owners time and effort when managing their inventory.
Cost-effective: The app is relatively inexpensive compared to other Shopify apps, with a free plan, a basic plan for $8.99/month, and an advanced plan of $18.99/month.
Multiple Integrations: Variant Option integrates with other apps like Shogun Landing Page, Page Fly Gempages, Upload‑Lift Gem Page, uploadkit uploadery, and upload-lift
Over To You
In the fast-paced world of e-commerce, online store owners need every advantage to stay ahead of the competition. Adding the right Shopify apps to your store lets, you fine-tune your ecommerce car, boost its performance, and make it stand out on the digital road.
Whether you want to increase customer engagement, drive sales, or optimize your operations, these 9 Best Shopify apps will keep your store on track in the ecommerce race.
So what are you waiting for? Start your engines and install these apps today to unlock the full potential of your Shopify store.