SEO has existed for a long time now. It all started in 1997, so SEO had a lot of time to mature.
And while SEO is mainly dominated by Google, our subject for today, ASO, isn't.

It's dominated by two massive players, Google with its Play Store, and Apple with its App Store.
And speaking of ASO, app store optimization isn't anything new. We've had smartphones since 2007.
But with the growth that we're seeing now in mobile apps, the competition has been on the climb.
But before we get into the technicalities of ASO and how can you use it to your advantage, what is ASO in the first place?
What is App Store Optimization (ASO)?
App Store Optimization (ASO) is the process of optimizing mobile apps to achieve a higher ranking in an app store's search results. The ultimate goal of ASO is to increase downloads and purchases by driving traffic to an app's page in an app store. 
Increased visibility means more traffic, which leads to more downloads/purchases.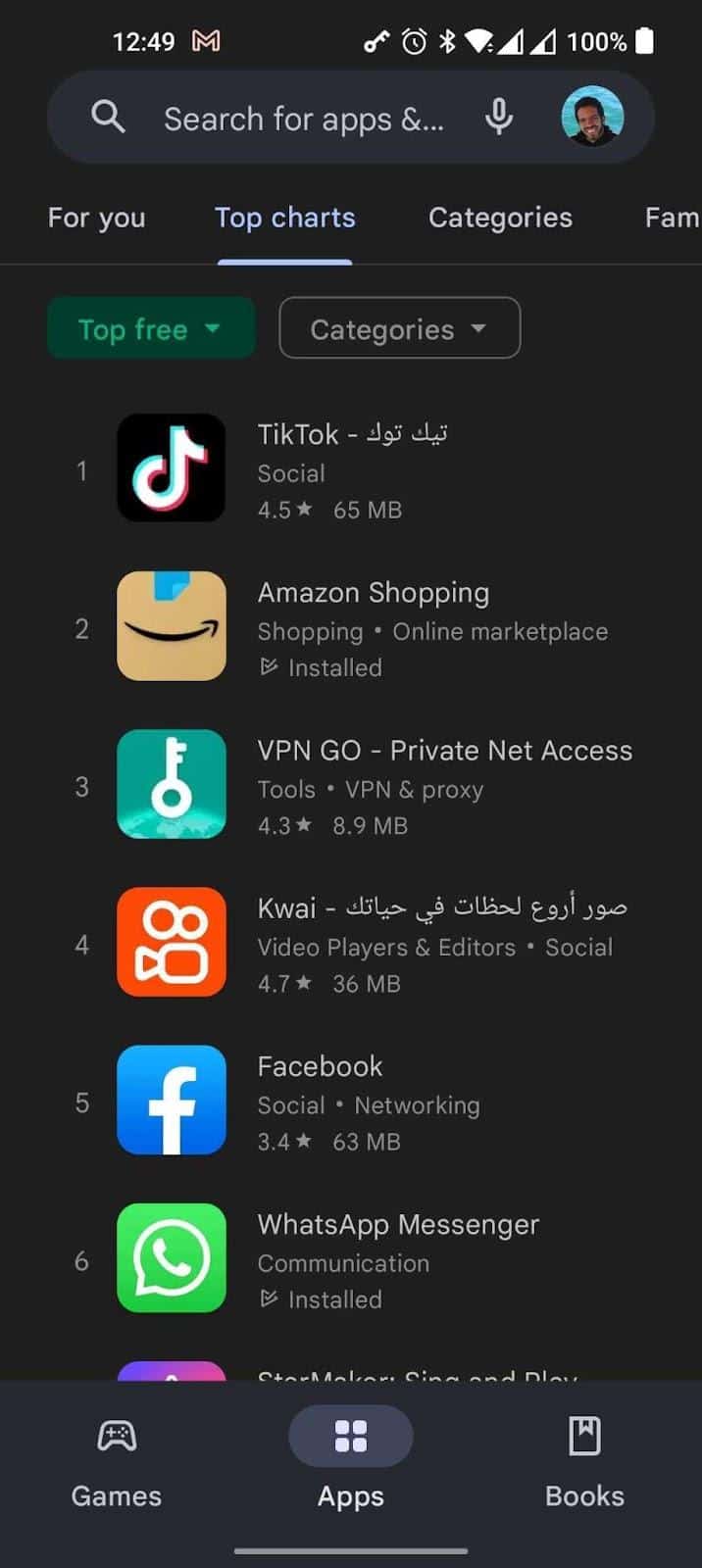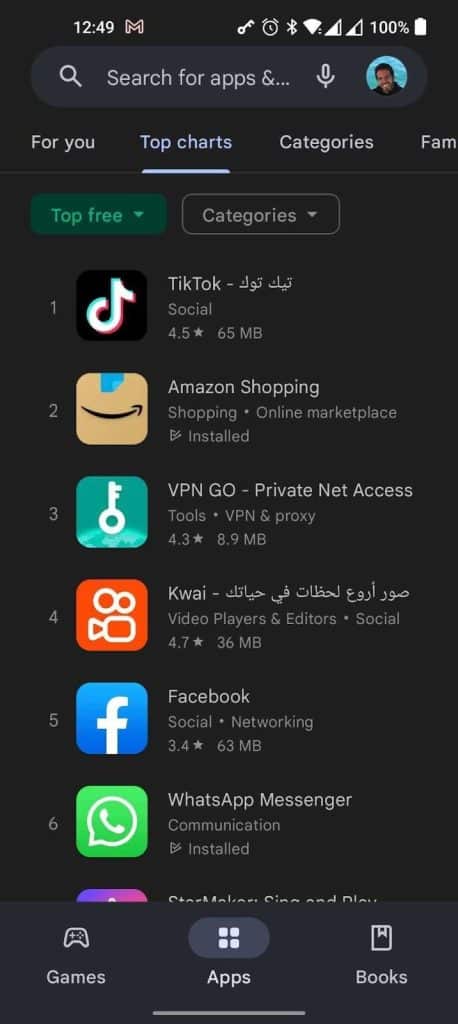 As you can see from this screenshot from Google Play Store on my phone, TikTok ranks no.1 overall in the app category, and Subway Surfers is no.1 in the games category.
Several factors can affect an app's ranking in an app store, factors as (Keywords, creatives, and reviews).
Therefore, ASO involves understanding and targeting these ranking factors. As SEO does, similarities like these can be found readily in ASO.
ASO is an ongoing process, as it is necessary to continuously monitor and adjust an app's optimization to maintain or improve its ranking.
New apps are also constantly being released, which can impact the rankings of existing apps. Therefore, ASO is an integral part of any mobile app marketing strategy.
Why is app store optimization important for app growth?
– User Acquisition
There are a few reasons why app store optimization is vital for app growth. It allows you to improve your visibility in the app store, which can lead to more app downloads.
When users land on your listing and find it convincing enough, they're more likely to download and use the app.
– Better Insights and Research
Also, ASO helps you do more extensive, profound, and detailed research for your app. 
Similar to SEO, you'll get a good idea about what your users search for when they think of a product you offer.
As you'll see in the next section, we'll talk about keywords, another similarity to SEO. Keywords help you know what your audience looks for so you can focus on them.
– Cuts User Acquisition Costs
Now ASO is an organic approach, but it does help you lower your ad spending over time.
ASO focuses on making the messaging consistent throughout your app listing page. Unifying the messaging across your app listing and ads help you get a lower cost per install 'CPI' over advertiser platforms like Google, Facebook, and even Apple.
– Increase revenue 
According to apptweak.com, users from organic channels are likely to have an LTV that's 3-5x higher.
That's because people tend to trust what they find via organic search, not what's being sponsored to appear in the search results.
How to optimize your app to rank higher in app stores
When it comes to ASO, you'll probably have one of 2 primary objectives, each of which will have a different set of optimizations. These two objectives are:
Increasing the overall traffic on your app's listing page
Increasing the overall conversion rates 'installs' of your app
If we talk about traffic, then we'll be looking at optimizing a couple of things:
Keywords
Metadata
But if we talk about installs, then we'll be looking at optimizing a couple of things:
Creatives
User reviews
So we'll dive deep into all these things and how you optimize your app, starting with keywords.
1- Keywords & Metadata
If you aren't familiar with keywords in SEO and now ASO, let me brief you quickly on it.
You can think of keywords are the terms or phrases that users type into the app store search bar to find the apps they are looking for. 
Here's a perfect example…
Suppose you're looking for a heatmap solution for your website. You're likely to type things like 'website heatmaps, heatmaps WordPress, heatmap analytics', right? Those words you just typed are referred to as keywords. 
So, a company that offers heatmap solutions (as we do) should aim to rank for those keywords. If you have a mobile app, this is the same thing – you'd want to rank high for keywords that relate to your mobile app so that a relevant audience can easily find you.
Now that you know what keywords are let's talk about how you can optimize your mobile app page using keywords. This is an important part of the ASO process because relevant keywords translate to the right audience. 
So, we will use a similar tactic to gather and implement keywords like the one I use when doing SEO. It consists of 3 steps.
Collect relevant keywords for your business, and your copy
Select keywords that are likely to have a high impact on your listing to implement
Optimize keywords based on feedback and rankings
Step 1: Collect relevant keywords for your business and your copy
And we'll start with the first step, which is to make a list of all the possible keywords that relate to your business, you don't need to require an ASO tool to gather these keywords, but they'll help you.
Let us say you have a sleep-helping app that people would use to listen to calming music or sounds that help them fall asleep faster. What keywords might we want to go for here?
Keywords like these come to mind first, right? 'relaxing music, meditation music, sleep music, calm music, piano music, spa music, sleeping music, soothing music, deep sleep music, relaxation music'.
They are relevant keywords that we should take into consideration. Now, build your list of all the similar terms that you use, or maybe your competition uses.
Now that you have a massive list of keywords, we'll need to filter them down and select keywords that would impact our rankings on the Apple App Store and Google Play Store.
Step 2: Select keywords that are likely to have a high impact on your listing to implement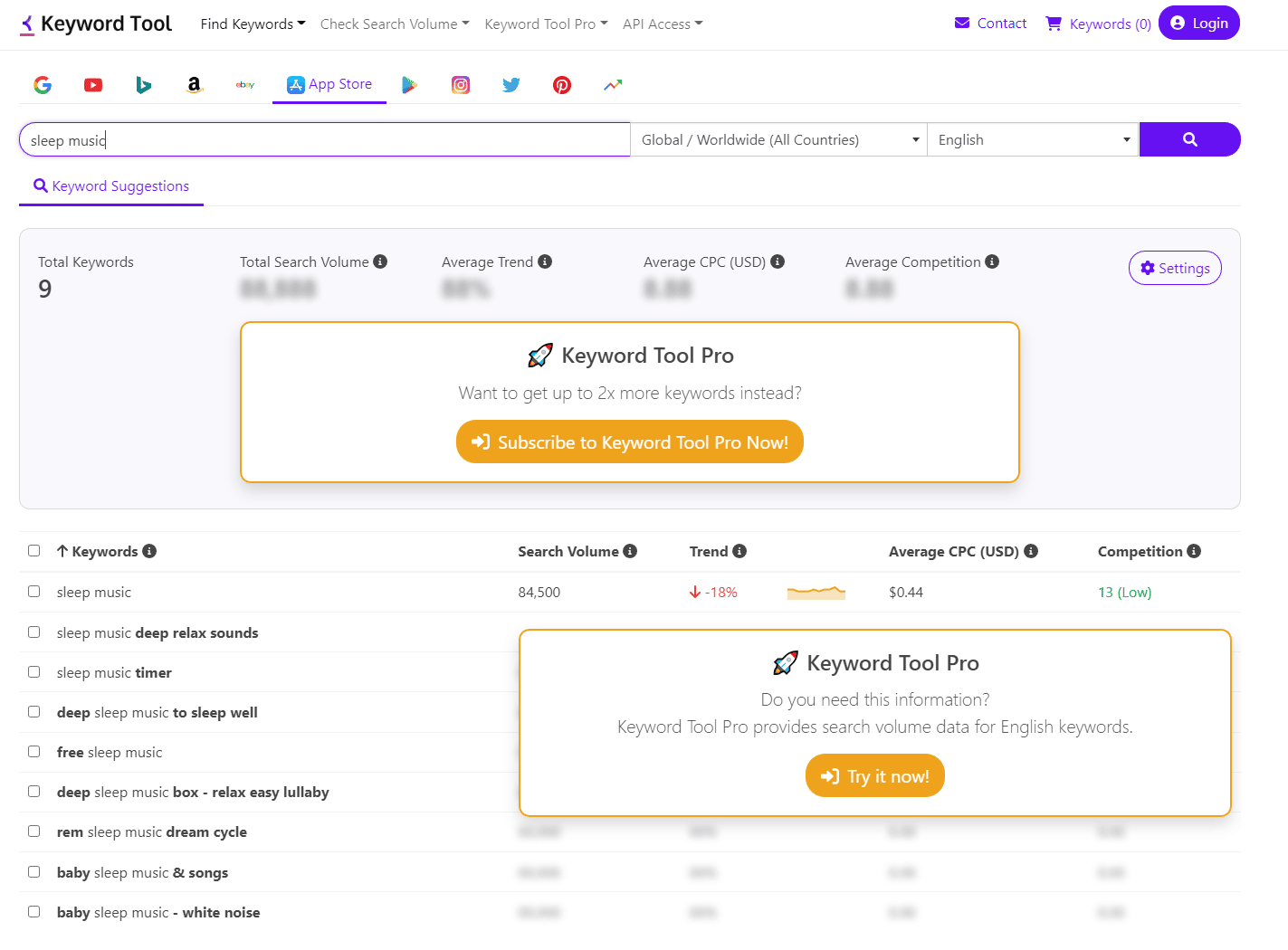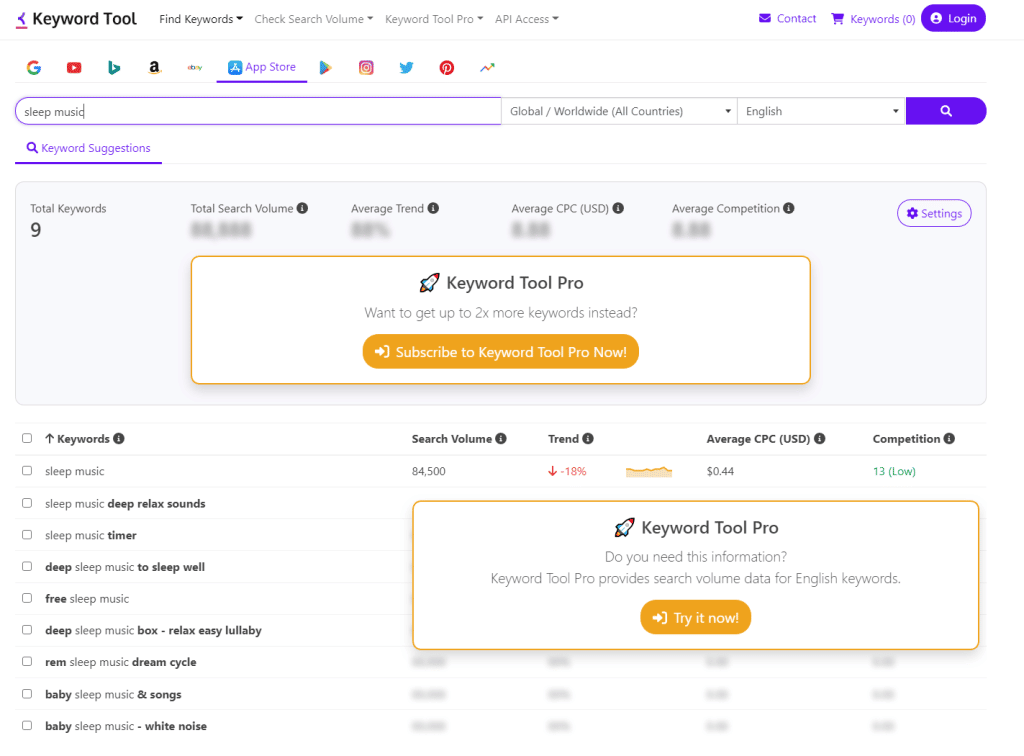 For this task, we'd want to get keywords with a high search volume but aren't fiercely contested so we can rank on them easily.
For this task, you'll need to use a tool like Keyword Tool to get the search volume for all the keywords we have extracted and store them in an excel sheet like this one.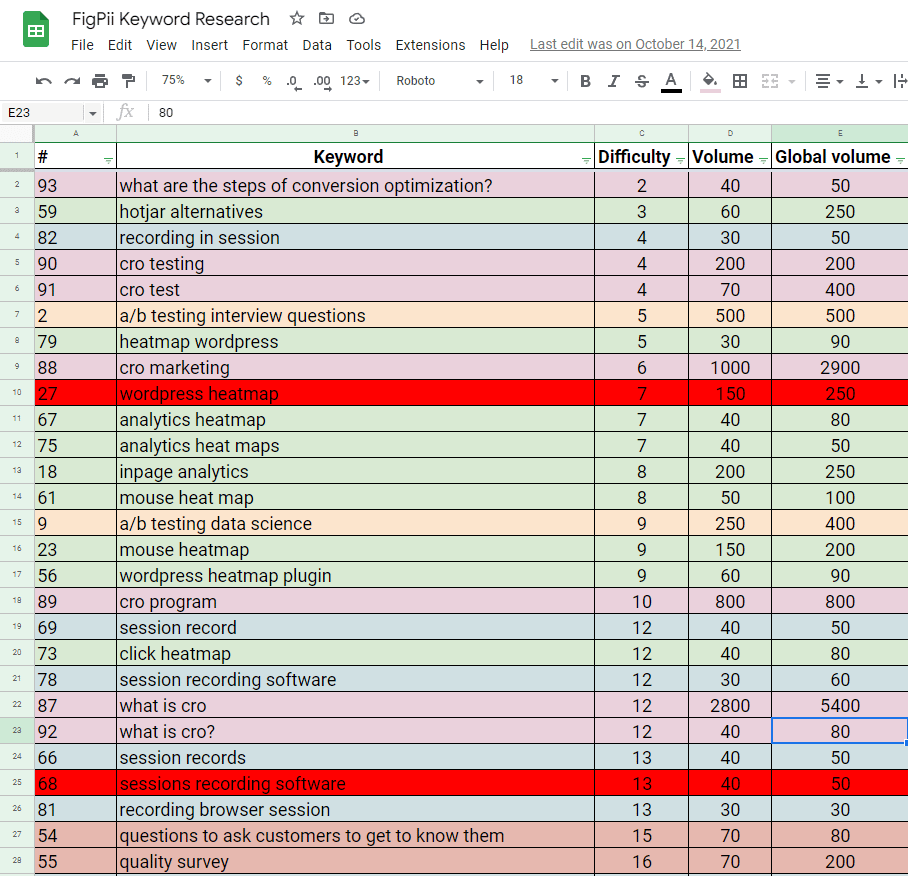 You'll want to rank them based on your preferred metrics. Like if you have low-competition keywords, you'll rank based on difficulty, etc.
I recommend going for keywords with a high search volume but are not highly competitive. That way, we can rank them quickly and get more visitors.
Now that you have a list of keywords you want to add to your app, let's talk about where we will place them.
The four places where you would want to add your keywords are these:
App Name
Short Description
Long Description
Metadata
And let me give you an example of an app that does this very well, Calm, the meditation app.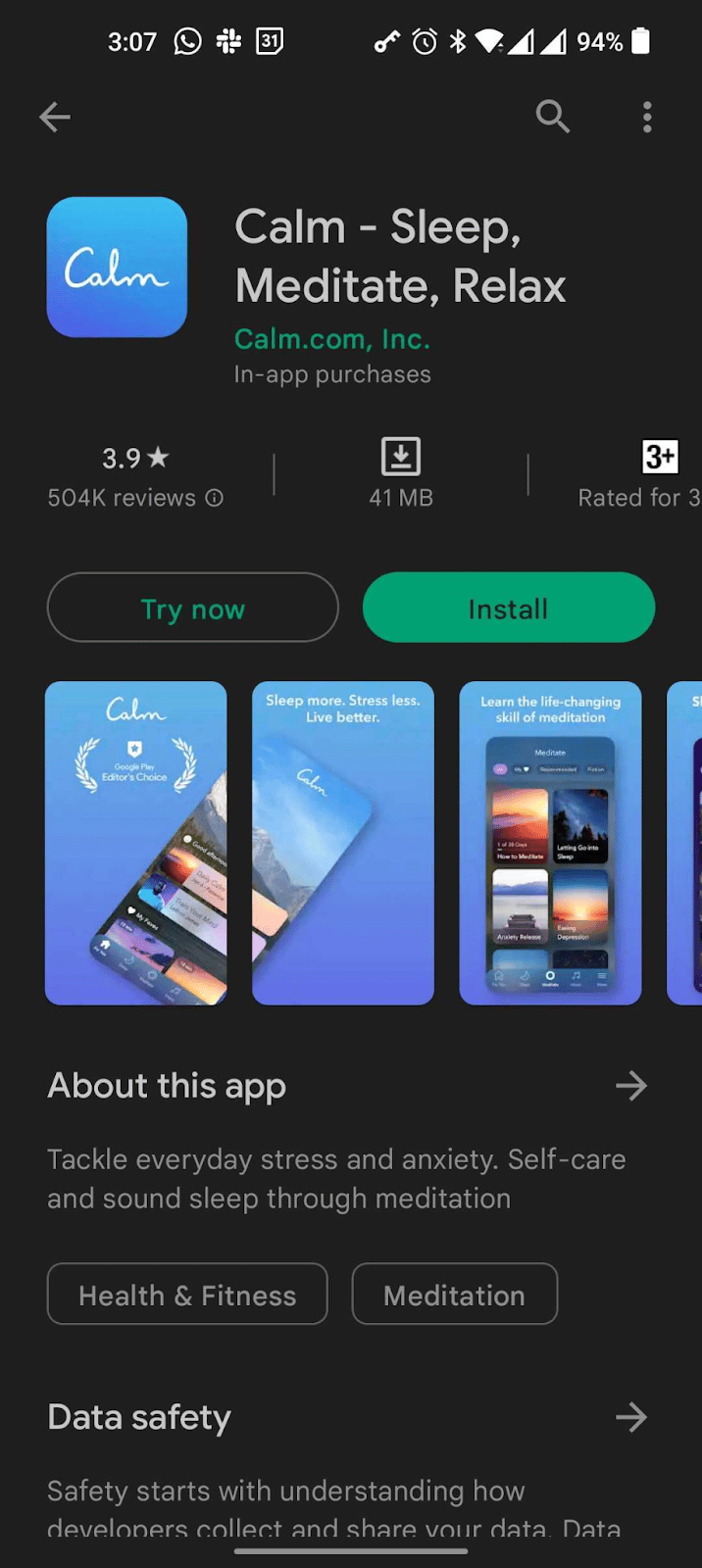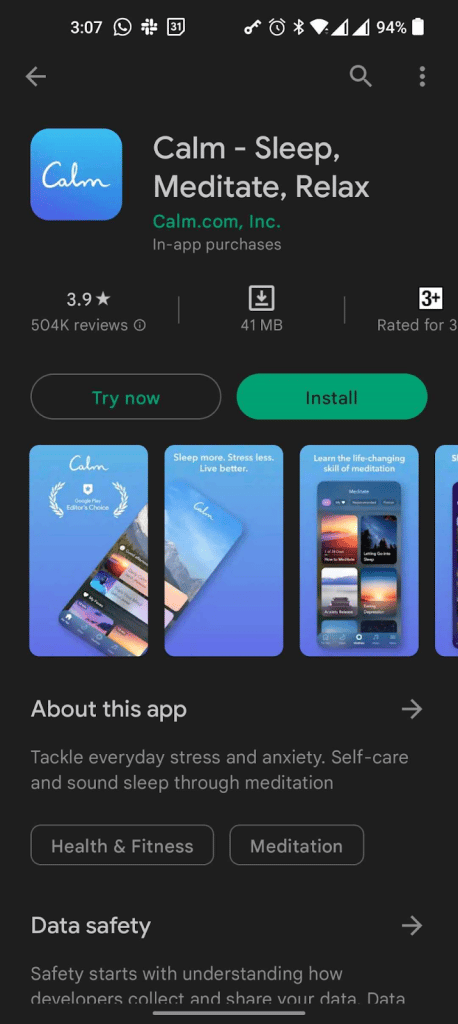 As you can see from the screenshot, I took it from Google's play store. Calm optimized their app's name for three highly competitive keywords to help them rank higher.
This is followed by a short description with keywords like (stress, anxiety, self-care, and sound sleep) which are all high-traffic keywords.
And lastly, in the long description, they implement as many of those keywords they identified as important within the content without any keyword stuffing or anything appearing out of place.
And while I can't see the metadata myself, it's only viewable by the app developers and the algorithm. I'm sure they have optimized their metadata to complete the keyword optimization process.
You'll have to be crafty regarding the app name and short description because you won't have a lot of room to write a lot of content.
Step 3: Optimize keywords based on feedback and rankings
This step is about observing what happens with your app and then making adjustments based on it because ASO isn't a process that happens just once. It's a continuous process.
What you want to do here is to check how your ranking is changing. You can use an app like Sensor Tower or a website like Similarweb to see your rank.
Once you've started tracking your app's rank, see if the changes you make help you rank higher or hurt your ranking. The search algorithm is constantly changing, so you'll have to adapt.
Now that we've covered Keywords and Metadata and the whole traffic aspect of app store optimization, let's cover the installs and how to help your app get more installs.
2- Creatives
Whenever a user lands on your app listing, they first see your logo, followed by some screenshots and videos if you have them on the page. All these elements are what we refer to as creatives. 
One thing you should know about creatives is that they are highly customized. What works for other mobile apps might not work for your own. Remember, apps differ from category to category, so you must do due diligence to determine the best creatives that work for you. 
While, unlike keywords, the creatives optimization process varies from app to app based on many factors like category, industry, etc.
But here's the process I always recommend for people trying to get more installs. It's also a 3 step process that could be used for any app in any industry.
Research
Optimize
Test
Analyze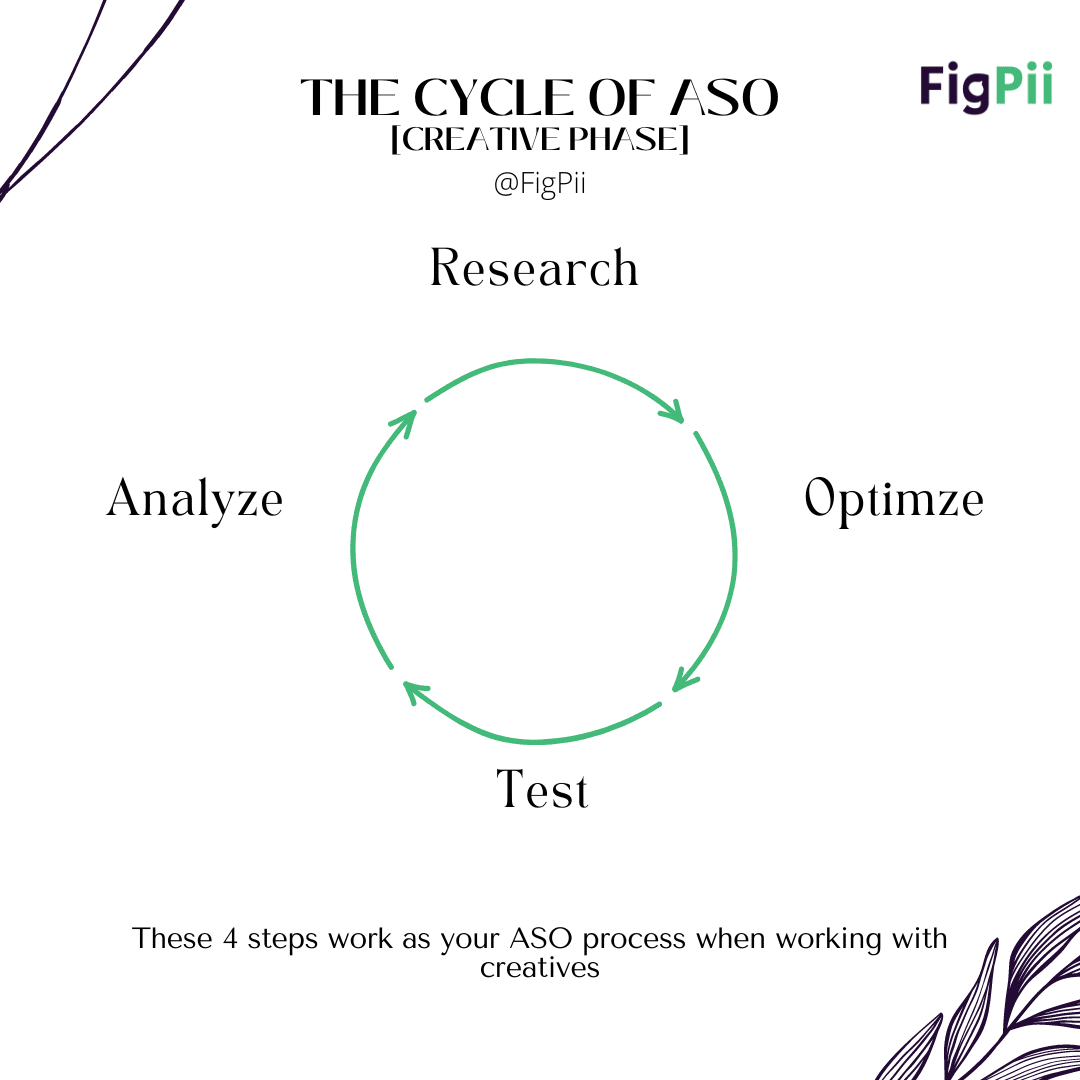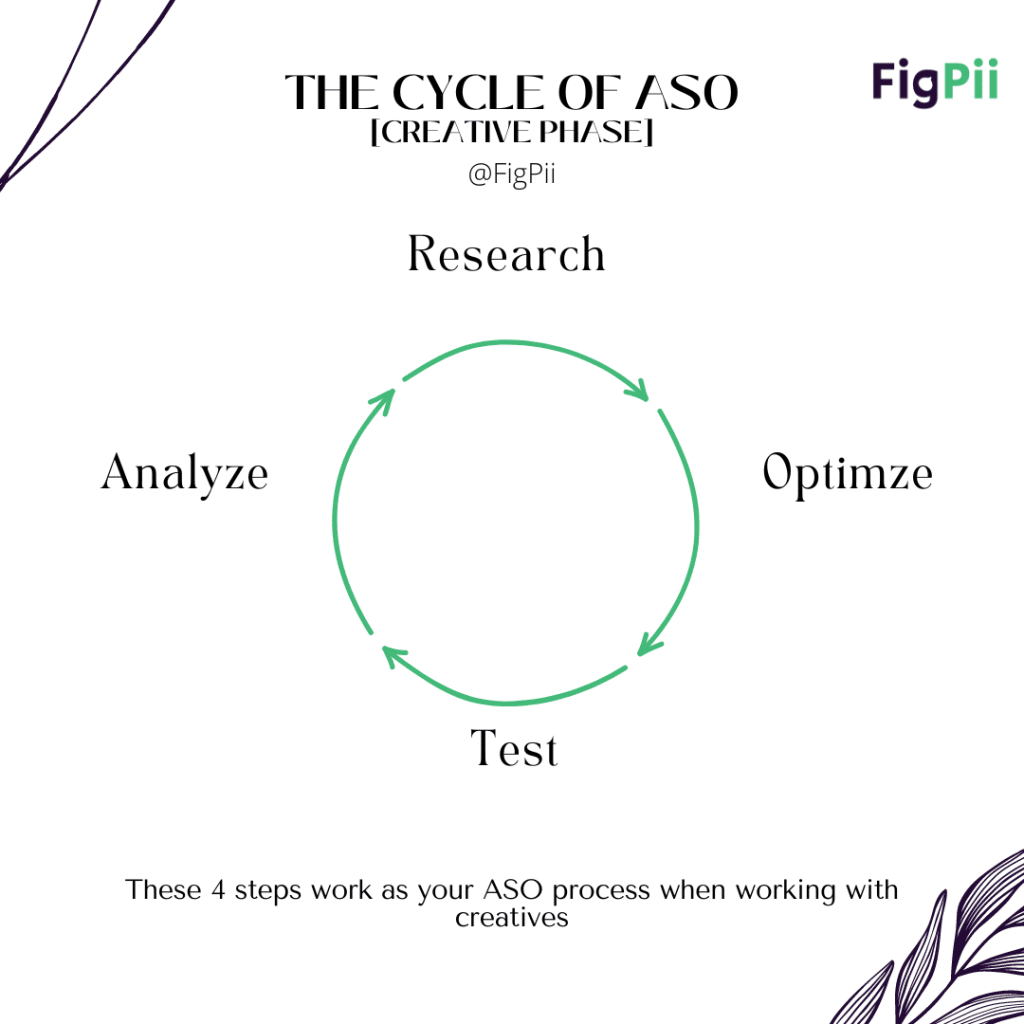 As you can see, the process is similar to the keywords optimization process, starting with research followed by optimization.
1- Research
Your app needs to look and feel up to date with the current trends in aesthetics, so first, see what's the industry up to now and make your version based on it.
You don't want your app looking as outdated as the banking apps look, do you? Absolutely not. So review your brand guidelines and adjust them if needed.
See what your competitors are doing and how you can draw inspiration from them, don't copy that would only hurt you, steal like an artist.
2- Optimization
After you've done your research, the next move is to act upon the data you've collected. Data like your industry standards and what your competitors are doing.
I would personally work with a brand designer and get some consultation on whether my app logo looks good and modern. If not, I'd look into doing other variations and see which one would look the best.
Designing isn't a technical thing, and it's highly objective. That's mainly why we give an overall structure to how you optimize creatives but leave the details to you.
3- A/B Testing
What's a/b testing? A/B testing (sometimes known as split testing) is the process of testing two versions of the same page to see which one generates more conversions.
And A/B testing for mobile apps isn't new, as mobile apps have been around for a long time, but surprisingly, Apple's app store doesn't allow you to do that.
On the other hand, Google makes it extremely easy for you to test things like your creatives, icons, and title, and we'll go over how to do that in a minute.
4- Analyze
Now that everything went according to plan, it's time to thoroughly analyze your findings to determine the best course of action.
What worked and why?
What failed and why?
These two questions should be answered in the first step of your research to get the insights that would make your next research much stronger.
But first, I wanted to tell you about custom store listing and localization on Google Play Store, which will play a significant role in our A/B testing process. Unfortunately, this feature is only available on Google Play Store.
Custom Store Listing
Google allows you to create a custom app listing to display different information, creatives, and icons to different visitors, and you can use this feature in two main ways, these are:
Custom app listing targeting using a custom link
Custom app listing targeting a specific country or region
Each of them has its uses and differs in the way it gets used, so let's go over how to use each of these two for your app.
Using Custom Link
You can create a specific link for your app listing to display your specially customized app so you can direct users to it using the link and only that link.
This could be helpful if you have a two-sided marketplace, a food ordering app, for example, you'd want users to find the app easily on significant app stores.
But you wouldn't want people finding the app used by the delivery people and signing up by mistake in it. You'd want a unique link that delivery people sign through as a part of their onboarding process on the job.
Targeting a country
Some applications can have a specific app for specific countries they're targeting that is customized solely for the users of said country, maybe to run specific offers based on that country's holiday.
Google allows you to have up to 50 custom listings for a single app, so you could take advantage of that when launching your app.
How to Create a Custom App Listing?
Now we have covered what types of custom app listing could be done. Let's discuss how you make your app listing from the play console.
Open Play Console.
Select your app.
Select Grow > Store presence > Custom store listings on the left menu.
Select Create custom store listing.
Type your custom store listing name in the "Listing Details" section. (Your custom store listing's name is only for your reference and isn't visible to users, so choose a name that's helpful to you).
Next to "Targeting," select the targeting segments you want to see in your custom store listing by selecting Country, URL, and/or Install state for Pre-registered users.
In the "App details" section, choose a default language by selecting Manage translations > Change default language.
Next to "App details," type a name and a short and full description.
In the "Graphics" section, upload your graphic assets
Select Create
The process is simple enough that even if you're not a tech-savvy person, you'd be able to create your custom app listing without any issues.
Now that you've learned what a custom app listing is and how you can create it. Let's move on to A/B testing your app listing to get as much from it as possible.
A/B Testing on Google Play Store
A/B testing is a big field that you'd need to be educated in before you go into it, and while this section talks about a/b testing on the play store, it won't go into how to come up with an a/b test process for your app.
That said, here's an eight chapters long guide to A/B testing that would cover everything you need to know about the process and how you can do it yourself.
Now let's move into the technical part of our a/b testing journey, from setting up your test to analyzing the results and taking actions based on them.
As a side note, you can run experiments for your default app listing and/or custom app listings, which we reviewed in a while.
Types of experiments on the app store
There are two types of experiments that you can run on your app in the play store. These are:
You can play around with graphics in your app's default mode. This includes different versions of your app's icon, feature graphics, screenshots, and promo videos.
You can use a localized experiment to test different versions of your app's icon, feature graphic, screenshots, promo video, and/or descriptions in up to five languages.
The experiment variants will only be visible to users who view your app's store listing in the languages you select.
How to create your experiment in the app console?
1- Open Play Console and go to the Store listing experiments page (Grow > Store presence > Store listing experiments).
2- Click On Create experiment.
3- Enter the experiment details:
Experiment name: What is the name of your experiment? (50 characters or fewer).
Store listing: Select the store listing on which you want to run this experiment.
Experiment type: You can choose the Default graphics experiment or the Localized experiment.
4- Click Next.
Now that you've set the basis of your experiment, let's set up the details of the experiment.
5- Following the on-screen instructions, choose a store listing and add your experiment goals, such as your target metric, experiment audience, variants, and other settings.
6- Start your experiment by going to the top of the page and clicking Run experiment.
7- If you want to finish setting up your experiment later, click Save.
If you need more help or information, make sure that you check this guide provided by Google, they lay everything in simple terms for you to grasp easily.
Now that you've set up and run your campaign, it's time to see what you can learn from it and what actions you should take based on the data.
1- Open the Play Console and navigate to the store listing experiments page (Grow > Store presence > Store listing experiments).
2- Choose the experiment you want to examine by selecting the right arrow on the table row it is located on.
3- In the "Results" section, you can see a summary of your experiment's results. Results are based on your target metric.
The results will reveal which options outperform your current store listing. You'll also see an explanation of this result based on its confidence interval and MDE, as well as a recommended action (if applicable).
If not enough data has been collected, you may receive the result "More data needed."
4- The results of your experiment will determine your next course of action.
If a variant is doing well, you may see a recommendation to use that variant.
If your result is "Leave your experiment running to collect more data," come back later.
If several variants performed better than your store listing or your result was a "Draw," it's up to you to decide which variant you want to apply. 
If your current store listing is the best performing one, you should click Keep current listing.
Now that we've covered everything in the creatives part. Let us move into the last piece of ASO, one of the most crucial ones, user reviews.
 3- User Reviews
The reviews on your app listing are the only thing you have no control over, which is why people tend to trust it more than the app listing info itself.
That doesn't mean you don't have anything to do. On the contrary, you have a lot on hand to do when it comes to reviews. So here are the top 3 things you want to do.
1- You always want to reply to negative reviews
This one is simple yet crucial; people need to see you as a genuine person who cares about users' experience, and when they see you replying to such reviews, they'll trust that you take feedback seriously.
2- You want to upvote good comments
You want to upvote comments that give a positive detailed review about your app. This helps your users gain more info about your app from other users they usually trust.
3- Mine the reviews for insights
One of the most effective ways to gain a user's trust is to use his own language, and mining reviews for comments is something you want to do regularly.
4- Conduct a sentiment analysis
Try to get a feel of what your customers say about your app. Are they feeling good about the experience?
App Store Optimization FAQs
How much does App Store Developer Account Cost
The cost of an App Store Developer Account varies depending on the platform you're targeting. For iOS app development, Apple charges an annual fee of $99 for an iOS Developer Account.
This fee provides access to Apple's development tools, resources, and the ability to publish apps on the App Store.
On the other hand, for Android app development, Google Play charges a one-time fee of $25 for a Google Play Developer Account. This fee grants you the ability to publish apps on the Google Play Store indefinitely.
How do I optimize IOS App Size?
Optimizing the size of your iOS app is crucial to provide a better user experience and reduce download times. To achieve this, you can start by compressing images and videos within your app to reduce their file sizes without compromising quality.
Another key optimization strategy involves removing unnecessary code and assets that might bloat your app. Additionally, adopting efficient coding practices and using app thinning techniques provided by Xcode can help minimize the app's size.
What are the key elements of ASO?
The key elements of ASO include an app title with relevant keywords, a compelling app icon and screenshots, an informative and engaging app description, high-quality user reviews and ratings, app localization for target markets, and regular updates and bug fixes.
What Apps Should Not Be Optimized?
While ASO can benefit most mobile apps, there are certain types of apps that might not benefit significantly from optimization efforts. These include apps that violate platform guidelines, contain harmful content, or engage in illegal activities.
Such apps may be removed from app stores altogether. Additionally, niche or experimental apps with very limited user appeal might not see substantial benefits from ASO since their potential user base is inherently small.
How Can I Track The Effectiveness of my ASO efforts?
You can track ASO effectiveness by monitoring app download and conversion rates, analyzing keyword rankings and click-through rates, tracking user reviews and feedback, and using ASO tools like App Store Connect, Google Play Console, and third-party analytics platforms to gather data and insights.