A/B testing has become such a buzzword that marketers, developers, and designers use A/B testing tools regularly.
Today, dozens of A/B testing tools are available in the market. Some are good for enterprise companies. Some are suitable for small companies. 
The problem is most A/B testing software looks the same in terms of features and price. So, with everything not in black and white, knowing which tool is ideal for your website can be challenging.
Fortunately, after reading this article, you will know what to consider when choosing an A/B testing tool. Without further ado, let's get straight into it…
Critical Questions to Ask Before Choosing an AB Testing Tool
When choosing a tool you will use on your website, price shouldn't be the main determining factor. Here is the thing, the best tools are not always the most expensive ones, and the worst tools are not always the cheapest. Although you shouldn't ignore the price, these are some other important questions to answer: 
Why do I need an A/B testing tool? 
It's easy to pick up an A/B testing tool and use it on your website, especially if you observe that it's working for businesses in the same industry. 
However, one thing to note is that your and your competitors' business requirements differ.
Therefore, an AB testing tool that works for them might not work for you. 
For example, if your goal is to reduce bounce rate, perform split tests, or implement A/B tests on both web and mobile apps, you want to use the tools that offer these features.
Understanding why you need an A/B testing tool will help you decide what's best for you.
According to Khalid Saleh, the CEO of Invesp
"There are many things you want to look at when choosing an A/B testing tool; I would start with your own requirements."
What is My Budget?
What's your budget for an A/B testing tool?
Are there A/B testing tools within your budget range that can address your testing needs?
Is hiring a CRO agency with its in-house A/B testing tool cost-effective?
The prices of A/B testing tools range between $119-$1995 per month, depending on how many users you test. The important thing here is to find a tool that caters to your need and is within your budget.
There are tons of AB testing tools that offer free trials; good examples are FigPii and Google Optimize.
Features of the Best A/B Testing Tools
Now that you know the questions to answer when deciding what A/B testing tool to get, let's explore the features to look out for in an A/B testing tool. 
Customer Support
Access to customer support in the form of documentation, email inquiries, and live chat features is a must-have feature of an A/B testing tool. 
Say you run into a problem while using the A/B testing tool; the service provider should have different means through which you can access their customer support and have your issues resolved.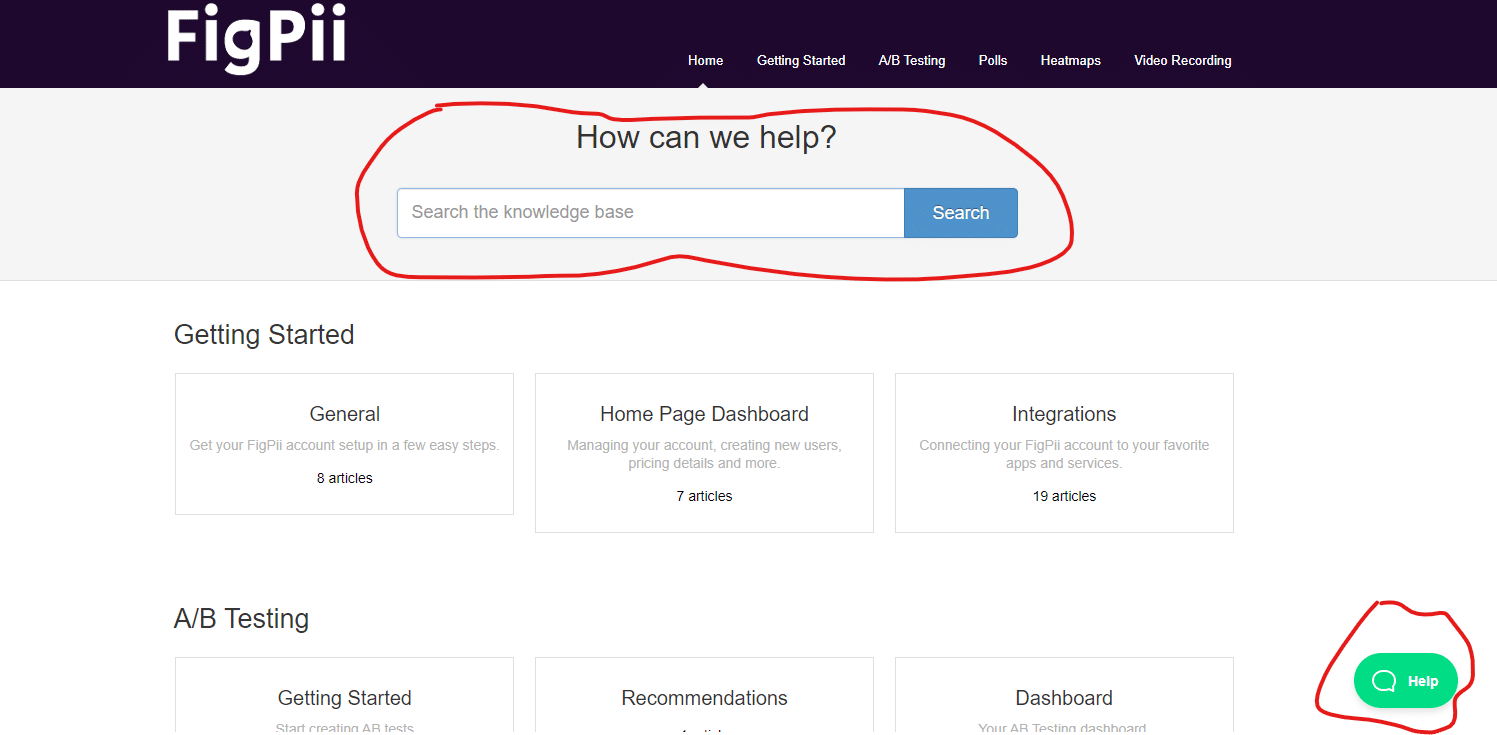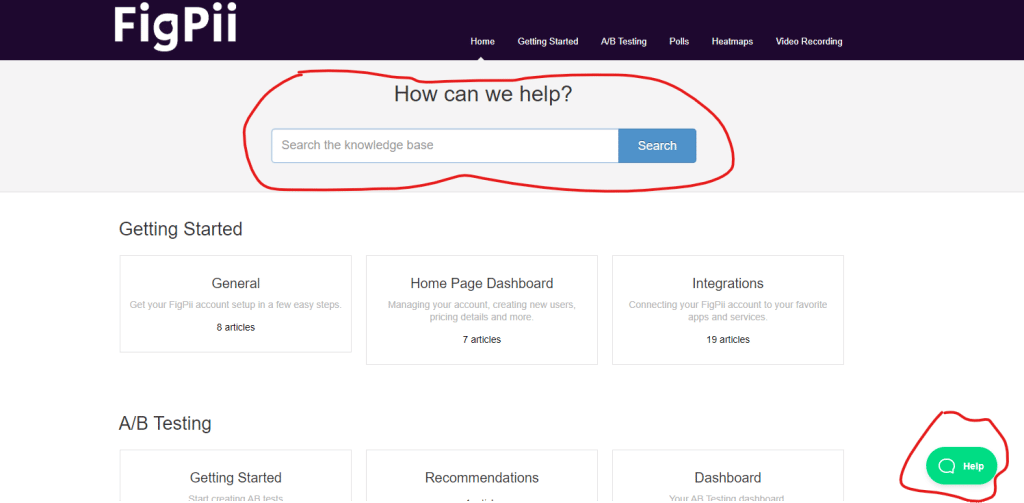 FigPii offers a knowledge base where users can search for articles relating to issues relating to the use of the service. If that doesn't resolve their issues, there's also a chat feature that you can use to reach out to their customer support team.
Impact on site performance
It's no news that a fast-loading site increases the conversion rate of your online store, and a 1-second delay can cause your conversion rate to drop by a significant percentage.
Whether you're testing landing pages or a robust website, ensure that the A/B testing tool you're going with has little or no impact on the site's performance.
Multivariate Testing
A/B testing involves testing different variations of your site to see which increases your conversion rates.
Multivariate tests operate on the same principle as A/B tests. The significant difference is that multivariate tests involve testing the different combinations of elements on web pages to see which combination yields the best results.
Multivariate testing is also an excellent feature to look out for when choosing an A/B testing tool.
Advanced Targeting
We've talked about testing different variations of your site with different audiences based on predetermined criteria. A/B testing tools with advanced targeting features help you narrow down and target specific audiences using their behavior on your website.
Depending on how the A/B testing tool is set up, common targeting criteria can include behavioral data such as page visits, clicks, time spent on a web page, scrolls, days since the last visit, etc.
As an ecommerce, A/B testing tools with advanced targeting options make testing more effective.
Split Url Testing
Although split-URL testing is often confused with A/B testing or split-testing, they are two different things. 
While A/B testing involves creating different test variations of your website and testing with different audiences, split URL test involves testing the different variations of your site on different URLs.
As in A/B testing, your site traffic is split between the different URLs to see which improves conversions. 
If you are implementing major changes on your website during A/B testing, we recommend using an A/B testing tool that supports split URL tests.
Personalization of test goals
From the definition of A/B testing, we talked about segregating your audience into different groups and testing different versions of your marketing element with each segment.
A/B testing tools that allow you to personalize your test goals to suit your business needs and satisfy your customers simultaneously are highly recommended by experts. 
With personalization, you can adjust what each group of users experiences and also set different test goals to achieve maximum results.
Revenue Impact Reports
In marketing, numbers matter a lot. You want to know how many, how much, and how often. Revenue Impact reports show the effect of the tests on your sales to know whether tests are positively or negatively impacting your sales. 
Revenue impact considers the effect of individual tests carried out and the overall effect of all the tests on your business's revenue.
This is an excellent feature for an A/B testing tool, especially if you have to report to stakeholders.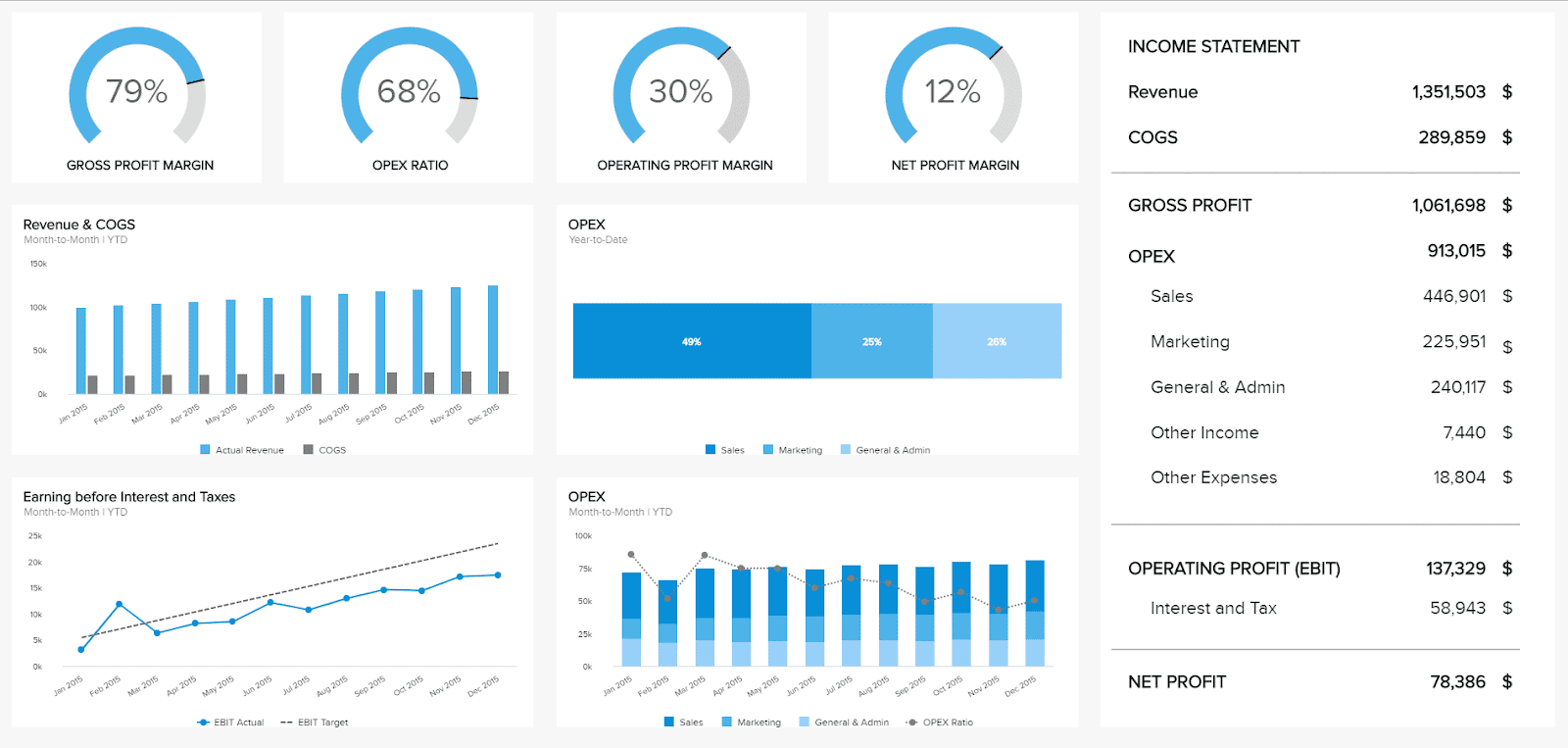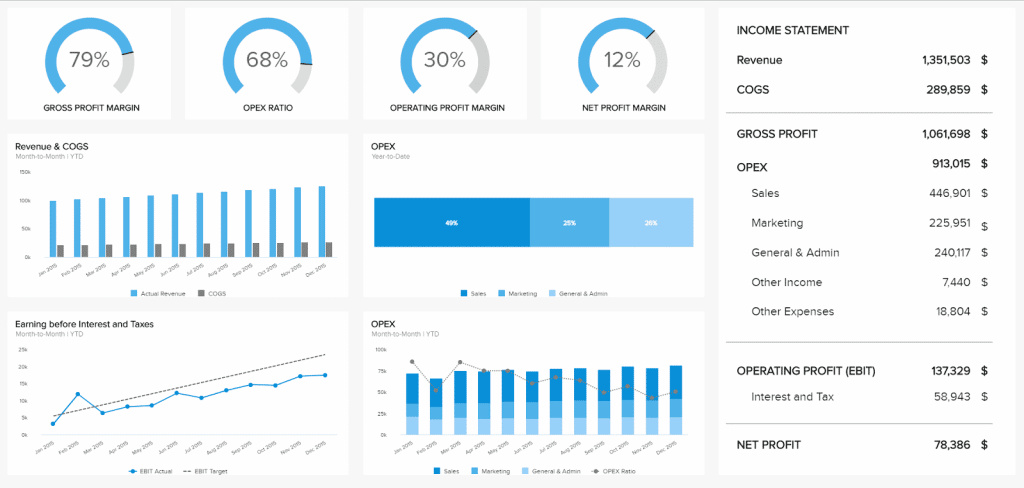 Feature Flagging
This is a software development process that enables your team to make changes to an application or website without deploying code.
If you want to launch a new feature and are unsure how users will receive it, using an A/B testing tool that supports feature flagging can help you scale that hurdle. 
With feature flagging, you can enable or disable new features or functionalities without disrupting the user experience. You also get to choose which groups of your audience see what features.
The good thing about feature flagging is that you can roll back the features that are not performing well or release the ones that are performing better to all your users. 
Integration
A/B testing tools that support the integration of third-party tools and platforms like Google Analytics and Kissmetrics. 
These integrations, coupled with A/B testing tools, give you access to behavioral insights which can help you understand how the groups of your users respond to the variation of your tests.
Mobile App testing
If statistics show that most of your users access your website from their mobile devices, then an A/B testing tool that offers mobile testing will be the best option. Most A/B testing tools can only run tests on desktop browsers, and that is why mobile testing is an excellent feature for an A/B testing tool.
Server-Side Testing vs. Client-Side Testing
Client-side testing involves using some JavaScript code to create variations of your website by making changes to the content sent from your server to the visitors' browsers. 
Client-side testing majorly focuses on the look and feel of your website.
Server-side testing is a form of A/B testing where the different variations of your website (elements) are rendered directly on the web server. Server-side testing is more robust and gives you much control over your tests. 
Server-side testing allows you to implement tests beyond the look and feel of your website, and you can also run advanced tests on some other parts of your website that are not visible to your users.
Visual Editor
A/B testing tools that require little to no coding knowledge come with visual editors that enable you to make changes to your website by dragging a few elements around and making changes to the content on the site. However, A/B testing tools without code editors cannot be used to create advanced modifications to your tests.
Post-test Analysis
What's the point of A/B testing if the A/B testing tools do not provide a detailed analysis of the results?
At the end of the test, you want to know how the control version performed compared to the variation(s) and which version should be declared the winner. 
When conducting a post-test analysis of your A/B test, here are some factors to consider to avoid misinterpretation of results
Test Duration: The duration of an A/B test should be long enough to capture a sufficient sample size to provide meaningful and reliable results. 
The number of conversions: The more conversions that occur, the more confident we can be in the test results. Setting a minimum threshold for the number of conversions required to make statistically significant conclusions is important.
Statistical Significance: A statistically significant result means that the observed difference is likely due to the changes made in the A/B test and not simply due to chance. Generally, a 95% or higher statistical significance level is considered acceptable.
Audience/Traffic allocated to each variation: It is important to ensure that the traffic is evenly distributed between the variations to avoid any biases.
Best A/B Testing Tools For E-commerce
FigPii

Figpii is one of the most renowned A/B testing tools out there because it offers many other valuable features for conversion rate optimization.

Figpii uses machine learning to understand how visitors interact with your website and how best to set up and launch A/B tests for conversion optimization. 

Figpii also offers a 14-day free trial that gives you access to all the features available on the platform.

Heatmaps, Session recordings, site polls, and advanced targeting are available on Figpii. It also supports integration with other tools like Shopify, Unbounce, Magento, and WordPress. However, it does not support running A/B tests on mobile apps. 

Google Optimize

Google Optimize is another excellent web optimization and A/B testing tool created by Google. It helps you create and launch A/B tests on your website, analyze the results of the tests, and declare the winning variation. 

If you are starting A/B testing, Google Optimize is a go-to option because it is free of charge and relatively easy to set up. 

Additionally, integration with other Google products like Google Analytics and Tag Manager is seamless.

A/B Tasty

A/B tasty is another household name synonymous with testing, experimentation, and personalization solutions for businesses. A/B tasty provides everything you need to start with A/B testing and multivariate testing.

It also lets you optimize the customer experience across different channels(on the web and mobile) using a WYSIWYG editor to create site variations in no time. If you have no coding experience, A/B tasty is for you.

Adobe Target

Adobe Target is an A/B testing and personalization tool in the Adobe Experience Cloud Solution. It makes it easy for site owners to identify the best way to present their website to users through analysis of A/B tests.

This tool is remarkable because it uses AI to provide in-depth personalization during tests, thereby improving customer experience.

The catch here is that most of the advanced features on this tool require a subscription to other analytics tools created by Adobe. Adobe Target might not be your ideal choice of A/B testing tool if you're using Google Analytics or other analytics tools.

Omniconvert

Omniconvert is an A/B testing tool designed to help businesses make data-driven decisions about their website or app design, user experience, and marketing strategies.

Omniconvert provides a user-friendly interface for setting up A/B tests and tracking results. Users can create multiple variations of a page or element and specify the percentage of traffic that should be directed to each variation.

The tool then tracks user behavior and provides detailed reports on the performance of each variation, allowing businesses to identify the best-performing version.

Omniconvert also integrates with other tools such as Google Analytics, Shopify, and Magento, allowing businesses to combine data from multiple sources and get a more comprehensive view of their website or app performance.

Optimizely

Optimizely is a powerful A/B testing tool that allows you to experiment and optimize your website to improve conversions and customer engagement. With Optimizely, you can A/B  Test different variations of your website to see which one performs better and use data-driven insights to make informed decisions.

Optimizely offers a range of features, including A/B testing, multivariate testing, and split URL testing. Businesses can easily create and customize their tests based on their visitor requirements and user attributes using an easy-to-use no-code visual editor. Alternatively, you can use the code editor for advanced changes during experimentation.

One of the key benefits of Optimizely is its integration with other Google solutions like Analytics, Google Ads, Firebase, and AMP. This integration provides businesses with a comprehensive view of their website performance and enables them to make data-driven decisions.

Freshmarketer

It provides a powerful and easy-to-use platform for setting up and running A/B tests and tracking and analyzing the results.

One of the key features of Freshmarketer is its intuitive drag-and-drop editor, which allows users to create variations of a page or element without requiring any coding knowledge. 

Freshmarketer also integrates with a range of other tools, such as Google Analytics, Salesforce, and HubSpot, allowing businesses to combine data from multiple sources and get a more comprehensive view of their website or app performance.

It is suitable for businesses of all sizes and can help them improve their website or app performance, increase conversions, and drive growth.

Crazy Egg

Crazy Egg is an A/B testing tool that helps businesses optimize their website or mobile app by providing insights into user behavior.  Its key features include heatmaps, scroll maps, and user recordings, which visually represent how users interact with a website or app.

This allows businesses to identify areas where users may be dropping off or encountering issues and make data-driven decisions about how to improve the user experience.

Crazy Egg also offers A/B testing capabilities, allowing businesses to create multiple variations of a page or element and test which version performs better in terms of conversions or other desired metrics.

Convertize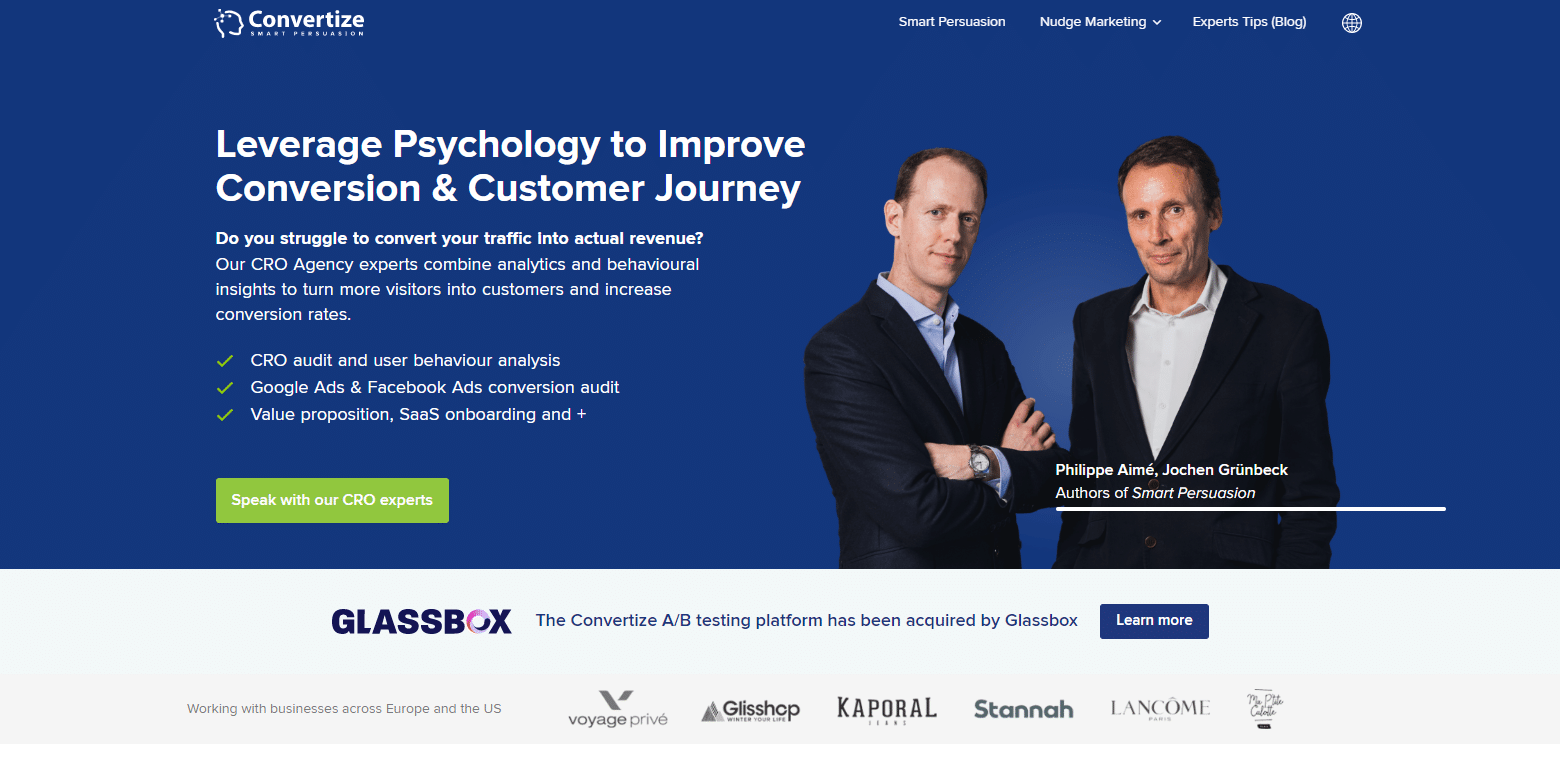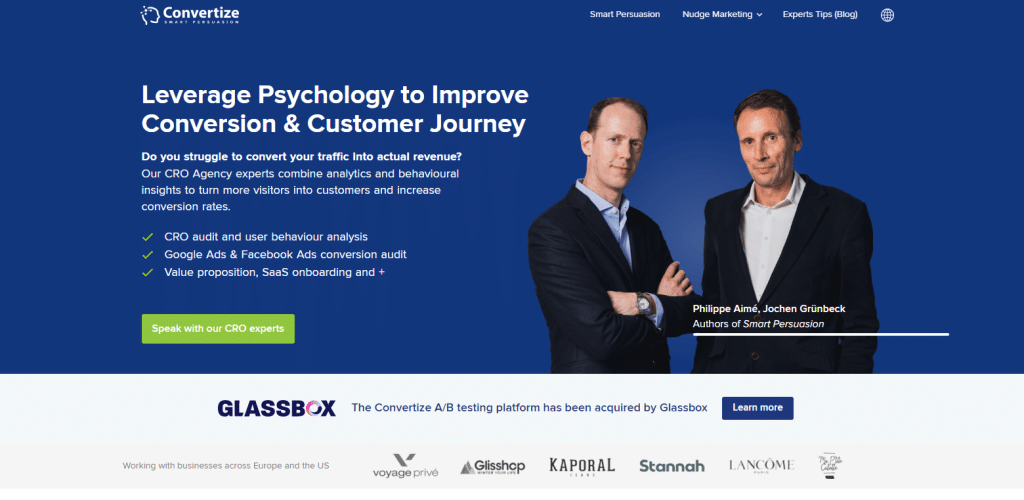 Convertize is an A/B testing tool that uses machine learning algorithms to optimize website or mobile app performance. Its key features include a range of A/B testing capabilities, including multivariate testing, funnel analysis, and personalization, as well as a suite of neuromarketing tools designed to influence user behavior.
Some other important features of Convertize include:
Funnel analysis features to track user behavior and identify areas where users may be dropping off.
Personalization features to tailor the user experience to specific audience segments based on factors such as location or behavior.
Neuromarketing tools that use psychological principles to influence user behavior and increase conversions.
Persuasion notifications that use social proof to encourage users to take a desired action.
OVER TO YOU
A/B testing is important for increasing your website's conversion rate; however, the A/B testing tool you choose will also play a significant role. As we mentioned before, there are some important factors to consider when choosing a testing tool. 
These factors help make your decision-making easier and help you find the best A/B testing tool that'll meet your needs.