As I have mentioned before in the previous blog "Guide: How to AB Test Your Shopify Store?", the biggest and most important question in any website:
Is it enough to uplift its conversion rate when it comes to design and layout, content, navigation, etc.?
Well, it all comes down to AB testing!
How Can AB Testing Can Help You?
There are several elements that you can test on.
For example, you can experiment with the subject line, call-to-action (CTA), visuals like images or videos, layout, fonts, colors, etc.
AB testing will show you which change your audience favor.
These changes will improve the user experience.
AB testing can help you reach the best results when it comes to your website content.
You can test between subject lines, body context, etc. AB testing gives you the chance to filter out and improve ineffective content.
You can keep going until you reach the best version your visitors like.
Bounce rate is the percentage of people who visit your site and leave instantly without viewing other pages.
A/B testing can help you test various landing page variations against the current one.
This will help you find the most appealing version to your audience, with the highest engagement rate, making them stay longer on your site.
The primary purpose of AB testing is to uplift your website's conversion rate.
You can figure out what kind of landing page variation converts more website visitors into buyers.
So, this blog is for you if you have a WooCommerce store and need to do some AB testing.
Let's get started!
Best AB Testing Tools For WooCommerce
Many AB testing tools can help you with your WooCommerce site like:
Omniconvert is a conversion rate optimization platform that offers software tools, including A/B testing, to global eCommerce companies.
It was founded by Valentin Radu, in August 2013, in Bucharest, Romania.
Using their A/B testing tool, you can run the A/B split tests on desktop, tablet, or mobile devices.
Kameleoon, founded in 2012, is an AI-powered A/B testing and personalization platform that uses artificial intelligence to help optimize the user experience.
Kameleoon is suitable for small, medium-sized businesses and large enterprises.
It is popular among healthcare and financial services sectors and organizations, focusing on data security and privacy.
Freshmarketer is a product of Freshworks.
Freshworks was founded in India in 2010 by Girish Mathrubootham and Shan Krishnasamy and moved to Silicon Valley. It is now based in San Mateo, California.
Freshworks creates cloud-based software solutions for businesses.
The company has a product suite ranging from sales CRM software to recruitment tools and customer-support helpdesk software.
Going back to Freshmarketer, it provides a personalized marketing automation solution for businesses of all sizes that offer A/B testing and split URL testing.
Adobe Target is an Adobe Experience Cloud solution.
It is an enterprise tool that combines targeted testing and personalization.
Adobe Target offers two features, A/B tests, and multivariate tests. You create test variations by selecting and swapping out, modifying, or dragging and dropping content.
Moreover, Adobe Target's self-learning algorithm associate visitor behavior and content to give you the best results.
FigPii is a conversion rate optimization platform that was established in September 2016.
FigPii offers you tools like heatmaps, video replays, polls, and, most importantly, AI-Powered A/B testing.
With FigPii, you can AB test for:
One page or multiple pages on your site.
Visitors coming from a traffic source or campaign.
Returning visitors, new visitors, or all types of visitors.
Visitors who use a specific device to visit your site.
An unlimited number of variations and goals.
You can read more about these AB testing tools here:
How to Install An AB testing tool on A WooCommerce Site?
WooCommerce is a customizable e-commerce platform that is built on WordPress.
For example, you can install the FigPii AB testing tool on WordPress through the following steps:
Select Add New within your WordPress Plugin menu.
Install the official FigPii plugin. By searching for "FigPii," you should find the official FigPii Plugin in the results!
Activate the plugin. You should see the Active button after clicking on install, but if you don't see it, you can navigate to your installed plugins, search for "FigPii," and click on Activate.
After installing and activating the FigPii plugin, look for FigPii on the side menu. You can navigate your FigPii plugin setting by clicking on FigPii from the side menu.
Find your FigPii Access Key. You can navigate to your domain dashboard to find your key Domain Dashboard.
Paste your access key within the FigPii access key box and click on Save Settings!
Wait for a while to detect your activation or activate your tracking code manually.
Launching an AB Test on a WooCommerce Store
Continuing with the FigPii example, here's how you can launch an AB test using it:
Once you log in to FigPii's dashboard, you will find the AB testing tool icon on your right. Click on it.
Then, click on "create new experiment."
The first step will be to name your experiment,
Then, you need to choose the kind of experiment you want to launch. Either "AB test" or a "split test."
Split testing helps if you have a single page and already have the new design implemented on Shopify itself, then this is a good option for you.
But, if you don't have the new design implemented anywhere, it is better to run an AB test.
With split tests, we don't handle the design of the new variation, and those are held internally on the website itself.
All we handle is splitting the traffic between the different variations
But with the AB test, you can find all the tools in the next step, "page targeting," to edit the page.
You can run the experiment on a specific page or multiple pages in page targeting.
To understand how targeting works, check the knowledge base below:
How Do I Target Specific URLs When Running An AB Test?
Next, you need to choose which device you want the test to be on; desktop, mobile, or both.
And, it would be best if you chose the visitor type: new, returning, or all of them.
Then, in this step, you need to add your variation.
Here, you can either use the built-in FigPii visual page editor to implement your changes and ideas on the website.
Or, if you don't want to use the visual editor and have a developer in your team, you can use CSS and javascript.
After you create your variations, you need to choose your goals.
For the goals of the test, the primary purpose or the micro goal is "order confirmation."
It represents how many products you sold. The test measures the impact the test has on your revenue. Also, it measures what percentage of visitors have converted on the website.
Also, you have different goals or macro goals, which you might want to keep an eye on them and see the impact of the test on them.
These goals can be: product visits, collection visits, add to cart, cart visits, and checkout.
The last step is to save and then launch your test.
Examples of WooCommerce Elements You Can Test
The number of elements you can test on your WordPress site using the FigPii AB testing tool is enormous.
For a SaaS company, which has a WordPress site that offers people the chance to do early baby gender blood tests at home, we experimented with various elements:
For instance, the website had an issue that the products were not visible on the home page.
So, we wanted to test different locations for product placement on the home page for the desktop.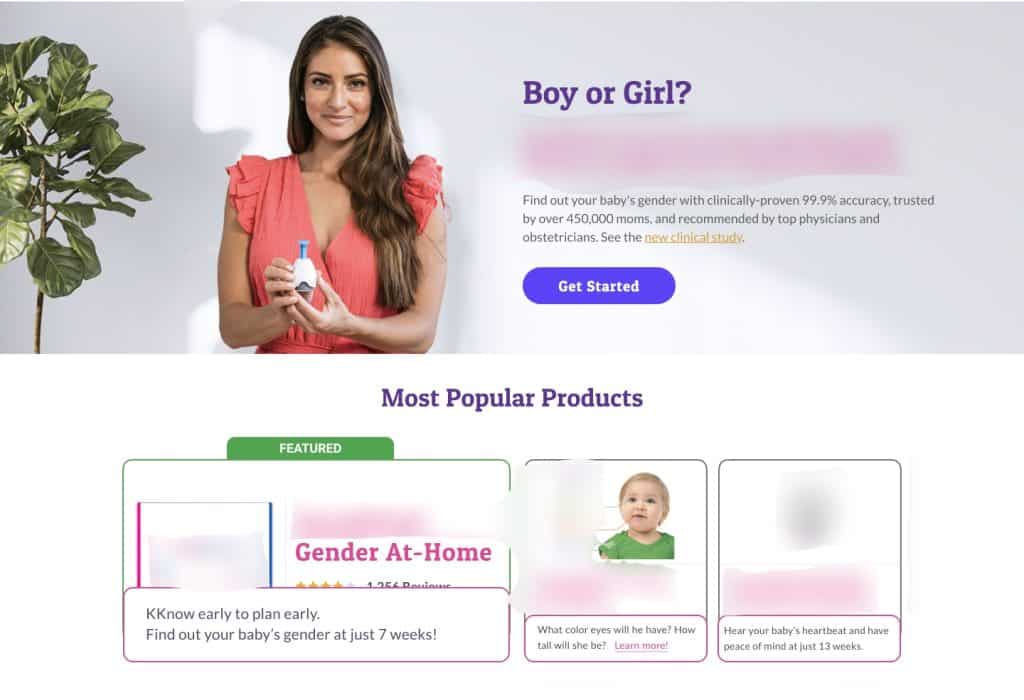 The new variation uplifted the conversion rate by 17.89%.
The second element we experimented with was, testing different headlines on the main banner.
This iteration of a previous test was declared a winner.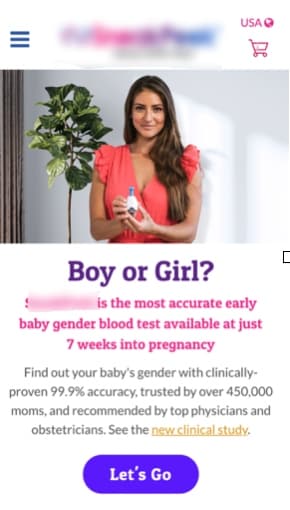 We took the winning variations and tested them against a new headline.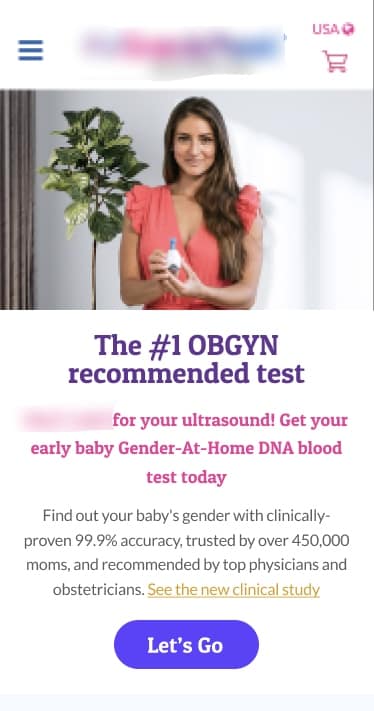 The iteration was a winner also, with a 10.23% uplift in conversion rate and an AOV of $81.82.
The third element we are currently testing is whether adding a holiday banner on the homepage will uplift the conversion rate or not?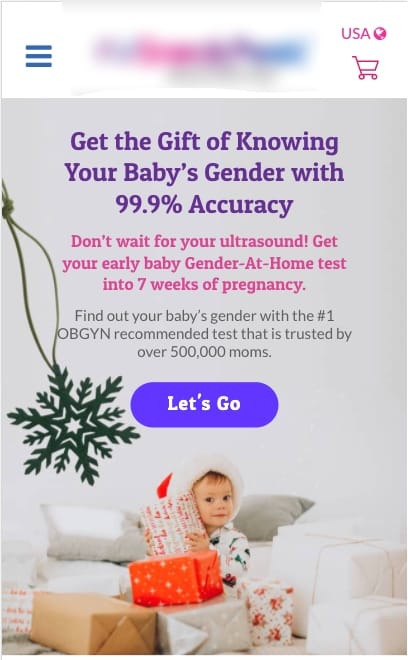 Up until now, it did an uplift in conversion rate by 7.39%.
Worth mentioning that it has a chance to win by 92.49%.
The fourth element we are currently experimenting with is on one of the product web pages.
We wanted to highlight the time of the process for each kind of product; to make it easier for you to understand it.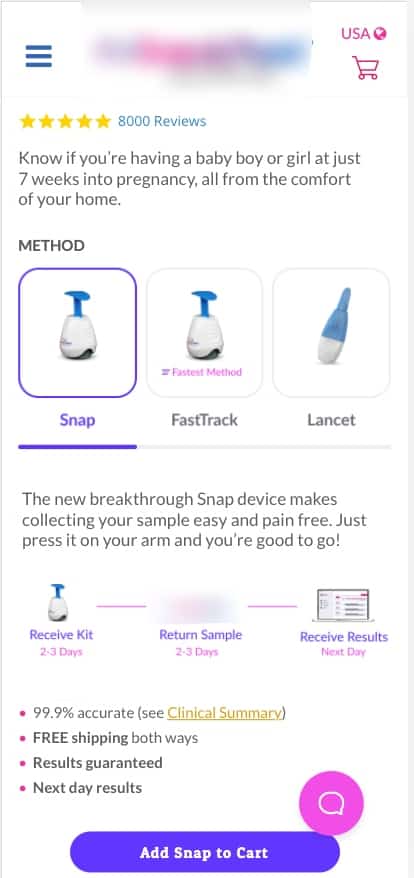 We did this since it is a very time-sensitive product and many visitors and clients wanted to know how long it would take since it wasn't obvious.
So, that's why we created the diagram, as shown in the screenshot below.
Another test we had, was adding a product comparison chart, as shown below in the screenshot.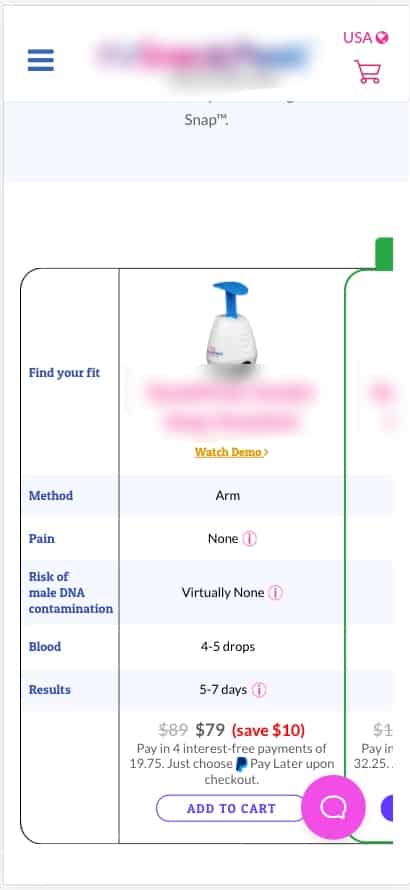 We mentioned here the difference between the various products the company provides.
This test achieved an uplift in conversion rate by 1.53%.
Wrapping Things Up
That's everything you need to know about how to AB test on your WooCommerce store using FigPii.
In this blog, you've learned how to test several elements on WordPress landing pages, like headlines, holiday banners, etc.
I hope it was as beneficial as I intended it to be.