This post is a second of the series about A/B testing tool comparisons. If you missed the first one – Google Optimize vs. AB Tasty – be sure to check it out.
In comparing these A/B testing tools, I shed the spotlight on their similarities and differences in terms of features. I also talk about the pros, cons, and pricing of each tool.
My goal is to equip you with information so that you don't choose the wrong tool. At the end of this series, you should know the differences between all the A/B testing tools out there.
Anyway, in today's post – as you might have seen on the headline – it's Omniconvert vs. Kameleoon.
Let's start by looking at Omniconvert:
What is Omniconvert?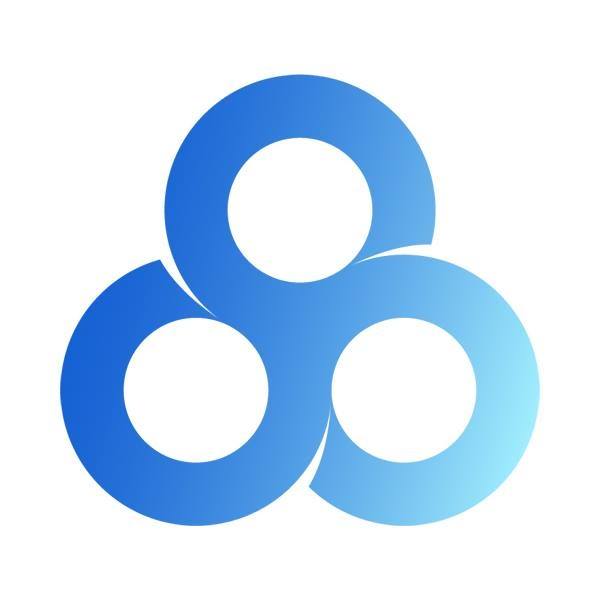 Omniconvert is a conversion rate optimization platform that offers several software tools including A/B testing to global eCommerce companies.
It was founded by Valentin Radu, in August 2013, in Bucharest, Romania.
Using their A/B testing tool, you can run the A/B split tests on desktop, tablet, or mobile devices.
According to the Omniconvert website, their A/B testing tool allows you to test a different version of a web page against the original one and allocate as much traffic as you want.
Advantages of Omniconvert
As with any other A/B testing tool, Omniconvert has its pros and cons.
Here are some of its advantages:
Omniconvert has a feature called: Stacked testing.
It sets the winning variation from a test into the control so you can continue running your test to:
Validate it,
Collect more data,
Make sure that the results are credible.
This will help you in:
Improving your website's user experience,
Enhancing product features,
Make your content engaging.
Omniconvert mixes their segmentation tool with the A/B testing tool so that you can test up to 40 segmentation parameters, such as visitor behavior, geolocation, and traffic source.
Omniconvert's pricing is reasonable. You pay based on the number of visitors you test per month.
The pricing starts at $167/month for up to 50,000 tested visitors per month and $4,658/month for up to five million tested users.
Disadvantages of Omniconvert:
As for the disadvantages:
The platform is pretty very technical. It can, at times, require some reasonably extensive CSS/HTML knowledge.
You'll need to be comfortable with coding and setting up reporting on your integrated platforms.
There are plenty of ready-made templates, which you have to manually go to the HTML/CSS editor and edit the code directly. This may not be very friendly for many non-technical marketers.
So if you are not into tech and without the inside talent, it could be challenging and overwhelming.
You can't run two separate tests on one page at the same time.
The product is aimed at e-commerce, so it may not be the right fit if you are not directly selling products.
The interface could be improved to enable better access to certain elements and to offer the choice of a personalized pre-set for displaying data (main website, website overview, etc.).
Omniconvert Reviews
Here are some of the customer reviews on Omniconvert, according to G2 website:
Now, moving forward to Kameleoon.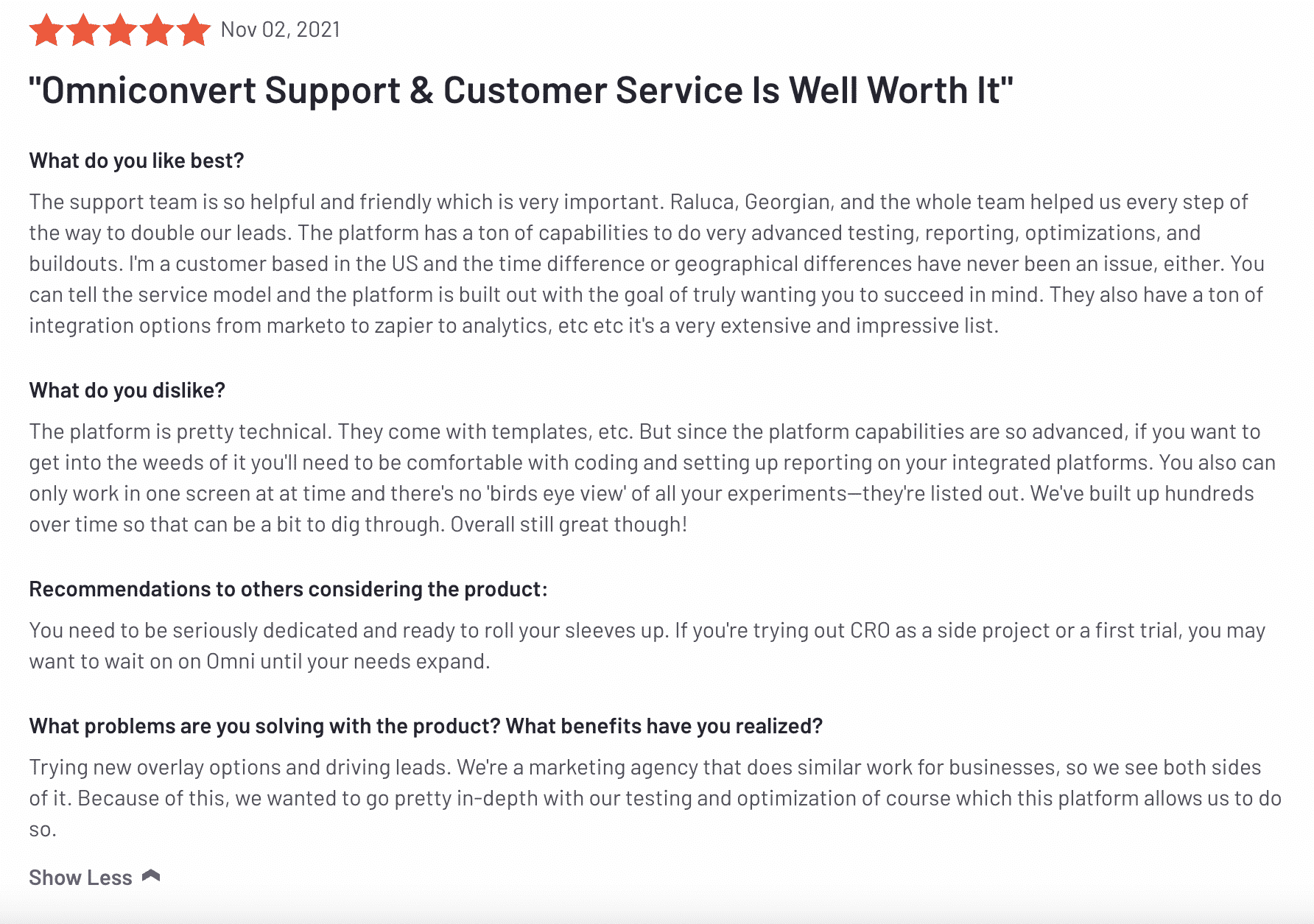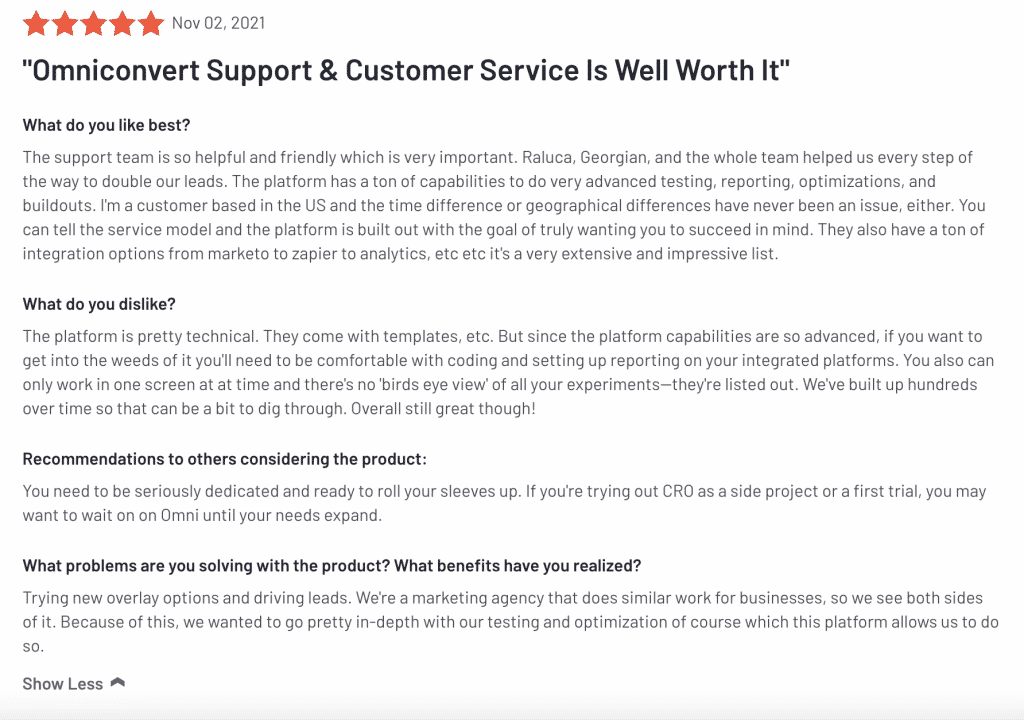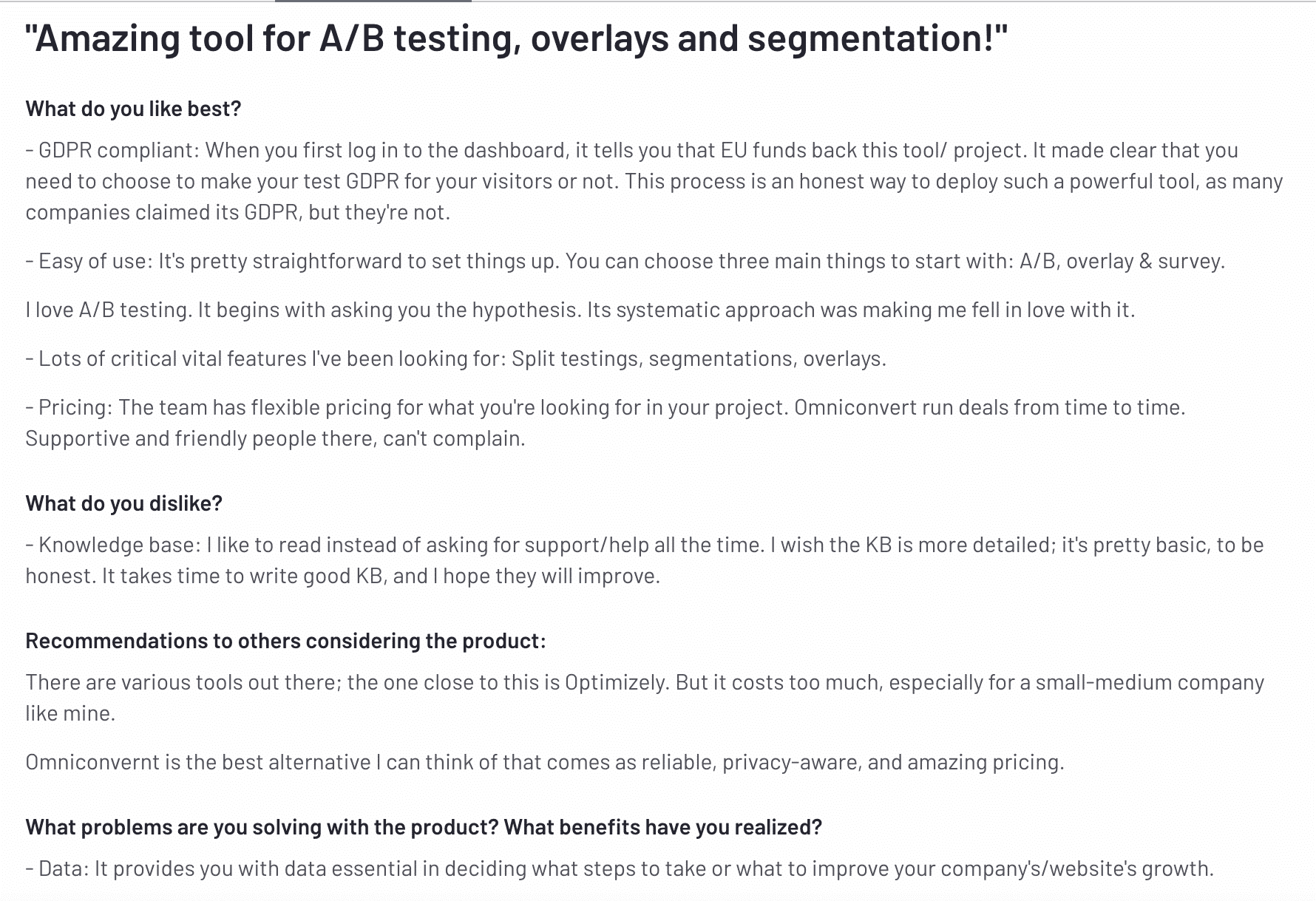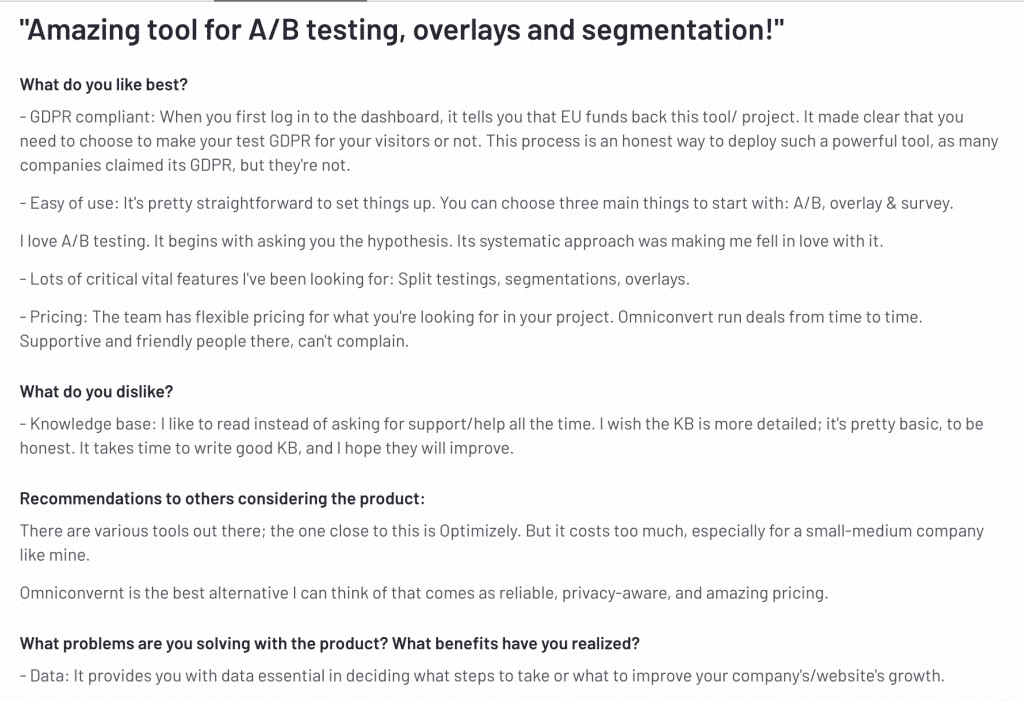 What is Kameleoon?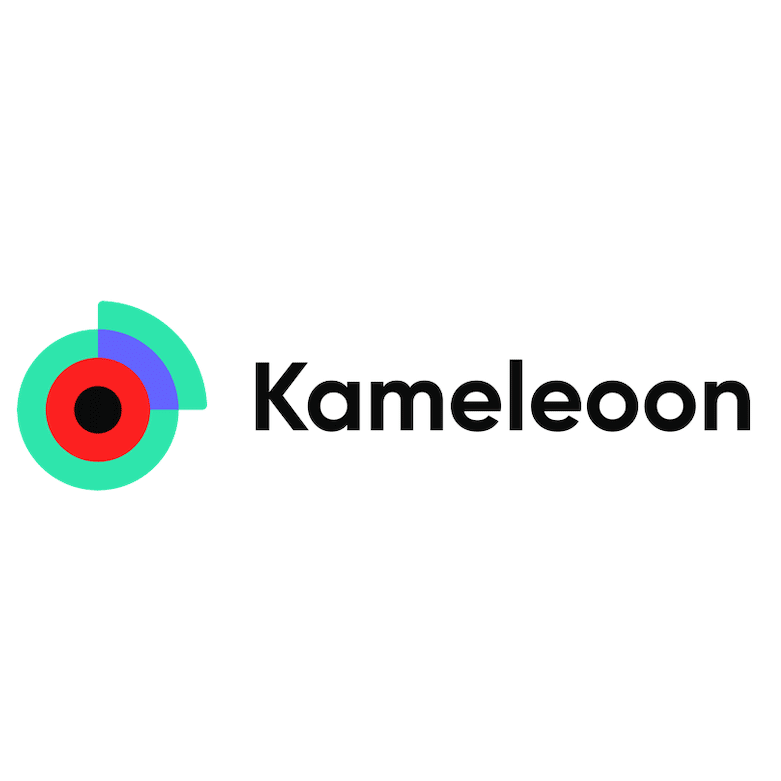 Kameleoon, founded in 2012, is an AI-powered A/B testing and personalization platform that uses artificial intelligence to help optimize the user experience.
Kameleoon is suitable for small, medium-sized businesses, and large enterprises.
It is popular among healthcare and financial services sectors and organizations, focusing on data security and privacy.
According to the Kameleoon website, the A/B testing feature helps in test copying and designing entire pages for all channels and devices without impacting performance. You will be offered unlimited variations. You can involve your developers, but they are not required.
Advantages of Kameleoon
Kameleoon has many advantages, such as:
The platform has a smart graphic editor, where Kameleoon scans every element on the landing page and allows you to modify elements like the copy, layout, etc.
Kameleoon has a library of user segments builders and widgets you can use to create templates.
Also, Kameleoon has the option to show you the A/B tests before you publish, precisely as they are going to appear for your target audience.
Kameleoon is security-focused. It does not collect any personal data of your visitors; it only gathers anonymous surfing data, which you can't identify the visitor with.
Disadvantages of Kameleoon
There are some disadvantages to Kameleoon, such as:
It is better at web (client and server-side) than mobile app testing.
Some features might be missing like:
The ability to create archive folders,
To receive alert notifications on mobile phones. As only email alerts exist for now.
A campaign dashboard that could be generated when selecting several campaigns with the same purpose.
Kameleoon prices aren't for small-sized companies, maybe for medium-sized ones and enterprises.
Depending on your website traffic, the annual license rate for its A/B testing solution starts at approximately $30,000 per year.
Kameleoon Reviews
Here are some of the customer reviews on Kameleoon, according to the Trust Radius website: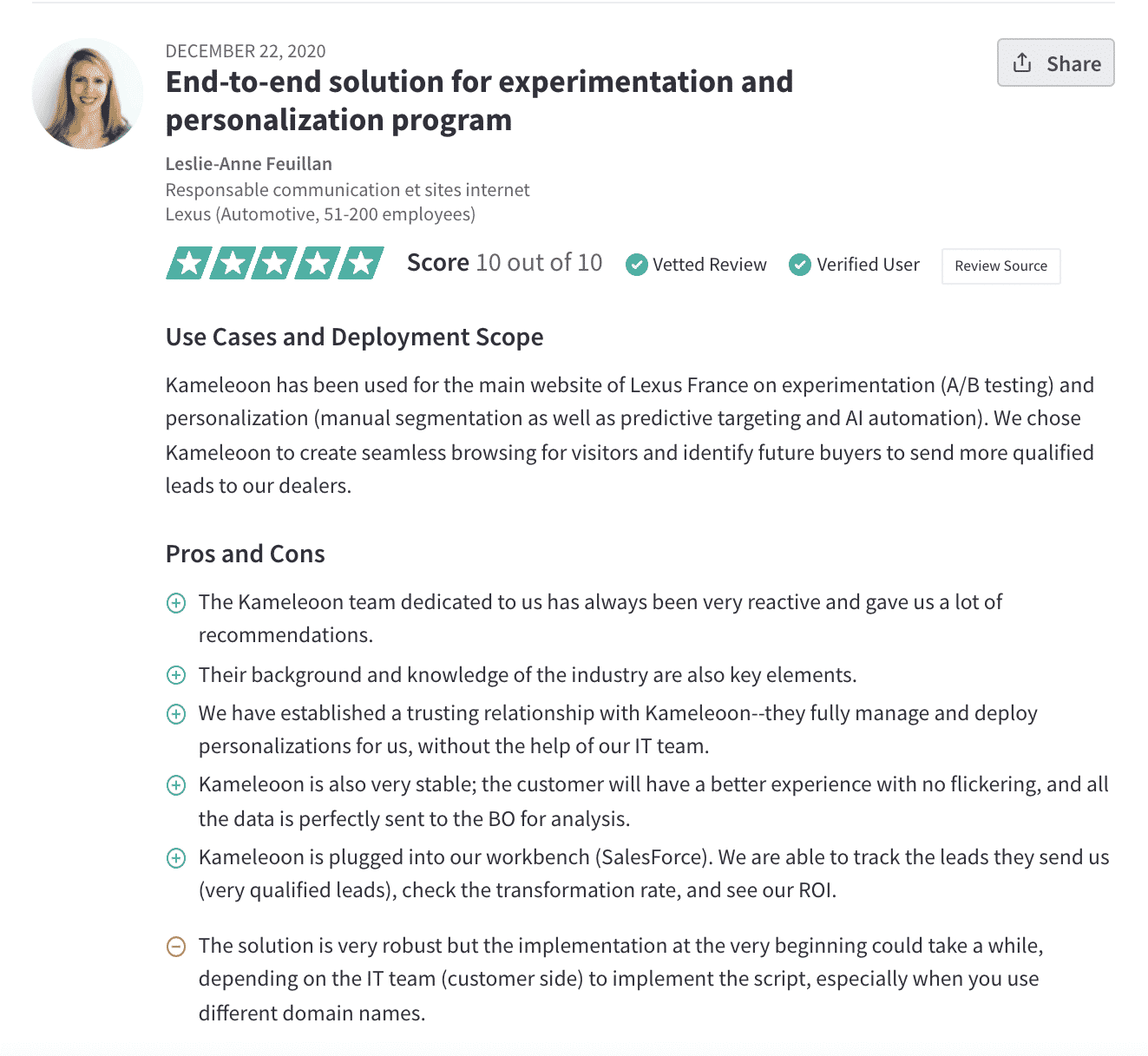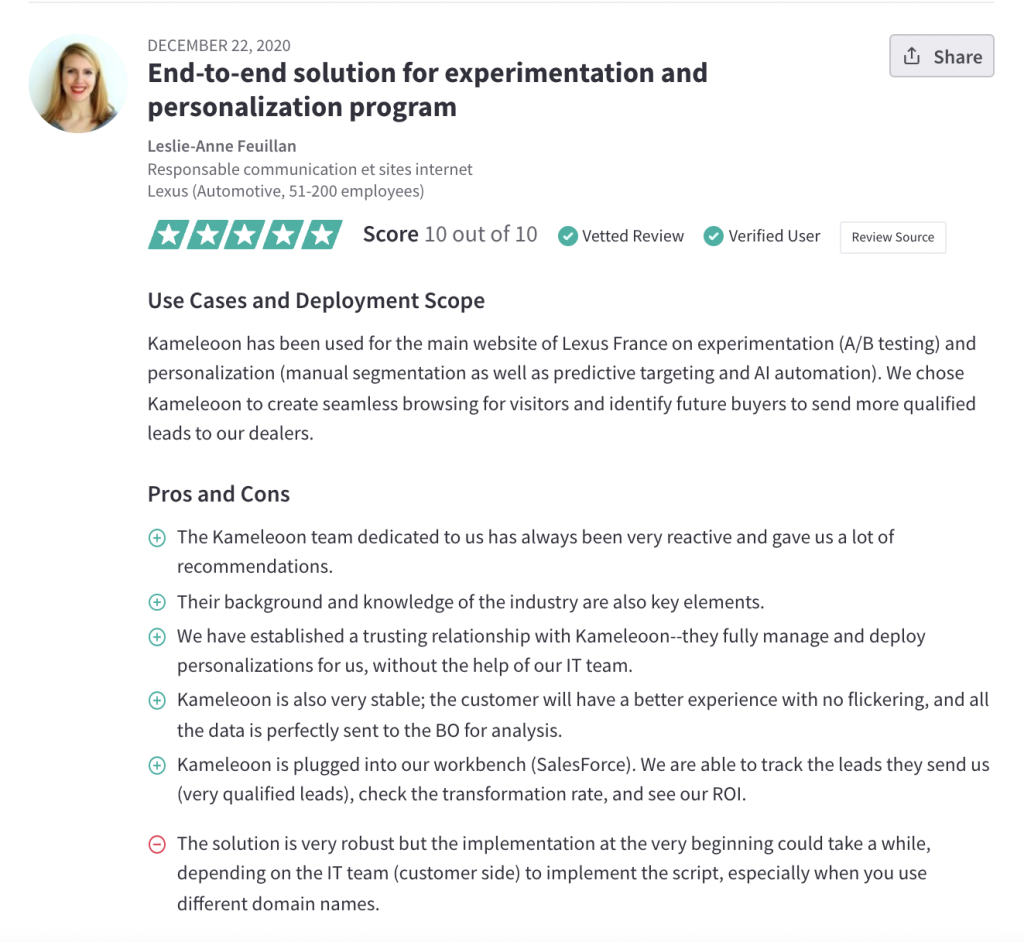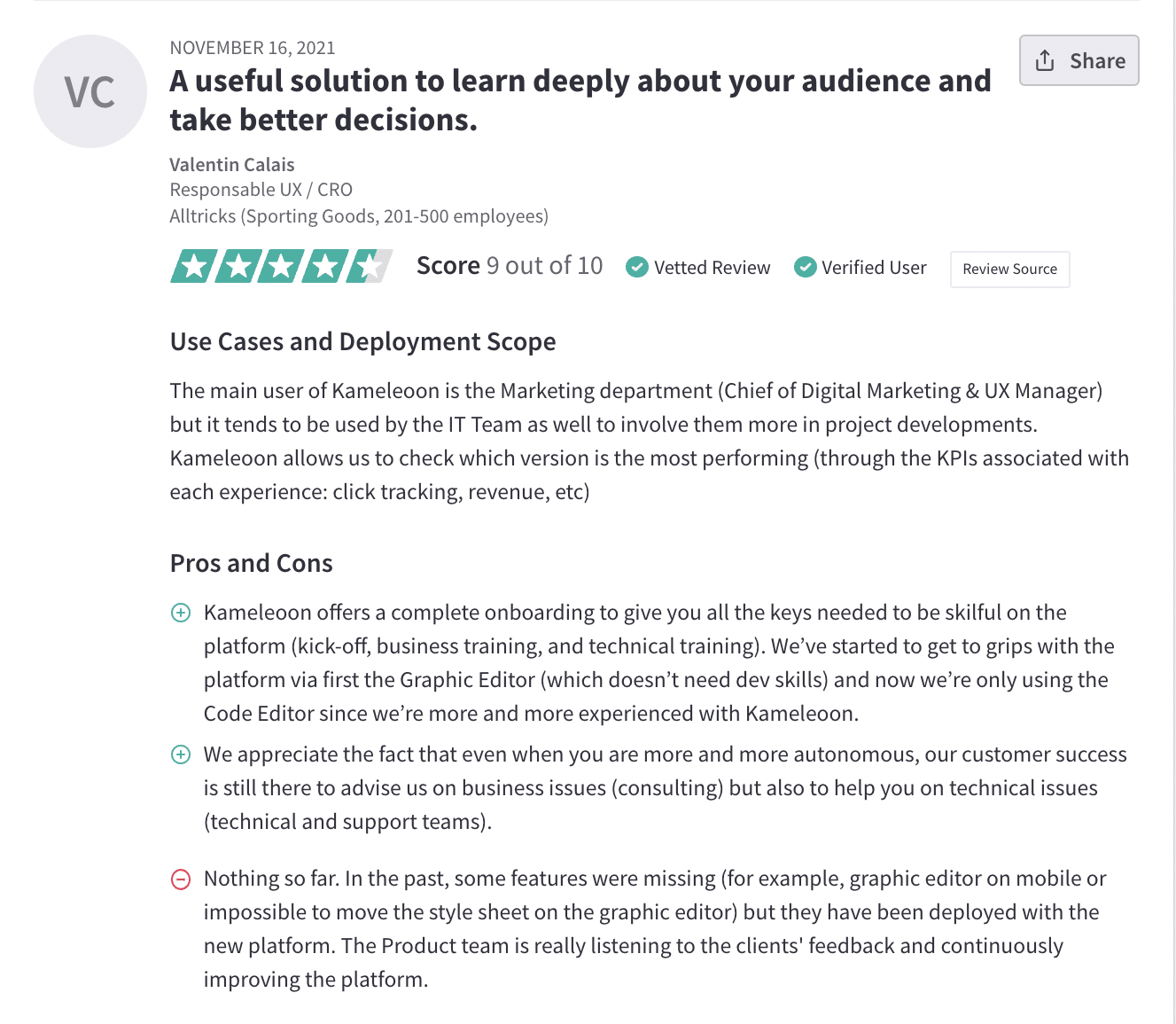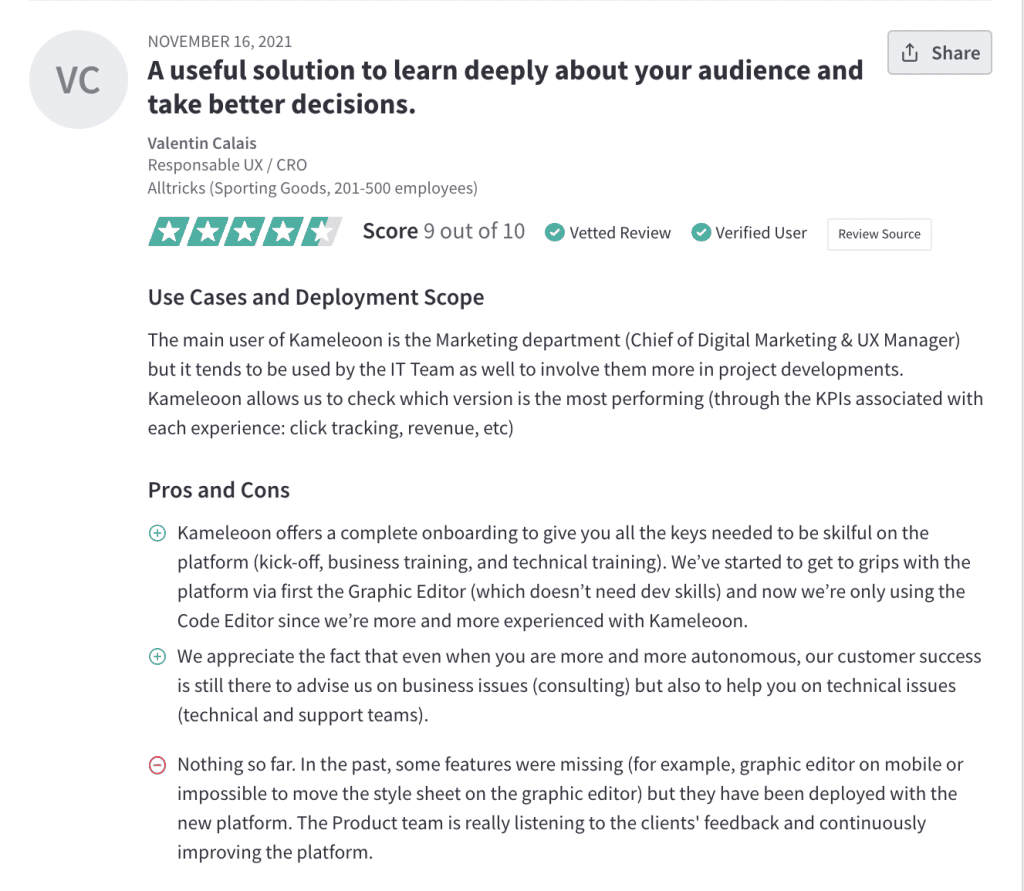 Wrapping Things Up
There you go!
While each tool has its pros and cons, you don't need one with many features. It would be best if you had a tool that works well with your business.
Most likely, you'll have to explore and way your options to get to the suitable one.
Tune in for upcoming blogs within this series to know more about other A/B testing tools.