This post is the third in the series about A/B testing tool comparisons. If you missed the first two – Google Optimize vs. AB Tasty and Omniconvert vs. Kameleoon – be sure to check them out.
We started this series so that we can help you choose the right A/B testing tool. We know how important it is to have an accurate A/B testing tool.
After reading this series, you should be able to know the difference – in terms of features, pros and cons, integrations, pricing, etc. – between all the top A/B testing tools.
In today's post, I will be comparing Freshmarketer and Adobe Target.
Let's start by looking at Freshmarketer:
What is Freshmarketer?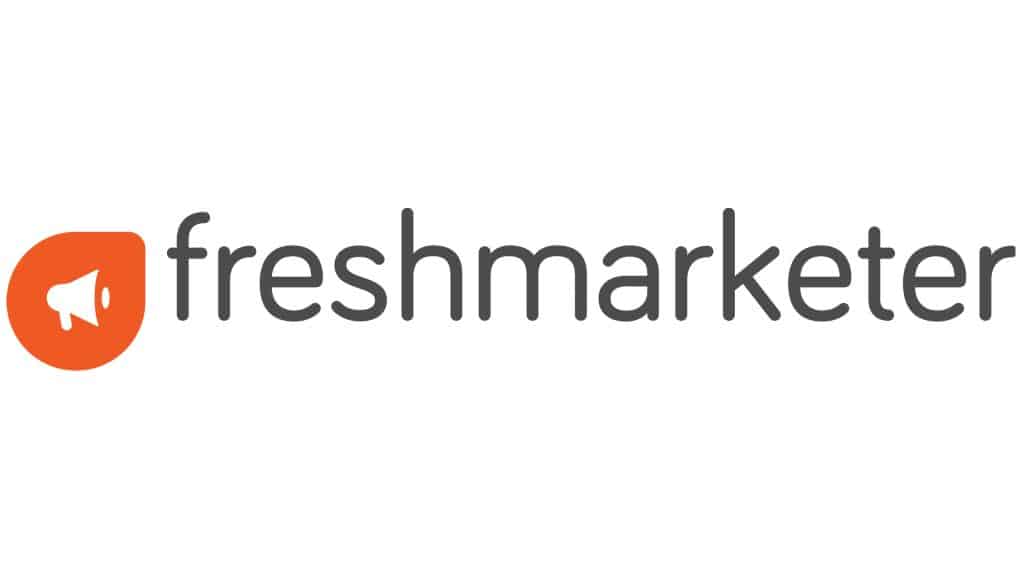 Freshmarketer is a product of Freshworks. 
Freshworks was founded in India in 2010 by Girish Mathrubootham and Shan Krishnasamy and moved to Silicon Valley. It is now based in San Mateo, California.
Freshworks creates cloud-based software solutions for businesses.
The company has a product suite ranging from sales CRM software to recruitment tools and customer-support helpdesk software.
Going back to Freshmarketer; it provides a personalized marketing automation solution for businesses of all sizes that offer A/B testing and split URL testing.
Advantages of Freshmarketer
According to the feedback of some of Freshmarketer's customers, here are some of the advantages of the tool:
Freshmarketer offers different tools such as A/B tests in heat maps to obtain a more specific analysis of those who visit your website. It helps you in answering your hypothesis by iterating experimenting. Also, they are efficient at explaining a process, why it's needed, and its benefits.
It offers you multiple apps and features, so you don't have to buy all those apps individually. For instance, it comes with a heatmap, A/B testing tool, funnels optimization, etc. You don't need a separate split testing, conversion optimization, or survey tool using Freshmarketer.
The customer support is ready to help anytime; They are available 24/7.
They offer customer replays as a feature. It is beneficial to help you understand how people are interacting with the page.
In Freshmarketer, you can customize the monitoring and data recovery to evaluate the metrics. You may even create custom surveys to gather answers from visitors specifically.
Freshmarketer can help you track transfers and see precisely where your visitors are headed.
Disadvantages of Freshmarketer
As any AB testing tool, Freshmarketer has a downside like:
The price might be high for some of the smaller organizations.
There is a free plan, but it is too basic, and you won't be able to use the best features.
Moreover, if you want to switch to the paid plan, it can get expensive.
Freshmarketer does not integrate into online survey management pages.
It does not handle variant tests internally, and it takes time to segment the campaigns.
Pricing of Freshmarketer
| | | |
| --- | --- | --- |
| Price Plan | Price | Duration |
| Sprout | Free | 500 Contacts & 5K unique visitors |
| Garden | $49 | 1K Contacts & 10K unique visitors |
| Estate | $99 | 1K Contacts & 10K unique visitors |
List of Integrations Supported by Freshmarketer
Freshmarketer allows you to connect with various tools and platforms like:
Freshworks apps
Drupal
Mixpanel Integration
Google Tag Manager
Kissmetrics
Zapier
Magento
Google Analytics
Freshmarketer Reviews
Here are some of the customer reviews about Freshmarketer, according to G2 website: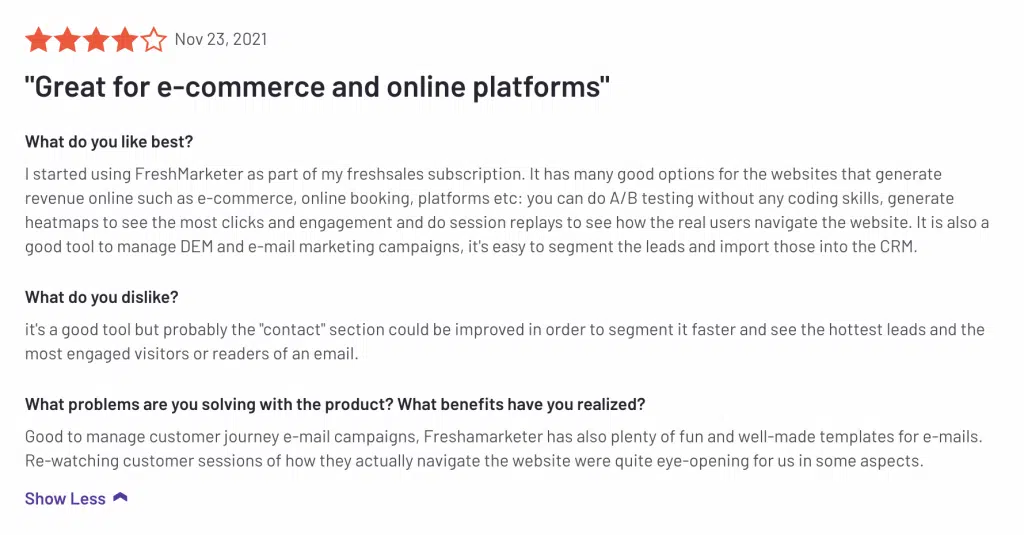 What is Adobe Target?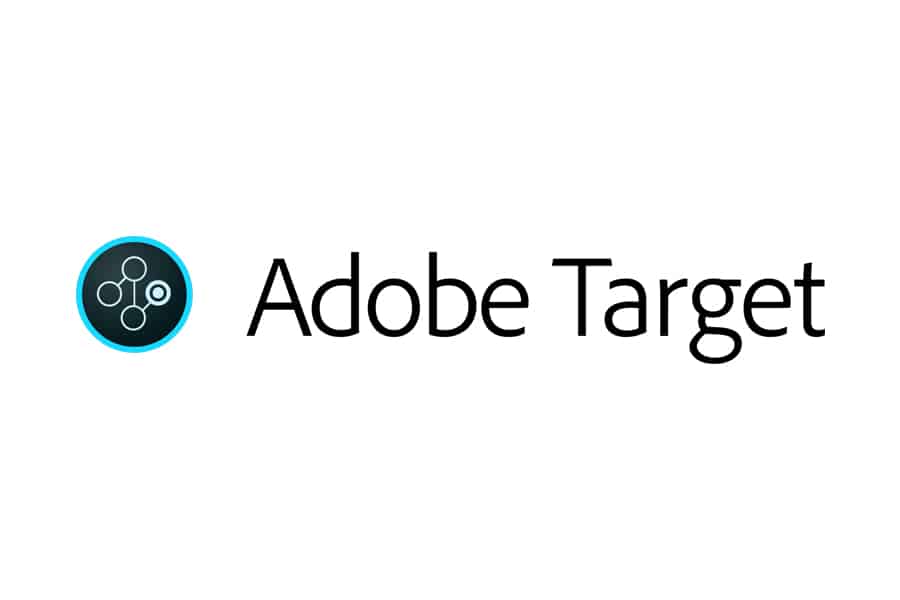 Adobe Target is an Adobe Experience Cloud solution.
It is an enterprise tool that combines targeted testing and personalization.
Adobe Target offers two features, A/B tests, and multivariate tests. You create test variations by selecting and swapping out, modifying, or dragging and dropping content.
Moreover, Adobe Target's self-learning algorithm associate visitor behavior and content to give you the best results.
Advantages of Adobe Target
Adobe Target has some admirable features, like:
Its reporting feature can tell you how many visitors have seen the particular experience, hits by the user on a specific page area, which country has the most views, the winner based on the report, and many more.
It provides both form-based and visual-based testing, which is suitable for developers.
You can create the audience that you wish to target. You can also categorize the audience based on the query string, country, region, and user Ids.
You can create as many experiences under a single activity, which helps analyze customer behavior more efficiently.
The WYSIWYG editor allows you to create experiments without coding skills. This is useful for UX people who are creative but lack coding skills.
Disadvantages of Adobe Target
As for the disadvantages of Adobe Target:
Support is a bit slow, often not knowledgeable about local installation – If you have critical processes, there's little ability to escalate support without multiple calls.
While writing scripts in form-based type, the text area is minimal to write the code, so you might need to write on an editor then paste it in that area.
It does not capture revenue out of the box. You need to deploy an additional tool called Adobe Experience Cloud Manager to get conversion data.
Editing an activity on a password-protected webpage can be tricky. This happens because it loads the webpage within Target; you have to sign in via the embedded frame and then get it to load correctly, which has been problematic.
The software is costly. You cannot segment your tests or campaigns by geo-targeting, for example, unless you pay extra for that portion of the package.
The software is mainly centered around the "Target" portion of the product. Once testing completes, there are many options to push your winning campaigns live and target them to specific segments. Unfortunately, this adds to the expense of the software; you pay by impressions.
Pricing of Adobe Target
The pricing for the Adobe Target testing tool can estimate as follows:
| | |
| --- | --- |
| Business size | Pricing |
| Small Businesses | Can pay from $15 to $25. |
| Medium Businesses | Can pay approximately $50.However, some other products can reach $150 per user monthly. |
| Large Businesses | Can pay from $400 to $1,500 per month. |
List of Integrations Supported by Adobe Target
Adobe Target integrates with various Adobe products like Adobe Analytics, Adobe Campaign, Adobe Audience Manager, etc.
Adobe Target Reviews
Here are some of the customer reviews about Freshmarketer, according to the Gartner Peer Insights website: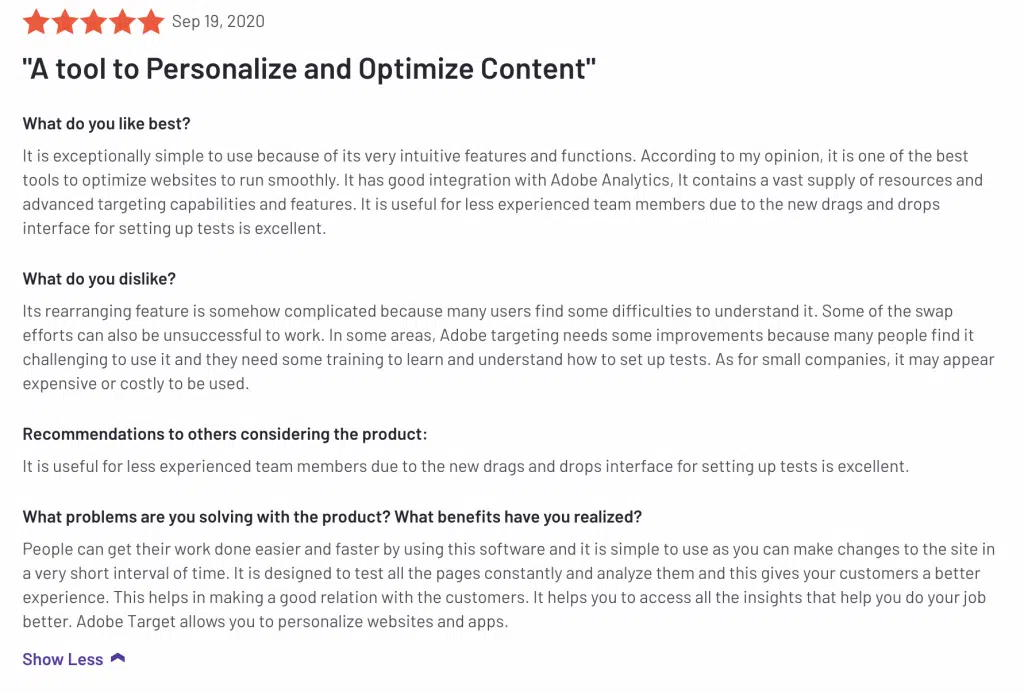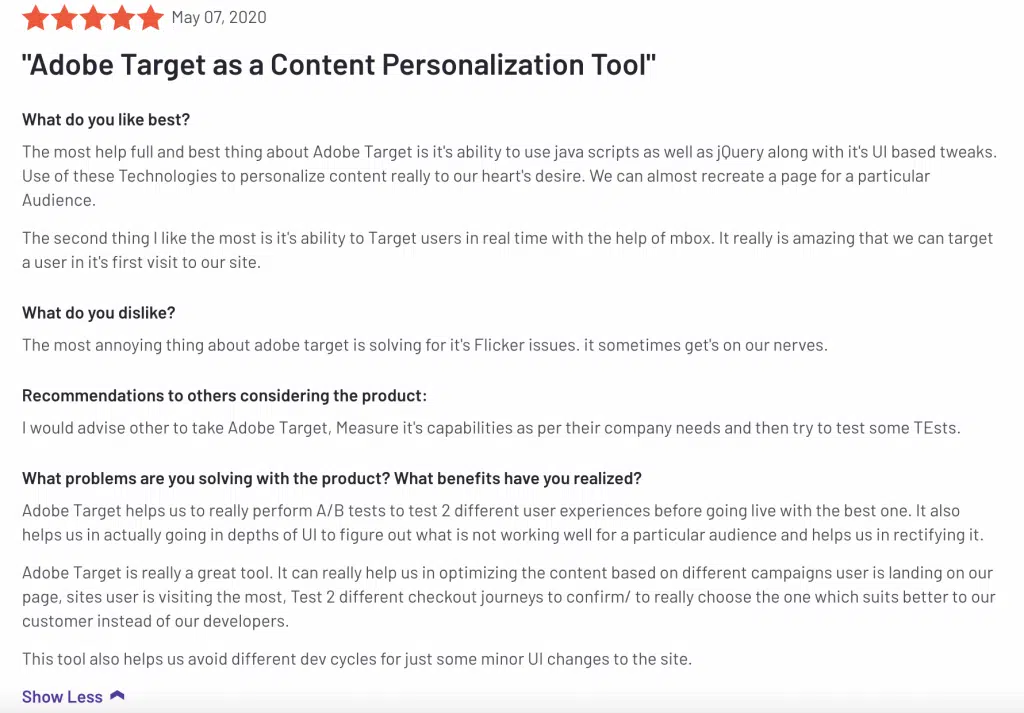 Wrapping Things Up
And, voilà!
That is it for this series, folks.
I hope it was beneficial and informative for you, as I intended it to be.
Tune in for the upcoming series for the top CRO tools.