In the digital age, where every click can pivot a business towards success or stagnation, conversion rate optimization (CRO) emerges as a non-negotiable strategy. It's not just attracting visitors but converting them into loyal customers.
According to a study conducted among internet marketers in 2017, 50% of respondents thought CRO was crucial to their overall digital marketing strategy. Fast forward to 2023, where 55% of businesses plan to increase their CRO Budget now that conversion rate has become an important metric in evaluating revenue performance.
It is evident that the question has shifted from "Do we need to do CRO?" to "How Much Should We Budget for CRO?" or "Which CRO Agency Should We Hire?"
This is where Conversion Rate Optimization Agencies step into the spotlight, armed with data-driven strategies and a profound understanding of user behavior. They are the architects behind the scenes, crafting experiences that resonate with audiences and drive measurable growth.
As businesses worldwide vie for digital dominance, selecting a CRO agency isn't just a decision—it's a declaration of ambition. 
This article showcases a list of the world's top CRO agencies divided into three categories.
Specialized CRO Agencies

: These agencies focus exclusively on conversion rate optimization. Their services are centered on improving website conversion rates through various strategies, including A/B testing, landing page design, and user experience improvements.
Integrated CRO Agencies

: They offer a broad range of digital marketing services, with CRO being one of the many solutions they provide.

Small-scale CRO Agencies

: Small-scale CRO agencies typically cater to small businesses and startups, providing conversion optimization services that are affordable and flexible.
Questions To Ask Before Hiring A CRO Agency
How do they prioritize which elements of your site to test and optimize first?
A CRO agency should prioritize site elements based on data analysis and user behavior insights. They typically start with areas with the highest traffic yet the lowest conversion rates or with pages critical to the sales funnel but underperforming.
What is their pricing structure, and how does it correlate with the services and value they provide?
The pricing structure for a CRO agency usually reflects the depth of service provided, from basic analytics and A/B testing to comprehensive optimization strategies involving multiple channels. Agencies may offer monthly retainers, project-based pricing, or performance-based fees.
How many experiments do you launch per month?
The number of experiments a CRO agency launches each month can vary widely. Some may conduct numerous small tests, while others focus on a few highly detailed experiments. The key is that they should balance quantity with quality to ensure meaningful, actionable results.
Can they guarantee an increase in conversion rate?
No reputable CRO agency will guarantee a specific increase in conversion rates due to the variable nature of optimization work. However, they should be confident in their ability to improve your site's performance over time through systematic testing and optimization.
Why should you hire them instead of another agency?
When deciding between CRO agencies, consider their track record of success, their approach to testing and optimization, and how well they understand your business and industry. The right agency should not only have proven results but also be able to articulate a clear strategy that aligns with your company's objectives.
Top Specialized CRO Agencies
InvespCRO

, Chicago, Illinois.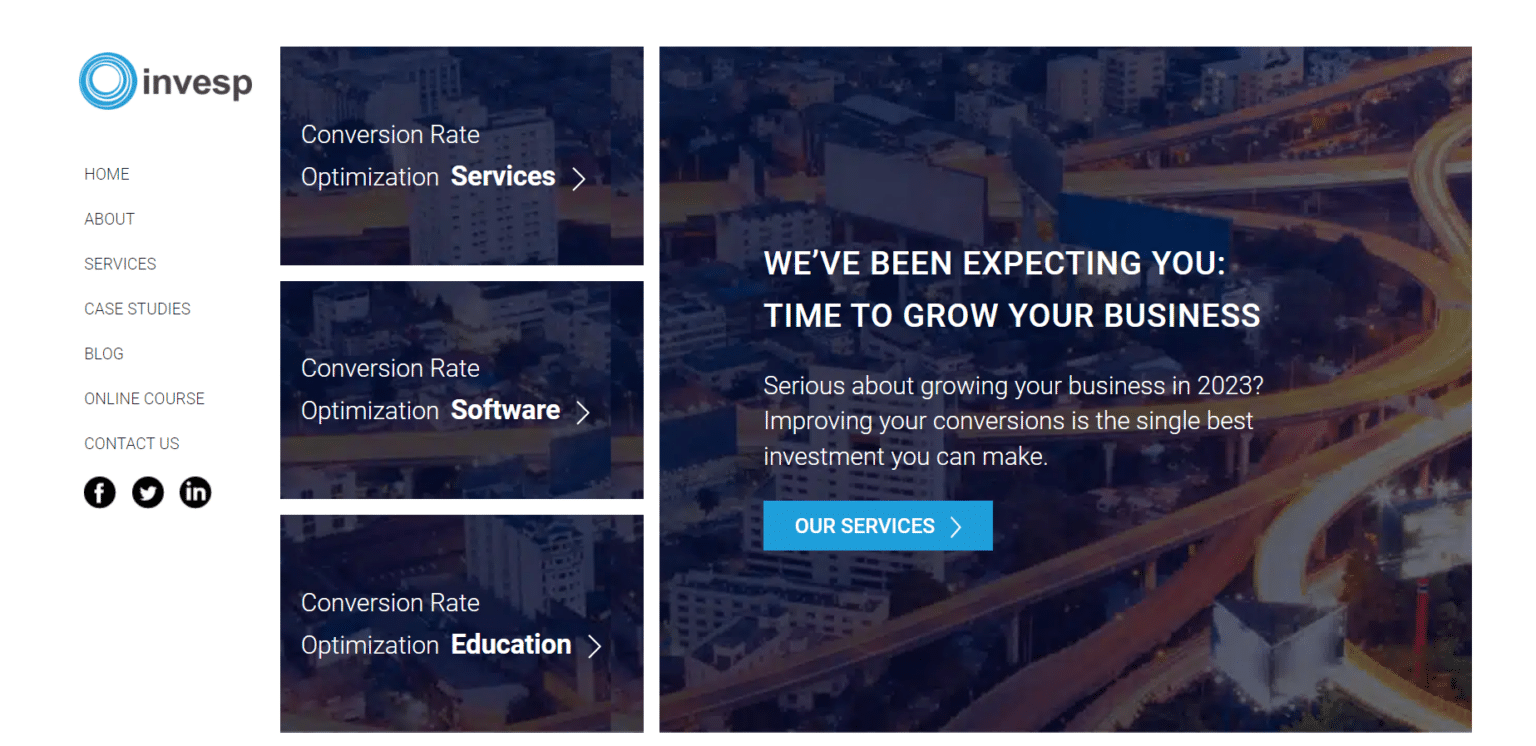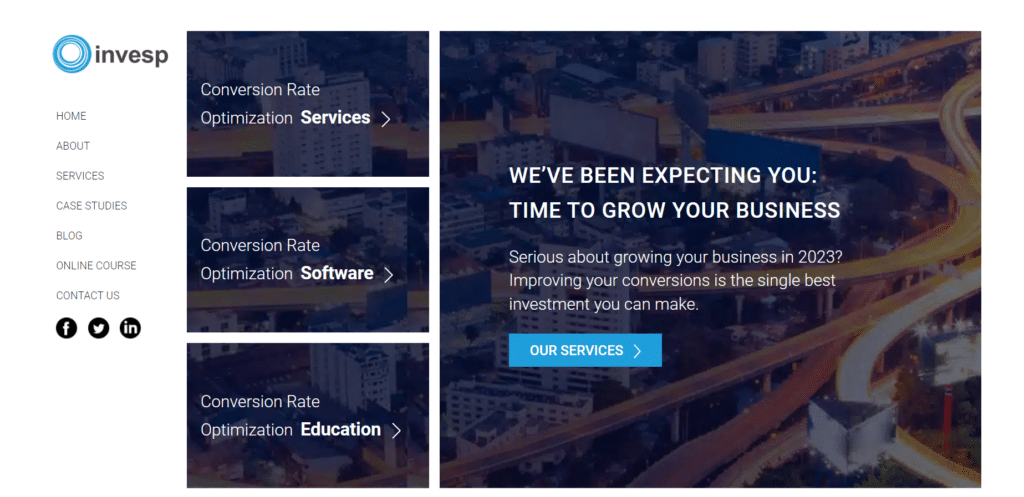 At InvespCRO, the pursuit of conversion optimization is a blend of science and strategy, honed since its inception in 2006 by Khalid Saleh and Ayat Shukairy. With a robust portfolio demonstrating a commitment to growth across B2B and B2C sectors, InvespCRO has established itself as a vanguard in the CRO industry.
With over 22,000 A/B Tests, the services offered by InvespCRO are a testament to their versatility, encompassing everything from detailed analytics and user experience design to thorough conversion rate audits.
The success stories on their case studies page are as varied as impressive. From securing a 4x ROI within the first week for an e-commerce client to driving a 50% improvement in conversion rates for 3M within a year, InvespCRO's results speak volumes.
Their work with eBay, leading to an 18% uplift in conversion rates, showcases their ability to enhance conversionsando improve overall user experience.
Clutch recognized InvespCRO as the top conversion optimization agency worldwide in 2023, a recognition they've maintained as Chicago's leading CRO company since 2021.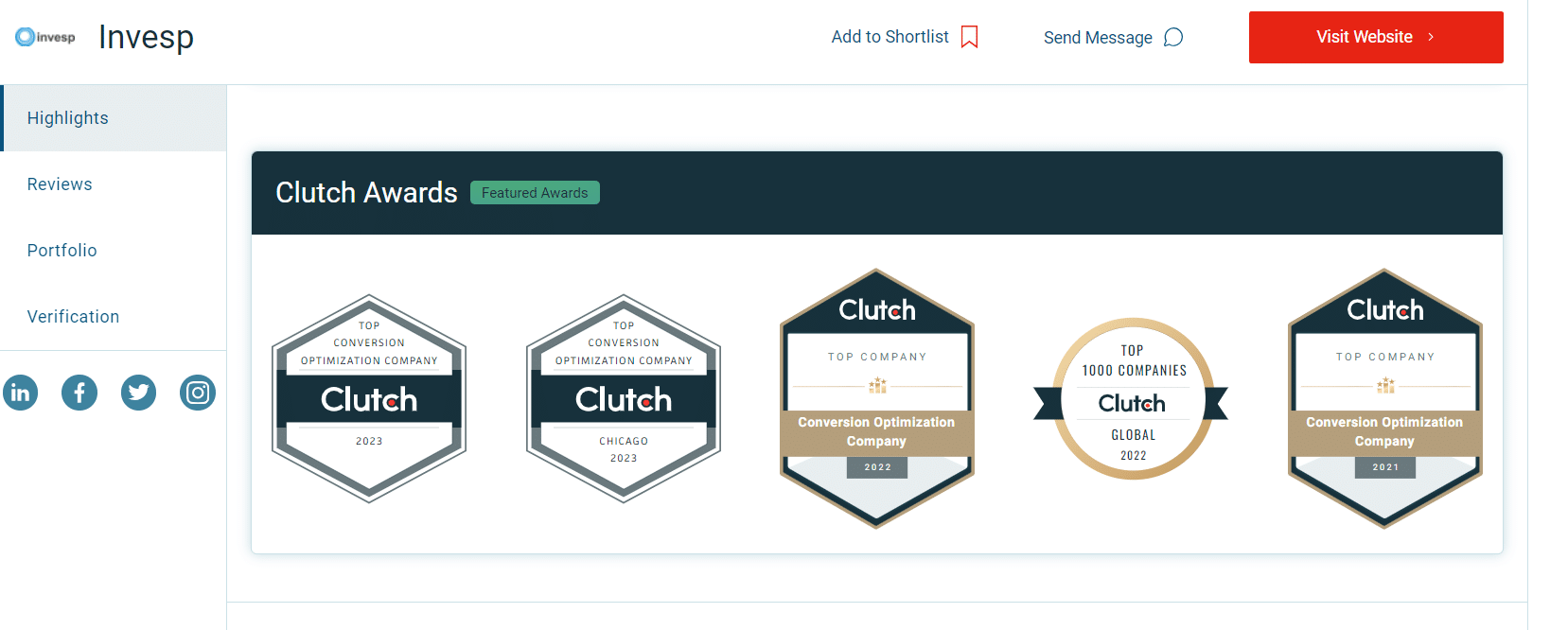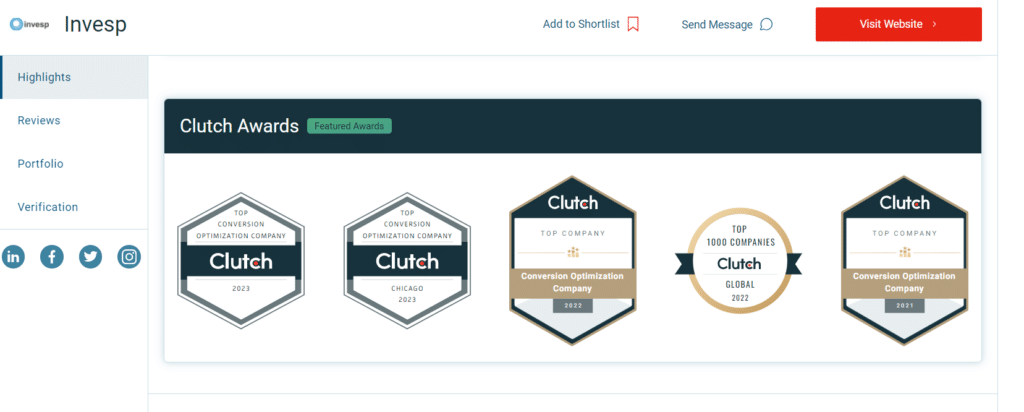 Company Size: 50-100 Employees
Services Offered
Full-service CRO programs

A/B and multivariate testing

Personalization

Analytics setup and analysis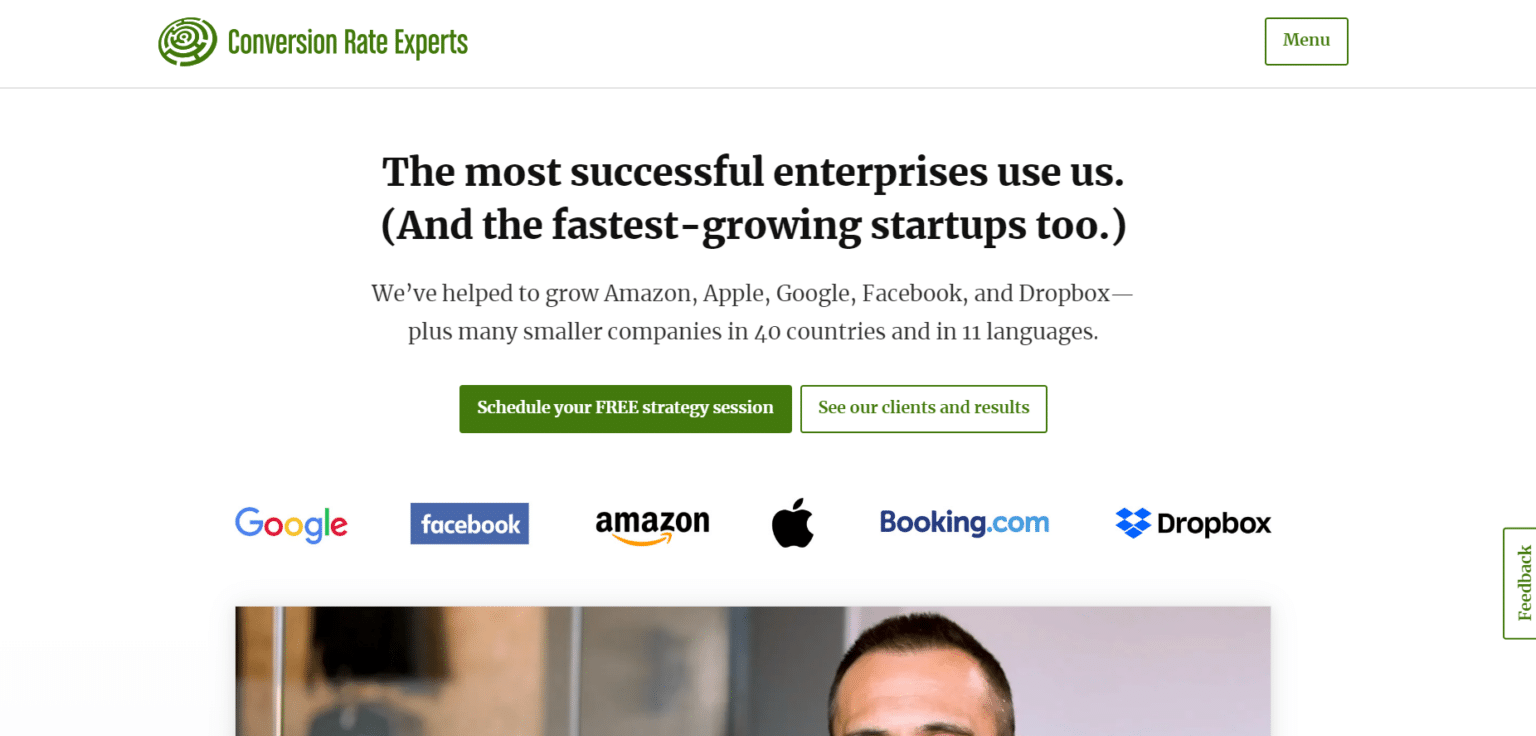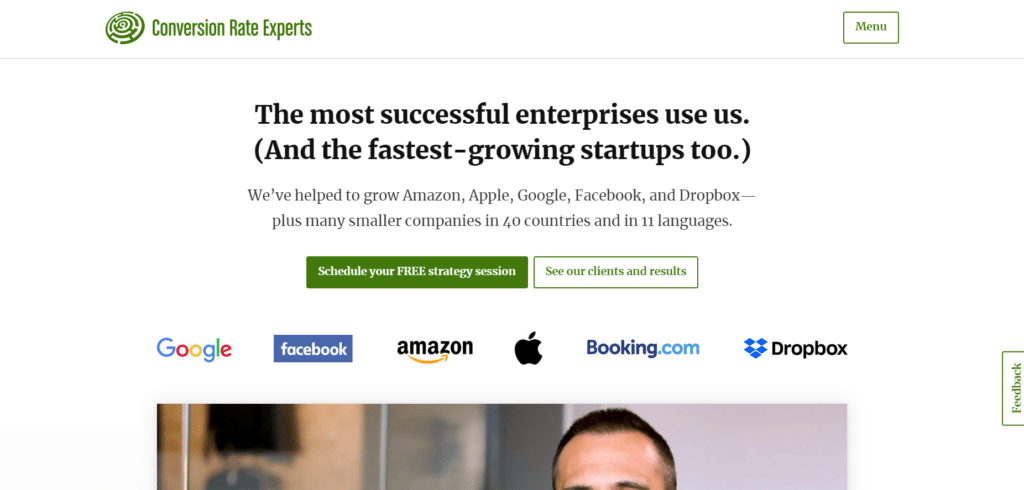 Conversion Rate Experts (CRE) has distinguished itself in the CRO space since coining the term in 2007. Their focus is clear: turning browsers into buyers and clicks into customers.
With clients in over 40 countries, CRE's global expertise is broad and deep, offering insights that transcend borders and industries.
What sets CRE apart is their insistence on evidence-based strategies. They were the first to demand A/B testing for all their recommendations, ensuring their advice isn't just theoretical—it's proven. A bold six-week money-back guarantee underscores 
CRE's commitment to its clientele reflecting their confidence in delivering measurable results.
CRE isn't just about optimizing conversion rates; they're about optimizing businesses for sustained growth and profitability.
Company Size: 11 – 50 Employees
Services Offered
Conversion strategy and consulting

A/B split testing

User research and usability testing

Copywriting and web design

Analytics and data science
Speero

 Austin, Texas.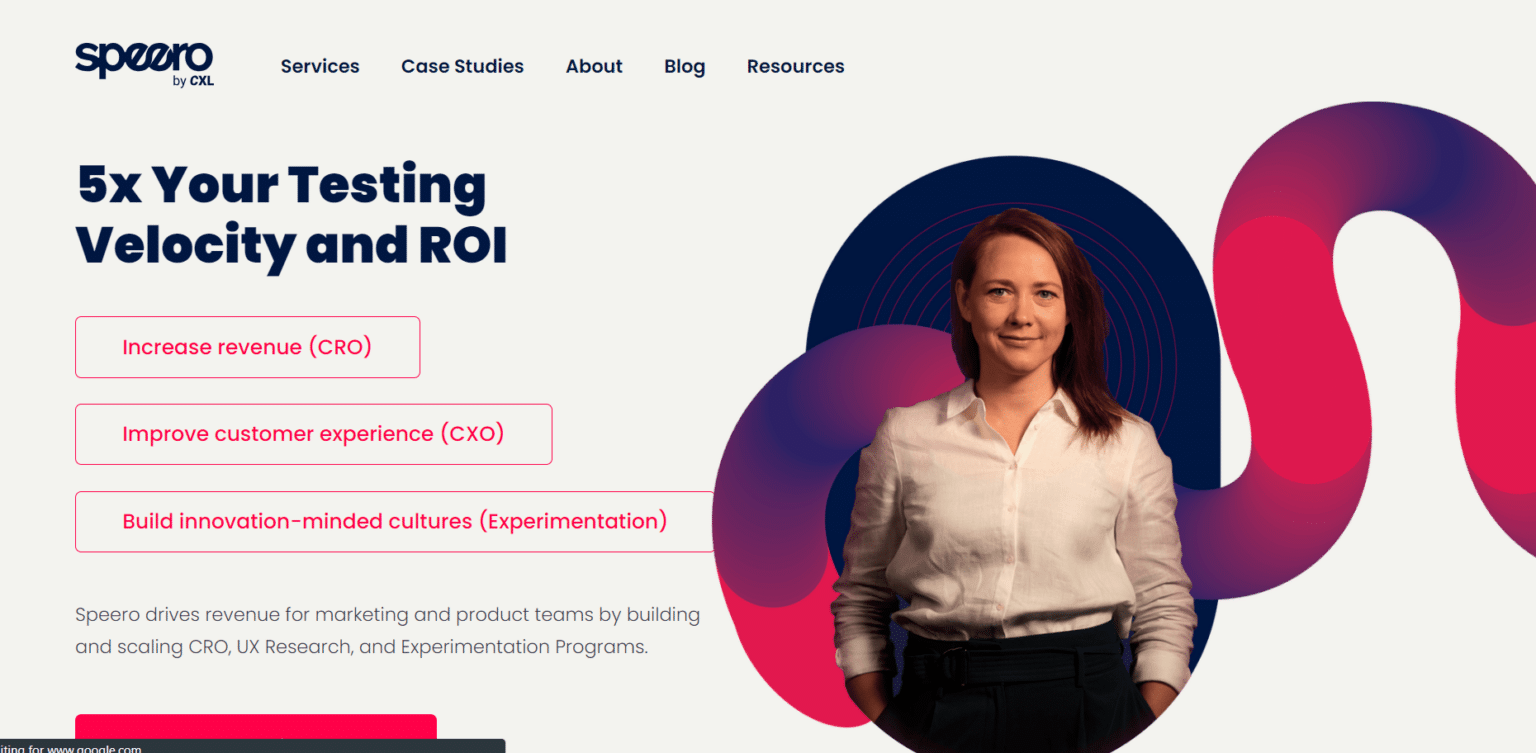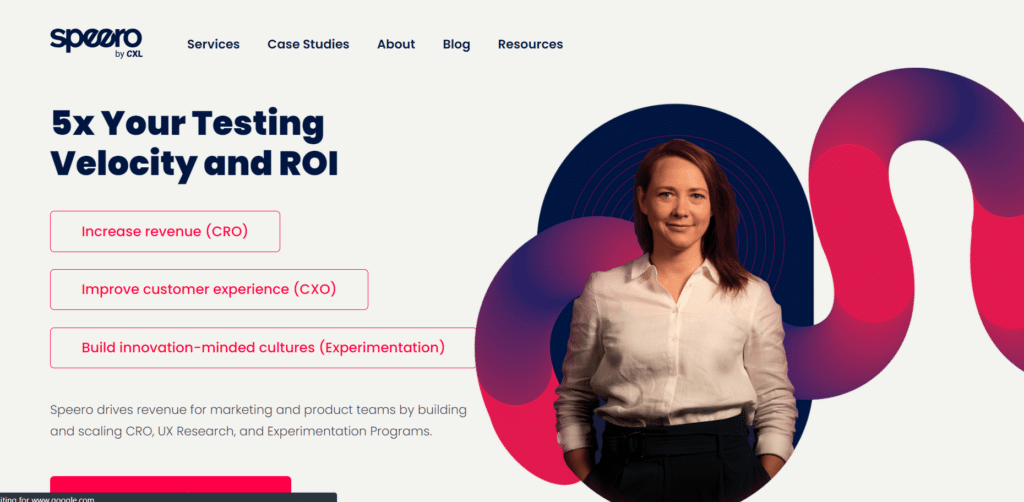 If you're searching for a CRO agency that blends data-driven strategy with a deep understanding of user behavior, Speero could be your match.
Founded in 2011 by Peep Laja, a leading voice in conversion optimization, Speero offers a comprehensive approach to improving online performance.
Speero has worked with notable clients like ADP and Codecademy. Their services are tailored for medium to large enterprises.
Their approach to CRO is comprehensive, starting with a deep dive into analytics audits and maturity assessments, followed by user research and test execution.
What sets Speero apart is its "user-centric" philosophy, focusing on understanding your users' pain points through rigorous A/B testing to find solutions that boost conversions and drive long-term profit.
Company Size: 11-50 Employees
Services Offered
Conversion rate optimization

A/B testing and experimentation

User research and insights

Analytics audits

Maturity assessments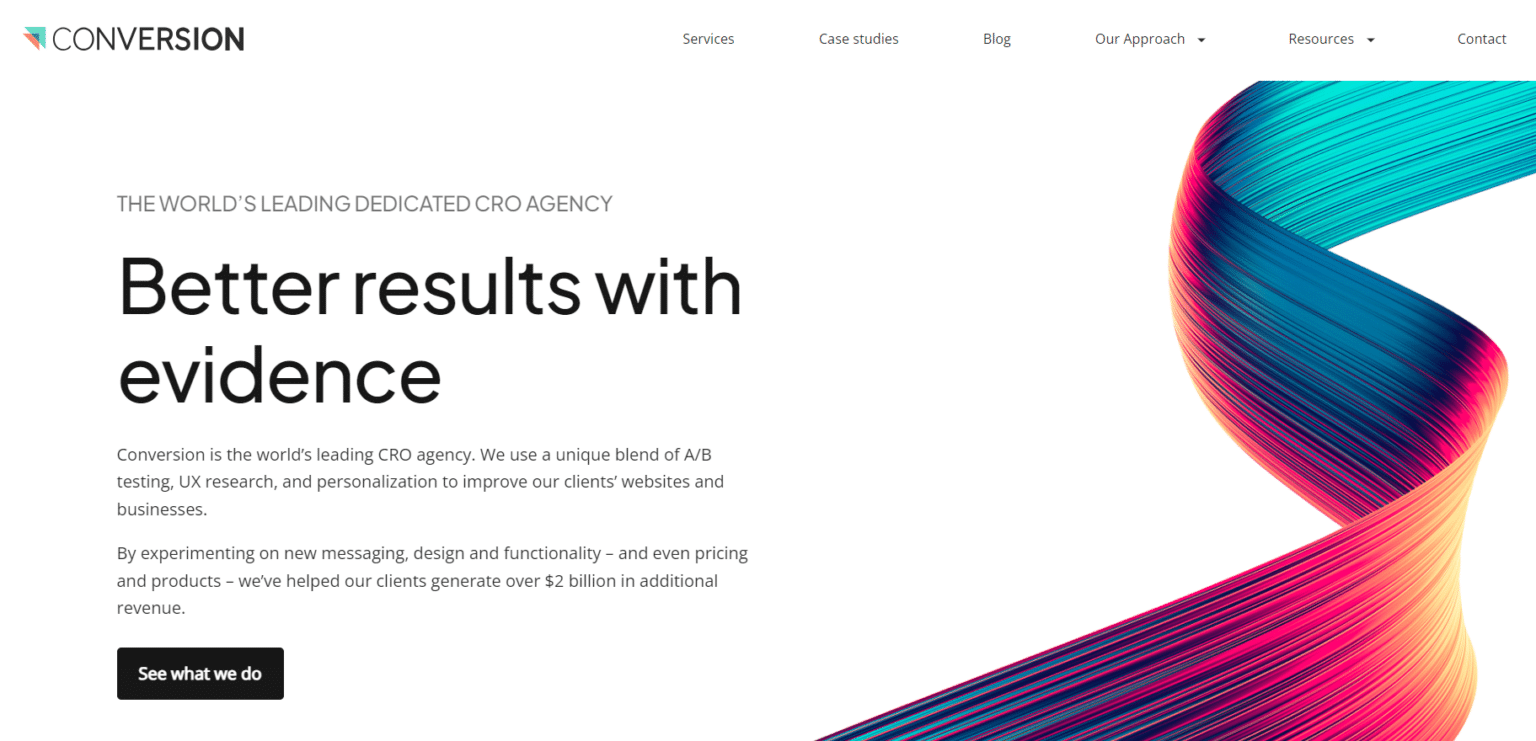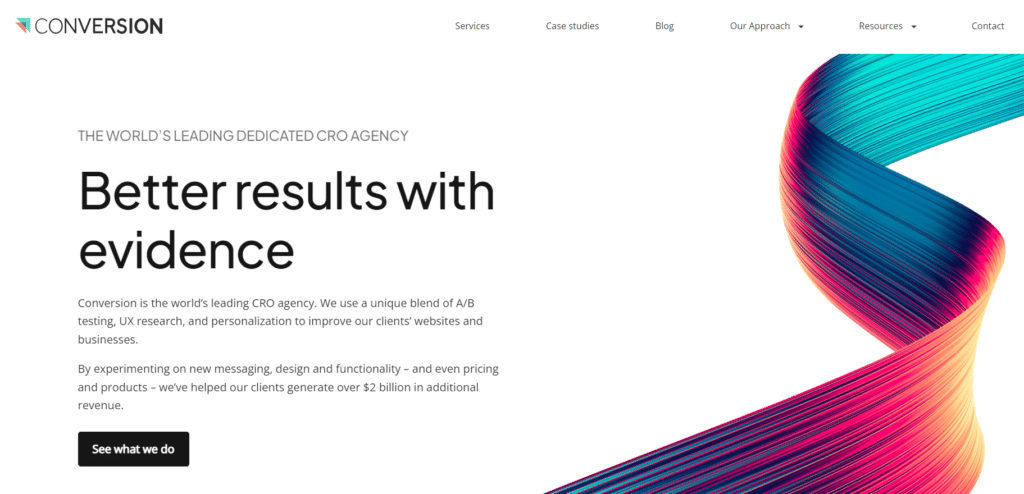 Conversion's suite of CRO services might be what you need if you want to transform your website's traffic into tangible revenue.
Their process is about understanding what changes will make a real difference to your conversion rates through rigorous A/B testing.
Imagine having a dedicated team, including a strategist, analyst, designer, and developer, all working to tailor a strategy that aligns with your unique business goals.
With Conversion, you're not just getting an agency; you're partnering with a team that has helped clients generate over $2 billion in additional revenue.
Company Size: 51-200 Employees
Services Offered
Conversion rate optimization services

User experience and design

A/B and multivariate testing

Personalization and targeting

Analytics and user research
CRO Metrics

Kentfield, California.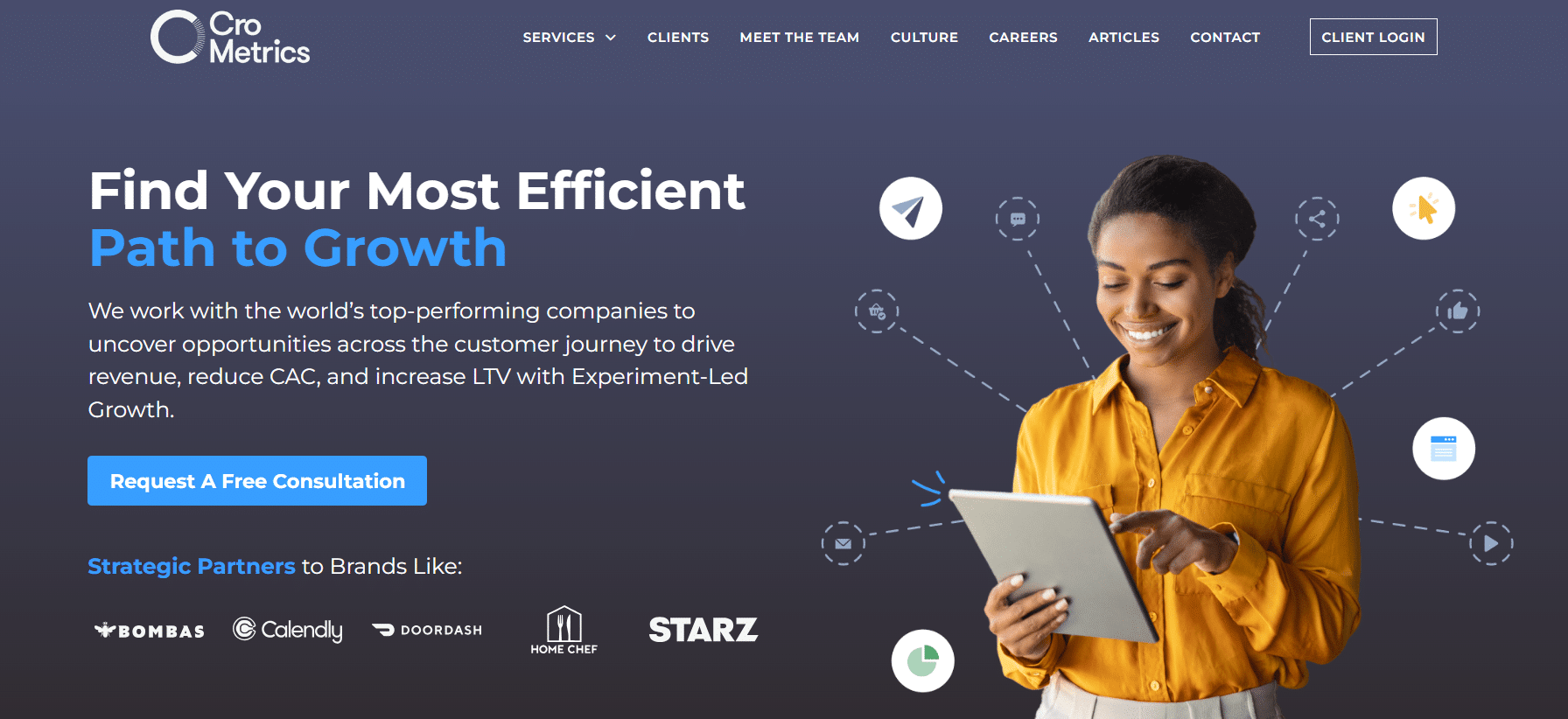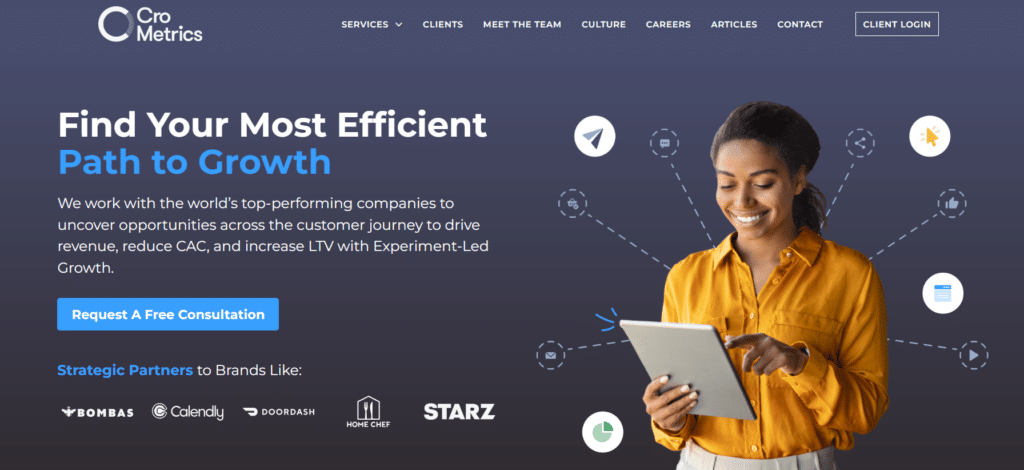 CRO Metrics is a known data-driven powerhouse in conversion rate optimization. With a robust portfolio of over 30,000 experiments, they've honed their expertise to deliver tailored marketing optimization services that drive revenue and growth.
Their approach is far from one-size-fits-all; they leverage experimentation to discover what truly resonates with customers across various touchpoints, from product and pricing to UI/UX and messaging.
CRO Metrics emphasizes the importance of experimentation beyond mere conversion rates, using it to enhance all aspects of profitability, such as increasing average order values and customer retention.
Company Size: 51-200 Employees
Services Offered
A/B and multivariate testing

Personalization

Analytics and data analysis

User experience design

Marketing optimization services
Top Integrated CRO Agencies
Inflow

Denver, Colorado.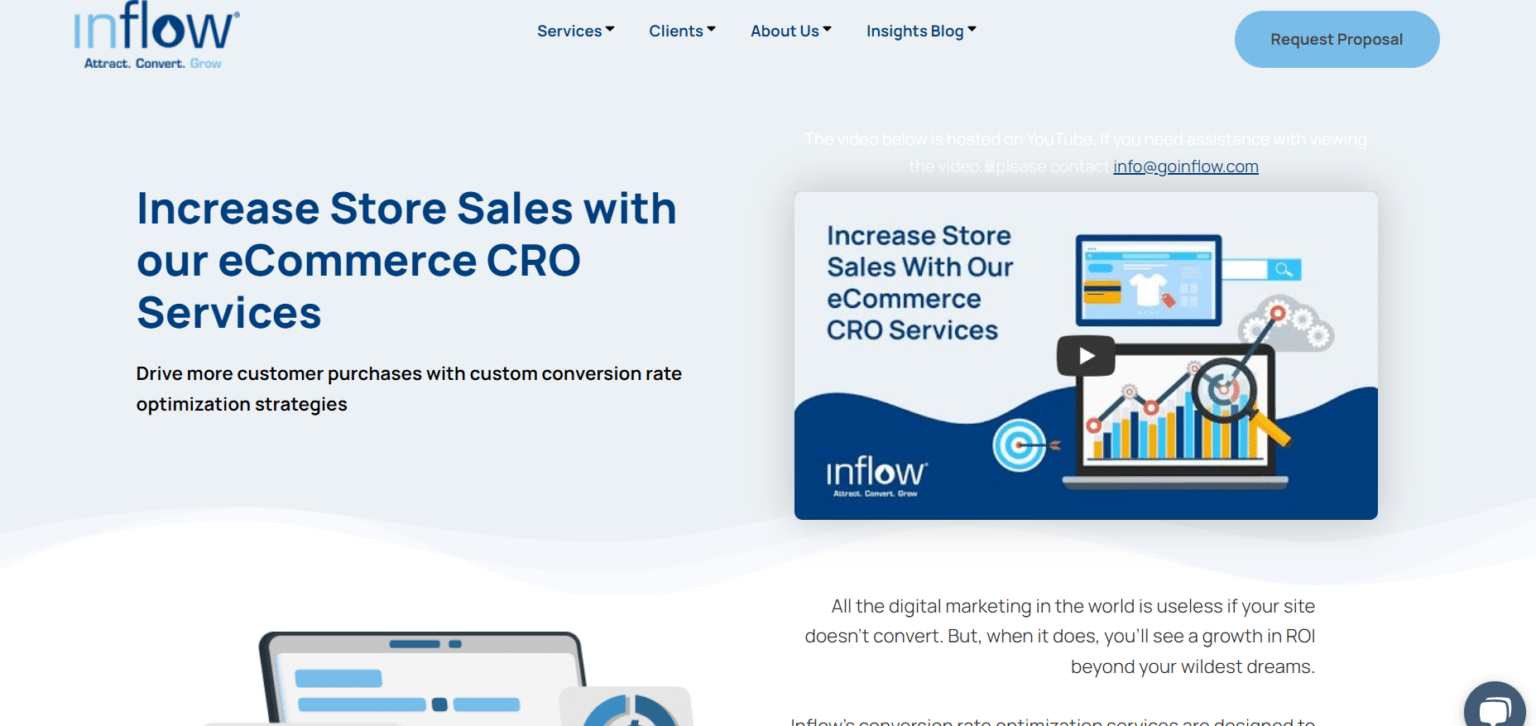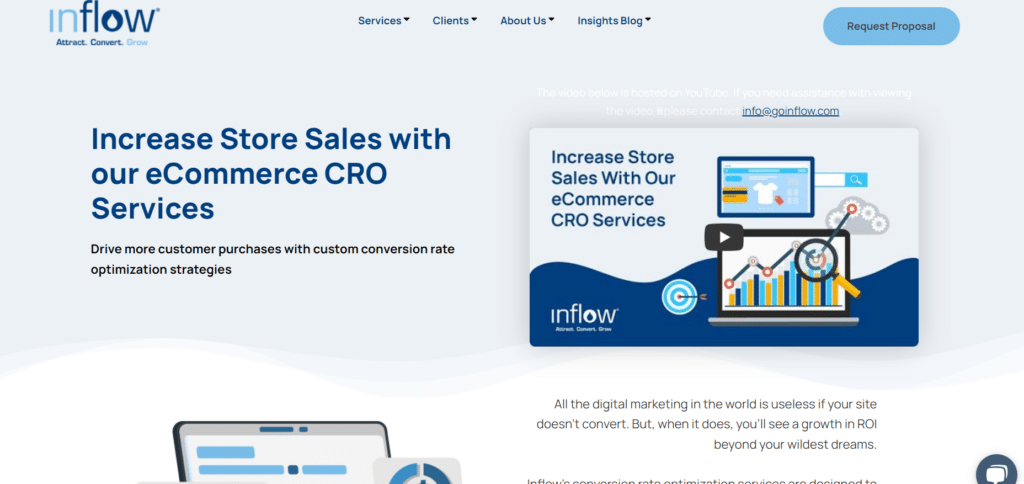 Inflow, a Denver-based eCommerce marketing agency, has carved out a niche by specializing exclusively in eCommerce. Their expertise in CRO, SEO, PPC, and Paid Social strategies offers a comprehensive solution that could set your site apart.
Inflow offers various CRO services, including comprehensive audits, ongoing testing programs, and site speed improvement to enhance the user experience and drive conversions.
They boast a significant track record with over 6,000 A/B tests run on eCommerce sites, achieving an 80% win rate, which is well above the industry average. 
In choosing Inflow, businesses can expect a partnership with a CRO agency that understands the intricacies of eCommerce and values the importance of a customized, integrated approach to digital marketing.
Company Size: 11-50 Employees
Services Offered
E-commerce CRO

SEO and PPC integration

User experience design

Analytics and conversion audits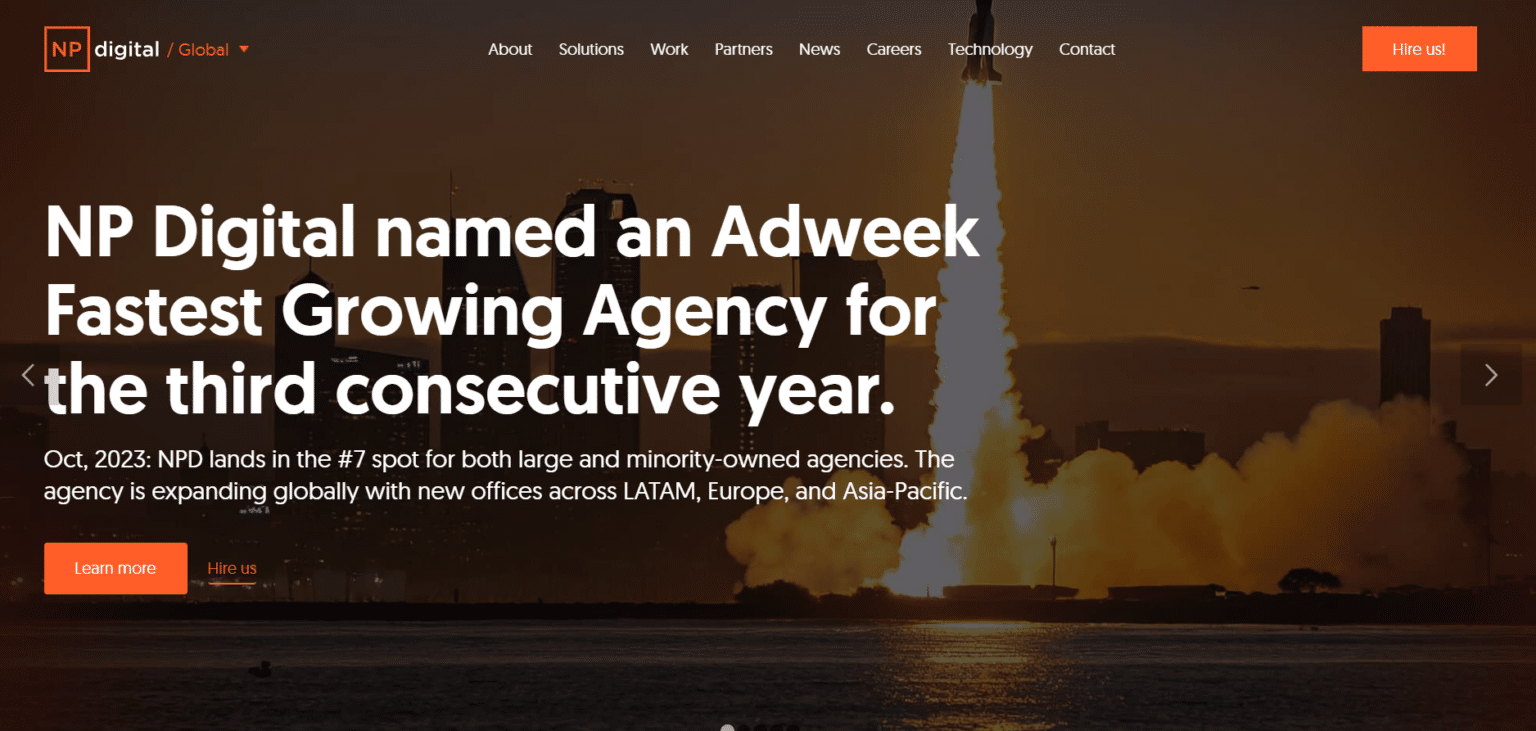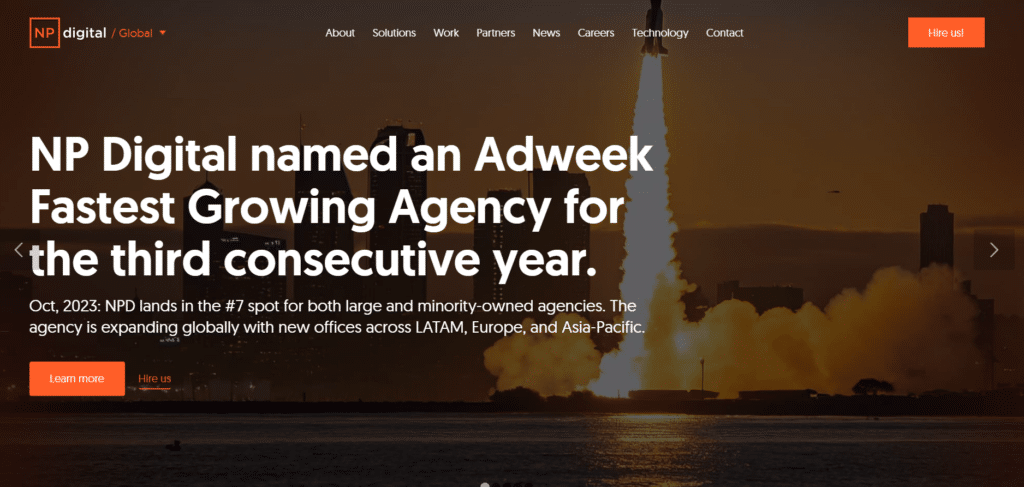 Neil Patel Digital stands out in the digital marketing landscape for its comprehensive range of services and its distinctive approach to Conversion Rate Optimization (CRO).
Founded by the renowned marketer Neil Patel, the agency has made a name for itself by using data analytics to drive performance and deliver tangible results.
Their CRO services are part of a broader spectrum encompassing SEO, paid media, and content marketing, ensuring a holistic strategy for digital growth.
With a focus on data and analytics, Neil Patel Digital crafts personalized experiences that connect brands with their customers across all digital touchpoints.
Company Size: 501-1000 Employees
Services Offered
Digital marketing strategy

Data analytics and CRO

SEO and content marketing

Paid media and social advertising

Email marketing and automation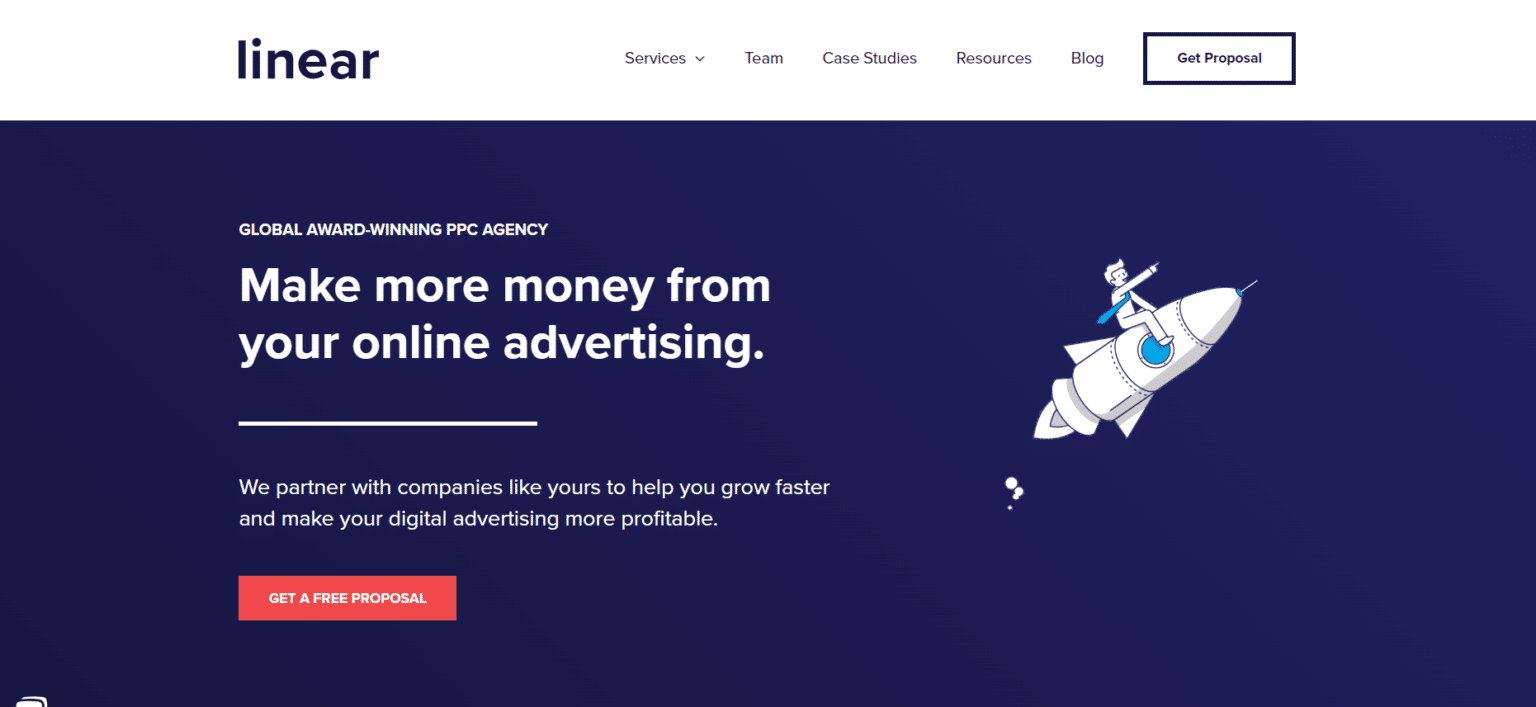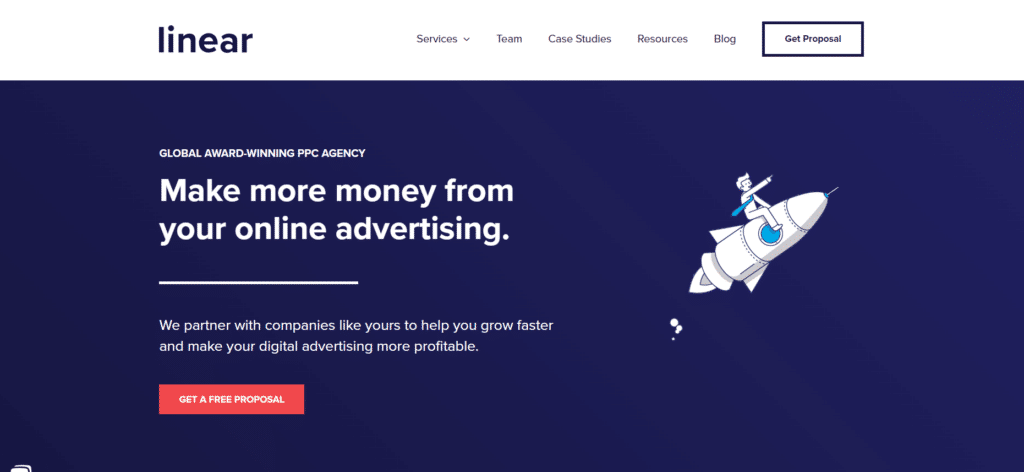 Boost your online presence with Linear Design's integrated CRO strategies. Their expertise in PPC and Google Ads management, combined with effective landing page design, could be the comprehensive approach your business needs.
Their CRO strategy is data-driven and holistic, focusing on the key elements that convert visitors into loyal customers.
With an impressive average of 28% conversion improvement within three months, they clearly understand the eCommerce landscape.
Their process begins with a thorough 12-point audit to identify and prioritize the most impactful changes, ensuring efficient and targeted efforts.
Company Size: 11-50 Employees
Services Offered
Conversion rate optimization

PPC Management

Google Ads Management

Facebook Ads Management

Landing page design
KlientBoost

, Costa Mesa, California.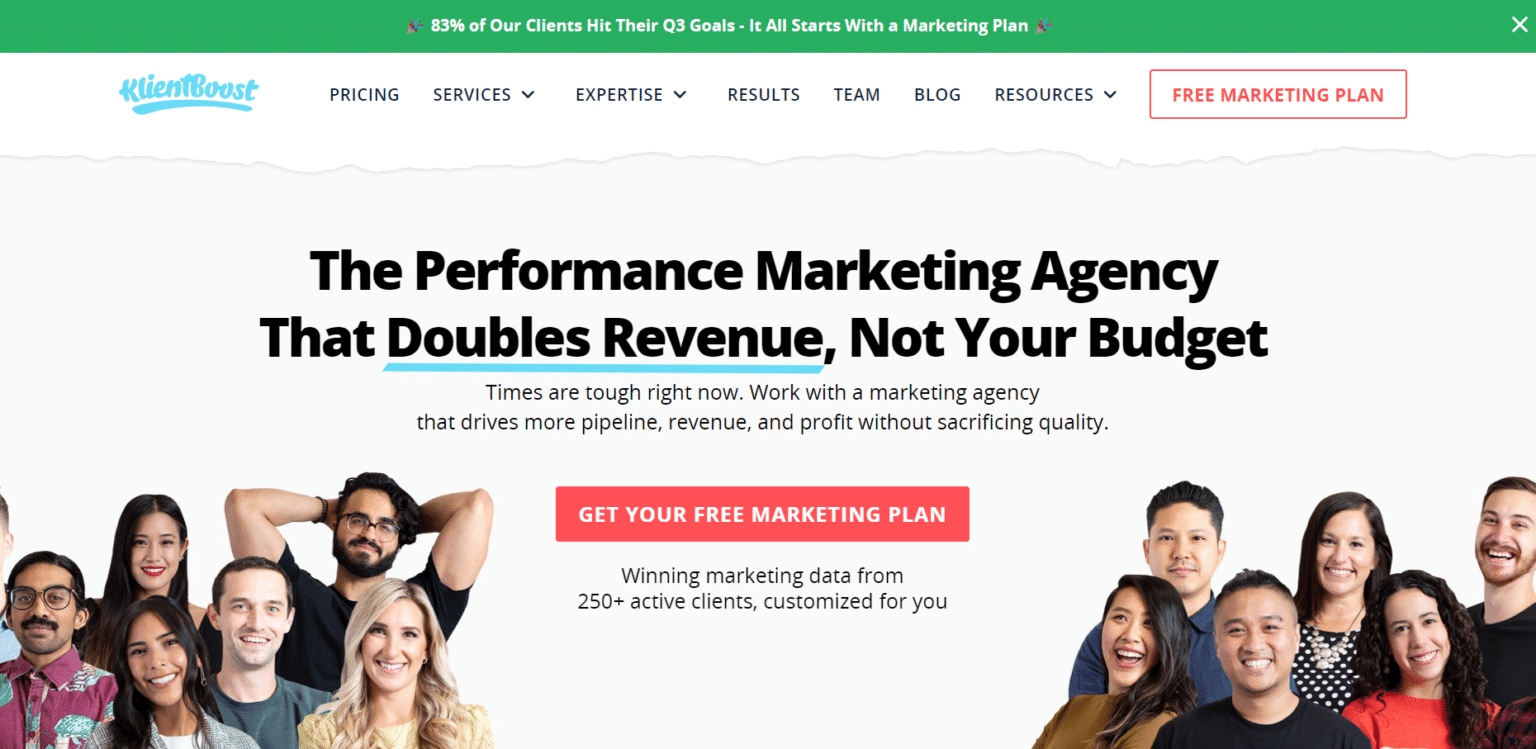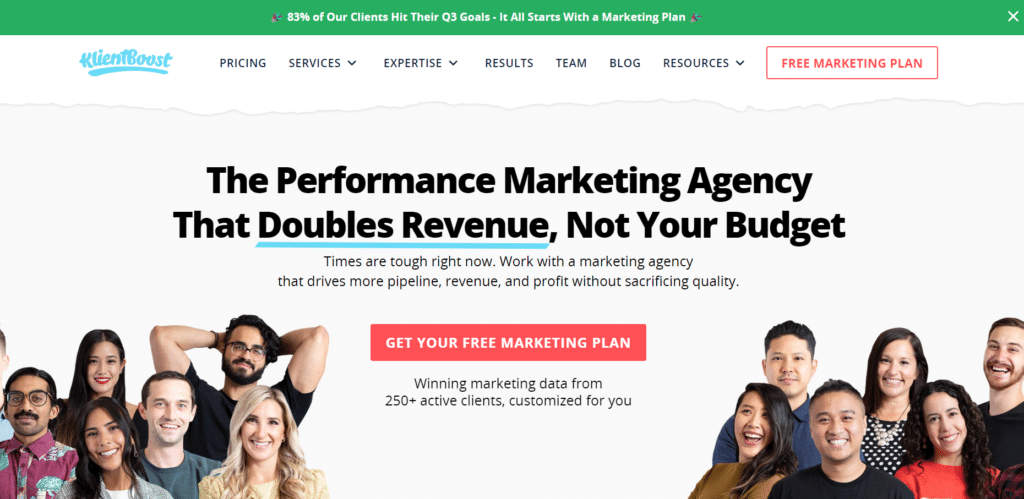 KlientBoost, a performance marketing agency, is about doubling your revenue without stretching your budget. They're a one-stop shop for scaling strategies across multiple channels to drive more revenue quickly and efficiently.
Regarding CRO, KlientBoost doesn't just tweak your conversion funnel; they transform it. They're big on data-driven experimentation, with a track record of success across various industries.
Their comprehensive approach involves heat maps, multivariate testing, and rigorous functionality testing of your landing and homepage to boost conversions.
With a focus on quantitative and qualitative research, KlientBoost's strategies are built on solid data and thorough research to maximize your conversion optimization efforts.
Company Size: 51-200 Employees
Services Offered
Conversion rate optimization

Multivariate testing

Heat mapping

Landing page and homepage optimization

Performance marketing across multiple channels
Smaller CRO Agencies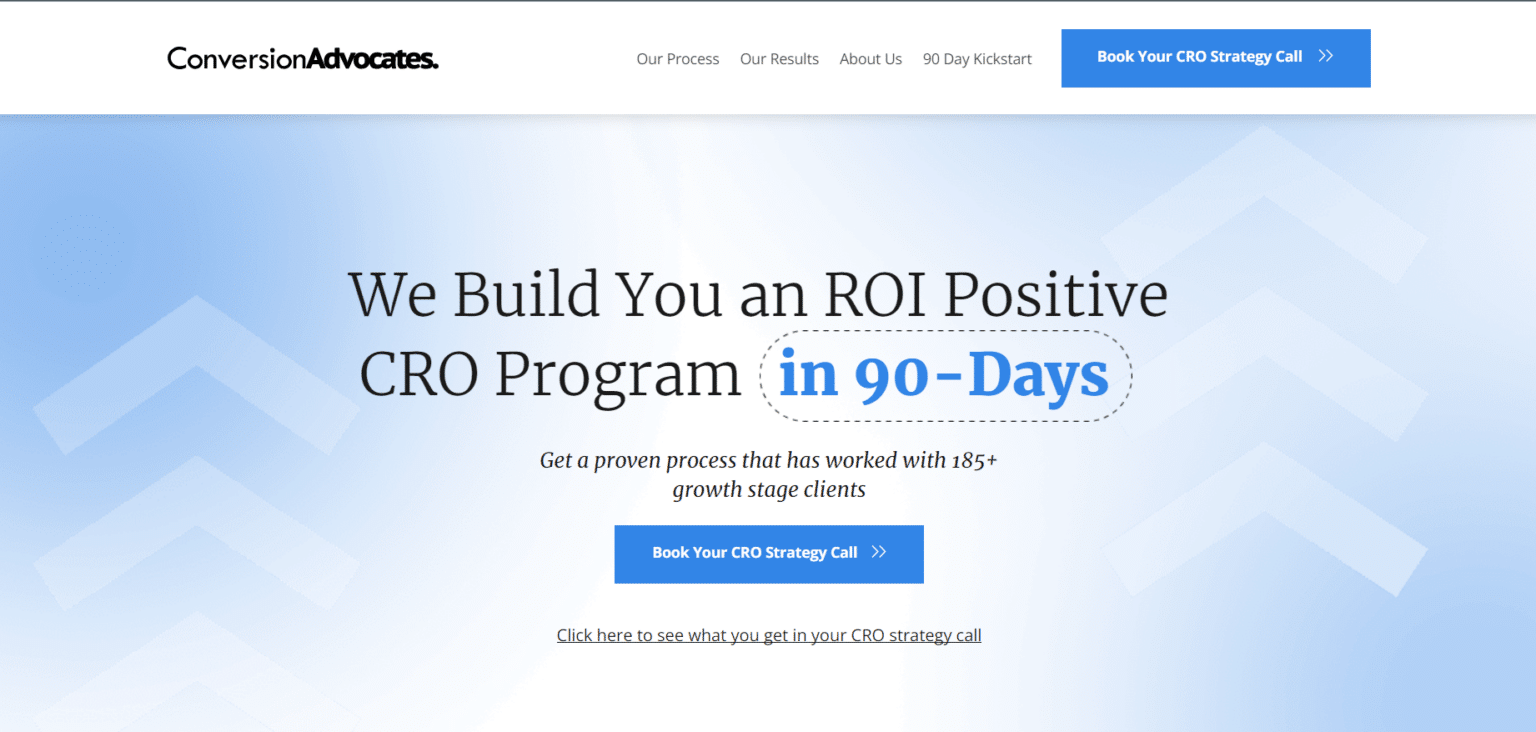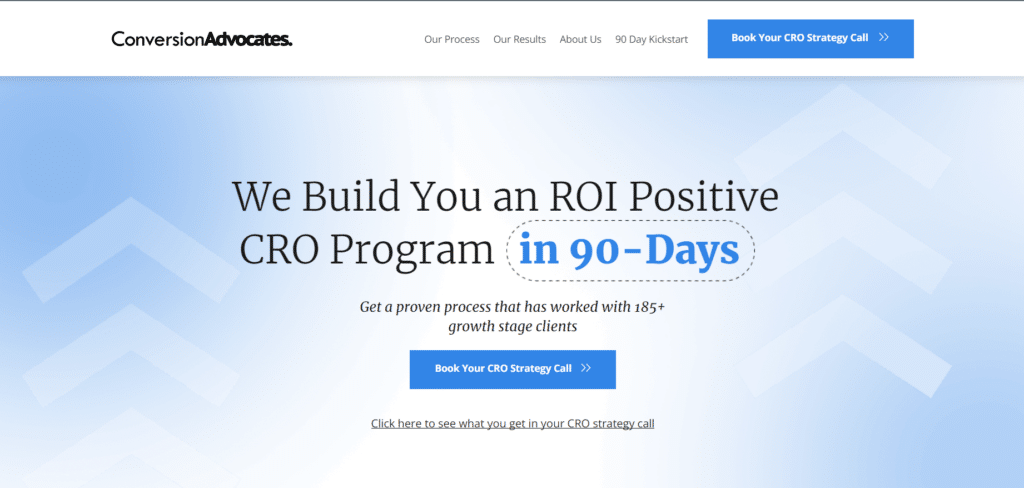 ConversionAdvocates is a CRO agency committed to driving growth through data-driven experiments. Their process, known as the Insights Ideation Experimentation Analysis (IIEA) Framework, is a testament to their focus on translating data into increased revenue, reduced costs, and continuous innovation.
Since 2014, ConversionAdvocates has been helping a diverse range of businesses increase their conversion rates and gain deeper insights into their customers.
They pride themselves on their entrepreneurial spirit, radical honesty, and a process-driven mindset geared towards continuous improvement.
ConversionAdvocates is positioned as a partner ready to help businesses scale confidently through research, data, and a relentless pursuit of innovation.
Company Size: 11-50 Employees
Services Offered
CRO strategy and implementation

User experience design

A/B and multivariate testing

Personalization strategies

Analytics and performance tracking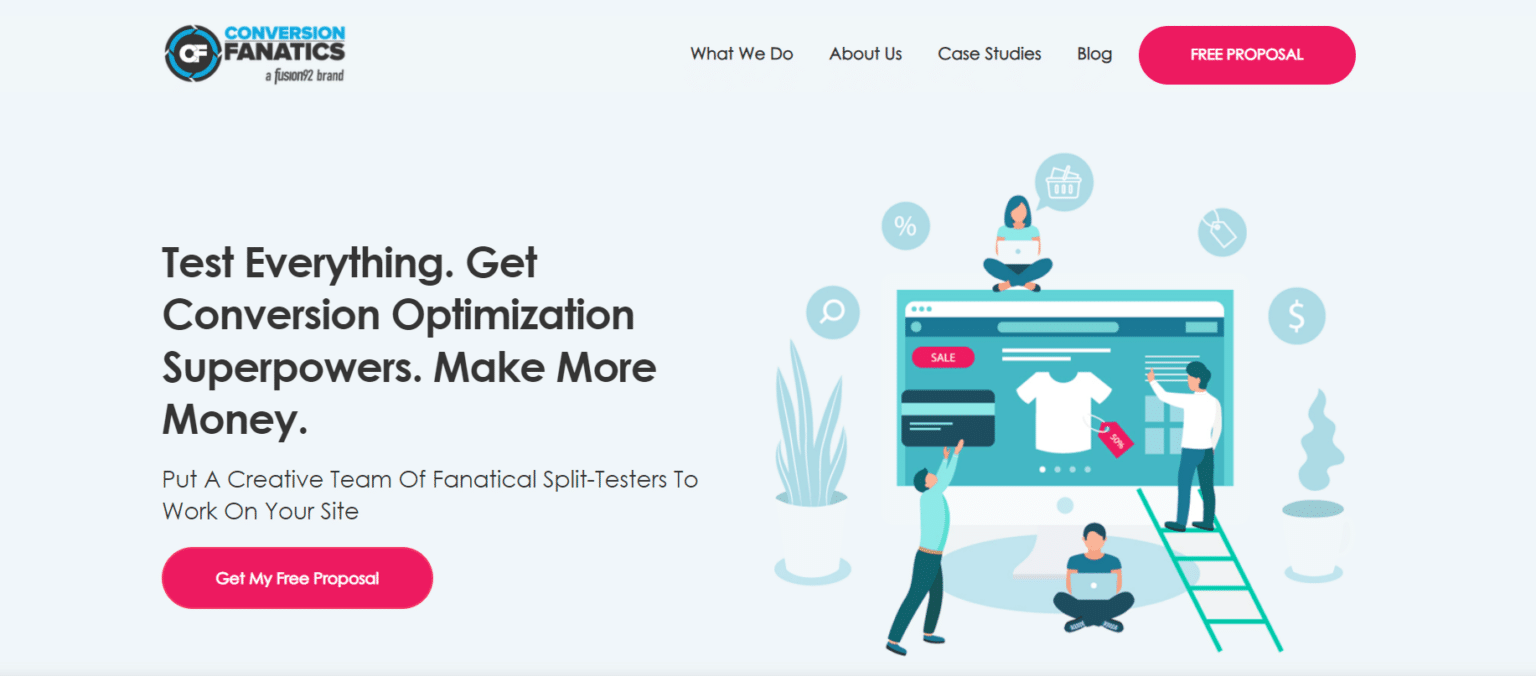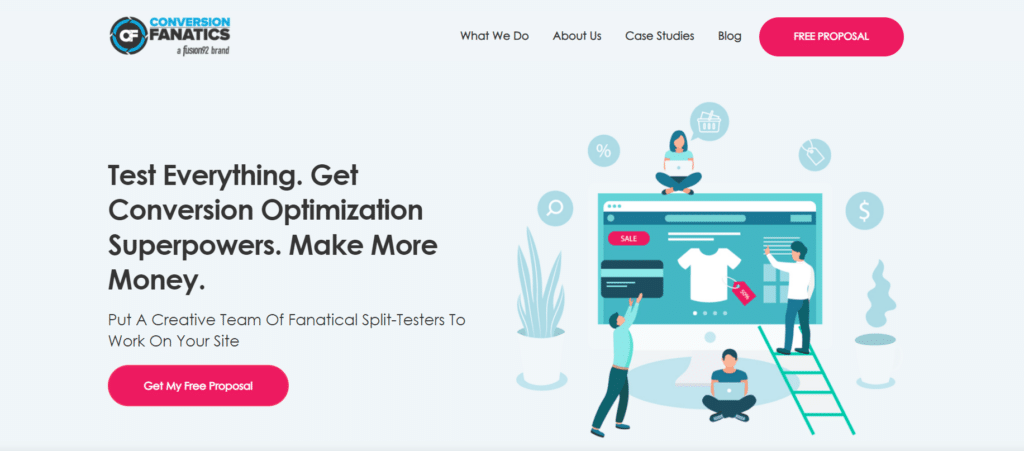 Conversion Fanatics is a conversion rate optimization (CRO) agency that prides itself on making your life easier by providing actionable data, more conversions, and better marketing performance.
They offer a full suite of CRO and traffic management services to help businesses scale by providing an "unfair advantage" through continuous testing and optimization.
Since their inception in 2014, they've grown significantly, boasting over 957% growth since 2015. Their data-driven approach focuses on underperforming areas and formulating impactful tests to improve business metrics.
Conversion Fanatics is not just about A/B testing; they also offer insights into analytics, brand design, development, and traffic management.
They work with diverse clients, including e-commerce, SaaS, and various service industries, ensuring that their strategies are tailored to each unique business model.
Company Size: 11-50 Employees
Services Offered
Conversion rate optimization

Traffic management

A/B testing

Analytics and Reporting

PPC campaign management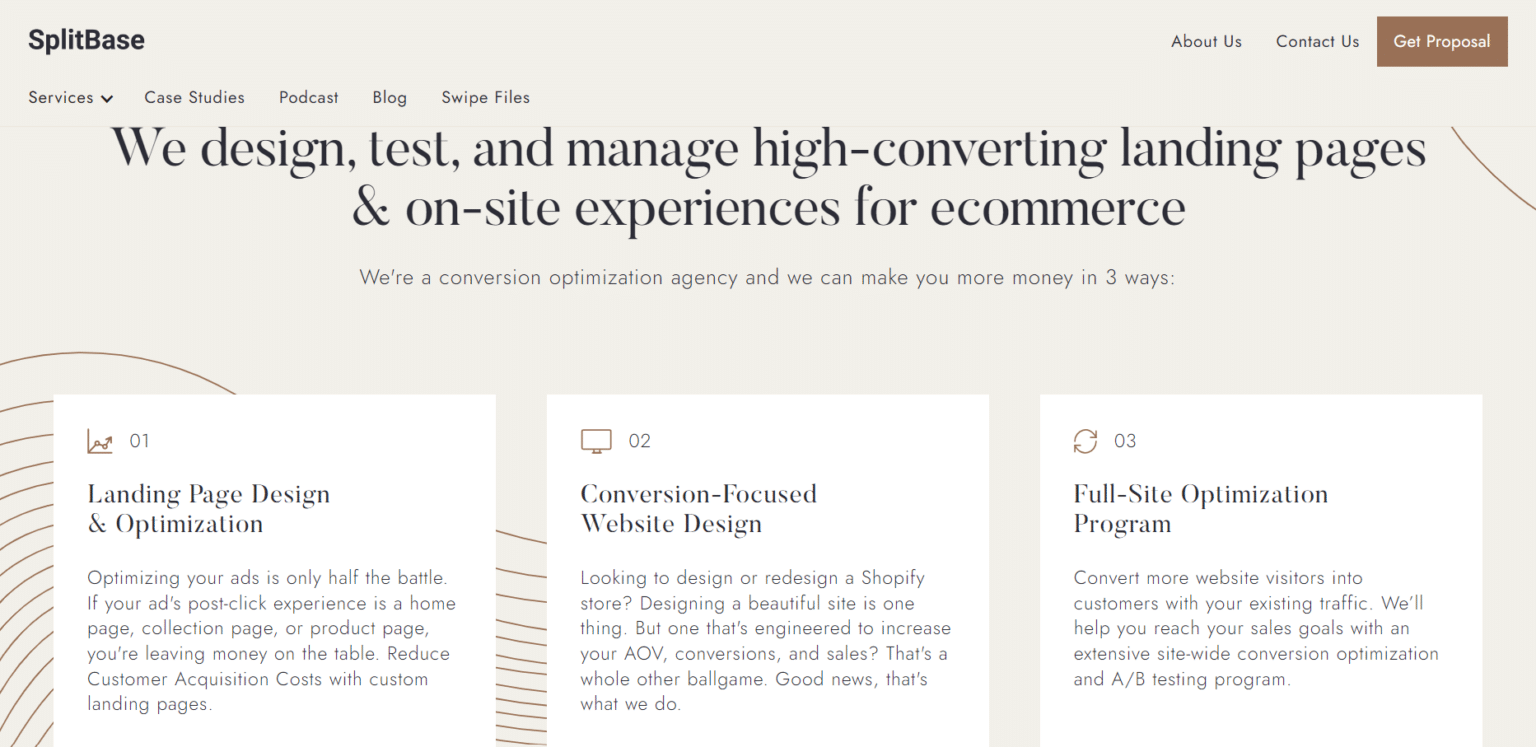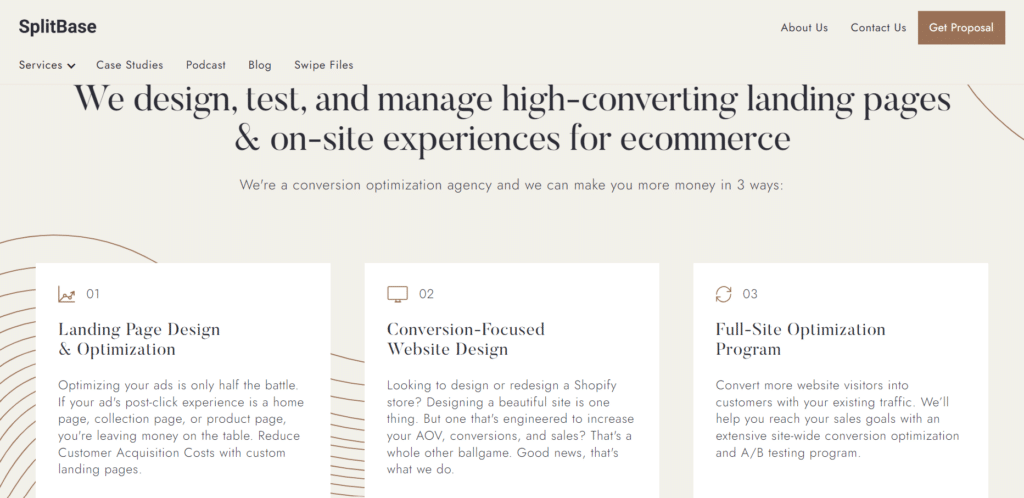 For those seeking to elevate their e-commerce game, SplitBase is a conversion optimization agency that digs deep into the challenges unique to high-growth companies.
If you're wondering how to boost your Return on Ad Spend (ROAS), conversion rates, or average order value, SplitBase might be the partner you need.
They pride themselves on generating significant returns for their clients, aiming for at least a 10x ROI. Their client relationships are intimate, often working directly with founders and CEOs, and they're seen as an integral part of the team, advising on all aspects of e-commerce marketing, testing, and conversion optimization.
If you're looking to partner with a team that's as invested in your growth as you are, SplitBase could be the agency to help you unlock new levels of e-commerce success.
Company Size: 11-50 Employees
Services Offered
E-commerce CRO

A/B testing and experimentation

Landing page optimization

User research and customer insights

Performance marketing
FAQs
What kind of results can I expect from working with a CRO agency?
Partnering with a CRO agency can lead to many improvements, such as increased conversion rates, higher average order values, and better ROI on marketing spend. The specific results will depend on your starting point, the changes implemented, and your customer behavior.
How long does it take to see results from CRO?
The timeline for seeing CRO results can vary. Some changes may yield immediate improvements, while more significant strategic shifts could take months to optimize and show results. Typically, you can see preliminary results within the first few weeks to a few months.
Can small businesses benefit from CRO agencies?
Absolutely. Small businesses can see significant benefits from CRO, often more proportionally impactful than larger companies. CRO can help small businesses make the most of their existing traffic, potentially leading to more sales without a corresponding increase in advertising spend.
How do CRO agencies measure success?
CRO agencies typically measure success using key performance indicators (KPIs) like conversion rate, click-through rate, bounce rate, and ROI. They use analytics and testing tools to track these conversion metrics before and after implementing changes to quantify the impact of their strategies.