What is the first thing that comes to mind when I tell you the words 'The Time Square'?
What comes to my mind personally is, 'Wow, that's too many ads'. Do you have a similar thought?
I mean, it's crowded, but the neon signs are everywhere. I sometimes wonder if they work.
And That made me think, is outbound marketing slowly fading out in favor of inbound marketing?
So I did quite a bit of research, and everywhere I looked, it seemed like everyone is favoring inbound marketing now.
So fast forward, I decided to write a blog about it to keep you in the loop on what's going on and how inbound marketing can help you move forward.
What Is Inbound Marketing?
Inbound marketing is a term that refers to a marketing system that is designed to attract potential customers through producing valuable information that addresses their pain points. 
The inbound marketing system is the complete opposite of the outbound or traditional marketing system, which is interruptive, aggressive, linear, and has limited channels. 
There are three pillars required when planning to build a solid inbound marketing system: 
Attract potential customers to your landing page or site.
Engage with them and foster long-lasting relationships so that they keep coming back. 
Delight them with relevant information that solves their problems. 
You need these pillars to be in place, regardless of the type of inbound marketing (more on this later) system you plan to use. 
Why is Inbound Marketing Important? [Inbound Marketing Benefits]
Several factors make inbound marketing important, and we can spend a whole blog just talking about the benefits of inbound marketing. 
But, I want to give you some of the primary reasons why you should consider inbound marketing for your business.
Organic Traffic
With SEO and Content being at the forefront of inbound marketing, it is no surprise that organic traffic would be the most significant factor that makes inbound marketing important.
As you saw, when we talked about companies that are killing it regarding SEO and Content, we weren't talking about businesses that generate millions from their content.
Content is a holistic strategy that works evergreen. I mean, blogs stay published on the internet practically forever, and if you know that your content is good, then you don't have to fear Google's updates.
On the contrary, Google would reward you with higher rankings and more traffic to your website. What else would you need?
Demand Generation
What's great about inbound is its ability to attract customers interested in your product or service without feeling that they are marketed to, making customers more open to working with you.
Customers usually like to educate on topics they want to work with. Sometimes, they want to do it themselves, so they'll probably search for how to do it on Google, YouTube, LinkedIn, etc.
When they find your content, they'll start consuming it, some time will pass, and in their minds, you'll be established as the authority regarding the subject they're researching.
So, in the end, they'll contact you, have a conversation and start talking business without you knowing who they are, having to sell them anything, or do anything yourself.
The demand is already there. You just created a framework to capture interested businesses through your content and nurture them.
Everything Works Together
The best thing about inbound marketing strategies is that everything works together and builds upon itself rather than building different projects from scratch.
The content you produce on your blog stays there, getting traffic and building up your reputation in the space you're in, right? But if you also produce Videos and TikToks, or are active on Social Media, people start to notice that.
People start following your blog, YouTube channel, TikTok, or wherever you exist. Thus, you start building up a following by doing inbound marketing.
Pull Not Push
Several factors make inbound marketing very effective. People around the world are sick and tired of being constantly sold to. If people want to buy, they want to come on their own terms. 
With traditional marketing, everything feels designed to make you buy or talk to a salesperson, which is frustrating for some people.
But inbound customers take things at their own pace, without fear that someone is trying to sell them something, and they have to buy now.
Not just that, but inbound marketing helps you build relationships with your potential customers as they might come and ask about something about your content.
This interaction comes as a natural conversation that could lead to moving forward with business opportunities without 'sales' in its traditional form being involved.
Types of Inbound Marketing [Inbound Marketing Channels]
Mainly you have three categories that define the different types of inbound marketing channels, and these four channels are:
Now you probably have two main questions, aren't content and SEO the same thing? And is advertising an inbound channel?
Those are valid questions here. I'll give you that! 
As for the first one, no SEO and content aren't the same. And yes, adverting is an inbound channel, and I'll elaborate more below: 
Content
Content has been at the forefront of inbound marketing since its invention. It is the most powerful channel to bring customers in without marketing directly.
And the best part about It is that it has evolved and continues to evolve over the years. Some of its most famous formats are (Blogs, Podcasts, YouTube videos, TikToks, and Social Media).
Here are some examples of companies that leverage their content the right way.
Invesp started writing blogs and taking content production seriously in 2016 and their blog, according to data from Ahrefs, gets around 60k visitors a month.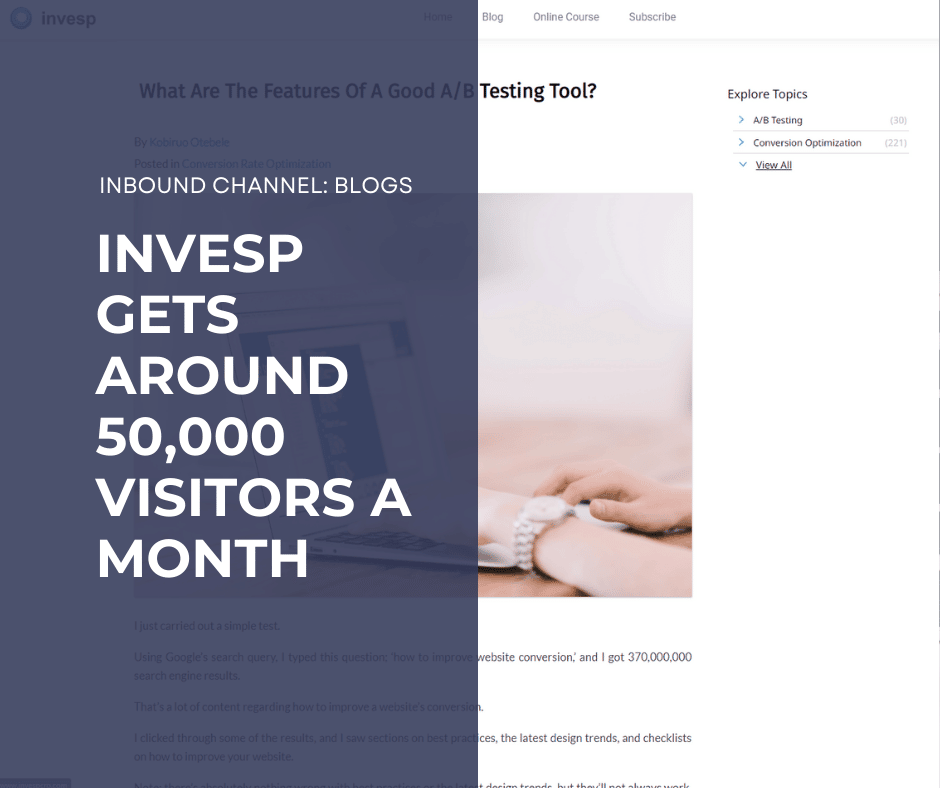 They have posted a blog a week since 2016, building up the business using high-quality content about CRO. They gained the trust of conversion experts, marketers, and CMOs worldwide.
By videos, I mean videos that are around 8+ minutes long, which could be found all over YouTube.
Ahrefs is a good example of a brand that uses video content to attract potential customers. We use it here at FigPii, and we trust their tool and content to teach us what to do next whenever we are lost.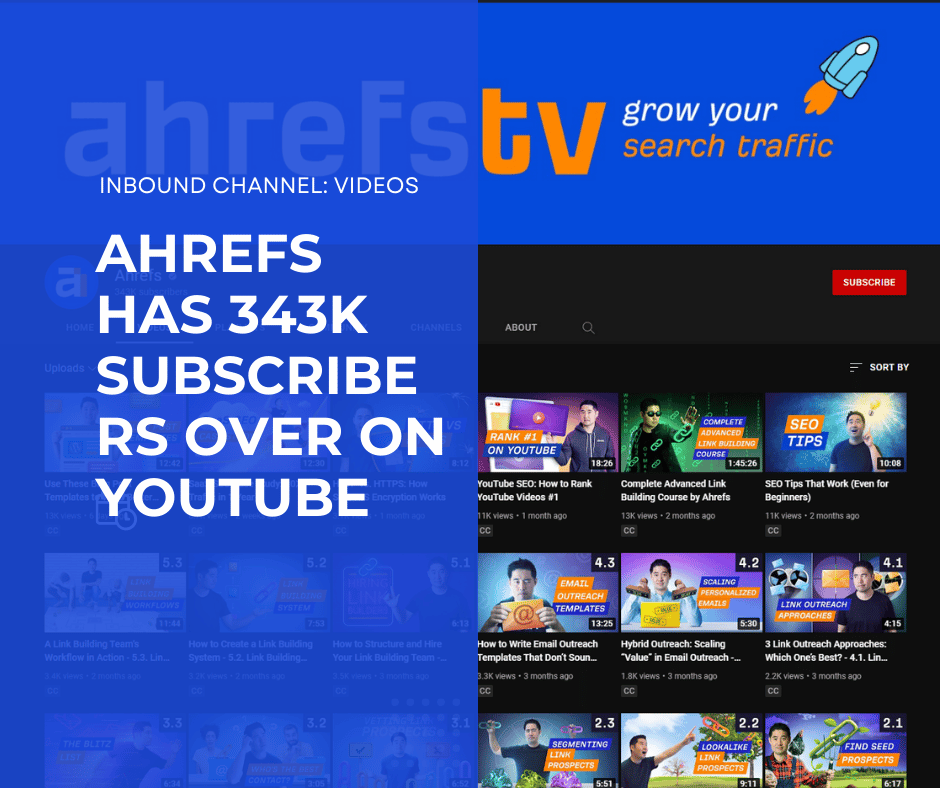 They treat their YouTube channel as an academy that teaches SEO in an easy-to-follow and highly actionable matter. They have over 343k subscribers on YouTube, which makes them one of the highest business channels on the platform.
Drift is one of the big players when it comes to live chat widgets. They are known in the marketing space because they do a lot of effective initiatives that get people talking about their podcasts in the business world.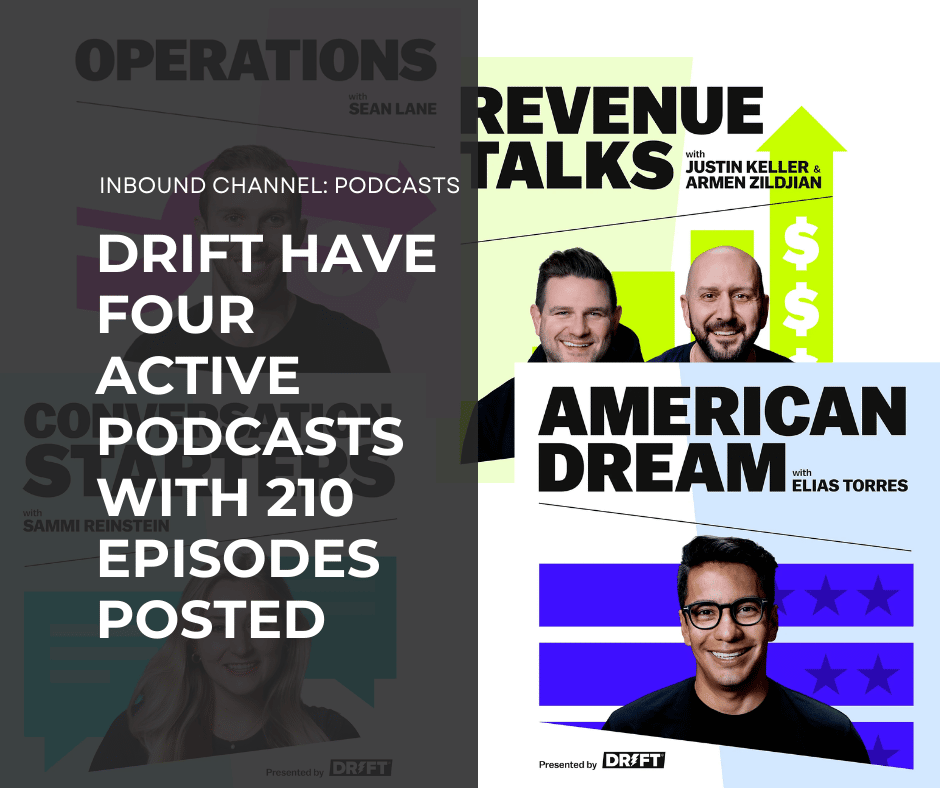 They have four podcasts right now that they publish every week, each one with its own unique flavor, talking about a different subject that draws attention to the podcast and then Drift itself.
What makes TikTok interesting is videos are around 1 minute there. If you want engagement, you'll have to work within such a small time frame.
This blog has been written with the help of Grammarly. I depend on it to help me catch the small mistakes that get through the crack whenever I'm writing any type of content.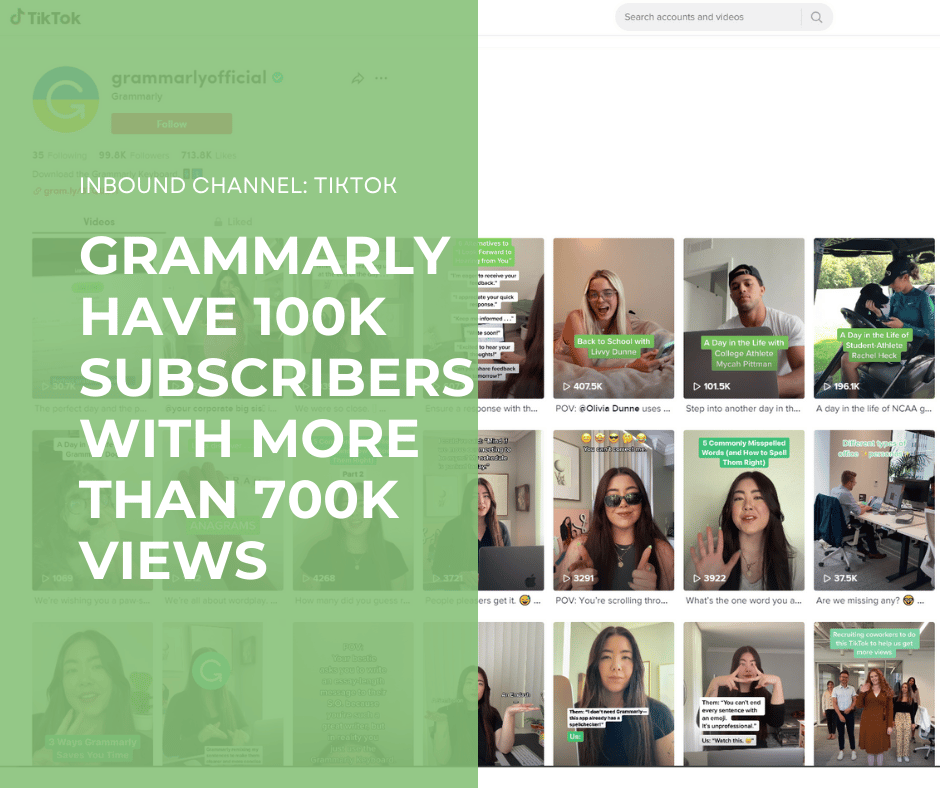 Their TikTok has around 100k subscribers on their official TikTok channel with more than 700k views, making them one the biggest business channels on TikTok, and they've been killing it.
SEO
Search engine optimization, or SEO for short, is also an inbound marketing channel that you can use to lure prospects on search engines like Google, Bing, or even Youtube. 
What should you do if you want to get into the SEO game and build your inbound organic traffic? Well, it all starts with research.
First, you need to survey your industry and see what brings traffic to your competitors' websites, what keywords they are targeting, and what you can learn from them.
After you've done your research, you now need to move into writing organic, high-quality, in-depth content.
Make sure to add some visuals to make it easier for readers to understand and engage with your content. You can use a poster maker to create visually compelling posters and include them in your articles.
Content is the fastest way to get more inbound traffic to your website. The better the blogs, the more people trust your content and business.
Content is a long game, so plan ahead for your content production.
We've written a blog about how to build a content marketing strategy, be sure to take a look and follow that guide to build a robust CMS.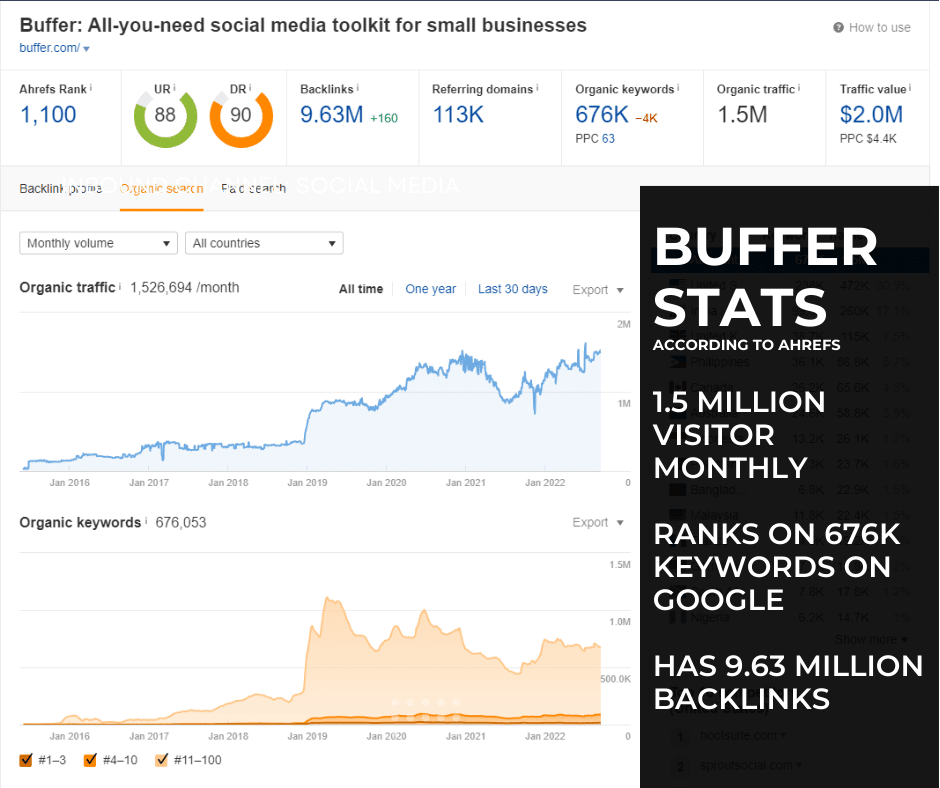 Buffer has built their presence on Google over the years using high-quality content and SEO since they were founded in 2010, almost 12 years ago.
Here are some of their stats according to Ahrefs:
They have 1.5 Million organic visitors from Google Alone (Ahrefs underestimates its numbers, so expect their true traffic numbers to be higher)
They rank on over 676k keywords on Google, and for 17k of these, they rank on the first page in the top three positions.
Their traffic value is estimated to be $2 Million, according to Ahrefs. 
Social Media
Being active on Social Media is one of the biggest inbound drivers that sometimes go unnoticed when we talk about inbound marketing.
If you think about it, you try to attract, engage, and delight potential customers.
Whether you'll be actively engaging with your customers on LinkedIn, Twitter, or TikTok, as long as you keep your fans engaged, they'll help you get more exposure.
My favorite example of a company that has been killing it on Social Media is Gong. If you don't know, Gong.io is a software company that uses artificial intelligence to analyze conversations and help sales departments understand which marketing strategies are working and which ones aren't.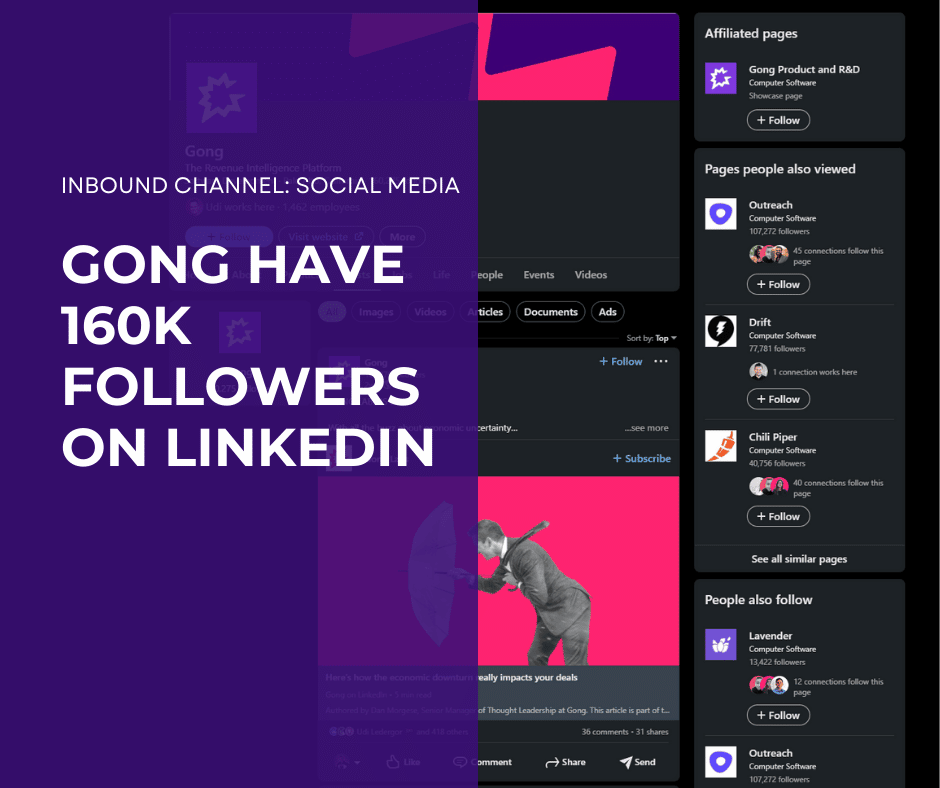 They have grown their social media presence like no other company, reaching 160k followers over on LinkedIn alone, let alone on other platforms like Facebook, Instagram, and Twitter.
And these companies have competitors who are also doing amazing. 
I included these three to get you started. But I'm sure you'll find plenty of examples when researching.
How do you develop an inbound strategy?
Developing an inbound marketing strategy is a game of resource allocation. With all the channels we've discussed, the question becomes, what channels do I need to focus on to get the most?
And there is no single answer to that question as you need to research and run your experiments to figure that question out.
And your research will begin with your ICP 'Ideal Customer Persona'. Starting your research there will answer your question of where to allocate resources.
Define Your Persona
Campaigns in marketing always start with crafting your persona, who wants your product or services, where they hang out on the internet, and how do I reach them?
As you know, a persona is a fictional representation of your customers. We use a persona to weed out the people that don't make sense to waste time talking to while helping focus on the ones who drive decisions.
If you haven't created your persona yet, I recommend you look at this guide to create your persona from scratch, which should get you started with your inbound strategy.
Define Their Pain Points
After you've defined the people that you want to reach with your content, the next step is to define what makes them take action, and in business, that's either a pain point or the desire to achieve something.
Think about it, what was the last product you bought? Why did you buy it? You'll find that you either were trying to achieve something or solving a pain point.
Once you've nailed down the potential customer's pain points, you can create content that addresses this exact problem and helps you resonate with your customers.
You can mine your customers' issues for insights, phrases, and keywords that help you catch their attention and resonate with them deeper.
Set Your Goals
You need to define what you need your inbound strategy to do for you in the long and short terms. You must set up your OKRs and KPIs to adjust your plan accordingly.
I recommend setting up your goals according to the SMART goal framework because it helps your goal be specific, measurable, attainable, relevant, and time-based.
Some goals you might aim for are:
Monthly visitors to your website
Numbers of leads generated
Traffic sources
etc.
We here at FigPii aim to get around 6k visitors each month, and we're producing content weekly to reach around 1-2 blogs posted each week on topics relevant to our audience.
Choose Your Channels
The next part of your plan should be selecting which channels to focus resources on developing. Is it your blog? Your TikTok? Your YouTube Channel?
And you can select these channels based on the customer research that you've done earlier in your plan. If you observe that your customers who're CMO hang out on LinkedIn, then being on LinkedIn is a no-brainer.
And for each channel, you'd develop a sub-plan to ensure that you're building yourself to success based on certain actionable steps planning what to do next in that channel.
An example would be creating a content marketing strategy for your company. What I would do is go read this blog that talks about content marketing strategy to know what I should be doing next in content.
Expand as You Grow
Now that you've gotten everything under control, you need to expand into other horizons to reach the full force of an inbound marketing strategy.
Expand your reach to include videos if you've been killing it in blogging. For videos, you can repurpose your blogs and use the existing content to pump out new content,
You can do the same thing with social media. You can compress your blogs into 300-500 words tl;dr, publish them on LinkedIn or Medium and share the link over social media.
What you can do with your content is practically endless. The skies are your limits regarding repurposing, but make sure you don't stretch yourself too thin.
Analyze as You Go
You always would want to analyze and track everything you do in your marketing campaigns just to stay on top of your game and know what works and doesn't.
With the help of tools like Google Analytics for website traffic, you'd be able to recognize if what you've been doing is working or not very quickly.
For each channel, you should select an internal or external tool to give you frequent reports on whether things are going the way they should.
That's it