In Jan 2022, Shopify had 2.6 million stores from the US alone, according to Ecommerce News.
Admittedly, most Shopify's stores are from North America, but 2.6 million isn't a number to shrug off.
And now that Covid-19 has forced companies to go digital, most brick-and-mortar stores have been opening e-commerce websites.
The easiest way to do that? Shopify, of course.
And Shopify is a good platform, it's easy to use, and you can scale your ecommerce business with it, but how can you set yourself apart?
Well, that's where conversion optimization comes into play. Even if you don't have massive traffic coming to your e-commerce website, you can still improve your site conversions. 
What matters is that you gain a deep understanding of your existing customers.
If I were in your shoes, I'd start by ensuring that Google Analytics is correctly installed. Doing so would help me know about my: 
best and worst acquisition channels, 
pages where people are exiting my site, 
website speed,
conversions by browser & OS
conversions by device types,  
– and many more. 
 But Google Analytics doesn't work in isolation. You will still need to install heatmaps! 
I'm pretty sure that you know what's a heatmap, it's that graphical presentation of how visitors interact with your website.
It can come in 3 main types, clicks maps, scrolls maps, and mouse movement maps.
I've talked about all these 3 types in this blog so if you want to know more about them just check it out.
Are Shopify heatmaps different than normal heatmaps?
No, not really, they're pretty much the same, but adding a custom javascript code to your Shopify store takes a bit of technical knowledge.
Take FigPii's Shopify app, for example, it allows you to install the code directly to your store.
Once you have the code added you go to the FigPii dashboard and you're off to the races.
But here's the thing, Shopify users like to do things easily, that's why they're using the platform in the first place.
It removes the stress of having to design your own e-commerce site from the ground up.
Because installing a plugin doesn't require any kind of technical knowledge, but installing a code does, so they might favor the no-code approach even if the product isn't as good as the one that requires adding a snippet of code.
So the answer to the question still remains the same: no, Shopify heatmaps aren't different than other heatmaps.
Some of the well-known heatmap tools have a Shopify plugin in Shopify's app store.
Heatmaps in the Shopify's app store and those not in the platform have different installation processes – but for the most part, they all carry the same benefits. 
That's the beauty of Shopify, it's highly customizable, and you can install as much analytics in it.
But for most Shopify stores out there, I recommend you stick with heatmaps that already exist on the app store.
It'll make life easier for you, not having to figure out where to put the code and what went wrong in the process.
Why heatmaps are important for your Shopify store?
Everything and everyone has gone digital, and if your store isn't online yet, you're probably doing yourself a disservice.  
The pandemic has put ecommerce on steroids, and competition is going to get more and more fierce. 
And with such fierce competition comes the need to have a competitive edge, because what you sell can probably be bought somewhere else. 
This is why you need to constantly optimize your website. You now have no choice but to gather all the data you can get about your website, and make improvements based on what you see.
Things like Google Analytics have become a necessity not an option, and advanced analytics tool like heat mapping software has as well.
Heatmaps show you in color and graphics what no other analytics tool can show you.
You can see from GA how long people stay on your page, yes but it doesn't show you what they do.

What they click on? Was my copy compelling enough? Etc.
And so you find that you need to have a heat map to have the full picture.
Heatmaps usually show you the conversion pitfalls that you didn't notice when you designed your website.
It could also show you improvements that if you do would boost your conversion rate.
There are a lot of low-hanging fruits that a heatmap can easily uncover for you.
What are the top heatmaps tools on Shopify?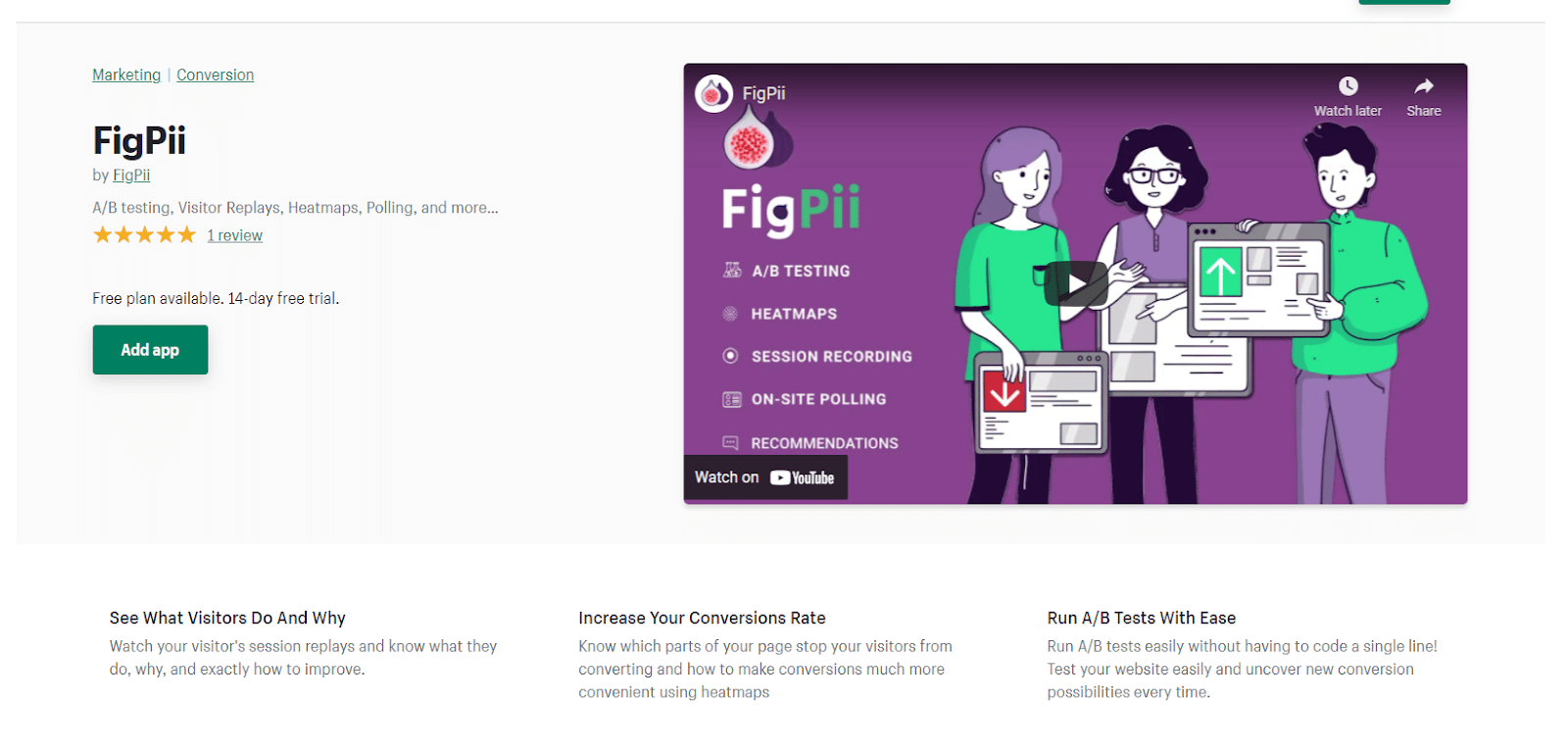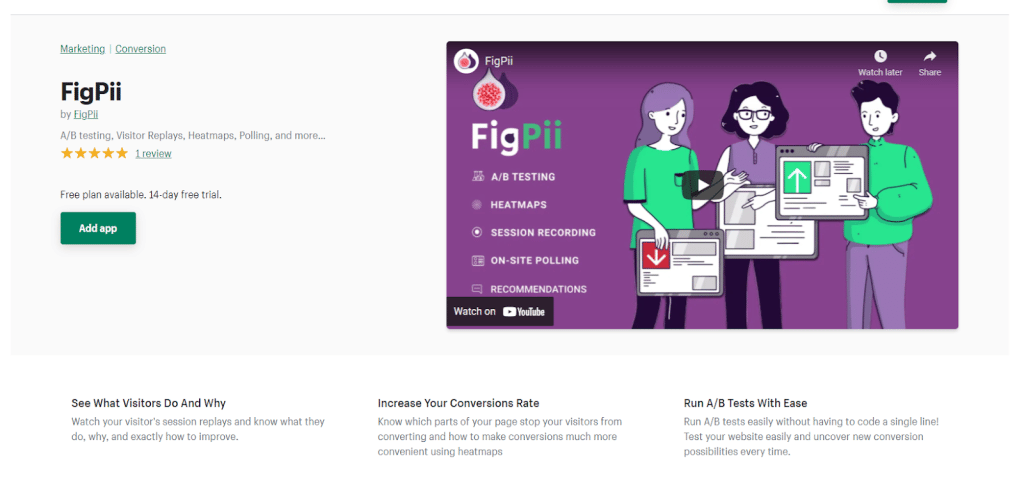 FigPii is an all-in-one conversion optimization platform that offers heatmaps alongside other tools like A/B testing, session recording, polls, and ML-powered CRO recommendations engine.
It got recently published on Shopify.
Some of its features are: –
Track visitors by device type (Phone vs Desktop)
Track new visitors / returning visitors or both.
Launch heatmaps for specific or multiple pages.
Fine-tune your snapshot timing to allow for dynamic content to load.
Include / Exclude IPs from tracking (to exclude internal traffic)
Track up to 2 million visitors per month.
Uncover conversion problems with your website.
Test new website/page designs easily
Track visitors with UTMs
Pricing: –
It offers a 14-days free trial then pricing starts from $49 a month and you can choose the best package that suits your needs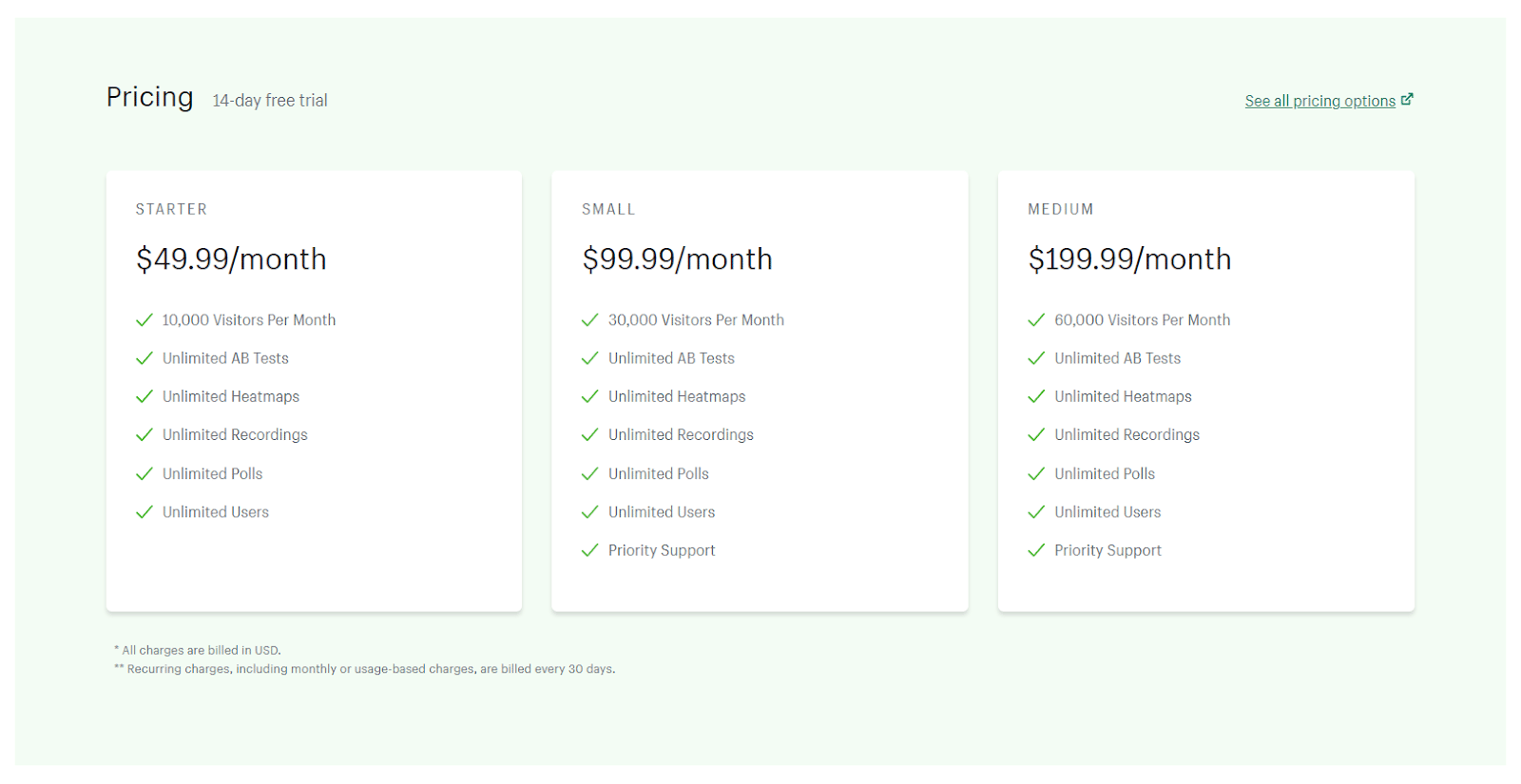 Webyze is a heat mapping solution that allows you to track heatmaps of people on your website, or for that matter, Shopify store, it has basic functionality overall and isn't that expensive.
Although I'd be very wary because of its reviews, some people found it hard to use or the support wasn't helpful, so do your own research and decide after it.
Here are some of its features that are listed on their Shopify app page: –
Simple & Easy to use User Interface
Real-Time Reports: Heat Maps are instantly generated so you have access to the latest insights of your store
Filter click data by device: Desktop, Tablet & Mobile Phone
Filter click data by dates and see how the Heat Map changes with time and how your store modifications affect it
Pricing: –
It offers a 7-days free trial then pricing starts from $17 a month.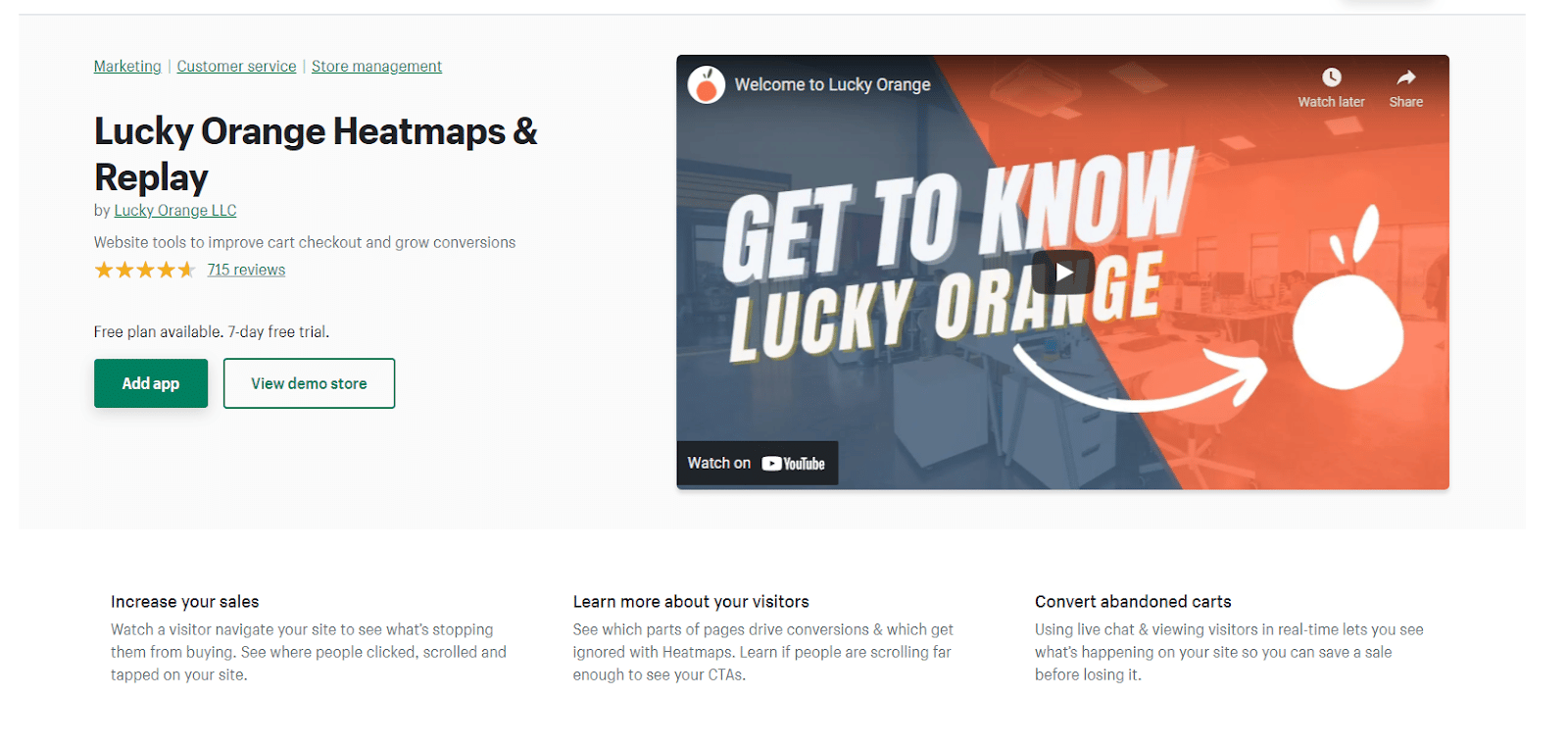 Lucky Orange is one of the most famous heatmapping tools out there, alongside Hotjar but we'll get to that in a second.
It offers heatmaps, session recordings, and live chat also.
Lucky Orange has been around for 12 years now so their product is well matured and stable.
Pricing: –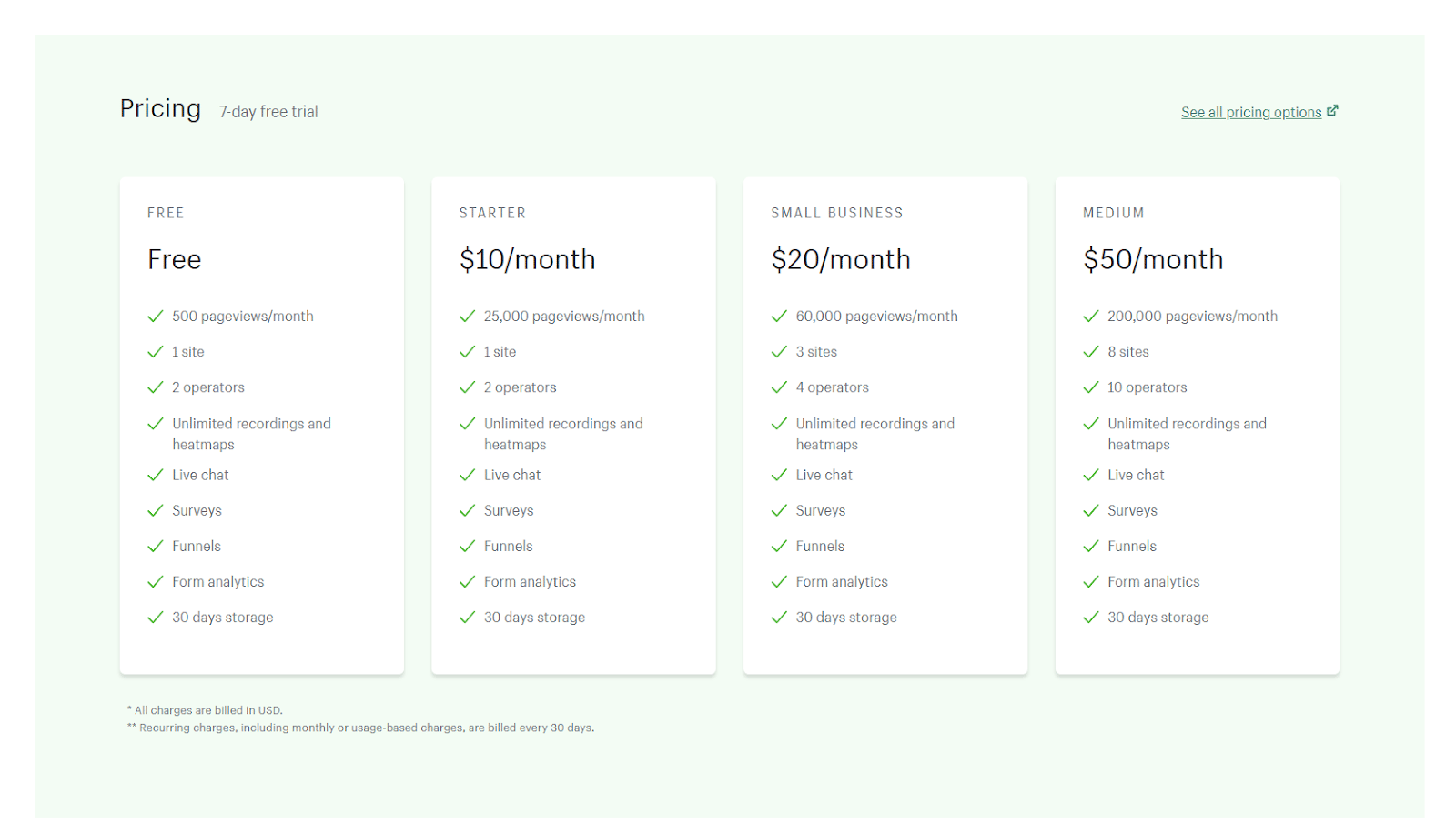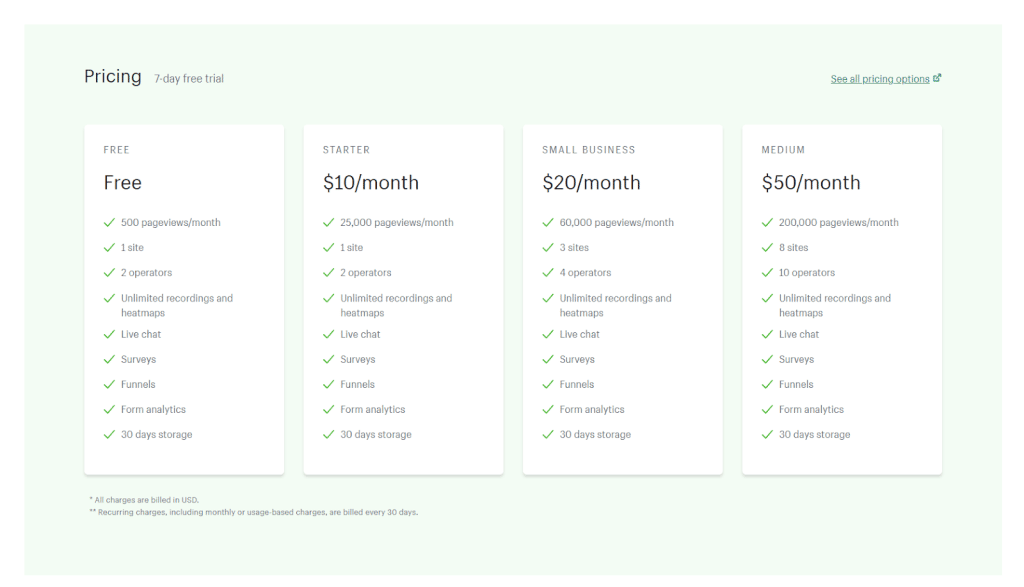 Lucky Orange has a free plan and the 1st paid tier costs only $10 which is really competitive pricing for SMBs who want to use heatmaps but are still in the learning phase.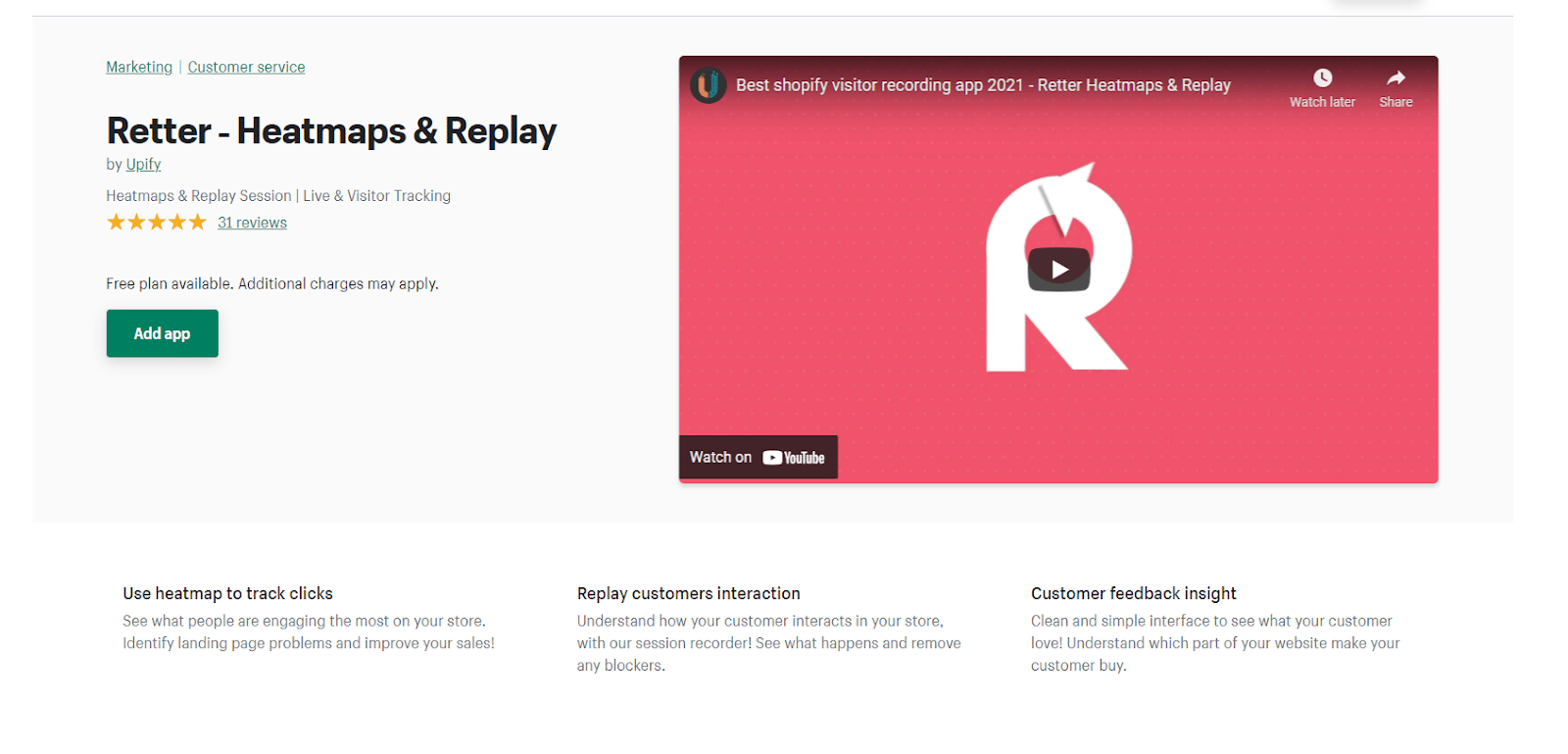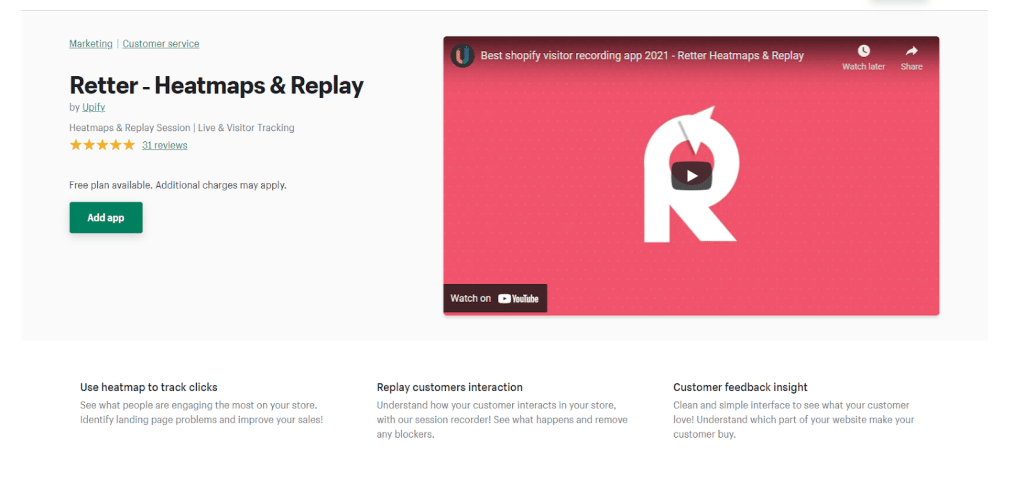 Retter is also a popular choice among Shopify store owners, it offers a nice-looking dashboard with the same features that you can find in other heatmapping tools.
Some of its features are: –
Replay Session Recordings
Dynamic Heatmaps
Session Insights
Easy Workflow
Pricing: –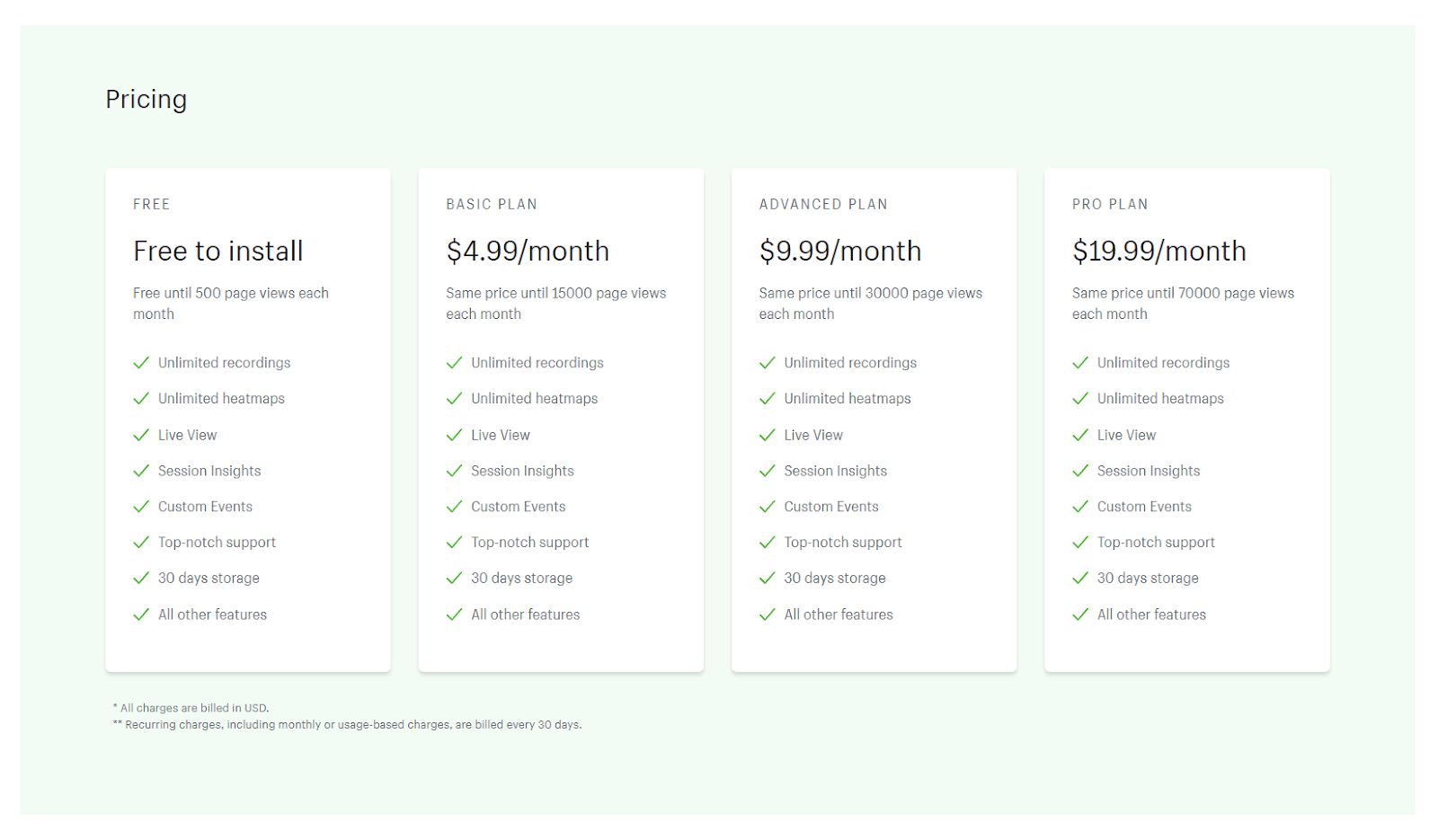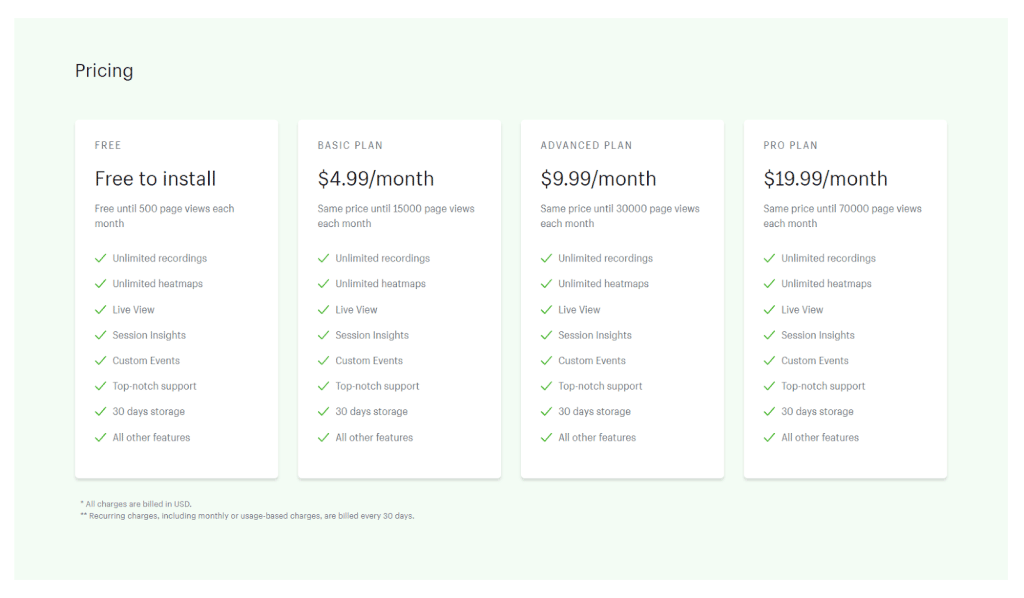 Retter is free to install and their first paid tier is around $5 which is really cheap if you want to try heatmaps first see if they're for you then switch to a more advanced tool that'd be a good starting point. 
Hotjar*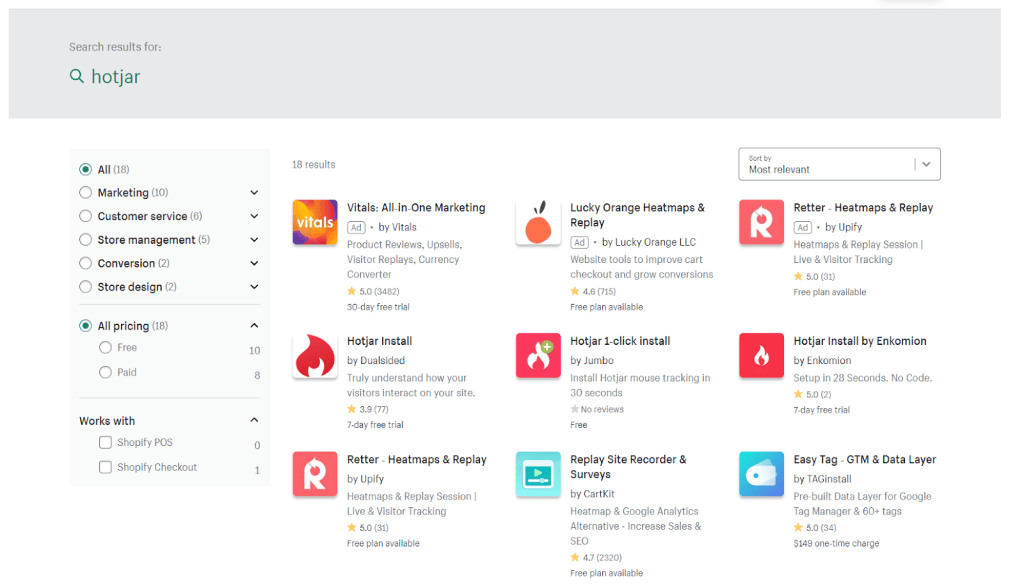 There's a reason I put an asterisk on Hotjar's name, the reason being that it doesn't exist on Shopify.
While Hotjar itself doesn't exist other developers have taken it upon themselves to make it easier for people who use Hotjar to use this plugin to install Hotjar on their store.
All of these plugins are not officially released by Hotjar so I'd be wary of what you install on your store.
And you can always install HotJar yourself if you do it manually by installing the code in the store's code, check this link to know how you can do it. 
Are heatmaps enough?
It depends on the usage of heatmaps on your website.
Heatmaps can and will show you things that you don't usually see on analytics reports like the ones Google Analytics gives you.
But depending on what you want to achieve, heatmaps on themselves would usually give you a good image of what you can optimize on your website.
That's said If you combine heatmaps with other marketing tools that'd give you much more advanced analytics, hypothesis, and ideas on what exactly to optimize.
Heatmaps & A/B Tests: –
You can use heatmaps to analyze which version of a test you're running is performing better.
Break it down into a more understandable level and then come up with more improved iterations from the data you analyzed.
Sometimes you might have a good value proposition but on the wrong page, or the wrong design.
Heatmaps show you that and save you from the hassle of trying hundreds of experiments to get the same results.
Heatmaps & Session Recordings: –
Session recording is an extremely popular tool to use with heatmaps.
If you take a look at the apps on Shopify App Store you'll find the majority of them bundling these 2 together, and that's because session recordings allow you to drill deeper into analytics.
Heatmaps show you an aggregated graphical representation of how users interact with your website, but session recording shows you how a single user interacts with your website, thus giving you the best of both worlds.
Conclusion
Heatmaps are a really important part of your analytics suite, especially if you're an e-commerce store on Shopify.
Using Shopify is actually a big advantage in some cases because it lowers the bar of creating your own ecommerce store, and so it's really a beginner-friendly option.
But with Shopify comes the question of, are analytics easy to install?
The answer is mostly yes, and heatmaps being an analytics tool makes it easier to manage.
And Shopify's heatmaps are the same as normal heatmaps actually, it's just Shopify makes it much easier to install them.
And we wanted to make life easier for you by compiling a list of the most popular heatmap tools on Shopify for you to choose from.
Those being 
FigPii
Webyze
Retter
Lucky Orange
Hotjar (kind of)
So If you're looking for a heatmapping tool that's already on Shopify's App Store, then FigPii is definitely for you.
We also provide session recording and heatmaps, online polls, A/B testing, and CRO recommendations.
With a 14-days free trial, you can't go wrong; give it a try and see for yourself the missed opportunities that have been slipping under your radar.