The eCommerce industry is one of the most competitive industries in the world. It's not surprising that many companies are reluctant to try new strategies, and need a little extra motivation.
This blog post provides 10 successful eCommerce A/B testing examples where you can find inspiration for your next experimentation campaign or store-front update.
A/B testing is a great way to test out new ideas, and see what works best for your eCommerce store.
The objective or core purpose of A/B testing is to compare two or more website pages against each other to find out which one performs better. Or, in other words, determine a winner amongst two or more website versions on the basis of which one gets better conversions.
For example, it can involve:
Using A/B testing to test two different layouts for a single product to see which layout produces more sales.
Discover how various product taxonomies can encourage your customers to make purchases.
Changing navigation options in order to improve user engagement and conversion rates.
The focus of A/B testing should be on discovering which website version is improving your content engagement, reducing bounce rate, increasing conversions, increases sales, and reducing cart abandonment. At one time, however, A/B testing can be done only for one defined goal.
You might have a million ideas that you think will help you improve conversion rates. However, only testing can prove which of those ideas are actually feasible and would give desired results. AB testing validates whether your ideas will give improved results over your current website or campaign on implementation.
Some simple ecommerce ab tests you can run include testing:
Headlines and subheadings
Text
Call to action button and text
Images
Testimonials
Links
Header and footer
However, even though AB testing allows you to tackle smaller less complex elements, it still requires you to use due diligence in knowing if a test is viable. Therefore, doing some type of research and constructing a hypothesis on that basis is important.
Some more challenging or advanced elements that you can A/B tests include:
pricing structures
free trial lengths
navigation
free shipping
free or paid delivery
Once you get comfortable with the process you can start A/B testing more complex and the main pages on your website. According to Michael Reddy:
"Powerful A/B testing provides more information about your customers than you may realize. It enables your ability to segment your customers on multiple levels in order to gain a deeper understanding of their behaviors."

Michael Reddy
Here are 10 examples highlighting the types of A/B tests you might want to try on your store.
Navigation A/B Test examples
here's a real-life example of a test meant to smooth the navigation across different categories;
By providing a sticky menu showing all the subcategories, we can help visitors find the category they'd like to visit immediately without much scrolling.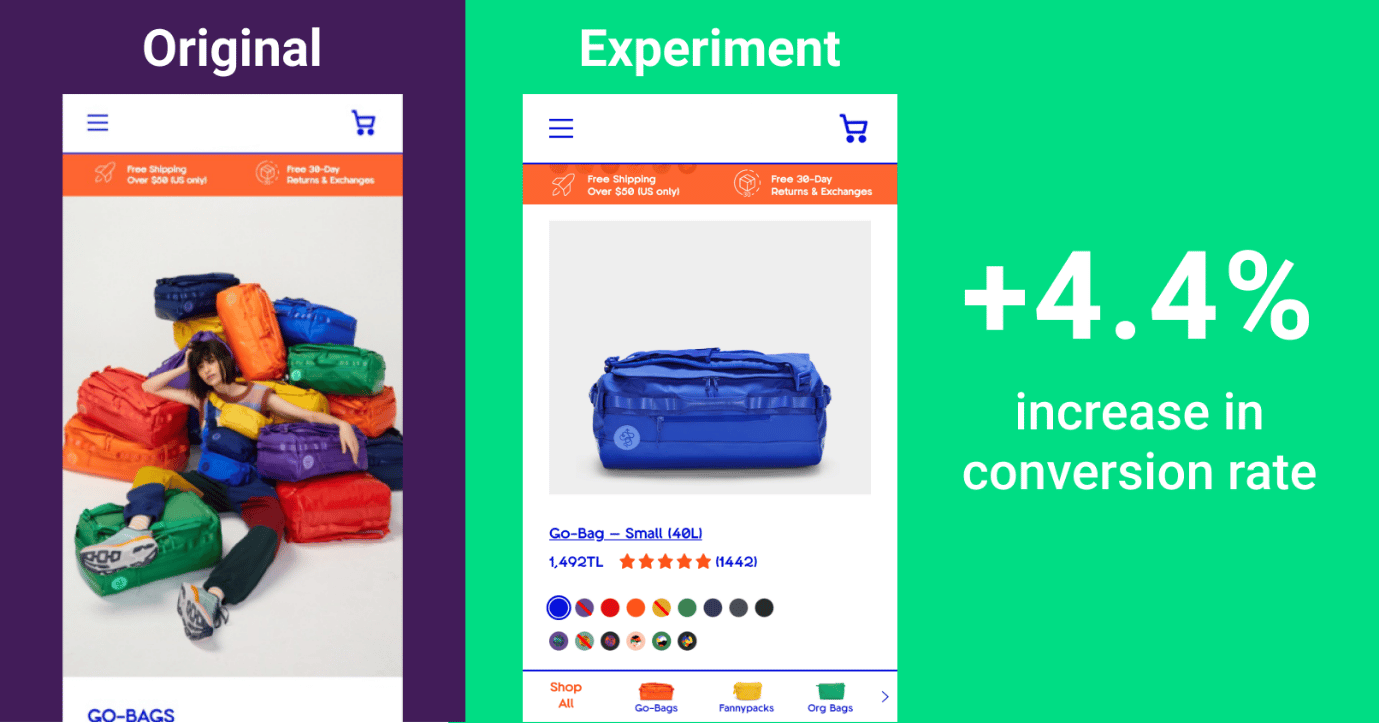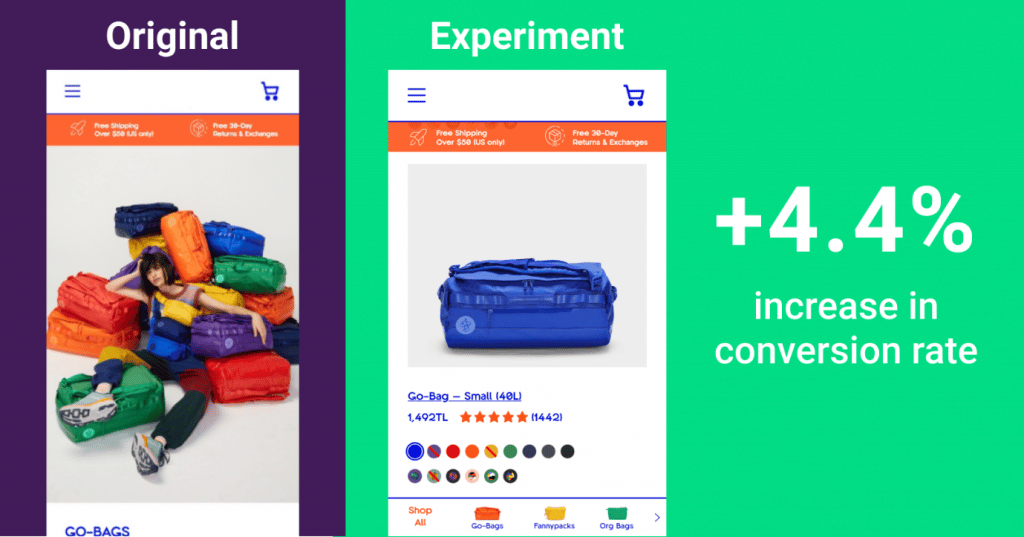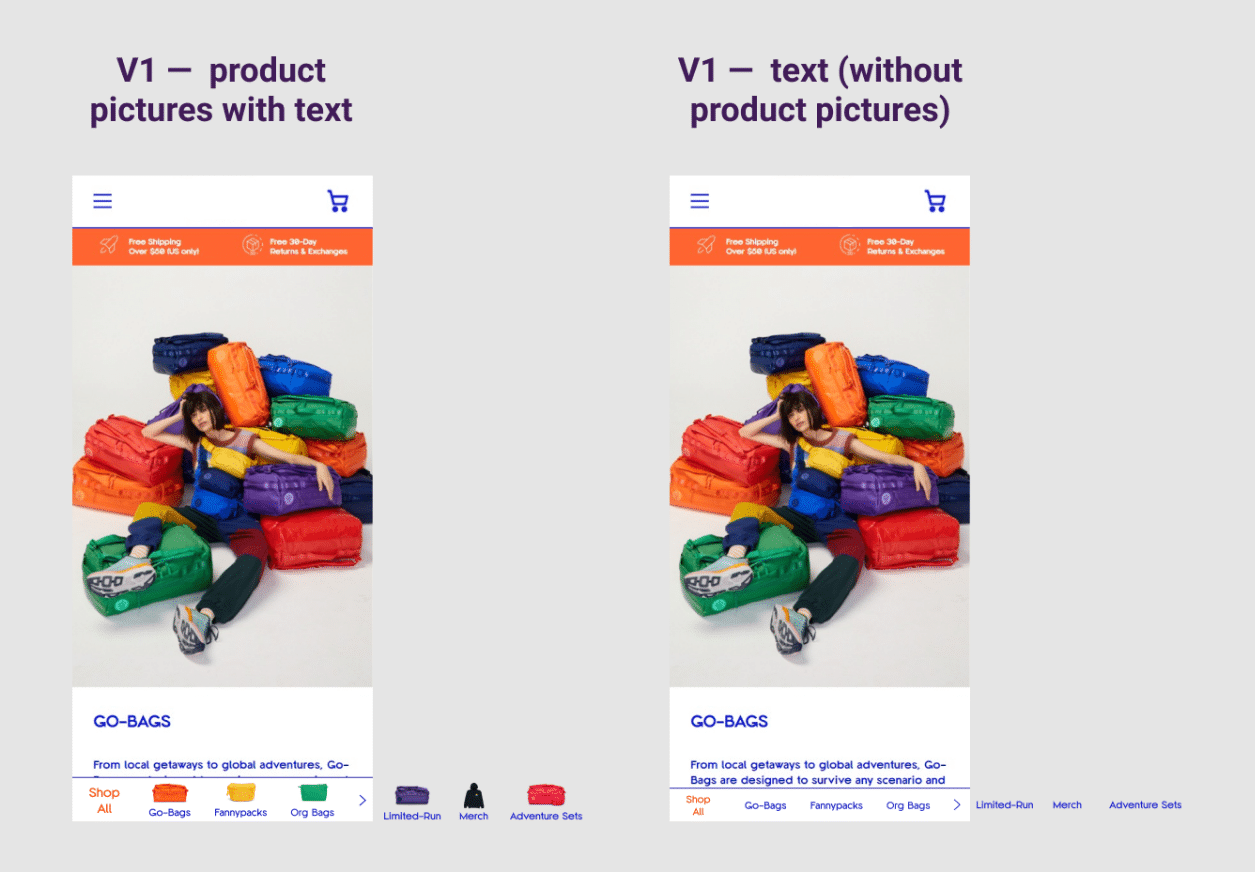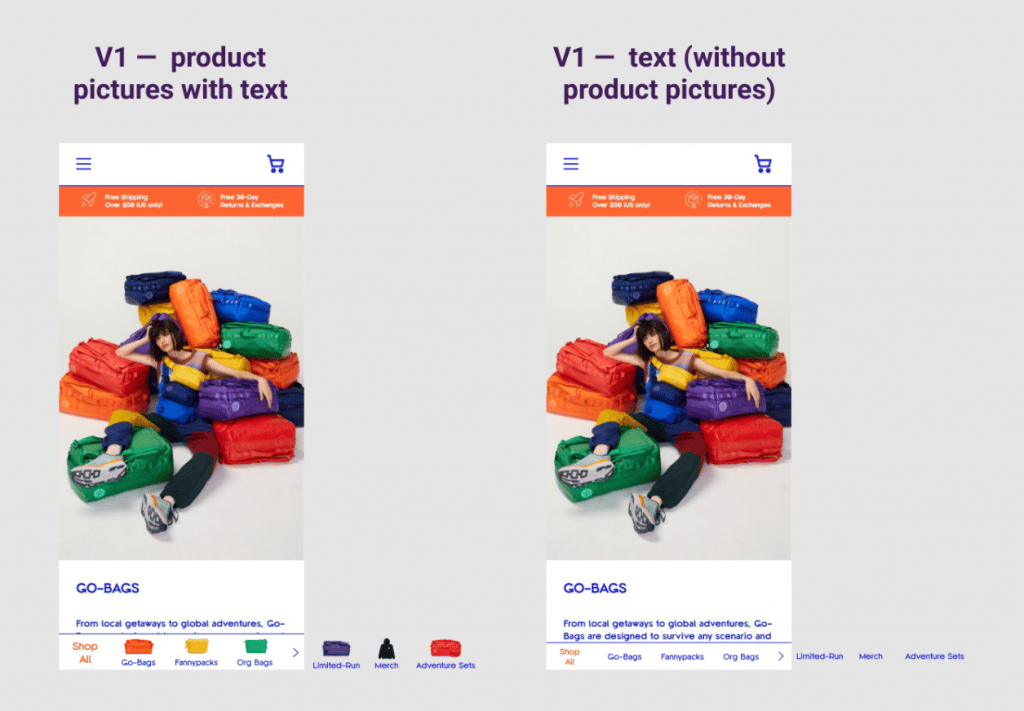 By providing visual categories, users can find out which product meets their needs. This is a good example of simplifying the journey of the visitor through your website.
Your visitor is bound to get frustrated, looking at the complex navigation menu of your website, which is supposed to show him the way.
Simplify the options, fewer options will reduce confusion and frustration among users.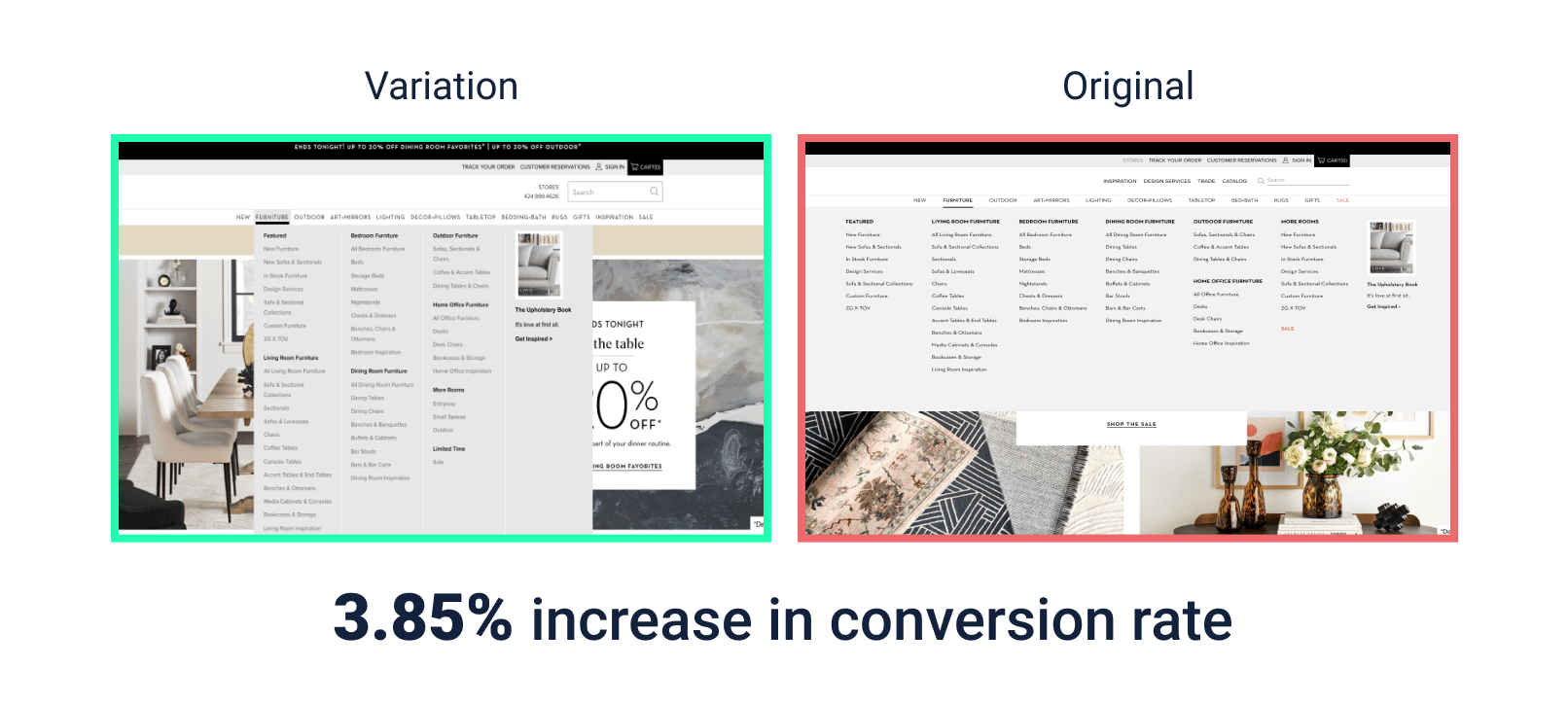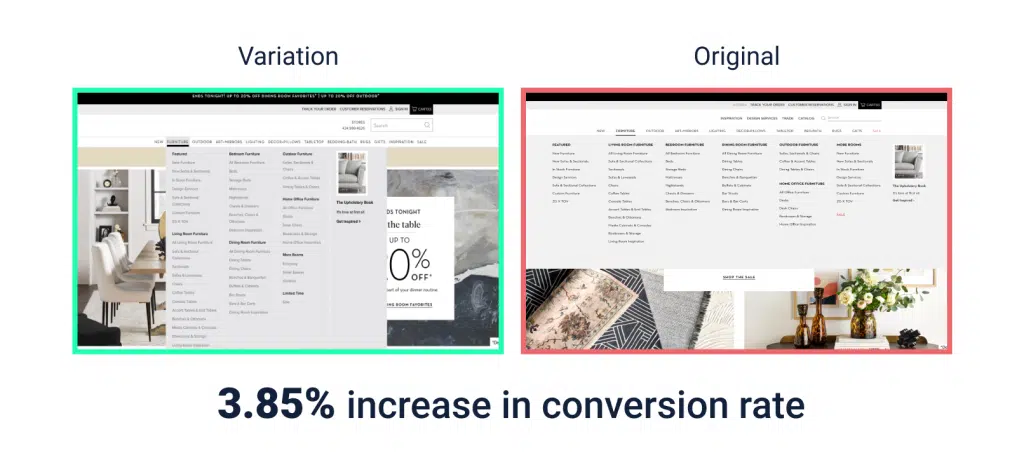 With over 150 subcategories, users are bound to be frustrated and confused on this furniture eCommerce website. By extending the width of the menu, all items are visible at a glance which reduces confusion.
This test resulted in a 3.85% increase in conversion rate which in return had a direct effect on revenue.
Free Shipping AB testing ideas
Do a test to compare conversions by testing your product with free shipping and without it.
You may want to include the shipping price in your product base price for the free shipping variant, whereas keeping the control without free shipping.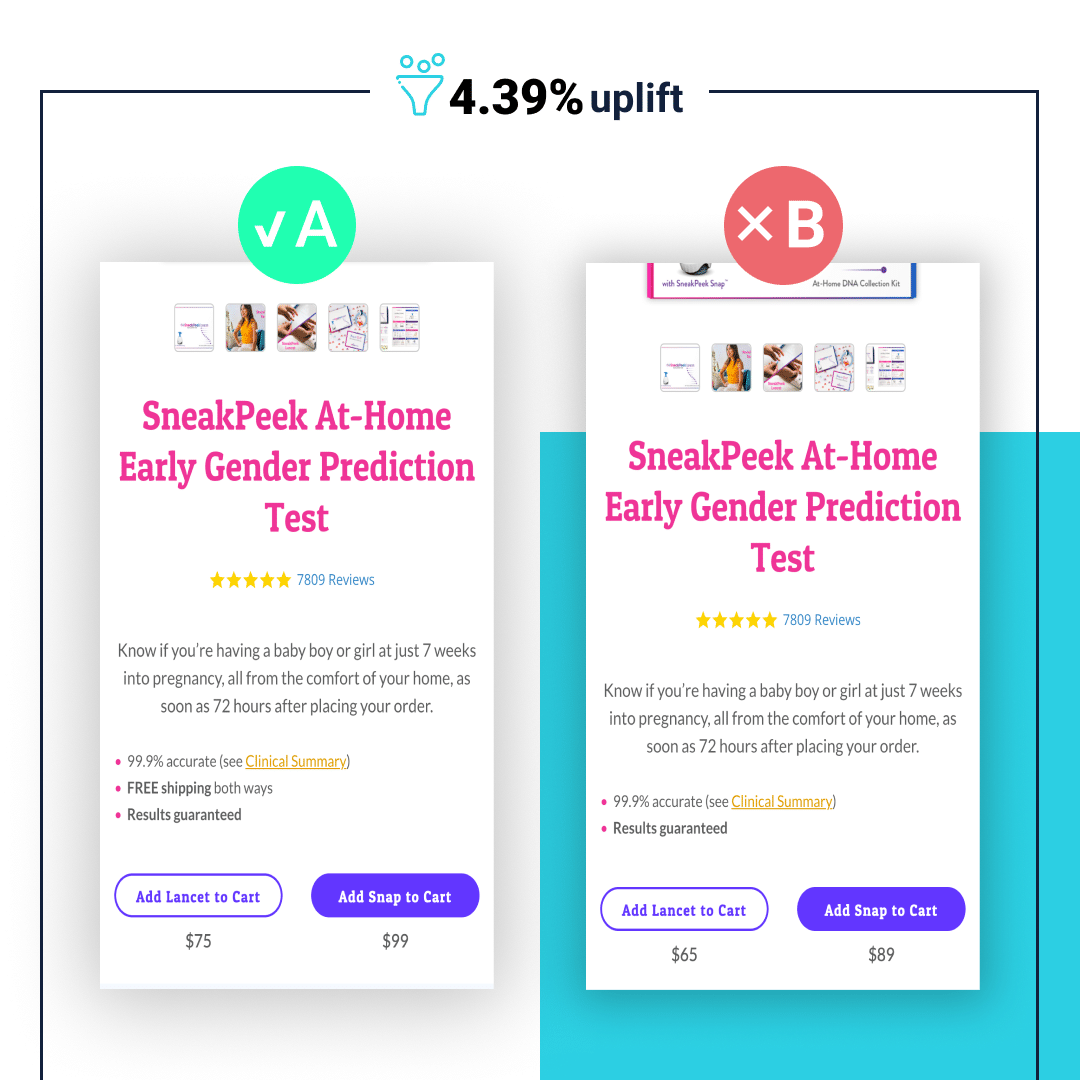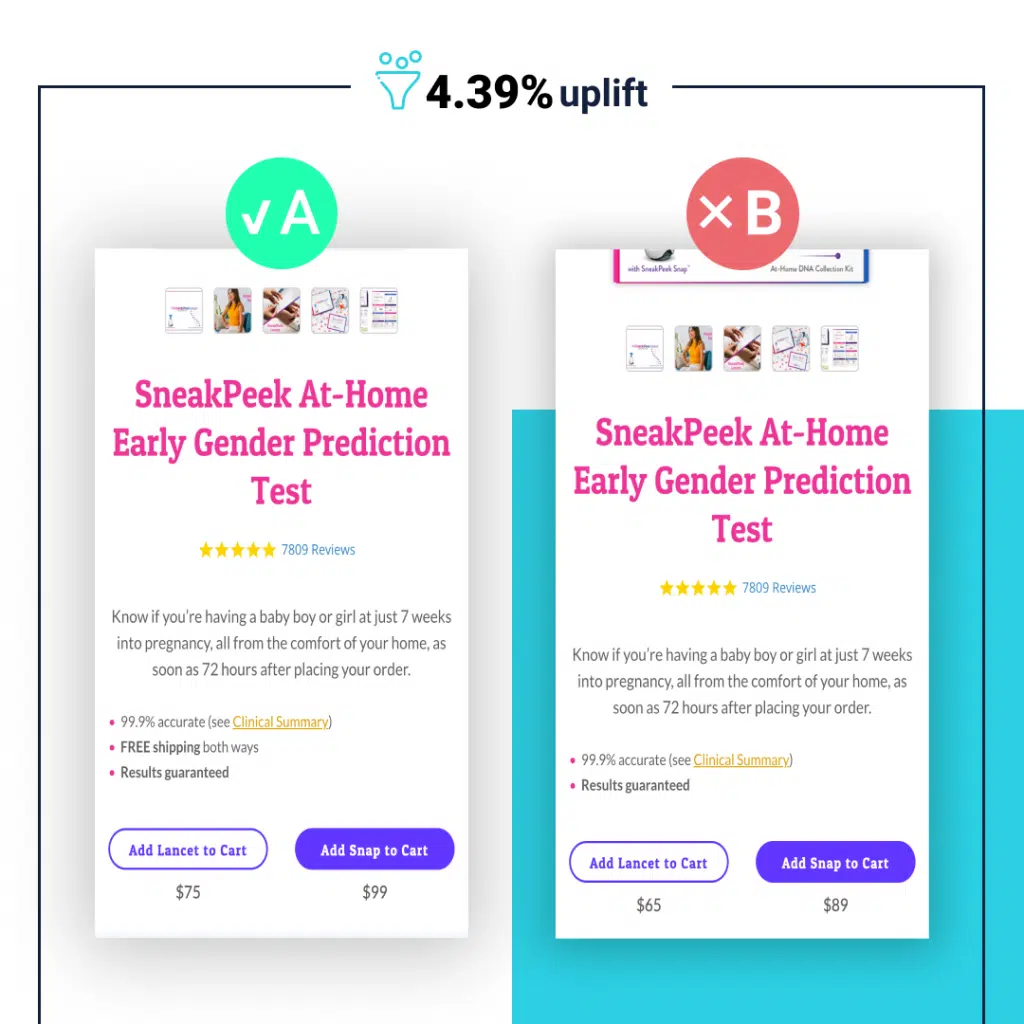 In this test, the price of products was increased by $10 but in return, users are guaranteed free shipping both ways. This test caused a 4.39% uplift in conversions.
You can do another test by setting a threshold for free shipping, or you can offer other benefits to gauge what works best for your conversion goals.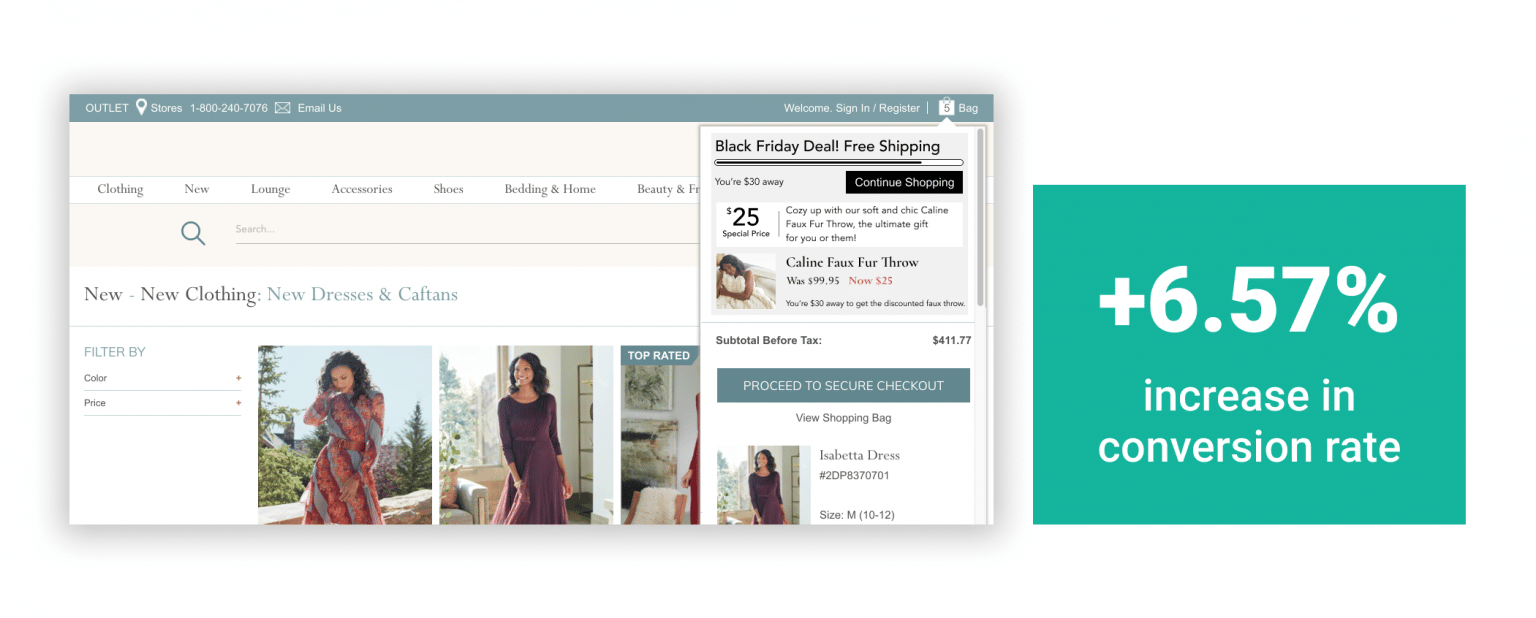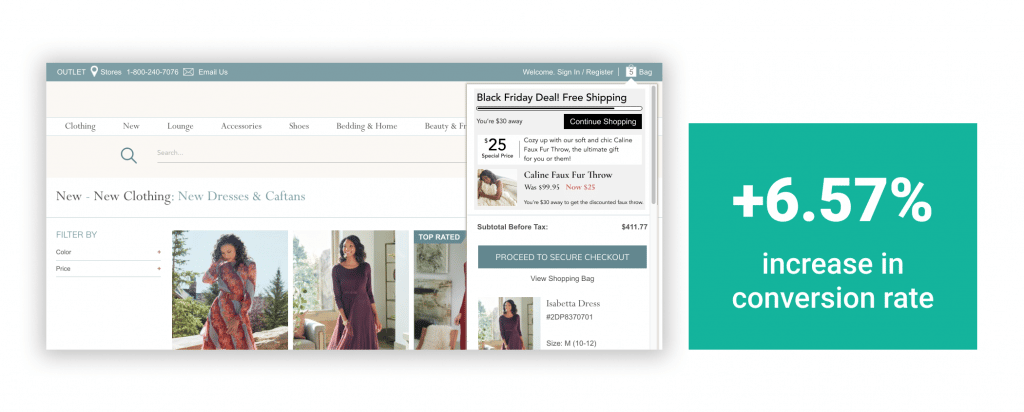 Providing a free gift and free shipping for purchases over $200 will help convince your users to purchase more products. Besides the huge increase in conversion rate, an increase of %20 in AOV was achieved.
Product Page Call to Action
The CTA button should be prominent, bold, easy to find, and placed in a strategic location on the website.
There are many aspects of design to consider, but a lot of it can be figured out by experimenting with different sizes.
In other words, there is no universal size that can drive desired conversions reliably.
This test works best on mobile devices.
By placing the Add to Cart button within reach of the user's thumb, simplifies the process of purchasing products.
Don't forget to test the color of your CTA
Your CTA needs to catch the eye. Period.
Find out which color would work best for your call-to-action button by running an AB test.
Make sure that the color you pick doesn't clash with your website's background.
Images on Product Pages
You may want to do a variety of tests with different types of pictures, such as lifestyle or detail shots, and see what works best.
Customers can relate better to these visuals that show how they'll use the item when it arrives at their homes.
Test out different types of imagery or even post-process your pictures with filters that help them stand out more against other product pages.
Product Descriptions
The content you put into the description fields of your products is important for conversion rates.
An AB test might prove worthwhile if you want to know what kind of description copy should be used in order to improve conversions.
For example, maybe some people prefer concise descriptions while others like descriptive text?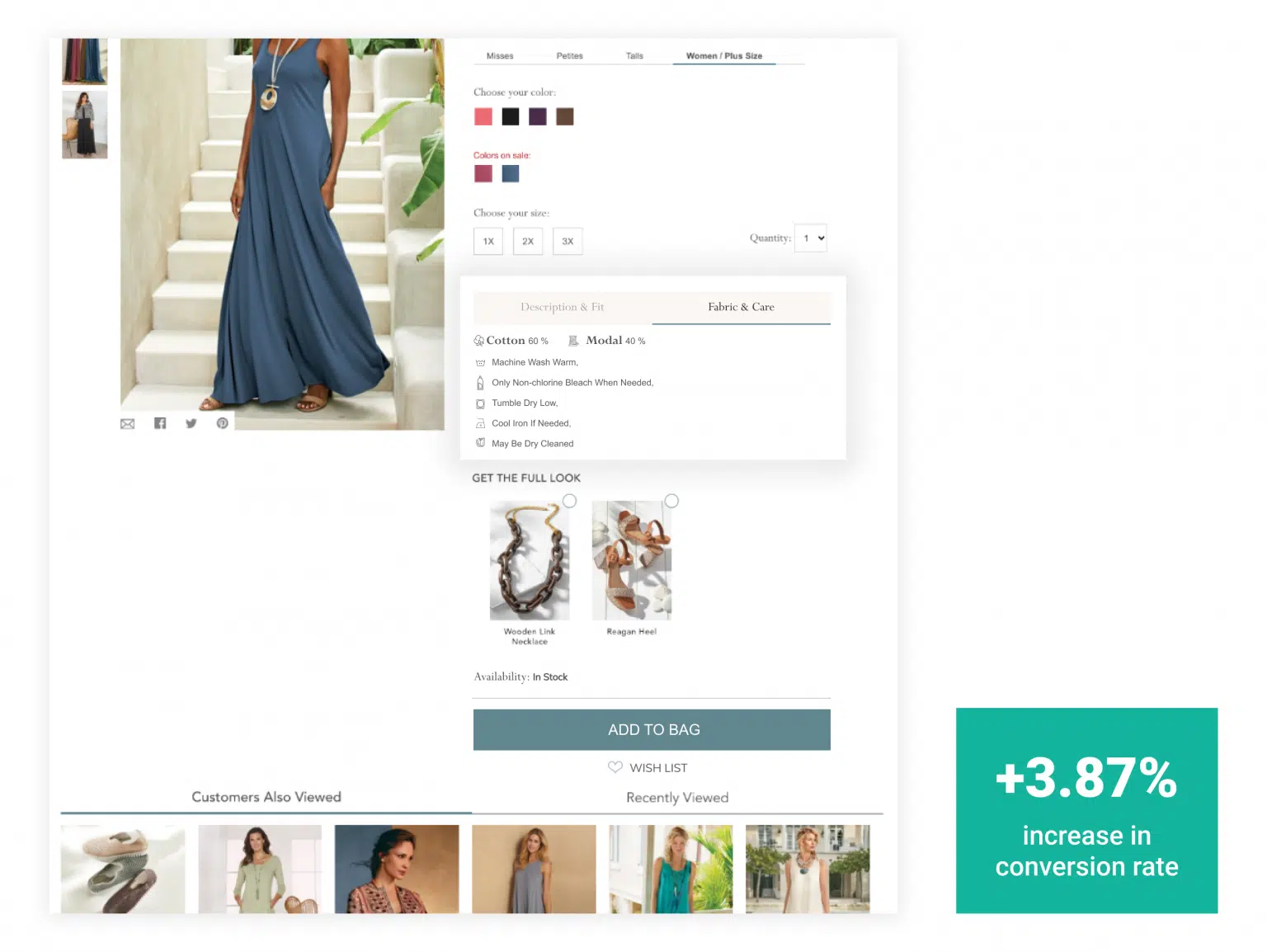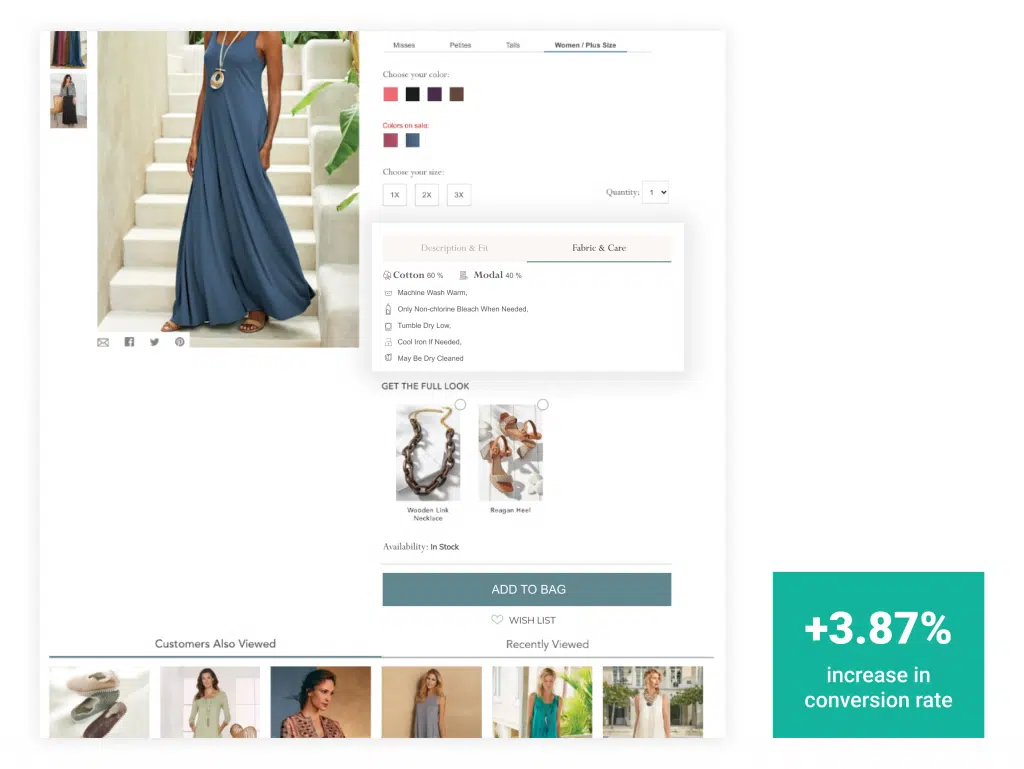 Visual elements indicating the texture of your product or how to care for the product will increase interactions with your product's description which means users will read more of your description.
Product Reviews
A lot of ecommerce sites offer product reviews as a feature, but it might be worth doing an A/B test to see how that is working for you.
It's important not only to have enough reviews but also good quality ones if your goal is conversion rates.
It might seem counterintuitive but sometimes removing the reviews completely from your website will increase your conversion rate.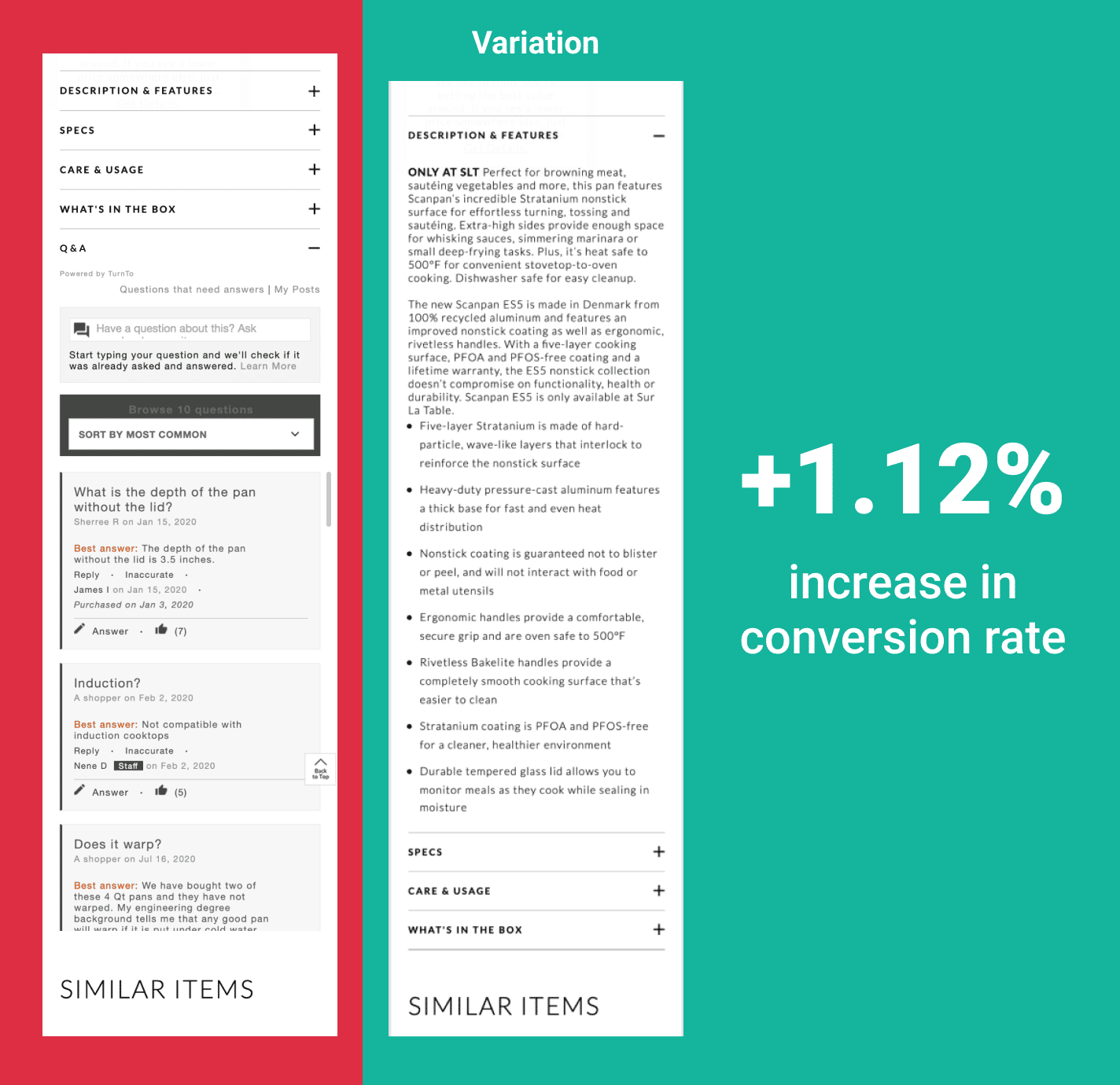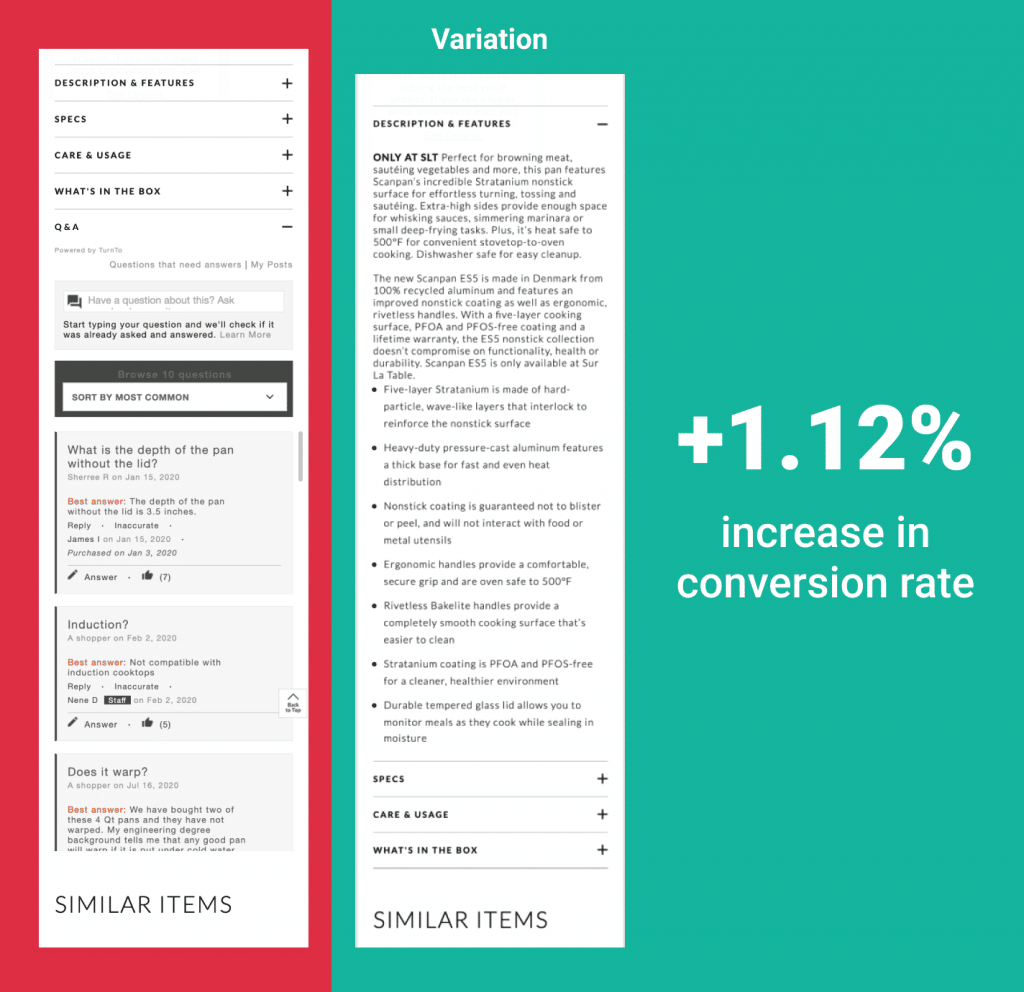 Separate reviews from questions! Questions from users who already purchased the product might cause confusion among your visitors.
Make sure to separate them into two different sections.
Tags on Product Images
Emphasize "New" or "Best Seller" for added guidance. Add callouts on items that may be on sale as well and include the percentage.
Callouts add additional value to your products and increase visitors' motivation to purchase.
Customers are more likely to buy an item when they see that it's on sale.
Experiment with using different call-outs, adding "new" or "back in stock" to the text, or changing the size of your font.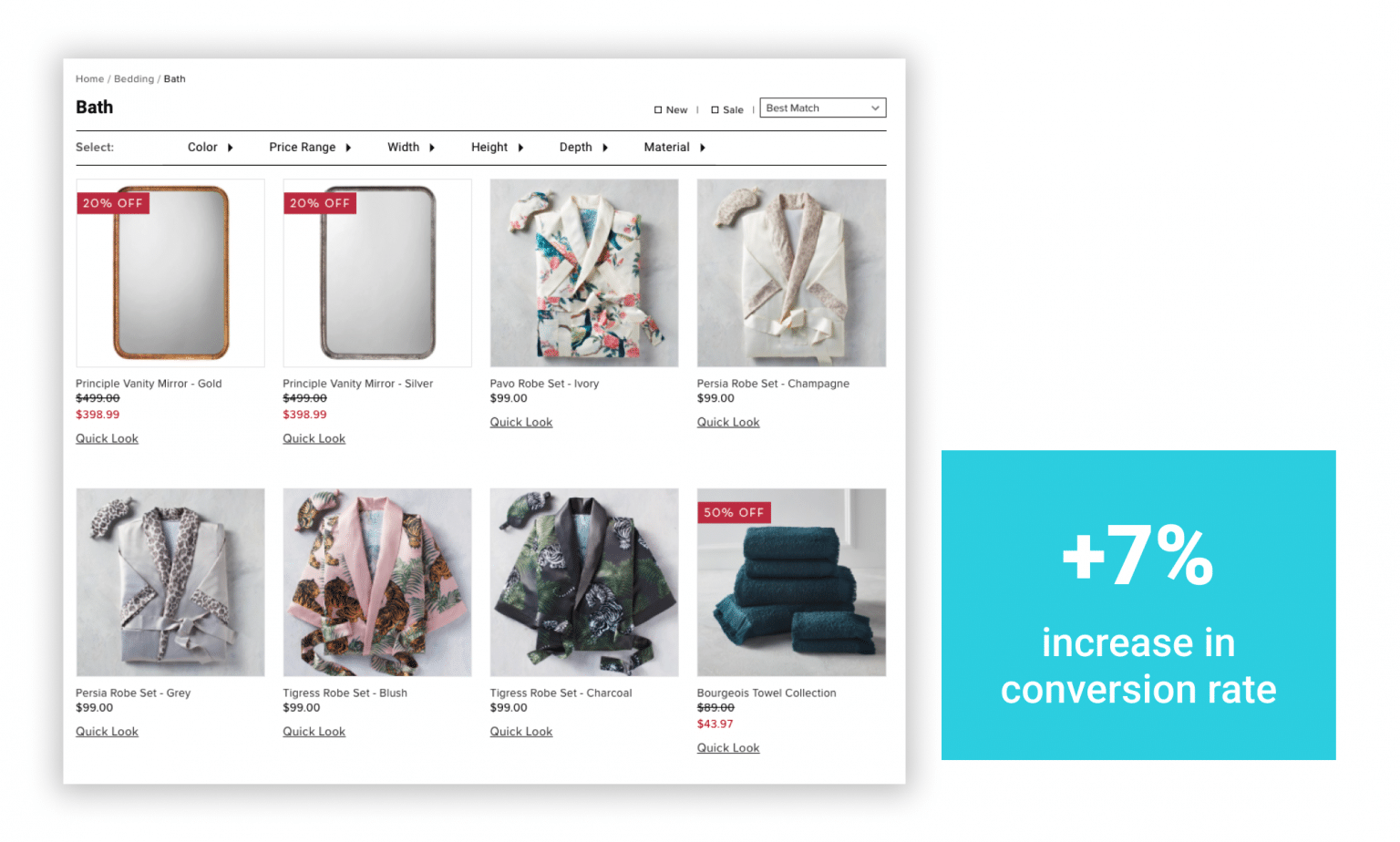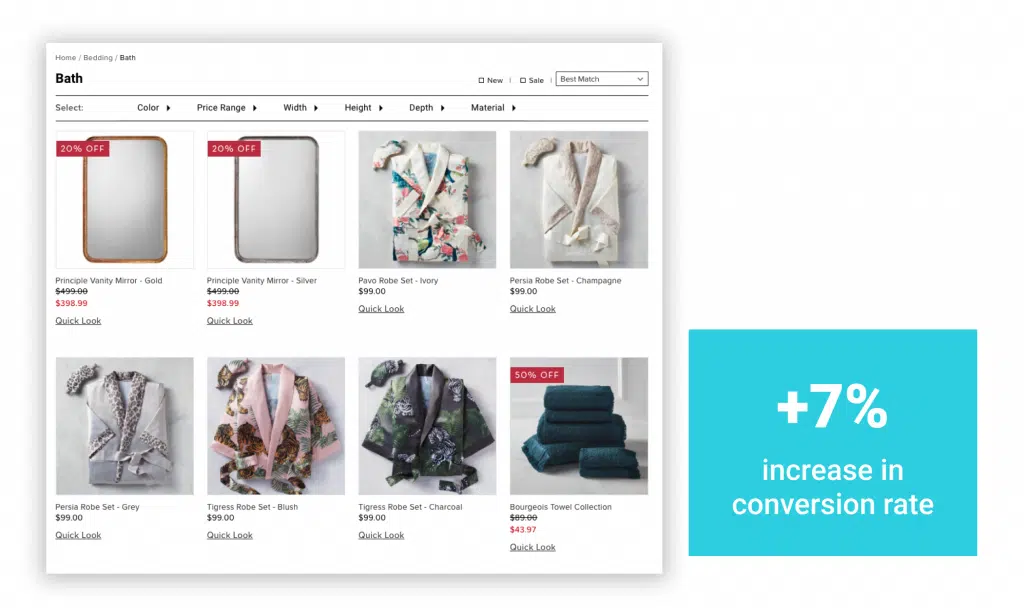 Conclusion
Ab testing is the best way to optimize and test your site for maximum conversions. Running ab tests can make you find out which of the various options (colors, pictures, descriptions, etc.) used on your e-commerce website are driving higher conversion rates.
You'll learn a lot from testing out these elements to figure out which one converts better on your e-commerce store.
Being imaginative and strategic when experimenting with different strategies can get you further.
Go ahead and do your first A/B test. Design tests with your user in mind and always consider what you want to accomplish.
Build your tests upon research. Diagnostic analysis such as heat maps and Session recordings is a good first step.
Monitor user activity on your pages. Follow our guide here on how to run a successful customer survey program.
Analyzing user data will help you understand why a potential customer is not converting to your business.
Ideally, an ab test should run in its own environment. This prevents any issues that may be caused by other factors such as a sale campaign.
Be sure to set up conversion tracking, so that you can properly measure your ab test results and accurately compare the different elements of your ab tests.
Remember to create ab tests that have a clear hypothesis and goal, as well as a defined duration.  
This will help you avoid getting into ab test complacency, where you are performing ab tests without a clear plan on what to do with the ab test results.
Think long, think big. Start A/B testing right away.