The advantages of using user behavior tools are well-documented.
They can help you understand how users interact with your website and what they like and dislike on your website.
You need to have a user behavior tool in your MarTech stack if you are interested in knowing problem areas on your website that get users frustrated and confused.
There are different types of user behavior tools in the market.
Some can show you where users are clicking. Some can show you how far users are scrolling. Others can even allow you to get user feedback in real-time.
This article will dig deep into different types of user behavior tools and show you how you can use them to improve your site's conversion rate. 
The Best User Behavior Tools
The user behavior tools space is so crowded. But if we're to recommend four tools from this saturated space, these are the four tools you should try:
FigPii.
Hotjar.
Crazy Egg.
MouseFlow.
We recommend the above-mentioned tools using this criterion:
Reliable data.
User-friendly.
Easy integration with various tools.
Easy to install.
Various valuable features.
Top-notch customer service and support.
Now that you know the tools that we recommend
FigPii
FigPii User Behavior Tools
FigPii is a conversion rate optimization platform established in September 2016.
Figpii can be considered a subsidiary of Invesp, established in 2006 since it used to be a tool within the latter.
FigPii offers you various tools like heatmaps, video replays, polls, and AI-Powered A/B testing.
At FigPii, there are 3 types of WordPress heatmaps:
Click Maps: display the areas of the website where visitors click. They help track on-page user engagement across the website.
Move Maps: focus on where users navigate their mouse on the WordPress site.
Scroll Maps: show how far down on a page someone is scrolling.
As for session recordings or session replays, they are recordings of users' screens from when they first visit your website until they leave it.
Advantages of FigPii
FigPii has many pros, including:
FigPii doesn't only provide you with data; it uses machine learning to provide you with actual changes you can make on your site to improve its conversion rates.
FigPii analyzes the behavior of visitors who converted and compares it to the visitors who did not convert.
Using ML, we identify patterns to suggest site improvements to improve conversion rates.
FigPii Integrations
FigPii can integrate with WordPress, Shopify, Google Tag Manager, Unbounce, SquareSpace, WiX, BigCommerce, Prestashop, Magento, WooCommerce, Joomla, Instapage, and Drupal.
Hotjar
What is Hotjar?
Hotjar is a suite of analytics tools that include analytics and the collection of user feedback.
Some of these tools are heat maps, funnel tracking, user polls, surveys, etc.
Advantages of Hotjar
Hotjar has many pros like:
Hotjar is very easy to integrate with a snippet of code. Your website can connect to Hotjar by simply adding a tracking code.
It's easy to install. The verification process hardly takes a couple of minutes.
There are options to view the page by device type, click, scroll, and heat map.
Hotjar has a user-friendly user interface.
Once installed, Hotjar automatically tracks everything with a very minimal code load, meaning that it won't slow down your site.
You can watch the users' behaviors on your website. It captures the video of each user session so you can see exactly where the users click on UI, which pages they navigate to, and a lot more.
You can use surveys on individual pages that need improvement to gain insights.
Disadvantages of Hotjar
As for the cons:
Hotjar, sometimes, can log you out automatically every other day, which can be pretty frustrating for someone who uses it daily. It isn't convenient to have to log in continuously.
There is no actual "tagging" feature where you can assign particular feedback with "keywords" or "themes."
As for customer service, you get a generic email without knowing who you're talking to exactly.
The payment process is a bit hard if you pay through a corporation rather than just putting down a credit card.
It's easy to share reports with other team members who may not have technical knowledge.
When you put embedded javas scripts like 3rd party forms, it usually doesn't render the form in Hotjar. So it becomes complicated to determine what works and what doesn't work in this 3rd party forms.
Hotjar Integrations
Hotjar can integrate with:
Slack
Segment
Hubspot
Google Optimize
Omniconvert
Optimizely
Zapier
Hotjar Customer Reviews
Here are some of the customer reviews according to G2: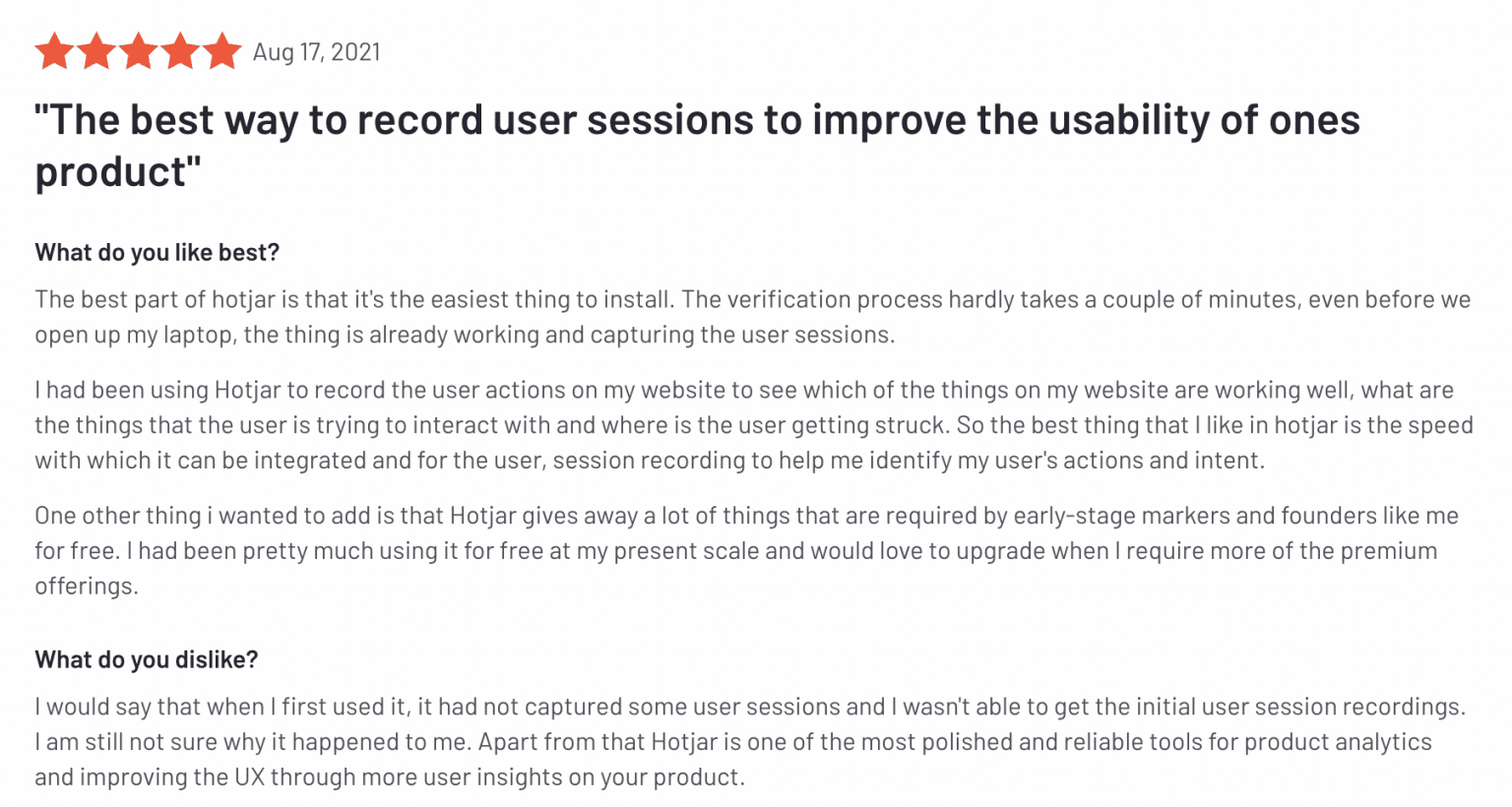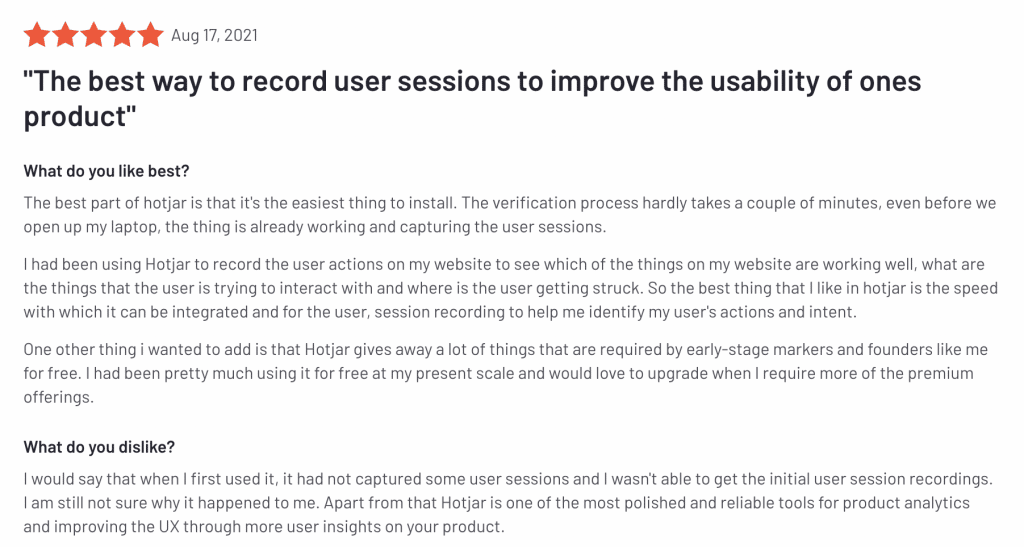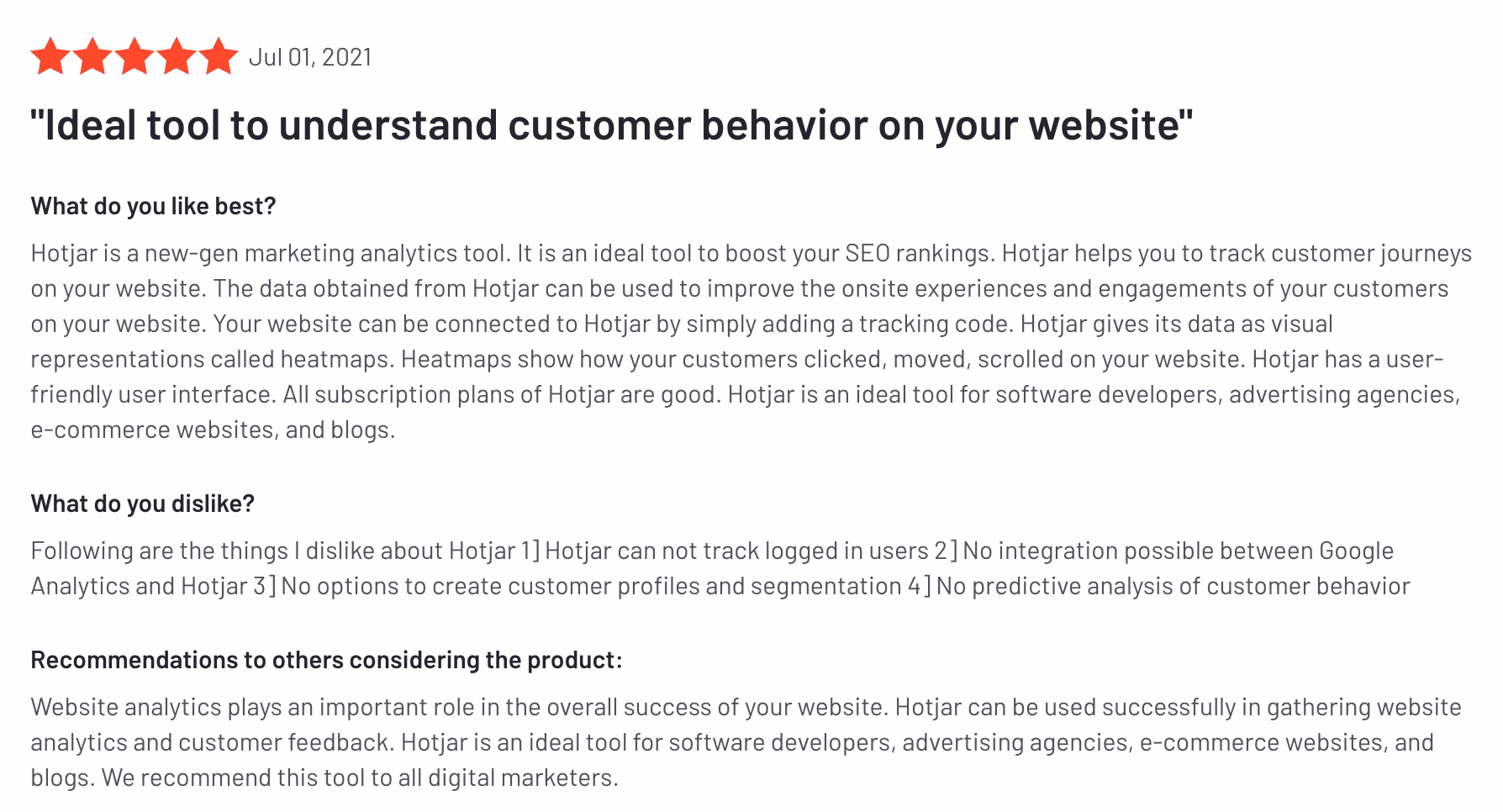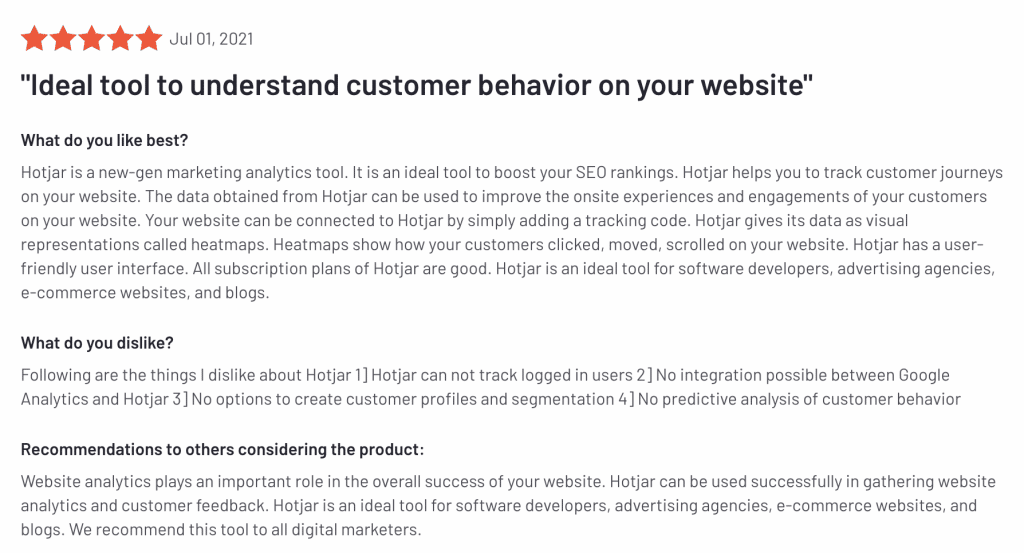 Crazy Egg
What is Crazy Egg?
Crazy Egg is an online tool that helps track how visitors interact with your site.
It offers tracking tools like a heat map, scroll map, overlay, and confetti.
Crazy Egg can help answer questions like:
Where do visitors come from?
Which parts do they click on the most?
Which elements of your page have the most interaction and which don't?
Advantages of Crazy Egg
Some of the pros of Crazy Egg are:
Crazy Egg has the option of visual heat maps. It's a simple visual to help you understand where users interact with your website.
It can map how users interact with your pages — where they're clicking, where they're not clicking, and how far down they're scrolling.
It provides actionable insights by showing us what's important to our users to help give them more of what they want and less of what they don't.
The videos are helpful. They show you the customer journey and put you in the customer's shoes, which, accordingly, helps you figure out how to better communicate with them.
Crazy Egg does a good job of differentiating who has been clicking where based on technology, new/return visitors, and other visitor properties.
The Confetti feature is an important feature for anyone who loves to compare user data with visits to the website. It enables you to visualize clicks by segments – device, new/returning visitors, campaigns, and other metrics.
The overlay feature lets the user see clicks on every page segment with overall visits and LIVE visits.
The 'page camera' software lets you run tests on pages that include dynamic content (like a shopping cart product category page).
It provides the option to test areas of a site that would normally be difficult to obtain data for.
Disadvantages of Crazy Egg
As for the cons of Crazy Egg:
You have to set up heat maps separately for each page instead of automatically creating heat map pages across the whole site. You have to track individual pages explicitly.
Setting up snapshots is a manual process. Users' view pages aren't automatically tracked and stored, so you have to set up each page you want to be captured.
You can't exclude traffic from the snapshots based on a referrer.
The data doesn't always contain context. While the data is quantitative, sometimes you have to make assumptions about user intent.
The free version only allows you to track a limited number of pages.
Gathering statistical significance takes 30+ days, so you may have to run tracking software for multiple months to get actionable results.
Sometimes, it can slow down page load time, which is only an issue if your site is already experiencing page load speed issues.
Exports take a long time and are necessary as the pricing model extremely constrains your ability to have teammates log in.
Crazy Egg Integrations
Crazy Egg can integrate with:
WordPress
Google Tag Manager
Shopify
WiX
Squarespace
Drupal
Magento
Joomla
Segment
Crazy Egg Customer Reviews
Here are some of the customer reviews according to Trust Radius: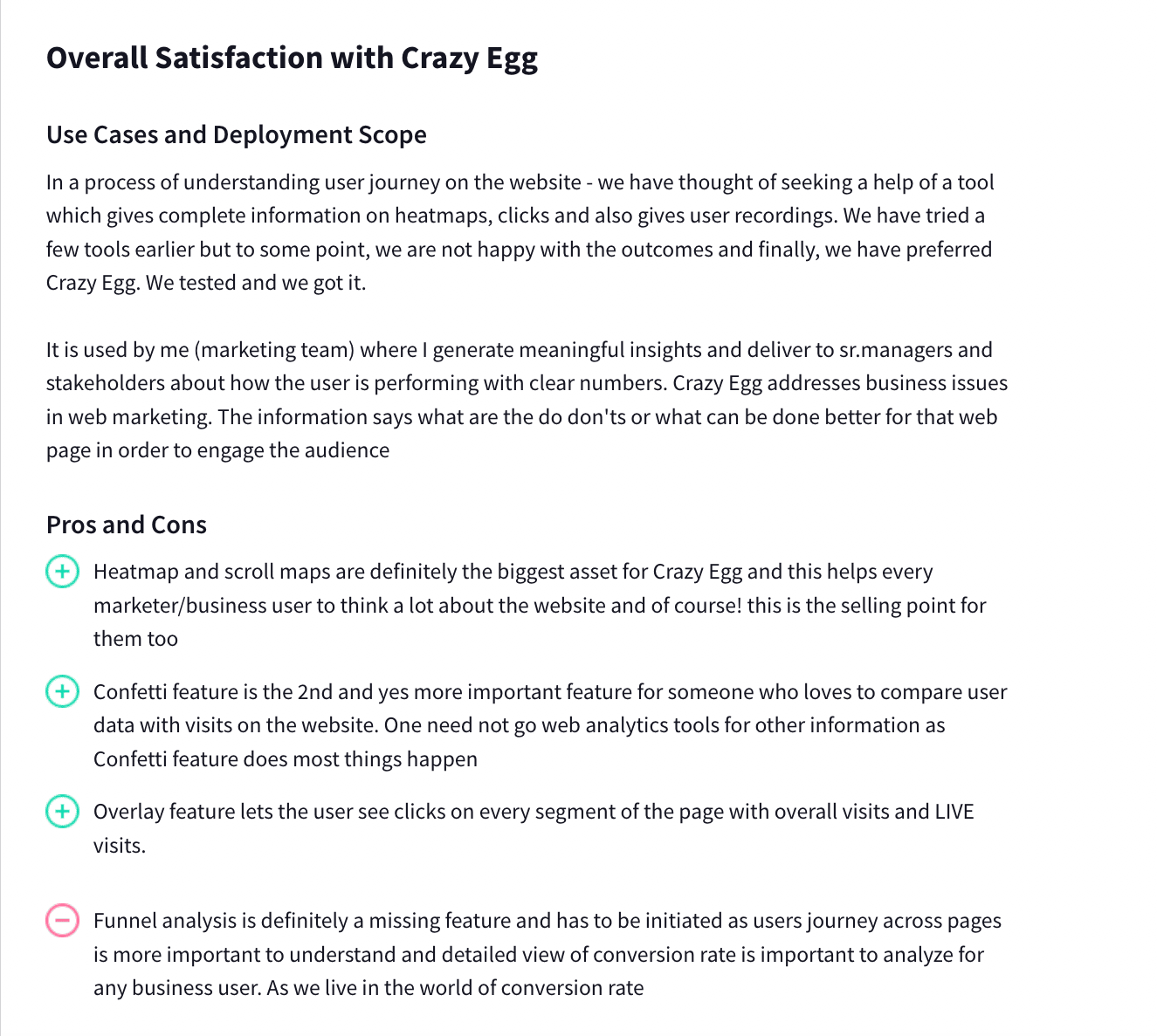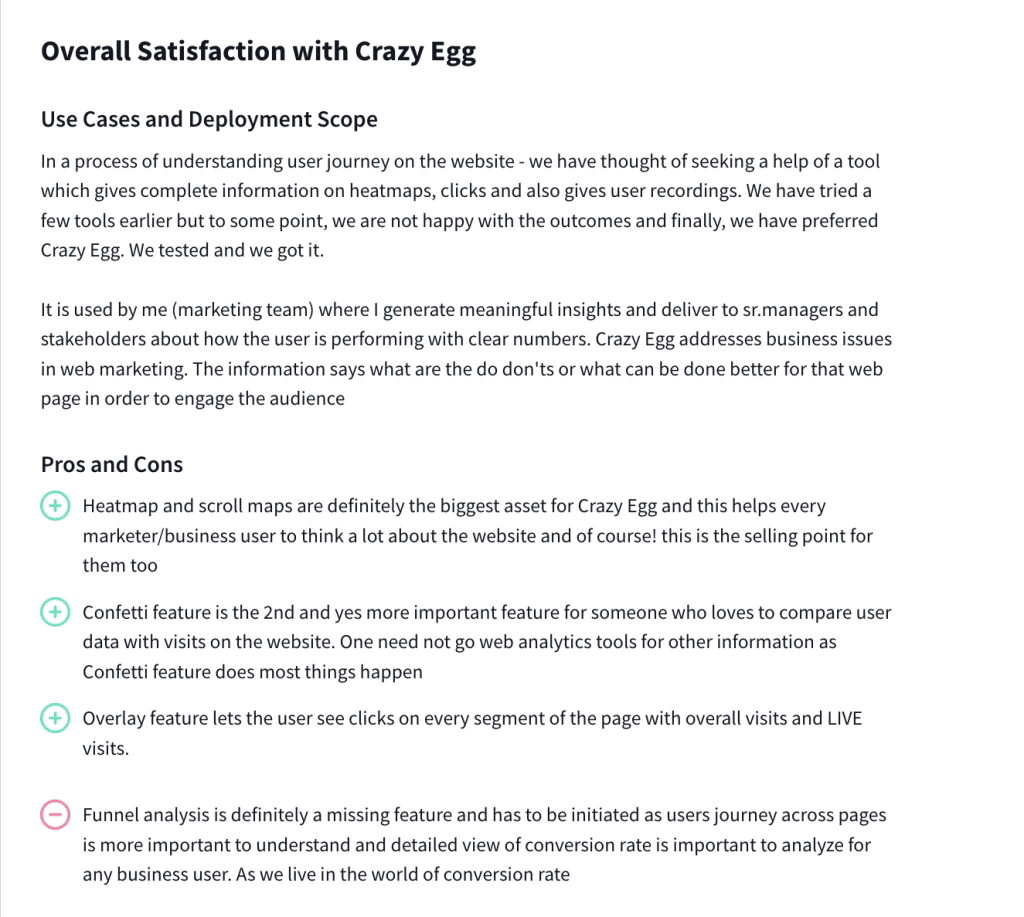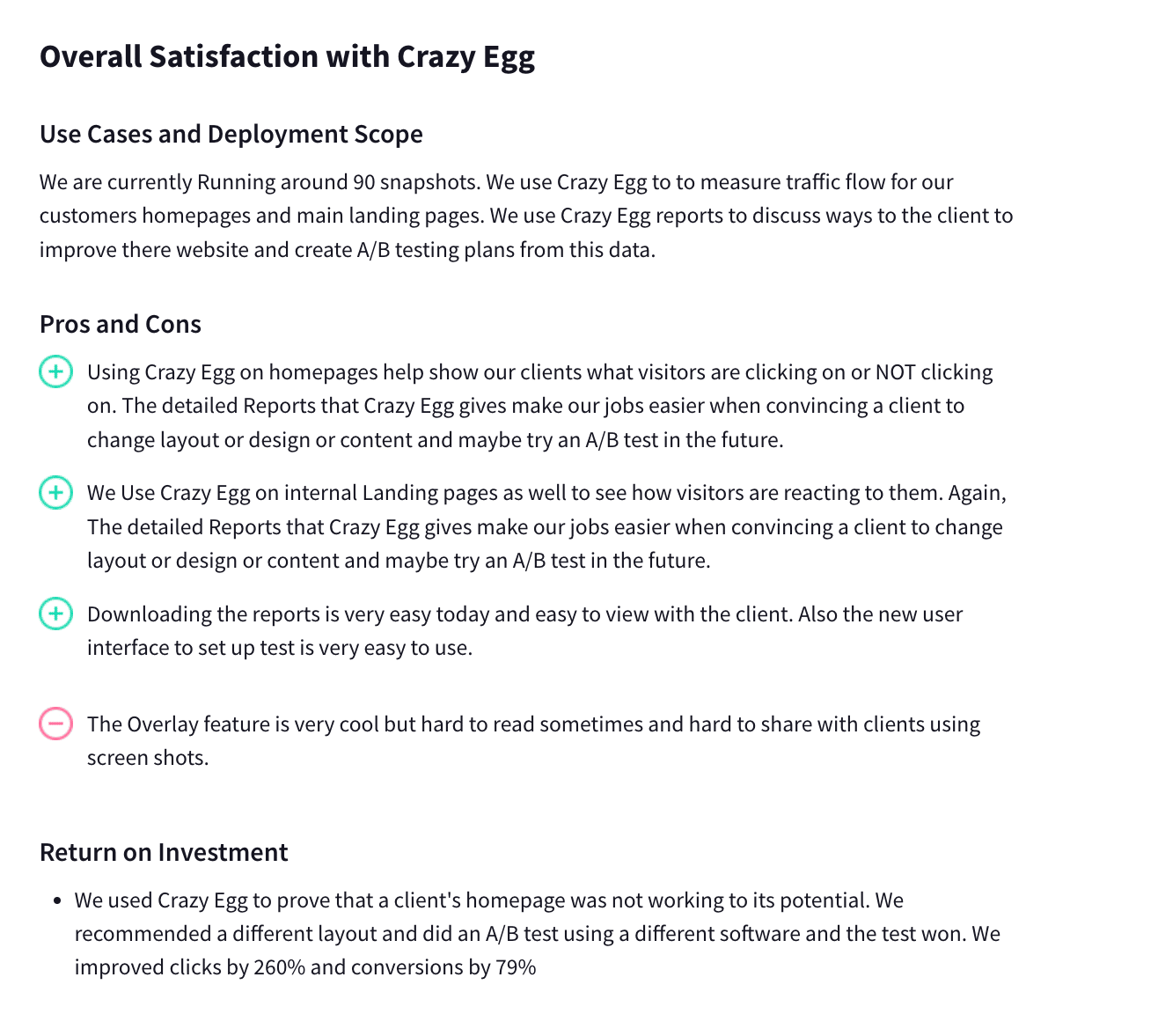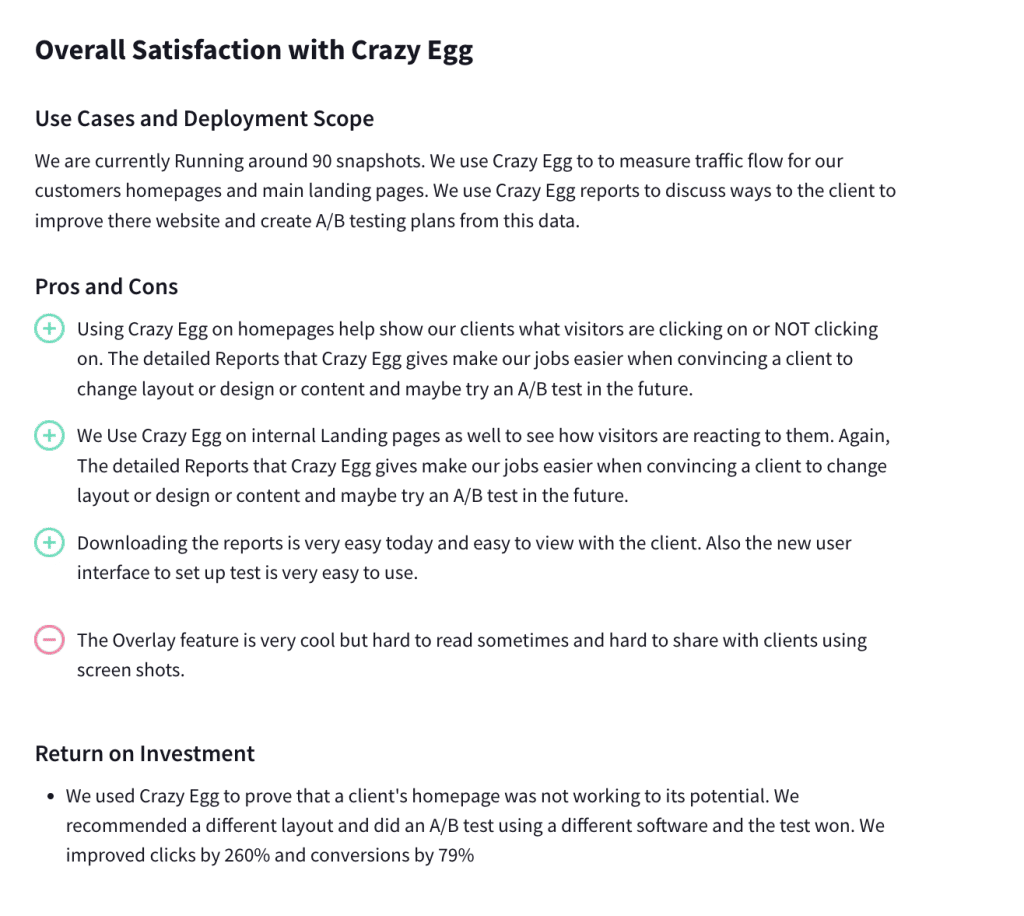 MouseFlow
What is MouseFlow?
Mouseflow is a behavior analytics tool used to optimize websites to improve conversion rates.
Mouseflow can help you with:
• Monitoring your visitors' clicks through watching video recordings.
• Building heat maps for all your pages.
Advantages of MouseFlow
MouseFlow has many pros like:
MouseFlow has a form tracking feature and funnel features.
The ability to view and filter heat maps by not only device type, but also friction like rage-click and speed scroll. It makes it easier for users to spot areas for optimization and lower abandon rates.
The data is available in real-time.
You can share the recordings and tag them for later.
MouseFlow's customer support is known to be cooperative and friendly. Their responses are prompt.
MouseFlow can integrate with most web platforms, well beyond WordPress.
MouseFlow provides website recordings with a wealth of information and is easy to navigate. You can see what a user is doing from start to finish and what issues may have arisen. You can even see a variety of variables, including click-rage, form interaction, and more.
The data captured or recorded by MouseFlow is pretty easy to read. You need to log in to your account, and a dashboard will open consisting of all the recordings and heat maps captured.
The MouseFlow dashboard is set up with the user in mind. A left-hand menu clearly outlines all of the features you can use. You just click a menu item once, and you can see all of the data you need.
Adding the MouseFlow tracking code is pretty straightforward. If you have a WordPress site, they have a plugin, and if you need to add it by hand, the instructions are very simple. The dashboard also immediately recognizes when the code has been added.
Disadvantages of MouseFlow
As for the cons:
Filtering options don't allow you to filter recordings based on a partial URL.
When it comes to the tracking pixel, some interactions that occur on the website, such as form submission, cannot be seen by MouseFlow. This means you will be unable to track conversions successfully.
There is an issue regarding session recording, especially on responsive sites or dynamic pages. Sometimes clicks register in the wrong place, and what you see on screen doesn't align with what a user would have seen and is more noticeable on mobile devices.
Form analytics requires a unique ID for each form, so you won't be able to take advantage of this feature in all scenarios.
MouseFlow Integrations
MouseFlow can integrate with:
HTML
WordPress
Drupal
Joomla
Squarespace
Blogger
Weebly
WiX
3dcart
Magento
PrestaShop
Shopify
Google Analytics
Kissmetrics
Coremetrics
Adobe Analytics
AnswerMiner
SMG eTrack
Hubspot
Optimizely
Unbounce
Opinionlab
Instapage
And many more.
MouseFlow Customer Reviews
Here are some of the customer reviews according to G2: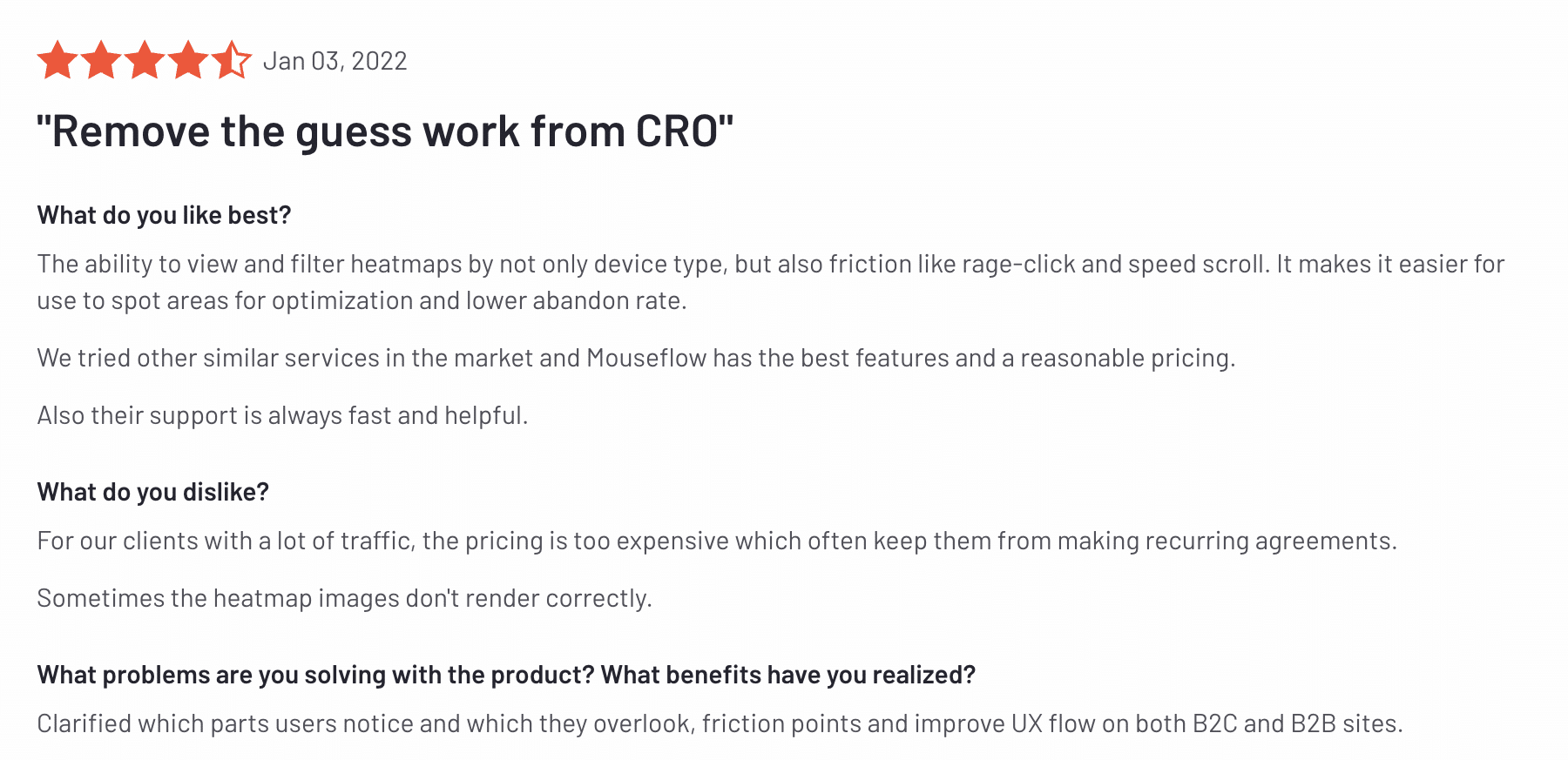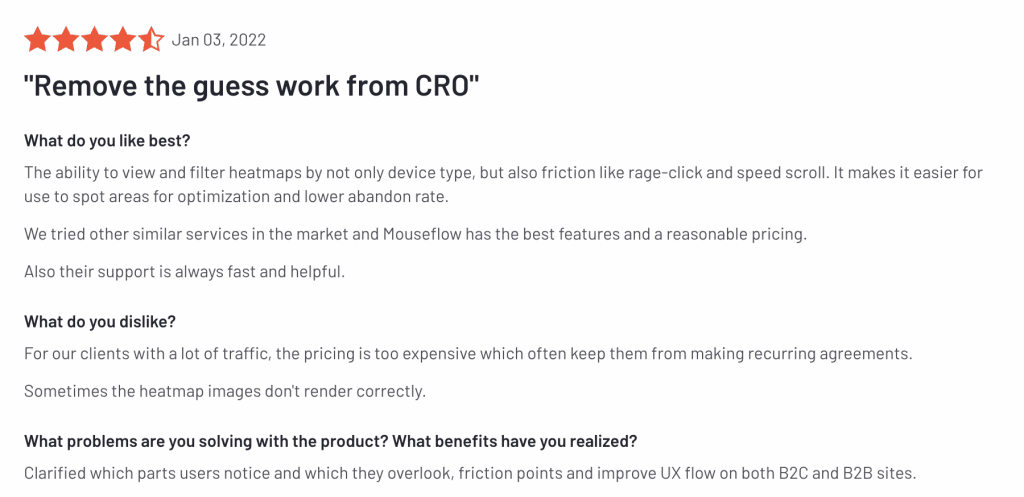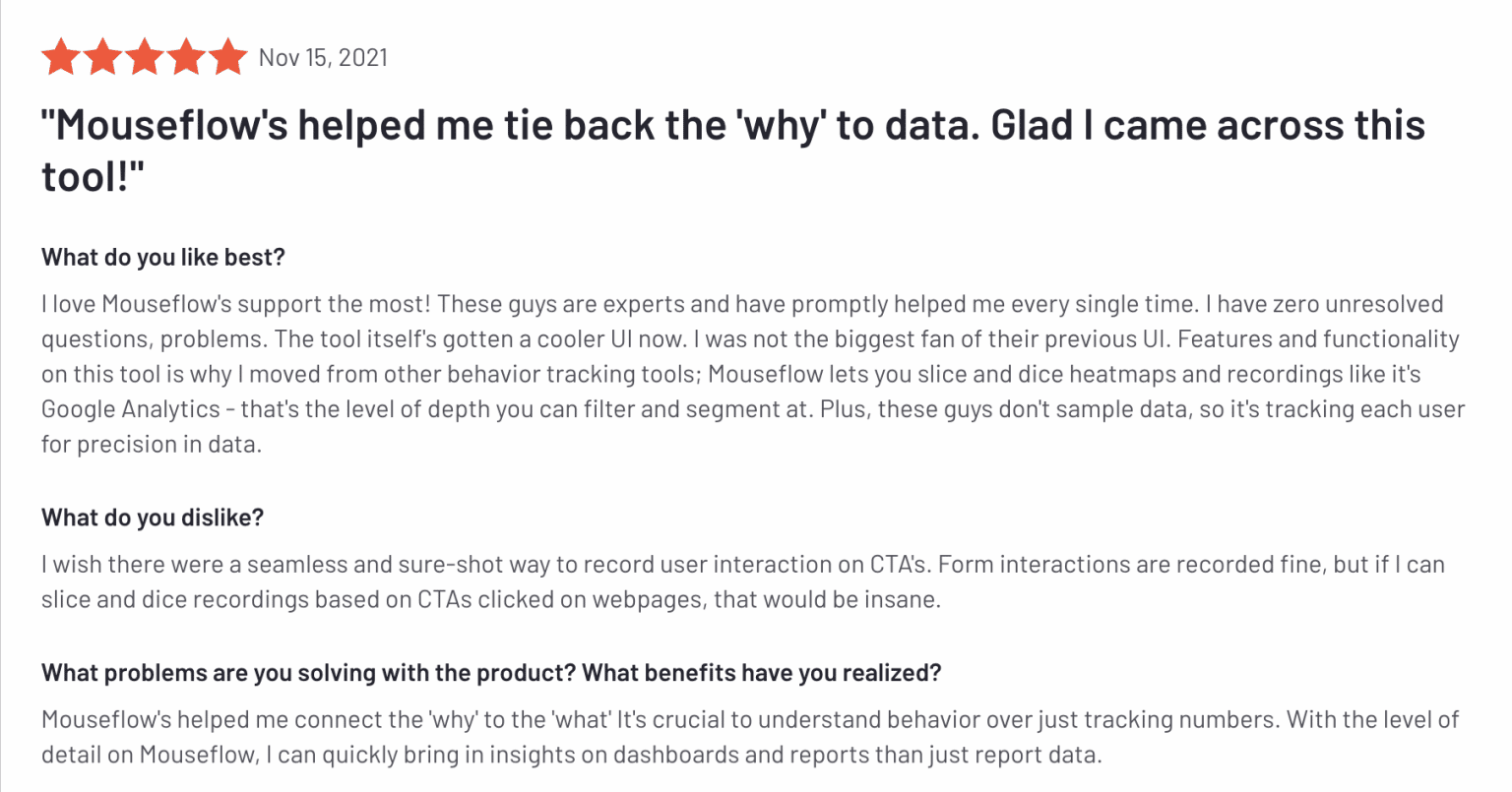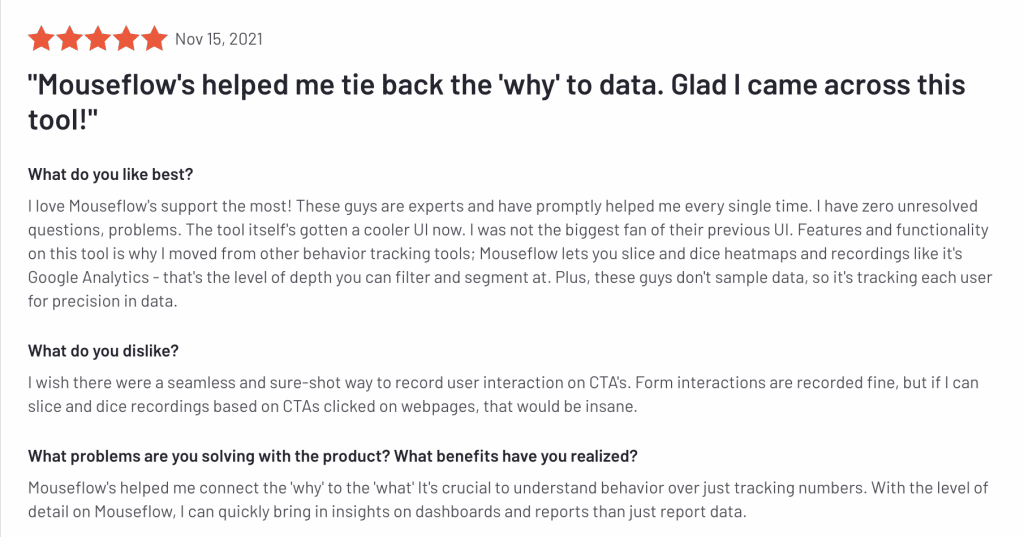 Wrapping Things Up
That's it for the second blog of this series.
I hope it was as beneficial as I hoped it to be.
The next one will be about the third type: CRO Testing tools.