Happy Thanksgiving, my fellow readers.
Hope you had a blissful and fun holiday with your family and beloved ones.
Last week was a bit crazy for all of us at FigPii and Invesp!
The BFCM season is probably the busiest time of the year for us. We spend a lot of time preparing for this season. And we spend a lot of time conducting the BFCM post mortem.
Now that the BFCM season is over, it's time to take a step back and crunch the numbers and review the strategies we used during that high season.
Enough said, now let's delve into the details of what my previous week looked like:
An Informative Newsletter:
This week, I tried to work with Simbar's previous comments and feedback and tried to make FigPii's newsletter as informative as possible.
As you know …
Are you subscribed?
If you aren't, you can from here!
Anyways, I was saying, as you know, I mentioned last week here that I started a sequel in the newsletter.
The sequel is about website heat maps.
Last week, in the second part of the sequel, I talked about:
The different kinds of website heat maps,
How to create a website heat map on FigPii.
Here's a screenshot of it, in case you didn't see it:
Also, in last week's newsletter, I tried to do two things:
Increase the number of links across the newsletter, in order to increase the click rate.
Exclude GIFs as I usually did and see what happens.
As a result, two things happened:
As a result of number 1, the click rate has increased by 0.8%.
As a result of number 2, the open rate decreased by 4.6% from the previous week's rate.
A/B Testing Tools blog series
Last week, I started a blog series about A/B testing tools.
The first blog was about a comparison between Google Optimize and AB Tasty.
This week's blog compares Omniconvert and Kameleoon.
In this blog, I talk about:
What is each platform exactly,
Their features,
Their pros and cons,
Pricing.
Customer reviews about both platforms.
This blog series is perfect for you if you are:
A Conversion Rate Optimization Specialist and looking for an A/B testing tool for your experiments.
A business owner trying to boost your conversion rate, improve your UX, and increase your revenue.
Studying your competitors; their features, pricing, advantages, and disadvantages.
LinkedIn Content Calendar
If you have been following this blog series for a while, you will know that I have been trying to build my personal brand on LinkedIn.
That is why, currently, I am working on my social content calendar.
Having quality content on your account will help you in growing your network.
That's why I am currently watching Justin Welsh's course 'Learn to grow & monetize your LinkedIn audience.'
So far, I learned:
What are the mistakes I did on my LinkedIn,
How to define my audience,
How to choose my content path.
When I finish this course, I will share with you what I learned and how I will implement it.
Case Studies Updates
As most of you know, I have been working for a while on writing about successful A/B tests done by FigPii and Invesp.
These case studies are published on a weekly basis, every Wednesday, on my LinkedIn account, Khalid's LinkedIn account, Ayat's Instagram account, and FigPii LinkedIn account.
Check previous case studies:
Case study 1, for a SaaS (B2C) website that provides online golf coaching run by two PGA golf instructors.
Case study 2, for a cart page on an e-commerce website.
Currently, I am working, along with Khalid and Ayat, on three new case studies for previous A/B tests done for e-commerce websites.
You will find:
The before (the control page),
The after (the winning variation),
Hypothesis (why we chose to test this particular page).
Announcement!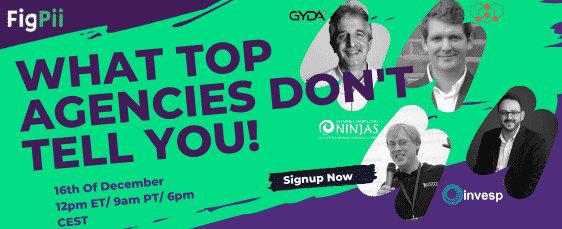 I have exciting news!
FigPii is hosting a virtual event for Agencies 'What Top Agencies Don't Tell You!.'
The event is dedicated to everyone striving in the agencies' world and trying to build their business.
You will learn everything you need to know about agencies. You will also learn about the tips and tricks to have a successful one.
The event's speakers are top-notch in the ecosystem, such as:
Hurry up & register here!
Wrapping Things Up
That is it for this week!
Hope you enjoyed this week's blog. I sure did.
However, before I leave you to your weekends, tell me what interests you the most in this series? What do you feel needs enhancement? And, what do you want to read more about?
I will be waiting to hear from you.
Until next week,
Sherine.