Hello there!
How are my fellow readers? I hope you had a thrilling and productive week and a much more exciting weekend ahead.
As for me, my last weekend was full of much-needed sleep, and my week was full of more digging into my goals and OKRs for this quarter.
As I have mentioned in the previous post, my main goal this quarter is centered around content. This involves creating, publishing, and distributing quality content to our targeted audience.
Also, I had an interesting discussion with my team on how to demolish the obstacles faced by Content Marketers – so that I hit my goals. More on this later.
Of course, as usual, my teammates have been more than helpful in teaching me everything I need to know as I go through my journey at FigPii. They always deserve a thank you note in every single post of this series.
Thank you guys, you are the best.
So, let's cut to the chase. How did my week go?
Well, let's start from the beginning.
Our Awesome CRO-Focused Newsletter: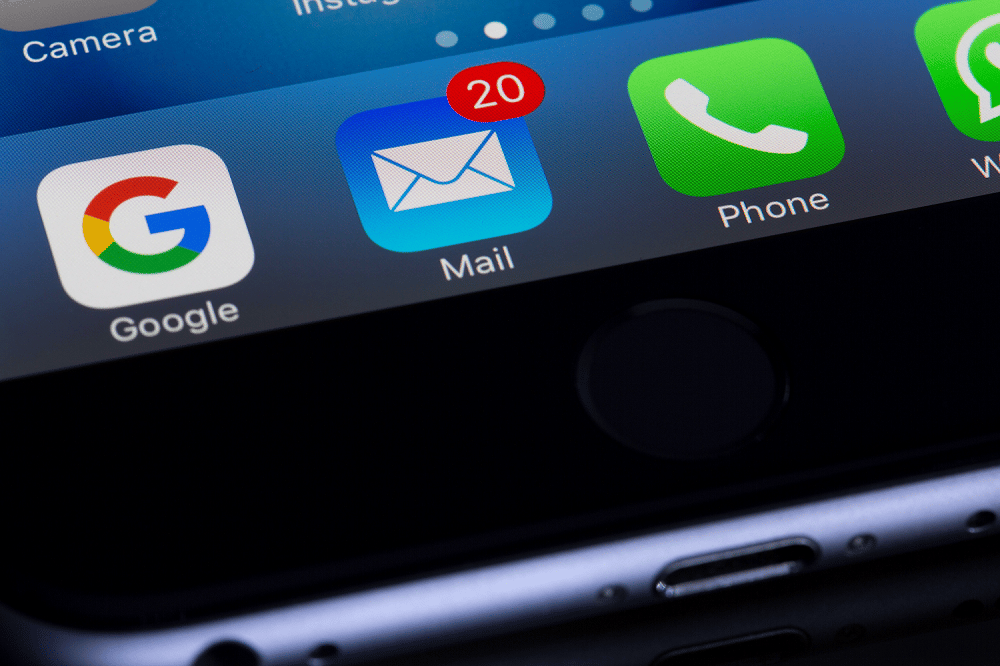 I started the week by sending FigPii's weekly newsletter which goes out every Monday morning at 10 am Eastern Time.
Unlike other newsletters I have sent before, this one was brief and light. The whole idea is to make the newsletter more interactive – in fact, I don't want it to sound like a newsletter, but an email from one friend to another.
This week's newsletter had three sections.
The first section of this featured a snippet from my previous blog: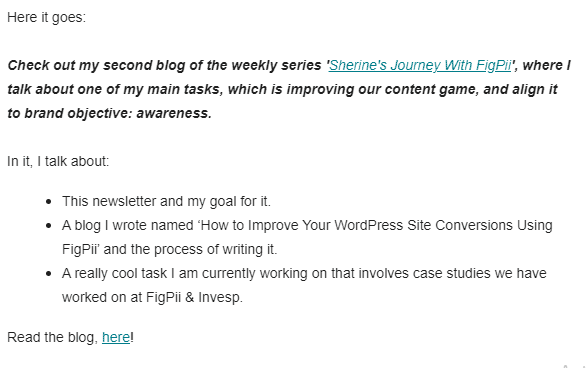 As you can see from the screenshot above, I started by mentioning last week's blog of this series, where I talked about my focus this quarter; content, and how I am aligning it with the primary objective, which is brand awareness.
Also, I mentioned some of the points I discussed in the blog.
The second section was all about an interesting marketing podcast episode I recently listened to. If you really wanna learn about:
The handoff between marketing and sales,
How to hire great marketers,
And the role of marketing in any company.
– then you should take a listen to that podcast episode.
In the third section of the newsletter, I highlighted some of our top-notch posts on this blog.
So, what do you like in newsletters? What interests you the most?
You should subscribe to ours and give me your feedback. I would love that.
Publishing a Blog About Heatmaps:
This week, I wrote a really insightful blog post titled 'How to interpret heatmaps using FigPii to increase conversion rate and enhance website UX', which is yet to be published.
Using the help of my colleagues, Isabela Cvetko; Digital Marketing Specialist at Invesp, Reza Jalaei; Head of Customer Success at FigPii; and Simbar Dube; Growth Marketing Manager at Invesp, I was able to form an informative one.
In this blog, I tried to answer some of the general questions about the heatmaps tool:
How to launch heatmaps?
What do I do after launching them?
How to analyze heatmaps?
How to turn heatmaps data into conversion insights?
– and many more.
So, just like any other blog writing process, I had to start with research. Fortunately, Simbar pointed me in the right direction and gave me some resources to use for this article.
Some of the resources had to do with listening to the following podcasts:
How Website Heatmaps Increase Conversion Rate by Jennifer Rogina,
Turning Up the Heat with Heat Maps by Brittany Brown & Rob Winters,
And Follow The Data, Not Your Gut – Quintin Schnehage by Lucas Walker.
Next, I met with Isabela and Reza to discuss how to analyze heatmaps to increase conversion rates based on their experiences, using real-time examples.
Then, I started gathering the data I got to form my blog and voilà.
Updates on Building New Case Studies:
As I mentioned in my previous blog, I started working on a very cool task, talking about one use case study related to Invesp and FigPii every week on LinkedIn.
I was bragging about showing off the designer in me. Well, flash news for you, it didn't come out! But thankfully, my boss didn't let me go—sigh of relief.
Anyways, I met with our Co-Founder, Ayat Shukairy, who helped me immensely with all the details needed to get as many insights as possible about the chosen A/B test.
I finalized the copy with the guidance of my boss, Khalid Saleh, and Simbar.
Now, I am currently working with our design team on a design for the post.
Hopefully, I will be post it soon, and I can share it with you all.
I can't wait for you to see it.
Now, Team Discussions: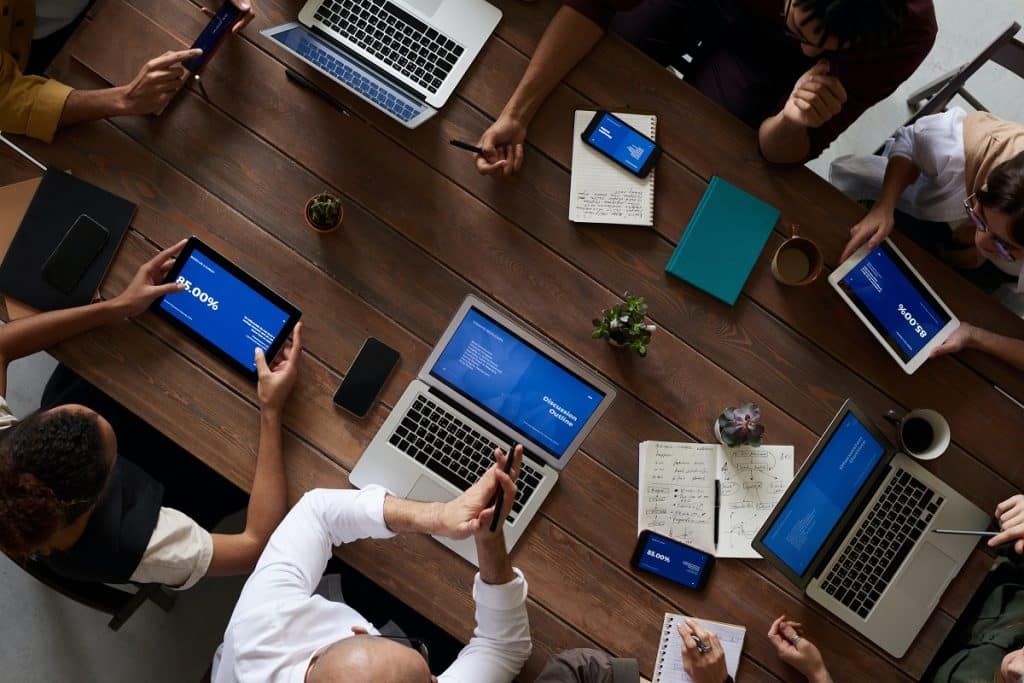 As I mentioned above, my teammates, Simbar and Mostafa Daoud have helped me immensely this past week overcome a creative writing obstacle.
I was thinking about how can I think outside of the box? How can I offer our users something new? How can I come up with new blogs ideas for FigPii?
They suggested that we develop a list of ideas and update it weekly, anything that we can come up with. Then, we can tell each other yes/no, enhancements, better ideas, and so on.
The bottom line is, we help each other by thinking together.
Also, we talked about, along with Khalid, content distribution.
I saw on LinkedIn a post by Shiv Narayanan, CEO of How To SaaS, saying that:
"Creating unlimited content is valuable if you are able to find unlimited distribution."
This sentence is 100% true, in my opinion, and that is what we were discussing as a team. How to distribute our content in the best way possible? Which distribution channels work the best for us?
And the discussion is still going on, and we are still in progress.
What about you? What do you think is more important, content creation or distribution, and why? And which channels do you think are the most effective?
Wrapping Things Up:
Well, that's it for me, folks!
I hope you enjoyed reading this week's blog.
Don't hesitate to send me anything you want to read in next week's blog, and I will indeed include it.
Here's my email address: sherine.omar@figpii.com
Until next week.