The holiday seasons are usually the busiest time of the year for most online retailers. There's usually a spike in traffic on most eCommerce sites.
Fortunately, most of the people who visit online stores during the holiday season are usually in a buying mood. Unfortunately, most eCommerce brands don't know how to take advantage of that.
It's a shame because potential customers end up taking their money elsewhere.
So, what can you do to avoid losing customers to your competitors? And what can you do to ensure that you convert more and more customers during high seasons?
Most articles about how to boost sales during holiday seasons will tell you to optimize your site for conversions. But the problem is they just tell, they don't show you how to do it.
Some articles will tell you to start planning your campaigns weeks before the holidays. But what if you're already late and you're just a few days closer to the holiday season?
In this article we're going to reveal the playbook used, by our friends from Invesp, to create a Black Friday strategy, for a well-established eCommerce brand three days before Black Friday. 
Well, let's start with a bit of background
In 2019, a US-based furniture company hired Invesp 3 days before Black Friday.
The contract was short, but there was a clause that stated that they can extend the contract if Invesp manages to hit a certain goal within the trial period.
Normally, Invesp doesn't agree to certain terms and conditions. In fact, conversion optimization is a long-play process that requires a lot of time and effort.
The first goal was to increase the conversion rate of the website on Black Friday. If you ask any expert in conversion optimization, they will tell you that 3 days is not enough time to increase conversions.
One conversion optimization project involves a lot of qualitative and quantitative research, designing, copywriting, extensive quality assurance, experimentation, etc.
To make matters worse…
Invesp didn't have any customer information to work with.
Typically, what they do in regular times is ask their clients to provide them with something like a marketing questionnaire that gives them a sense of the landscape, customer profile, etc.
Even after having reviewed the marketing material used by this furniture brand, it didn't make the task at hand any easier.
The only way to make things work was to improvise. And that meant tweaking their usual conversion optimization process.
The Usual Approach VS. Urgent Approach
Usual Approach
Invesp is one of the oldest CRO firms in the US. They have a standardized CRO approach they follow when optimizing an eCommerce site.
This approach is called 'The Ship' process.
What is The Ship process?
The Ship is an acronym for:
Scrutinize
Hypothesize
Implement
Propagate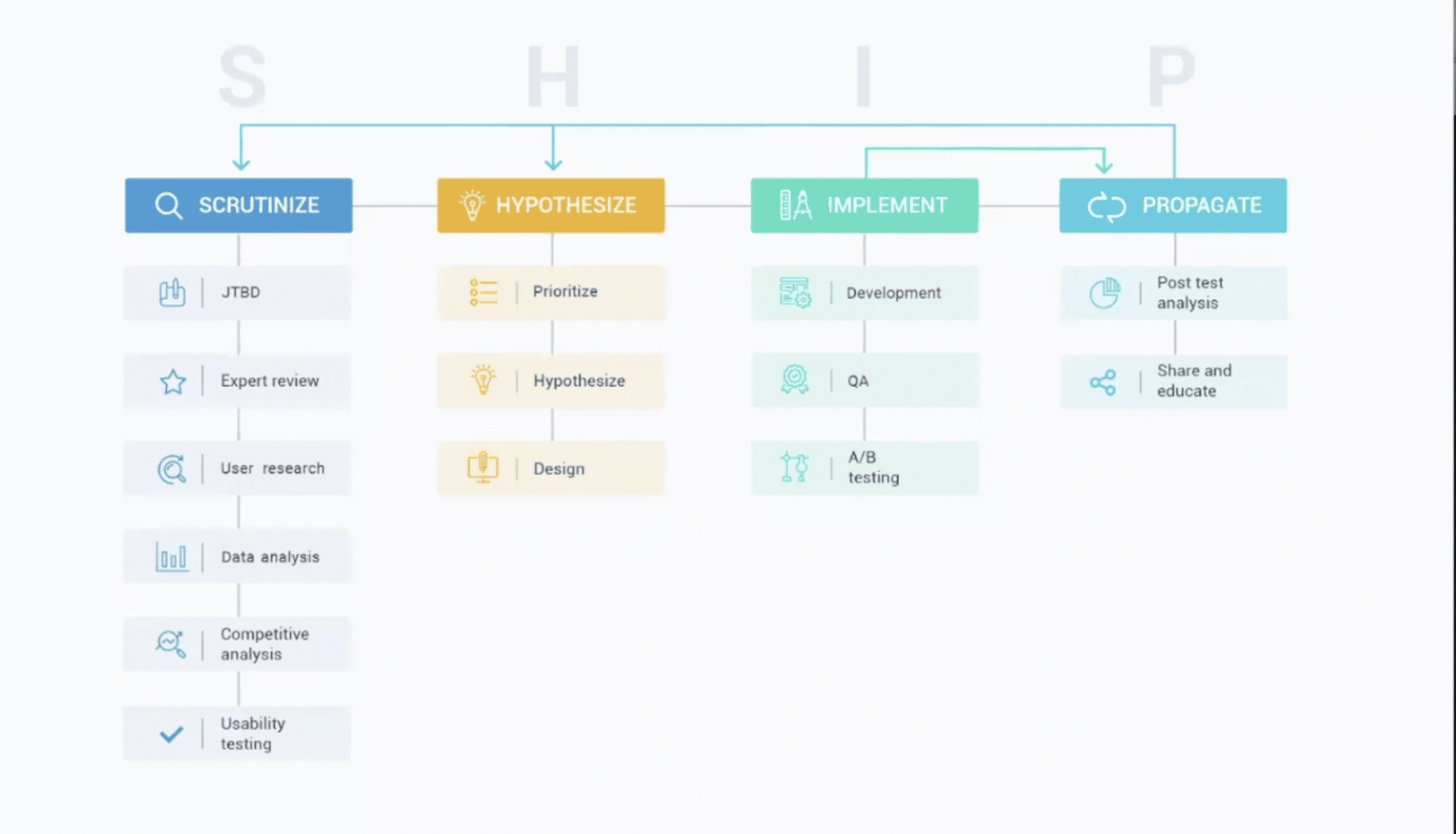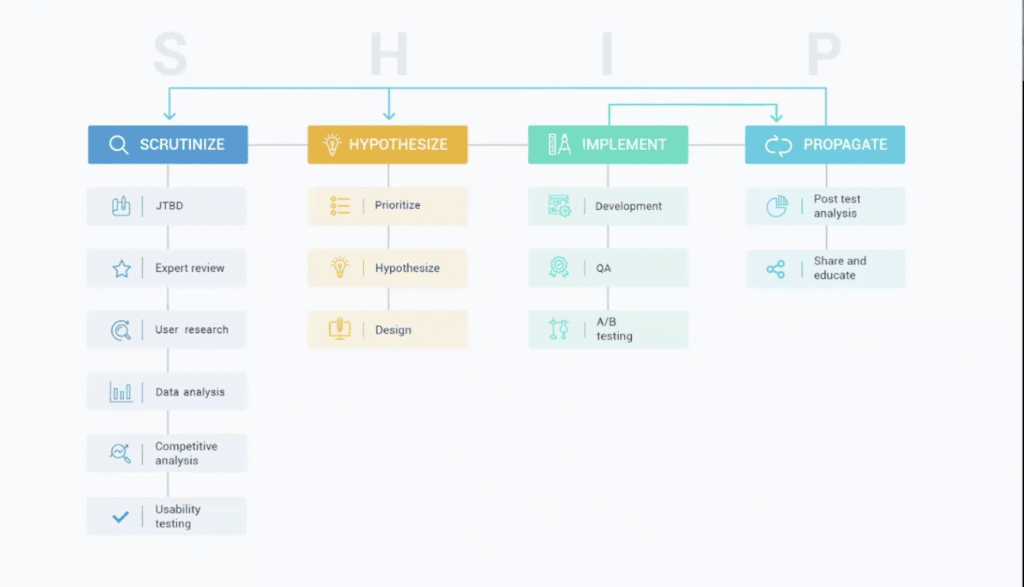 When Invesp work, they go through all of the steps listed in the screenshot above.
Also, one of the critical components, before they launch any experiment, is the QA. You have to create a checklist; You have to know what exactly you will be checking to make sure that the QA process is intact.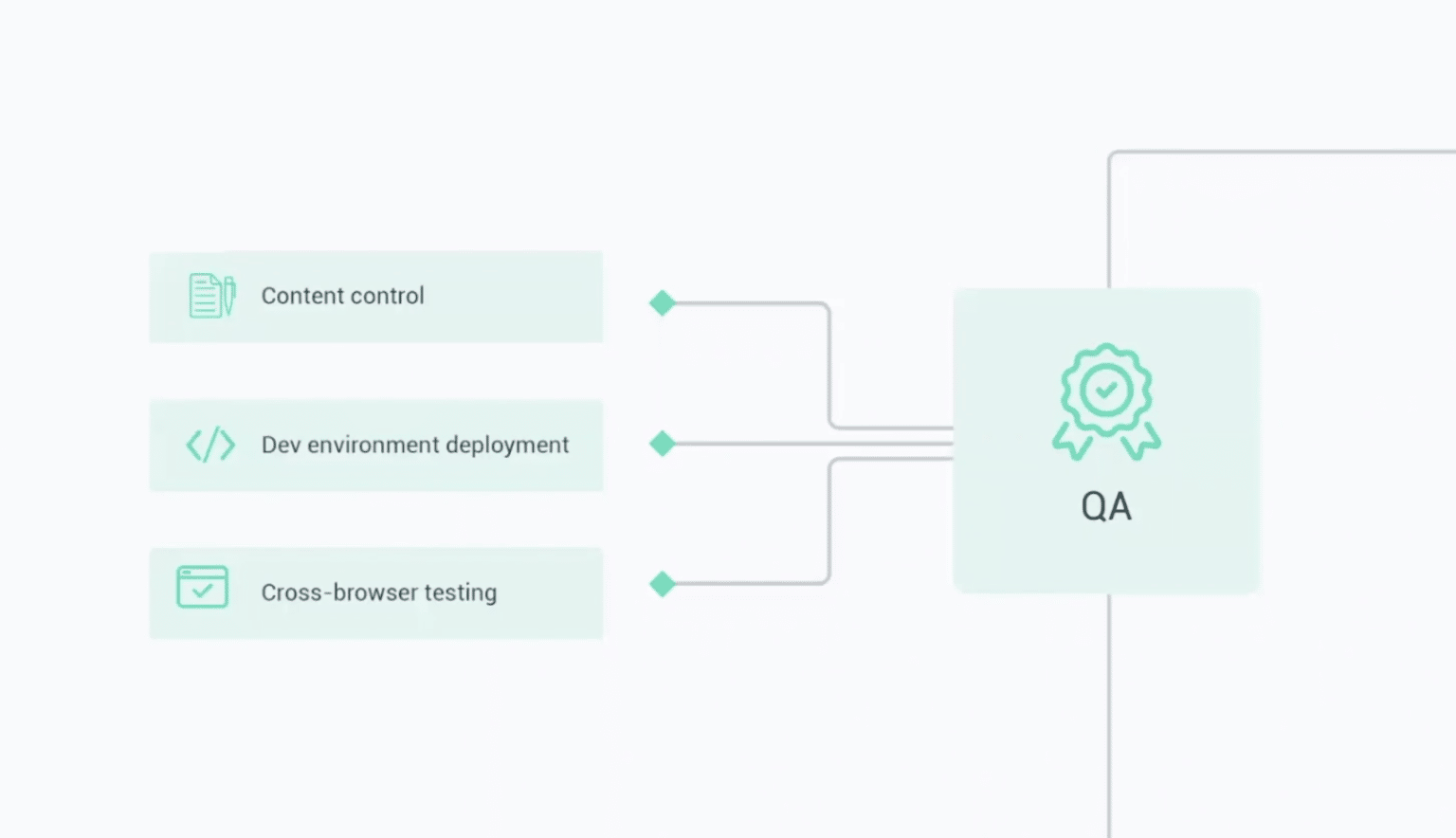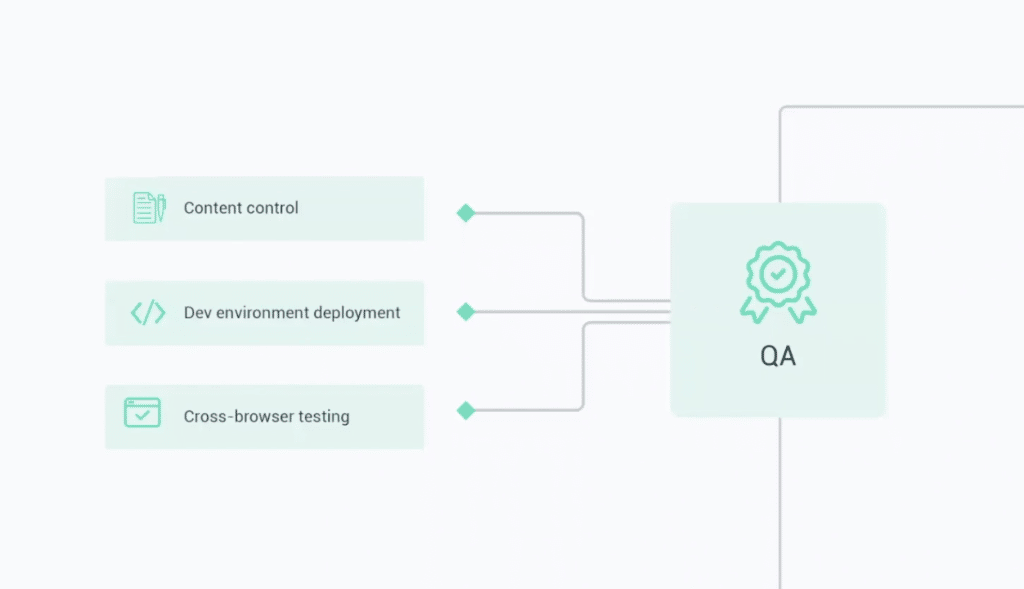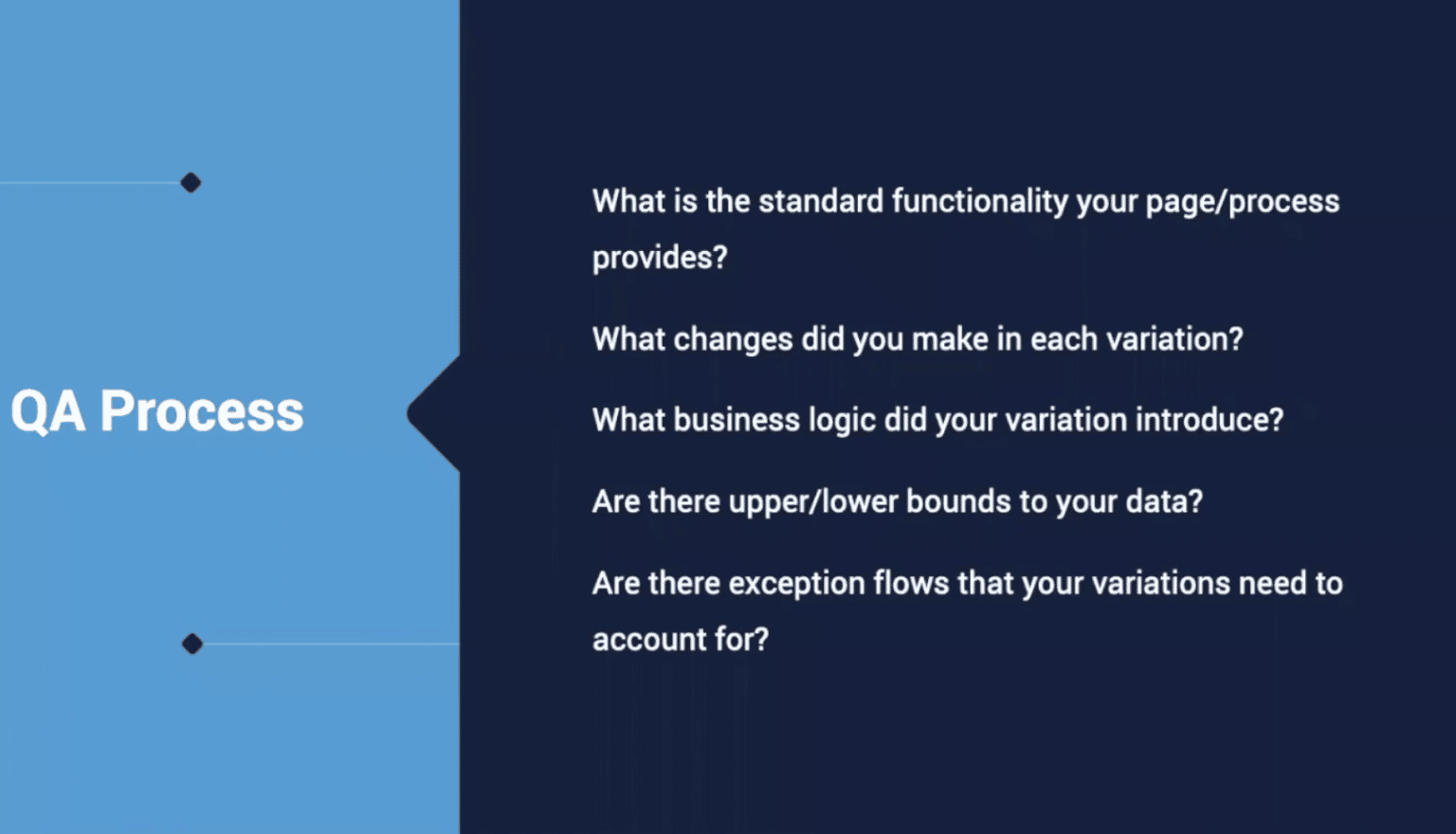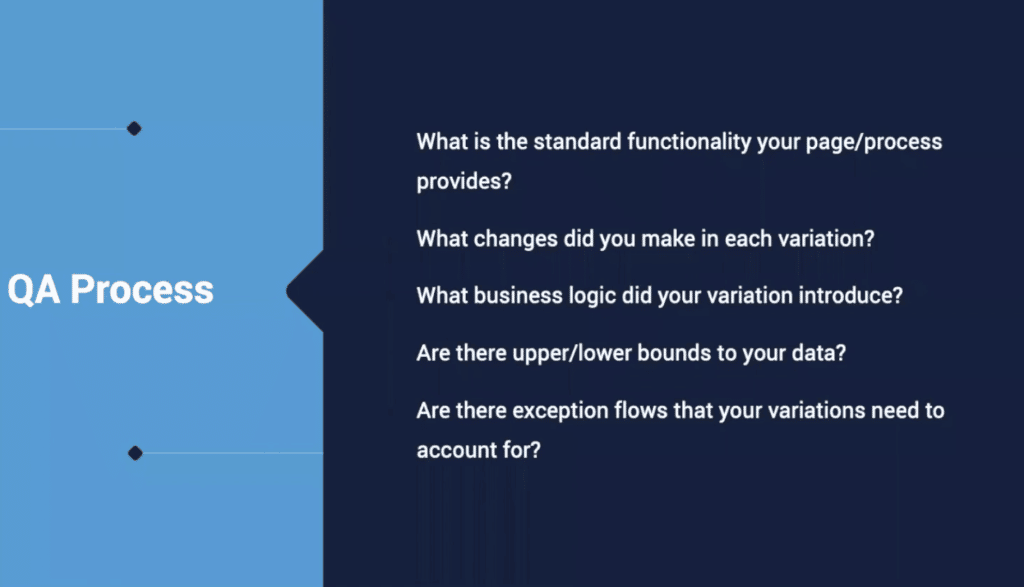 In the QA process, they think about the variation, the business logic, the flow, and the functionality.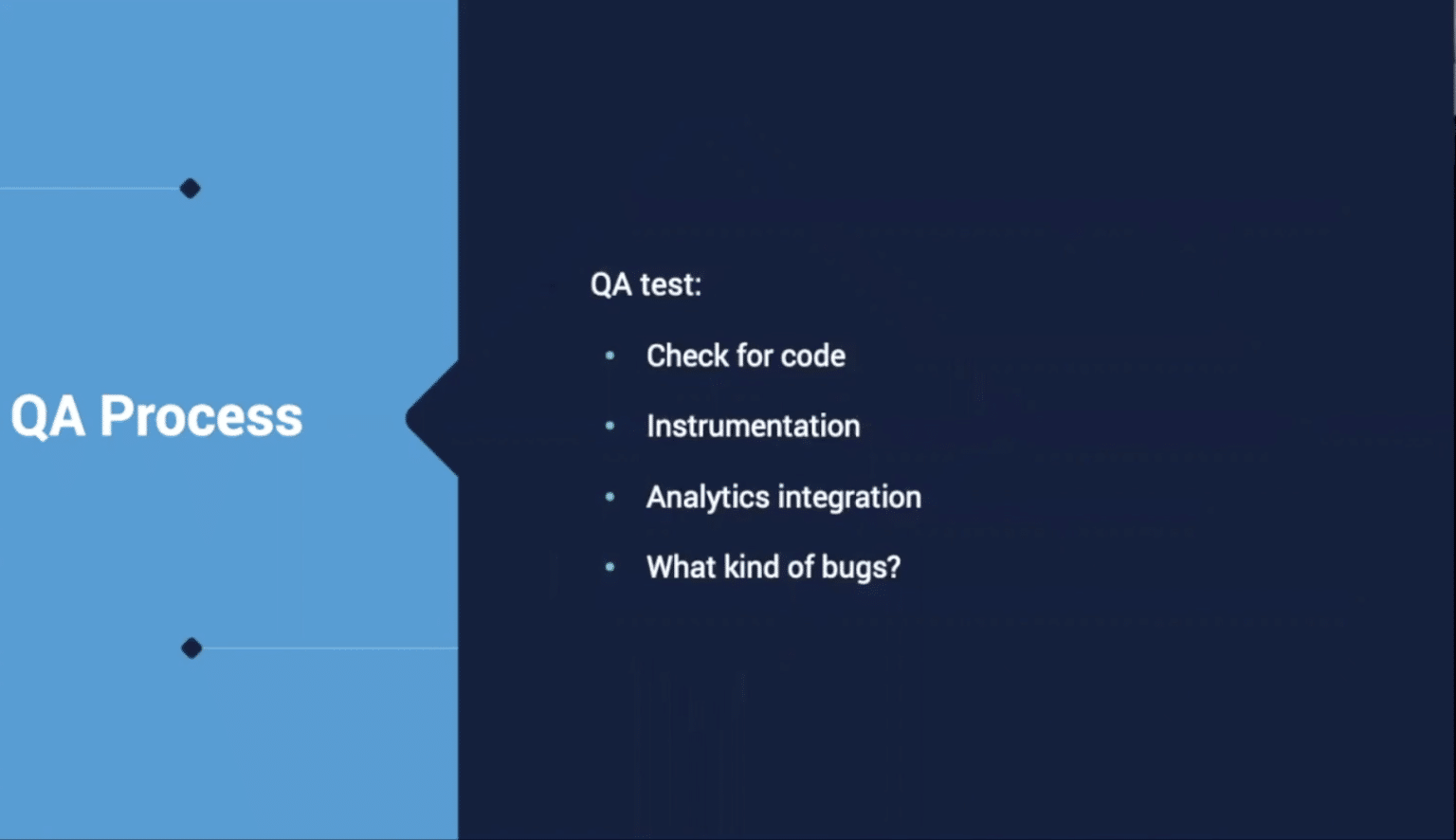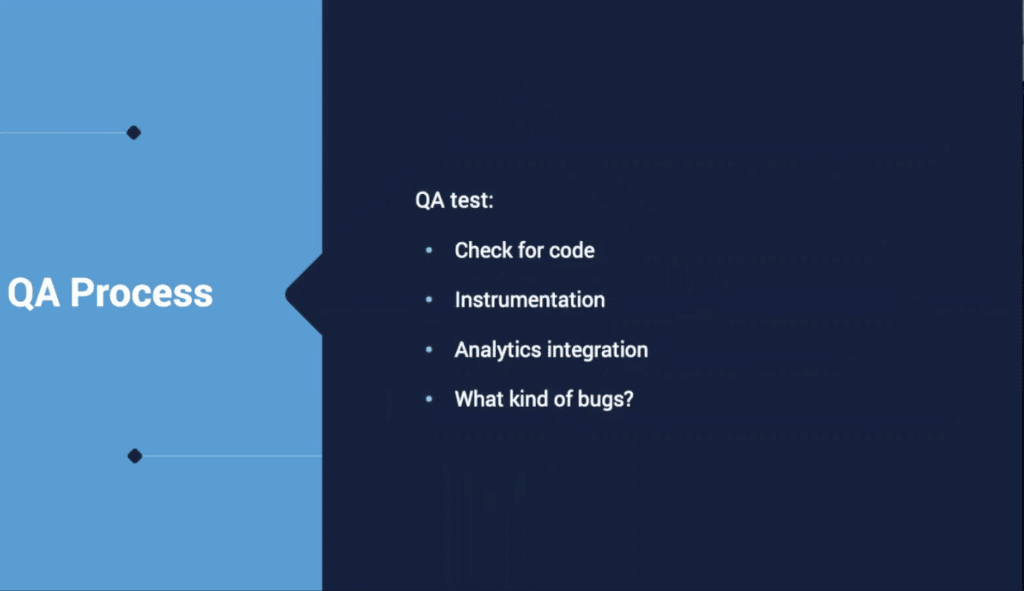 Moreover, in the QA test, they check for the code, instrumentation, analytics integration, and any types of bugs. They note all of this information and pass it out to the developer.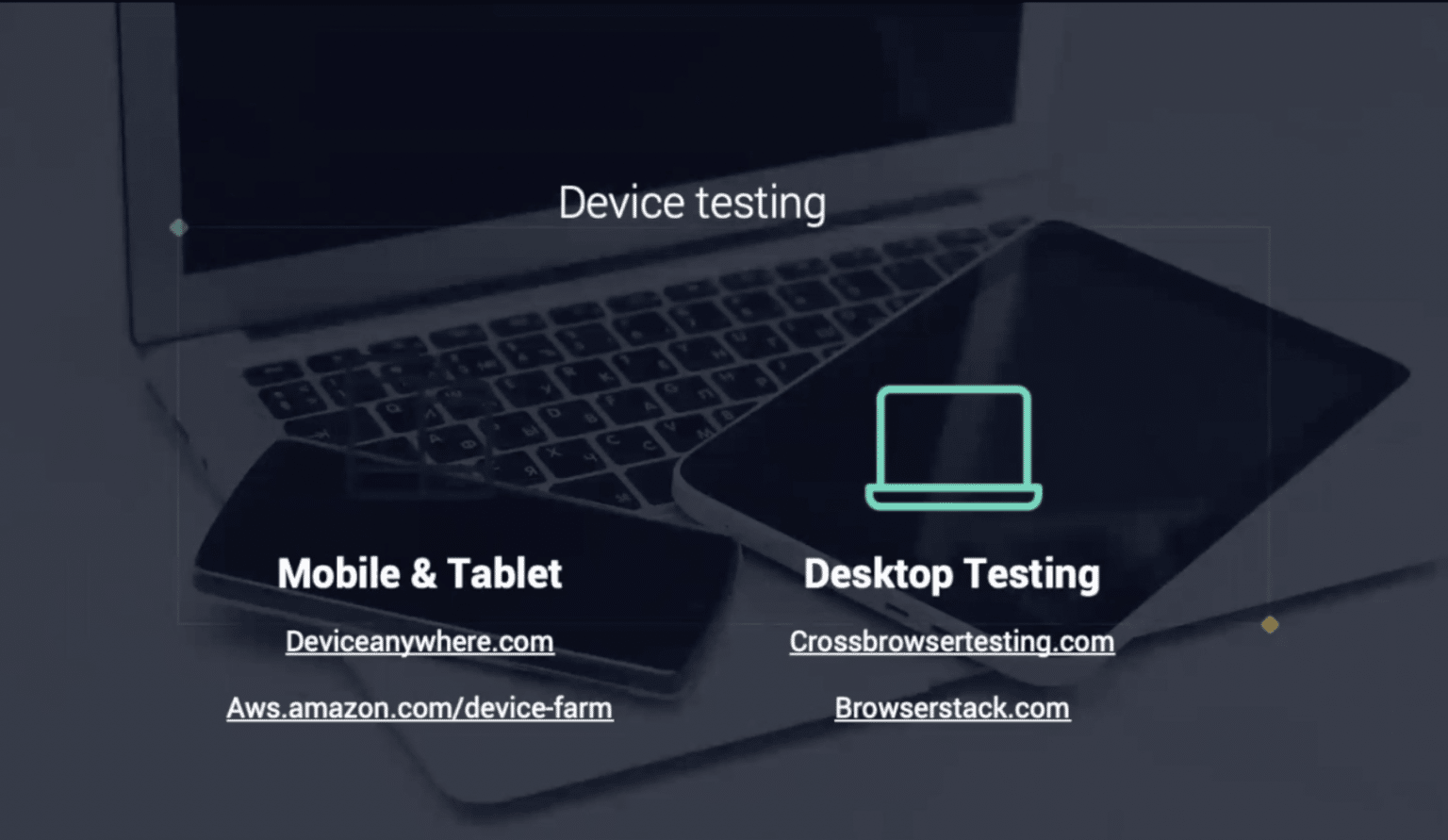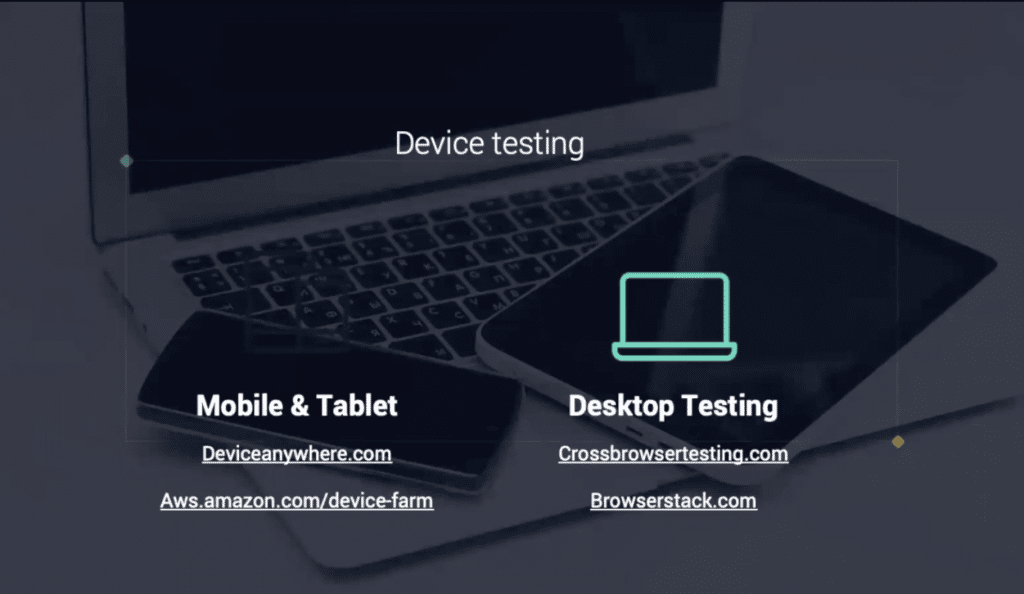 Furthermore, they pull out from analytics what types of devices are most common for this particular client.
So, typically, they would have approached this Pre-Black Friday in different ways or buckets to attract Black Friday shoppers as much as possible.
The first bucket would be to attract visitors Pre-Black Friday and let them know about the upcoming discounts and the things they will provide on Black Friday.
The second bucket of customers would be during that period (Black Friday). They would have tried to engage them and provide them with a great UX experience. The users then would have been interacting, buying, and increasing the order value in general.
And, the last and third bucket, the most important out of them all, would have been how they will capitalize on the influx in online traffic that came during Black Friday and make sure that they target them afterward.
However, Invesp didn't have that opportunity in this scenario because they didn't have the time to prepare. But, they had on the back of their minds that they still wanted to target those customers post-purchase, after Black Friday.
Urgent Approach
So, here's what they did:
They wanted to make offers clear and repeated across the website.
Technically, they wanted to have offers everywhere. Some might say that this is an obvious step to take. However, according to Ayat Shukairy, Invesp Founder, this is not the case with all customers. She said in her talk on Measure Fest:
"We have seen this with a lot of customers, and from our experience overall, it is not said enough. There is an assumption that if I say it on a certain place on the site, that is enough, and the visitors will know. So, we made sure that we repeated over and over again the discounts, from Category Page, to Cart Page, to Home Page, and everywhere possible on the site."
Lesson learned here:
People are trained to skim, and they don't necessarily know about what you are offering.
So, you have to re-emphasize. You offer the customer a sense of what they are getting into, which is critical.
They improved UX on access to products.
They tried to make the access to discounts and products as smooth as possible.
So, they optimized the site by solving:
Bugs or implementation issues,
Usability issues,
Conversion issues,
And persuade people to buy as much as possible. Even though they had little time to do so.
You can persuade much better when you know the visitor, target the messaging, understand their needs and why they are coming to the site, and see why they want this specific product.
Here, Invesp tried to approach it by balancing between targeting those conversion issues and making sure that the website is easy to use at the same time.
They made sure that the layout was clear, like where the hottest Black Friday deals were, having different carousels, etc.
Like the screenshot below: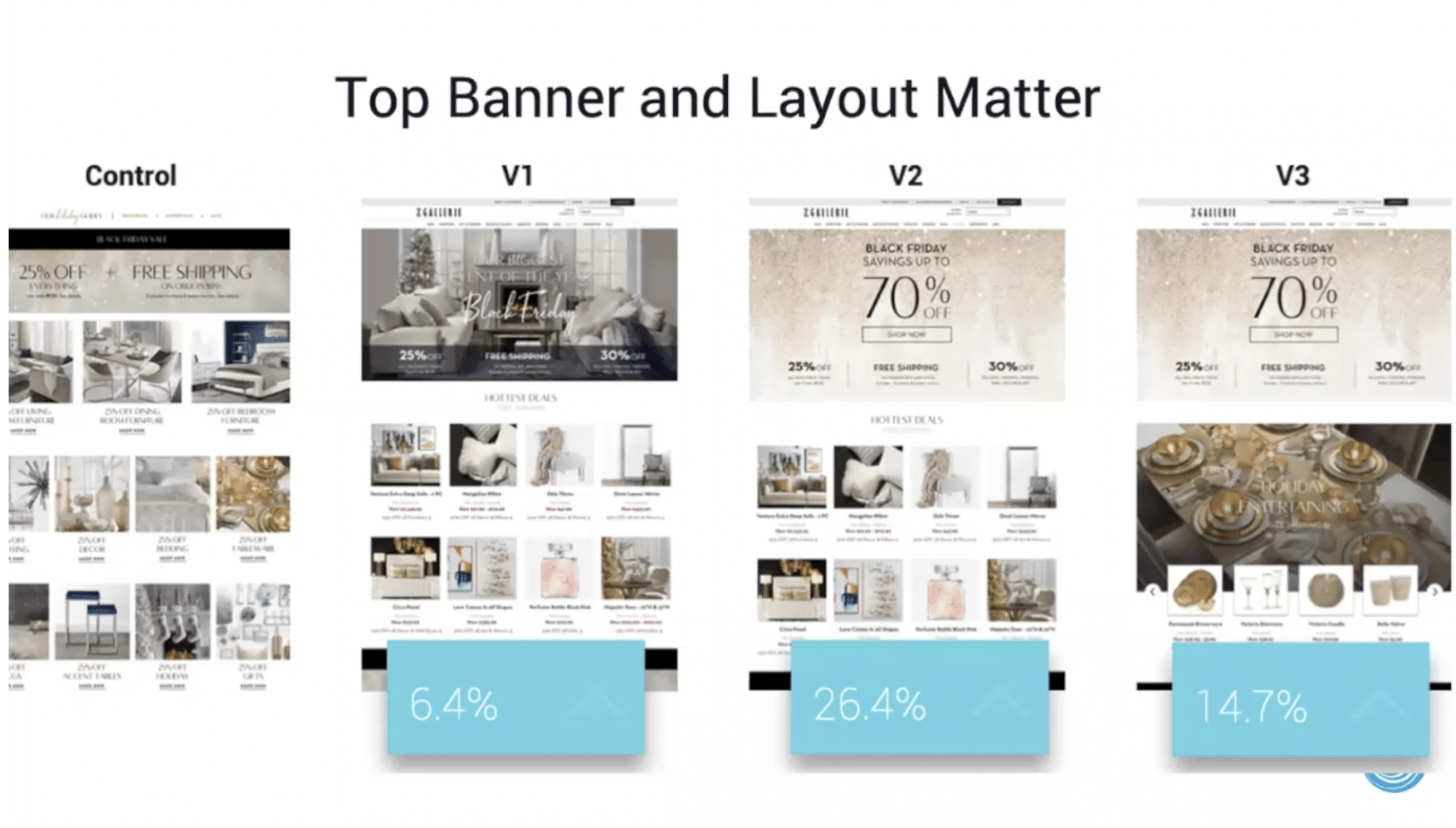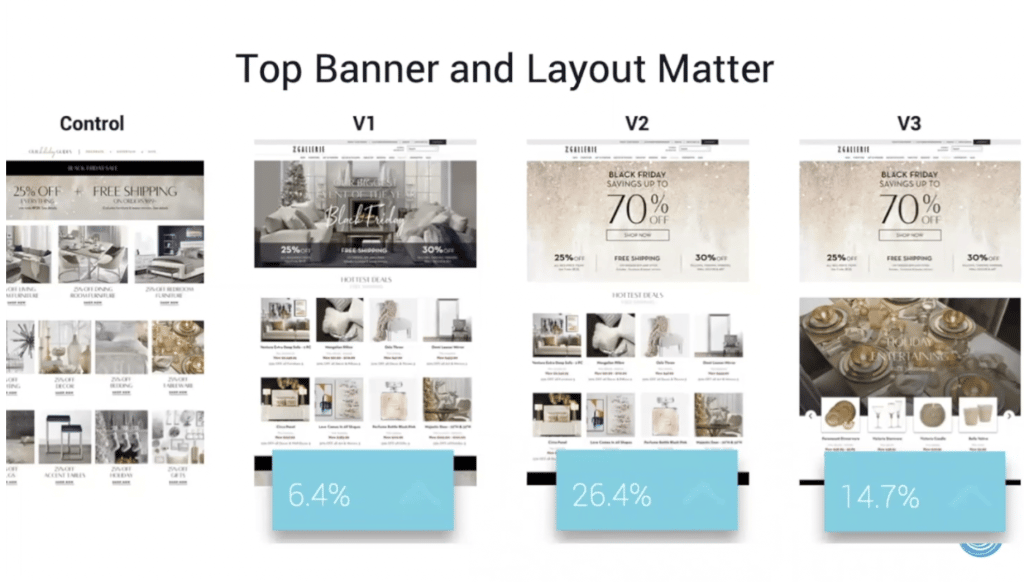 This shows the three designs they launched against the control (original design) during Black Friday.
They tried to show as many products as possible and make the layout smooth enough for visitors to find what they were looking for.
The highest one that performed was variation 2, with 26.4% uplift.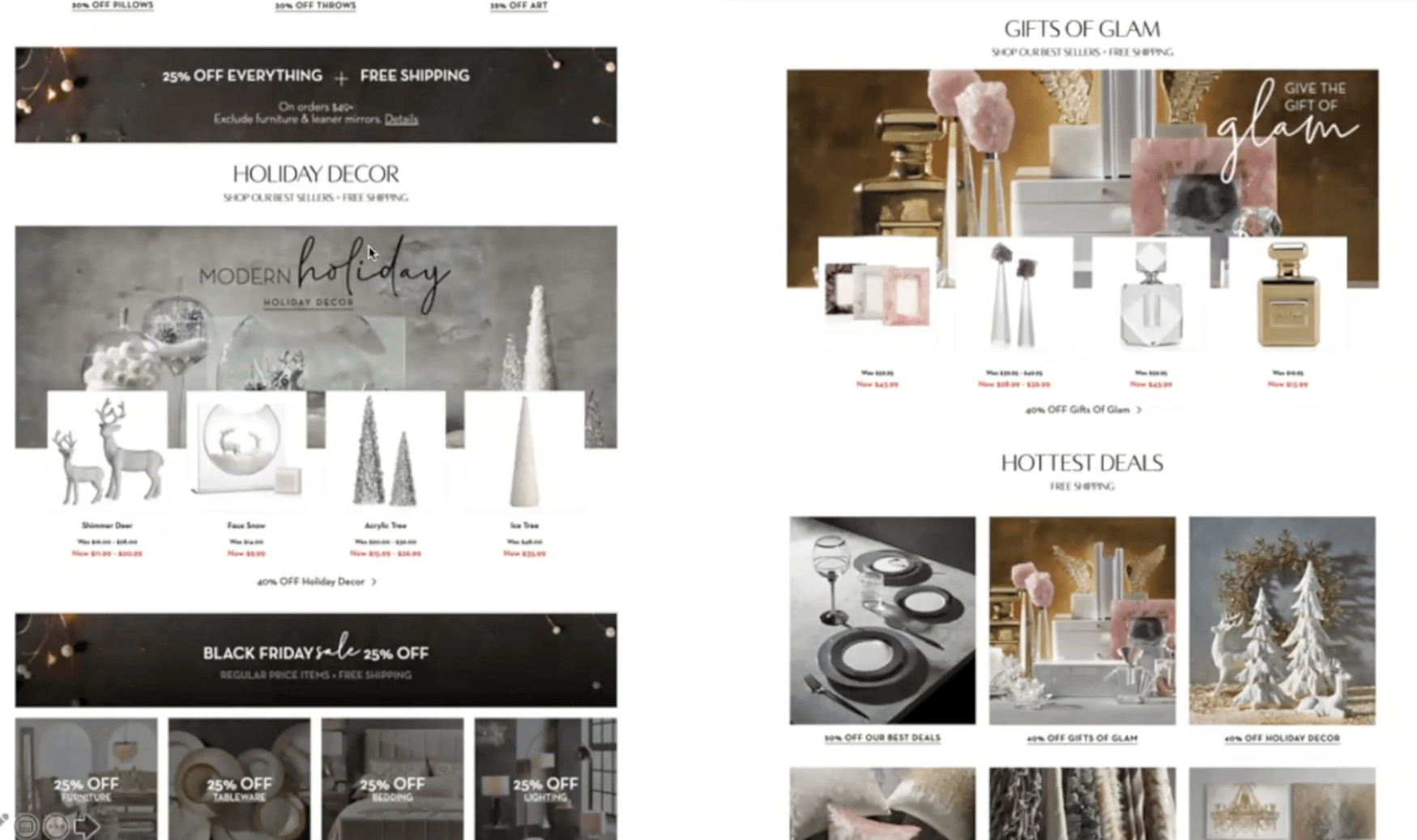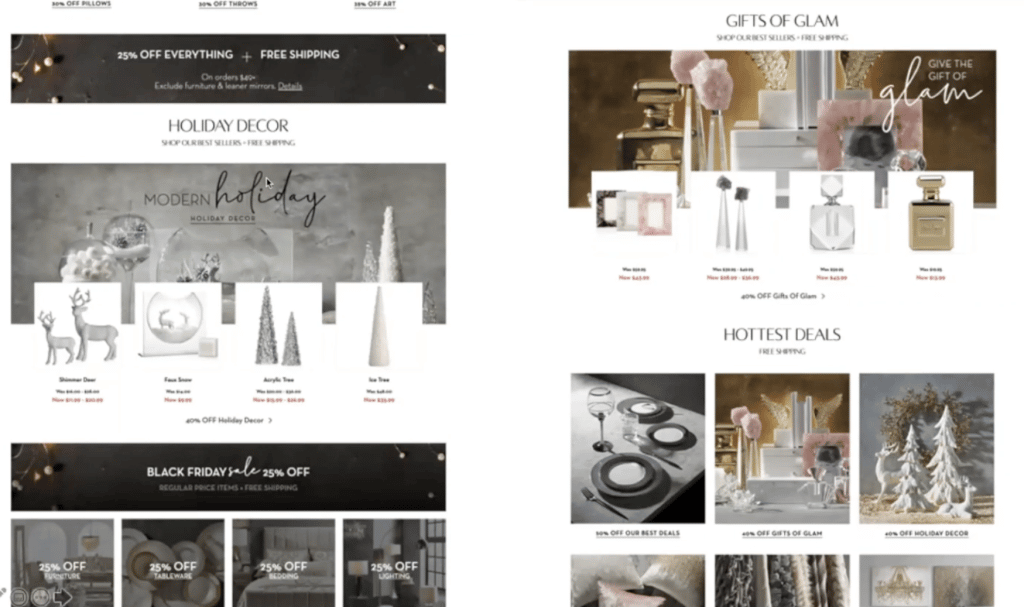 The page on the right contains a carousel format. The meaning behind it is that if you are looking for gifts of glam, you can look at these specific products. When visitors click on any of these products, they navigate to a particular page.
The same thing applies to the Modern Holiday page on the left. Here, below, you can see that they direct visitors to different categories, emphasizing the Black Friday promotions that they will receive.
These are all different ways to drive visitors to where they are needed to go.
Lesson learned here:
When you want to achieve a quick win, please don't limit the visitor's ability to find what they are looking for. Make access to discounts and products easy.
However, don't overwhelm them with too much information and products. Display enough of them, but not too much, so you don't confuse your visitors and sales won't plummet.
Working hard round the clock
Black Friday is hectic before, during, and after. It is followed by Cyber Monday by two to three days. So, this is work round the clock. This means you have to prepare your team for it, and that's what Invesp tried to do in this critical situation.
Another reason why teams have to work so hard during these times is that you might launch an experiment, but then something goes wrong, which means you have to turn off the experiment and re-launch it.
So you have to be diligent, paying attention to the numbers and making sure that they won't decrease.
Post Black Friday strategy
In this phase, the Propagate phase, Invesp asked themselves three questions:
What were the results?
What did we learn?
What are our next steps?
As for A, these were the results: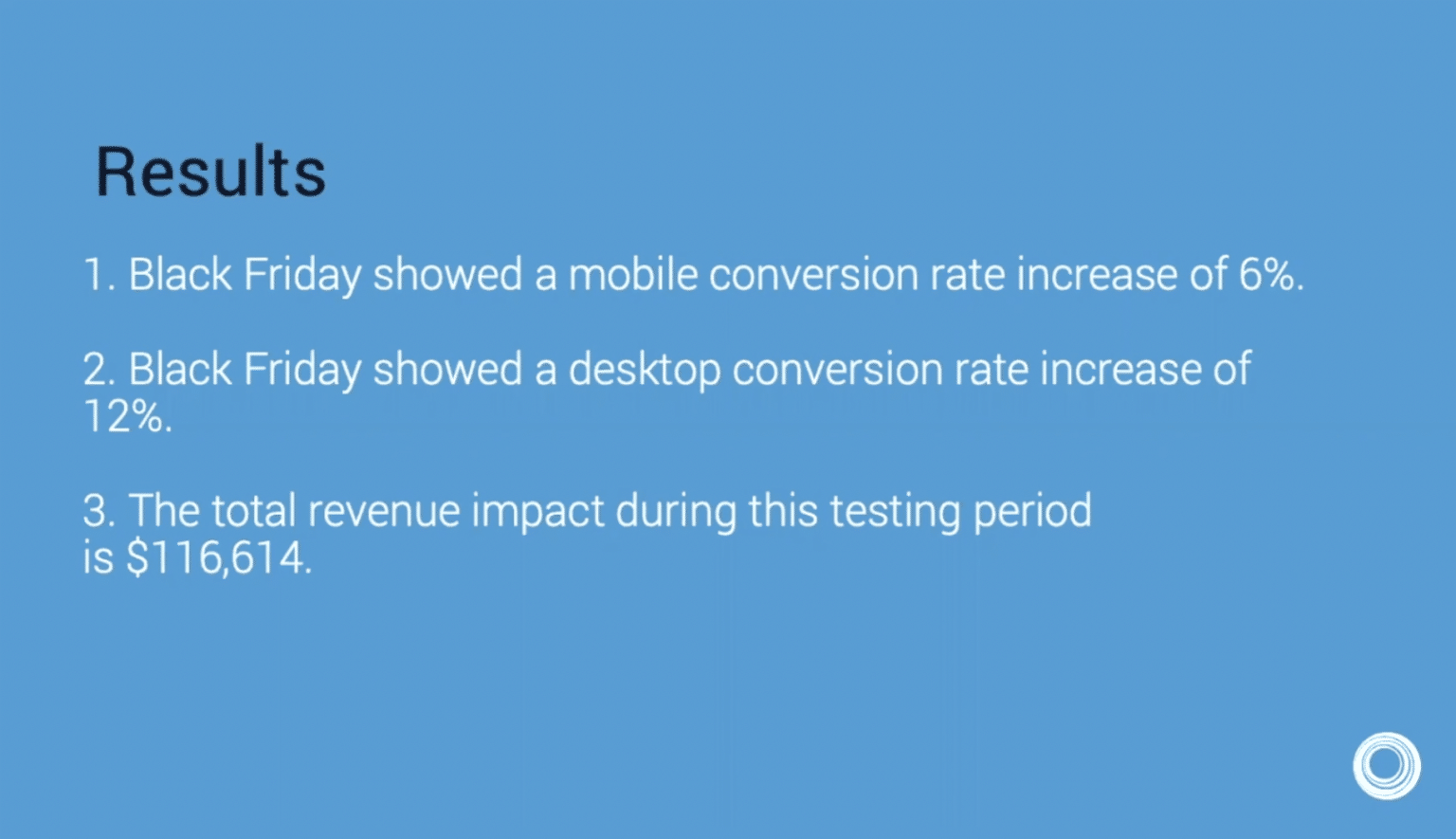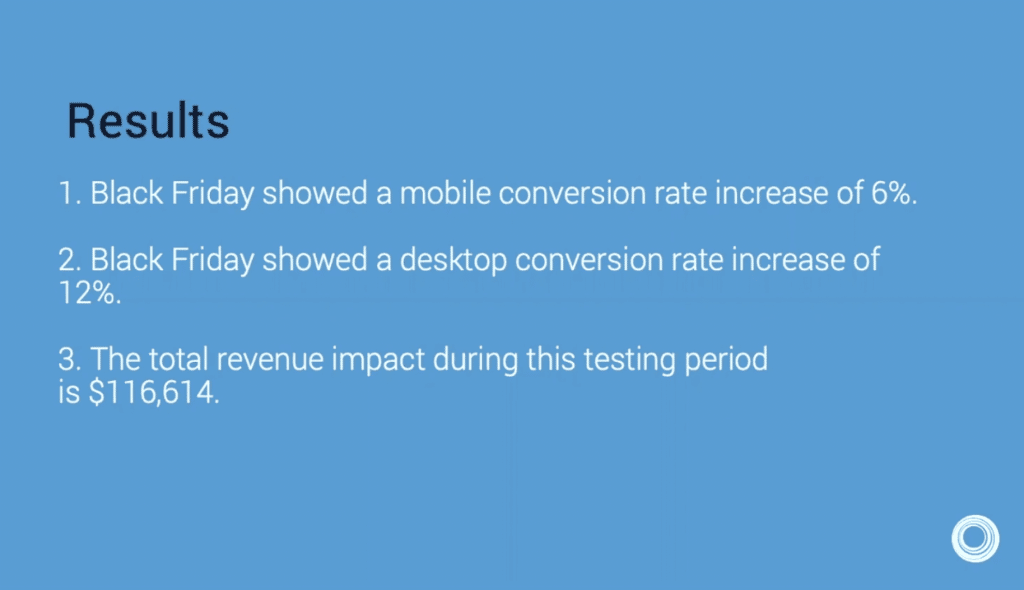 These results are considered excellent.
They compared them to previous years, and they made sure that the traffic volume was consistent.
As for B, they conducted an Expert Review. They went through the website meticulously and figured out through analytics, qualitative research, customer interviews, and JTBD interviews to know the issues present on the website and provide a better experience.
Classifying findings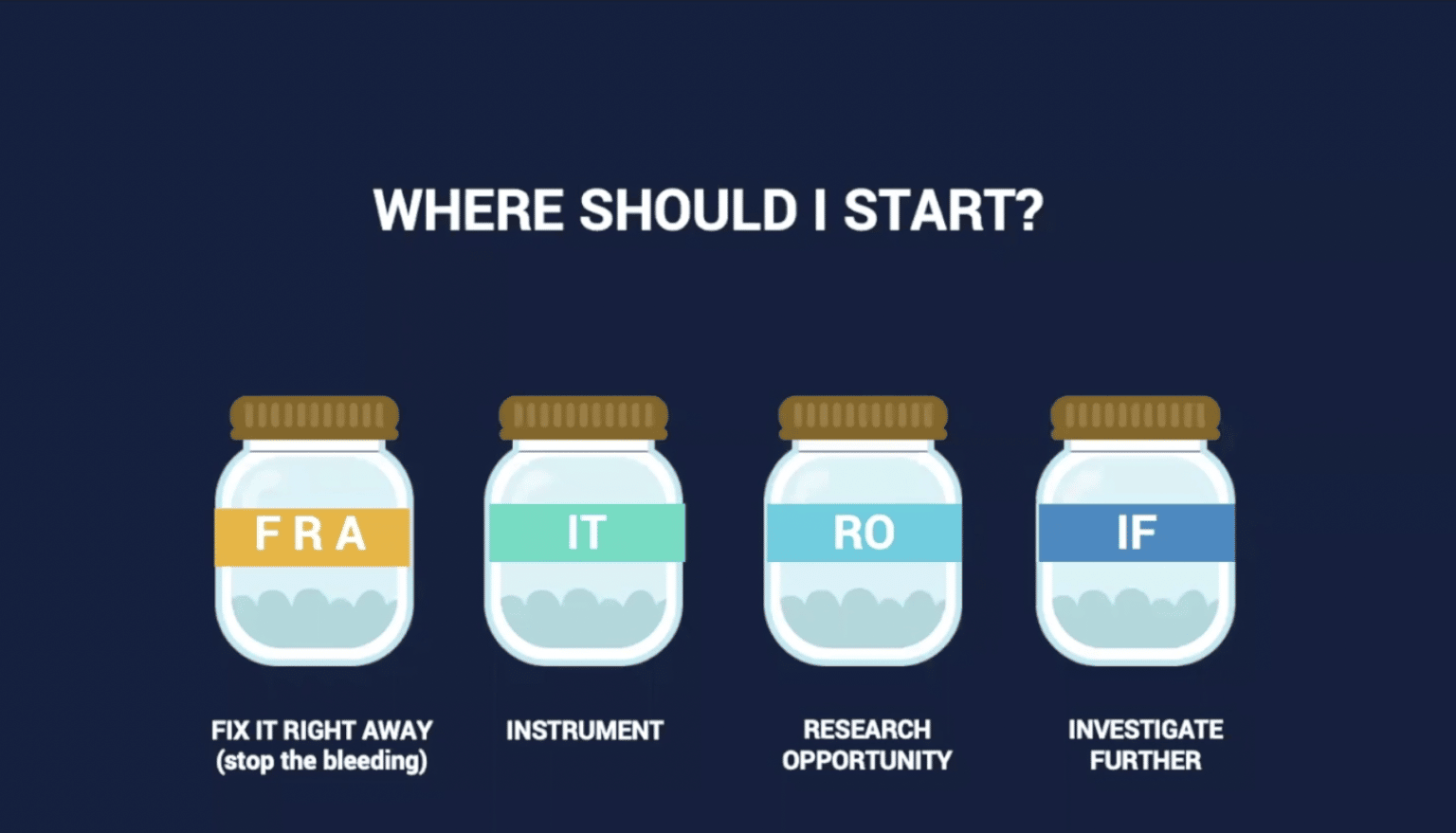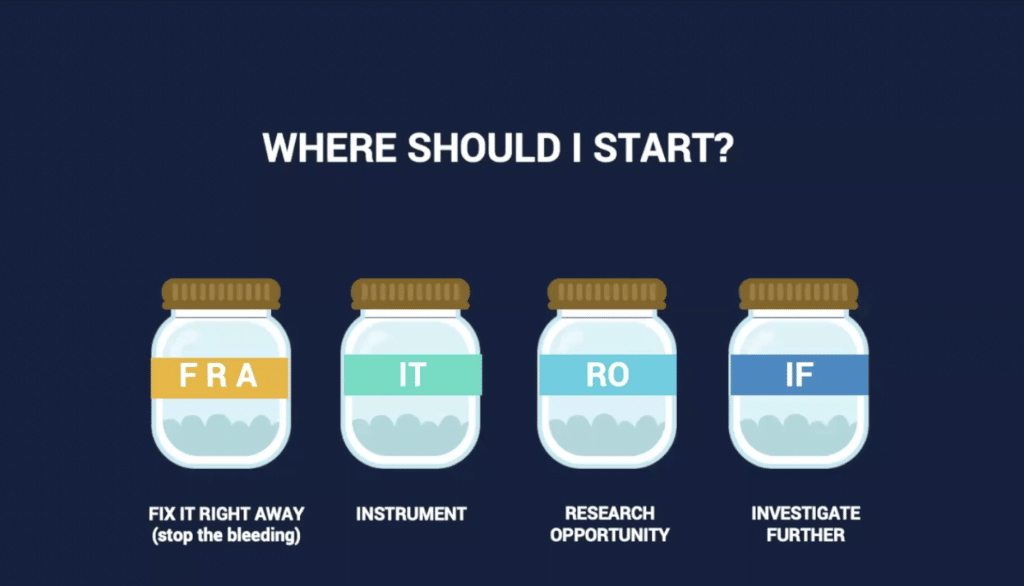 In this step, they took all of their findings and classified them into:
Things to fix right away on the site,
Things that need to be added/tagged into. That is what instrument,
Research opportunities. Things they can conduct with in the future,
Anything they need to investigate further.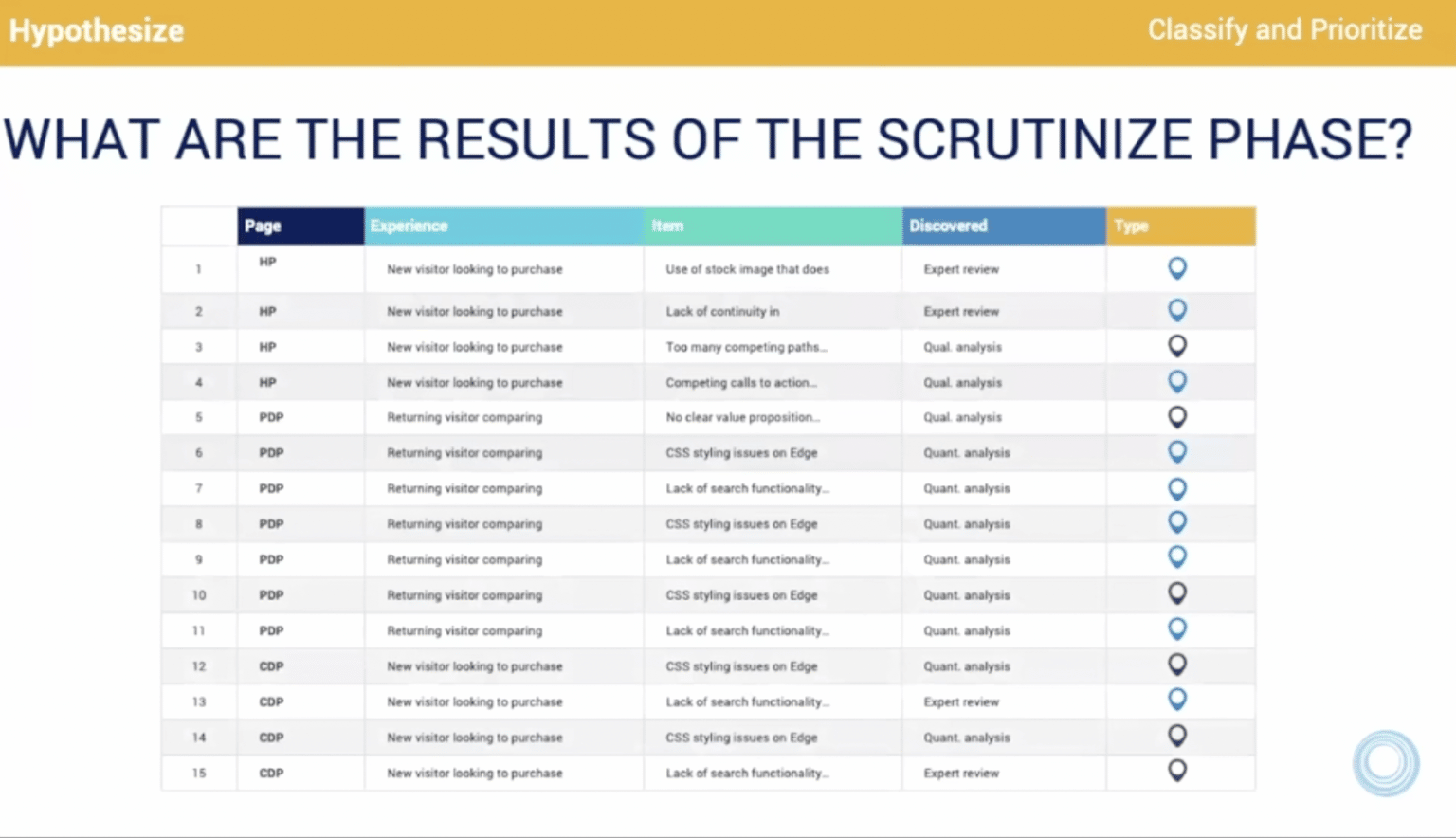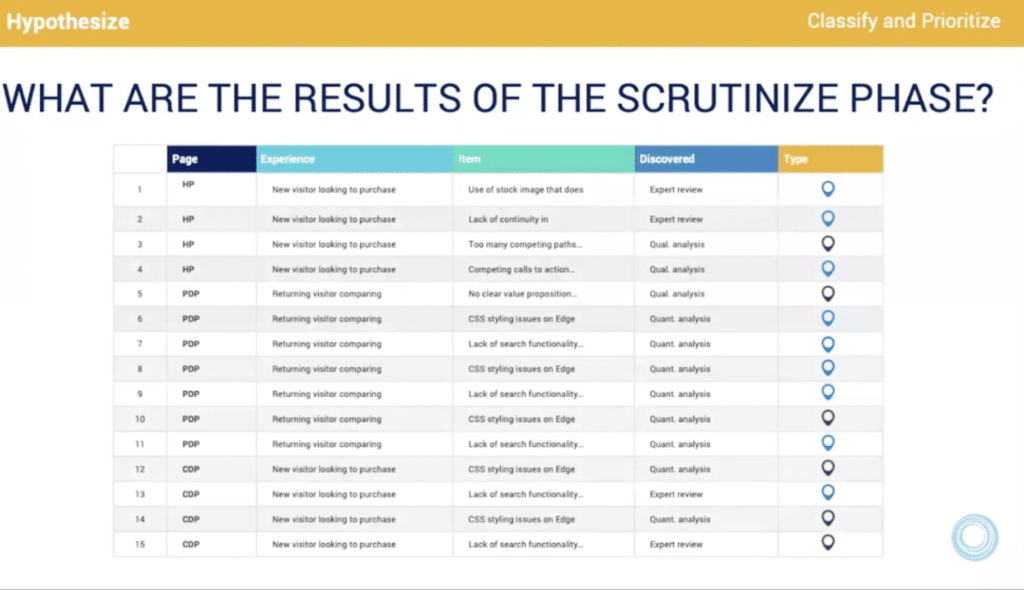 Then they gathered all this information, put it in a document, and tackled it.
Wrapping Things Up
The biggest lesson learned here is:
Yes, you can conduct a Black Friday experience in a brief period. However, it is not recommended.
Advice is for any high season; plan everything, whether it is Black Friday or not. Plan before it by a couple of months in advance. Make sure that all your ducks are in a row. Think about your customer profile and who you are targeting to make sure that you have your pre, during, and post plan in place.